How To Make A White Sauce
You can make so many recipes if you know how to make a white sauce. This recipe is one I have used for years and it saves so much time in the kitchen. I still buy Campbell's cream of chicken and cream mushroom soups to use when I haven't had time to make this white sauce. This basic white sauce is awesome because if you make it up ahead of time all you do is add some cold water, cook, and stir.
I still use a hand blender or hand mixer when making it because I get distracted and forget it's thickening faster than I think.
How To Make A White Sauce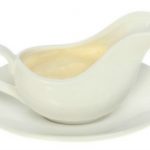 How To Make A White Sauce
Ingredients
1

cup

butter

1

cup

flour

1/2

gallon

milk

salt and pepper to taste
Instructions
Melt the butter in a saucepan and add the flour to make a roux. Cook until smooth. Add the milk and stir constantly until thick. Salt and pepper to taste.
White Sauce Recipes:
These recipes are using 1-1/2 cups white sauce.
1. Add beef to make Creamed Chip Beef on toast or biscuits.
2. Add 1/2 to 1 cup grated cheese and leftover pasta to make Mac and Cheese.
3. Add 1/2 to 1 cup grated cheese and serve over cooked cauliflower or broccoli.
4. Make a gravy by adding some drippings from the beef, sausage, bacon or chicken.
5. Add some chicken bouillon to make a gravy for chicken pot pie, pour over cooked chicken, onions, carrots and celery. Top with a pie crust.
6. Add 1 teaspoon of curry powder to make a curry sauce.
7. Add 1-2 sliced cooked potatoes with 1/2 to 1 cup grated cheese to make a cheesy potato casserole.
8. I can make a chicken soup base with this recipe by thinning the sauce and adding some chicken bouillon to taste. Please note, I still buy cans of cream of chicken.
9. I can make a mushroom soup base by adding some cut up mushrooms and thinning the sauce.
I hope this saves you money by staying out of the grocery stores or restaurants. Cook some chicken ahead of time and freeze in baggies to make a quick stay at home meal. Add some veggies and a white sauce and dinner are ready in no time. Here's to saving money!!