Power Grid Failure: What You Will Need
You may be under the false assumption that a massive power grid failure is only something that you'd witness while watching an eerie apocalyptic film, but the truth is, it's one of the most likely disasters that could occur. Just over the past few decades, there have been dozens of huge electrical blackouts throughout the world that have left hundreds of millions of people without power.
It's even happened a handful of times in the United States as well, so don't think that it only happens to third-world countries. Keep reading to understand Power Grid Failure: What You Will Need.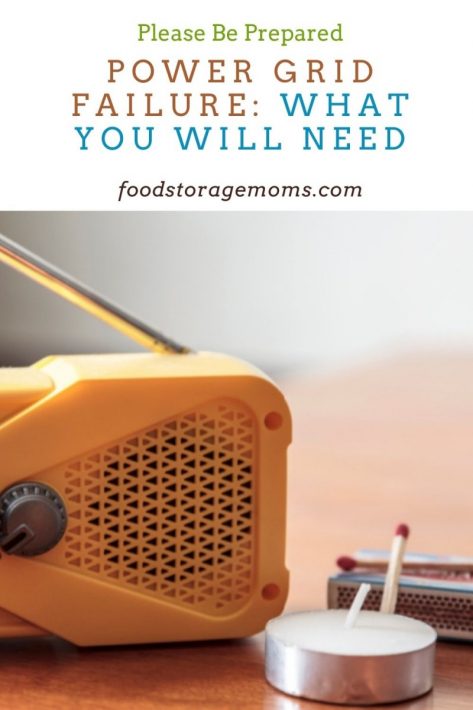 Power Grid Failure: What You Will Need
On December 20th, 2013, an unforgiving massive ice storm swept its way across parts of the US and central Canada, leaving hundreds of thousands of people in the dark. Many of them had to go several days without power, while for some, it meant that they didn't have a way of heating their homes for a week or two.
Could you imagine if this were to happen to your family in the dead of winter? And think about if it were to go on for several days? Would you be prepared and have enough supplies to manage? Chances are…probably not. Here's what you will need if a power grid failure were to wreak havoc in your area.
Drinking Water
Drinking water is one of the most crucial items that your family will need following a disaster, and chances are, the water from your kitchen sink will no longer be an option. Experts will tell you that you need to have at least a 2 week supply of drinking water for you and everyone in your household.
On average, a person uses about 1 gallon of water a day for drinking and sanitary purposes, so if you have 4 people in your family, you'll need to stock up a minimum of 56 gallons of water to get through a two week period. That's one of those large barrels people like to use to store water.
You may also want to think about learning a number of different methods to purify your drinking water as well. I highly recommend 4 gallons per person per day, I get thirsty just thinking I would be limited to one gallon per day. Remember, you'll also want some water to cook with, possibly clean at least your underwear, possibly wash some dishes, etc.
Stockpile of Food
There are a few things that you need to consider when stockpiling enough food for your family. Plan on having enough food for 3 meals a day (including snacks) that will last you at least 2 weeks. Try and choose meals that don't require much heating of the food in a microwave or your electric stove. Also, with no power, there will need to be food items that don't need to be refrigerated.
After all, the food in your refrigerator will probably go bad during this time unless you have a generator or other means of keeping those items cold. My suggestion to you is to gather plenty of non-perishable food items that your family is used to, which will last for an indefinite amount of time.
First Aid
Chances are high, that you'll probably be cooped up at home where you already have a first aid kit on hand. Just be sure that you have plenty of bandages, antibiotic ointments, tools, along with over the counter medicines to treat flu and cough, diarrhea, and help reduce headaches. In case you missed this post, 35 OTC Medications You Should Store
Sanitation
Sanitation is usually the one that everyone forgets about, but that doesn't mean that it's not one of the most important that you need to remember. Proper sanitation helps you maintain good hygiene and helps keep everyone from getting sick.
So, think about having an extra supply of hand sanitizer, antibacterial wipes, baby wipes for cleaning, trash bags, and toilet paper.
Most toilets in our homes will flush when water is poured down them, even when the power is out. If this is true for you, right after the power has gone out, go ahead and fill up your bathtub and washing machines with water to use for flushing and washing. Most water systems in municipalities are supported by huge pumps, and most of those run on electricity. No power, no water. Hard to imagine that happening in your area? Be prepared with the water mentioned above.
Flashlights with Extra Batteries
Make sure that you have a number of flashlights and lanterns so you're not left in the dark. Don't forget to have an abundance of batteries for backup too.
Heating
What happens if a power outage takes place during winter? You'll need some way to keep your family warm. Those of you who have a fireplace or a wood stove, be sure to have plenty of wood or other fuel to keep them burning. You might think your family is fine since you have a natural gas furnace. Just remember, furnaces push and pull the air in your home with fans/blowers.
If you don't have any of those, you can also heat up rocks and then place them in a dutch oven or heat-safe cookware to provide your family with extra warmth. Whichever heating method that you decide on, be sure to have a fire extinguisher close by just in case.
Moving everyone into a smaller room with a towel covering the crack under the door will allow everyone's body heat to help raise the temperature in a room as well. Quick and easy access to warmer clothing is also something to think about. Be sure to have plenty of blankets, along with warm sleeping bags so that everyone can get a good night's sleep.
Communication
You can't depend on cellphones and landlines during a power grid failure, so you need to consider having a hand-crank radio to alert and inform you of what's going on in the outside world. If for whatever reason you or someone in your family has to separate, you'll need to have a 2-way radio to keep in contact.
Butane Stove
A Butane/Propane Stove will be a great tool to have in order for you to boil and heat up your meals and water for bathing a young child, etc.
Gas-Powered Generator
A gas-powered generator is more on the expensive side, but another great way for your family to be prepared for a power grid failure. Just remember that generators need fuel to run and you'll need an efficient way to store that fuel.
Additional Items
Your list of supplies will look slightly different from everyone else's, depending on your family's needs. Be sure to have all the essentials based on the uniqueness of your family. Some of these may include prescription medications, feminine hygiene products, diapers, formula, dog food, toiletries, elderly care, and so forth. Plus, matches or a fire starter may be needed.
Final Word
This is not an exhaustive list of supplies that you need to have for a power grid failure, but your family will certainly have a greater chance of survival with them. What are some other supplies and items that you think would be necessary if this situation were to happen?
If you're looking for an interesting read on the subject, check out the 12 biggest electrical blackouts in history. You may also want to read Ted Koppel's book Lights Out. Please be prepared before you need to be. May God bless this world, Linda
Copyright Images: Be Prepared For Power Outage Deposit photos_42881179_s-2019