10 Serious Prepper Tips Everyone Should Know
Being a prepper is not for the faint of heart, it takes a lot of hard work, dedication, and planning. And even then, there are no guarantees that what you've planned and worked so hard to accomplish will be sufficient when the tough times come. But with that said, there are some things you can do to increase your chances of survival. Here are 10 serious prepper tips everyone needs to know about.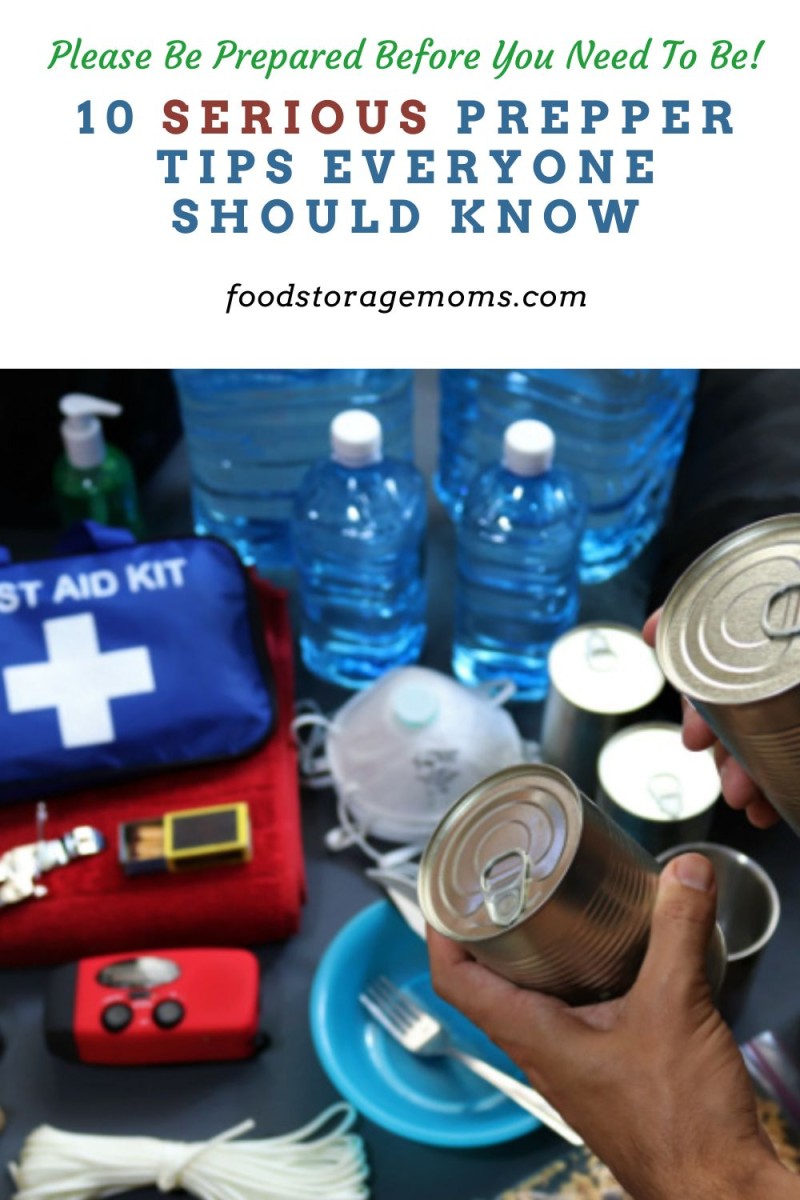 Prepper Tips
1. Invest in a Water Filter System
One of the most important things you can do as a prepper is to make sure you have access to clean water. Investing in a good water filter will ensure that you and your family will always have clean water to drink, cook with, and bathe in – even if the power goes out and water sources are contaminated. There are a lot of different water filters on the market, so do your research and find one that best suits your needs.
I recently wrote about a product I really like and suggest you check it out, it's called a PortaWell. It is portable (as in the name), high volume, multiple filtered, and runs on a 12-volt battery.
Think about all the things you need water for:
Most meal preparations require water to either clean the foods, added as an ingredient, or for boiling purposes.
Water helps with proper sanitation as discussed below.
Personal hygiene.
And of course, necessary hydration.
2. Learn How to Garden
Gardening is a great way to grow your own food and it doesn't have to be difficult. Start small by planting some herbs or vegetables in pots on your balcony or in your backyard. Once you get the hang of it, you can expand your garden and start growing more food. Not only will this provide you with fresh, healthy food, but it will also give you a sense of satisfaction knowing that you grew it yourself.
Some side benefits you may not have thought about include:
You can grow things to match the ingredients you find in many of your favorite recipes.
You can plan a garden that includes plants that provide quality nutrition, including high protein items.
The garden should provide products that will be compatible with your overall food storage goals. That means it will include foods you like to can.
A garden can aid in meal planning since you know what's available either in the live garden itself, or on the shelf from previous harvests.
You feel more confident in your ability to provide for yourself and the family since you've expanded your resources.
3. Get Involved in Your Community
One of the best things you can do as a prepper is to get involved in your community. Knowing your neighbors and having their support can make all the difference during an emergency situation. If you're not sure where to start, look into joining a local preparedness group or search for volunteer opportunities near you. Giving back to your community will not only help others, but it will also help build stronger relationships and make your community stronger as a whole.
Learning to be self-reliant is a critical part of being a successful prepper. But part of self-reliance is also doing your research and learning skills that come in very handy during a disaster situation. We can't learn all the skills that may prove necessary, but hopefully, with the combined resources of people in your community, you can cover the bases.
4. Store Food and Water (a great prepper tip)
This one seems like a no-brainer, but it's important to have enough food and water stored away in case of an emergency. Aim to have at least three days' worth of non-perishable food and water on hand at all times. But you can never have too much, so continue to grow your food and water supplies over time, and be sure to rotate your supplies regularly so that everything stays as fresh as possible. Nothing lasts forever, so doing an inventory check from time to time and rotating or replacing out-of-date or spoiled items is vital.
Don't forget you need an emergency toilet and an emergency washing machine. Planning ahead for needed sanitation-related items is something many people overlook. Successful preppers always consider the steps for proper sanitation and personal hygiene.
5. Have a Plan
We probably should have listed this first, but it's important to have a plan. There's an old saying that goes something like, "If you fail to plan, you're really planning to fail." Knowing what you need to do in an emergency situation will help you stay calm and focused. Make sure you have an evacuation route planned out and that everyone in your family knows where to go and what to do. And lastly, you should always have a backup plan and escape route in mind in case plan A falls apart.
You could start your plan, if you haven't already, by using this post as a benchmark starting point. These tips certainly don't cover everything needed for a successful plan, but it gives you some good advice as you start your journey. Since every family is different, your plan won't look like your neighbor's, but as you implement the various tips as steps on the ladder for success, you'll learn so many new things that add to the overall goal of being properly prepared.
Make sure you consider any special needs for children, the elderly, and for your precious pets. They all have to be considered to make the plan fully functional.
Be sure to include ways to prepare your meals, particularly if the power is out. I love my SunOven, my butane stove, my Weber BBQ, and other cooking options. What do you have listed in your plan?
6. Don't Put All Your Emergency Supplies in One Place
There's simply no telling where you'll be when a disaster strikes. You could be several miles away from your home when it happens and your supplies wouldn't be available to do you any good. That's why it's important to have some emergency supplies stored in multiple locations. Keep some in your car, at work, and at home. That way, no matter where you are when an emergency hits, you'll have access to at least some of the supplies you'll need.
In the past, I've written about bug-out bags, emergency car kits, what you might want to have at work, etc. Check out my archive of topics that can help you understand how, what, and where you should consider storing things as you try to be the best prepared you can be.
7. Try it Out First
Many preppers make the mistake of having the right supplies when they need them but have absolutely no idea how to use them during or following an emergency situation. A good rule of thumb is to always try out your emergency supplies before you actually need them. That way, you'll know how to use them and you'll have the confidence that they'll work when you need them most.
This goes for things like your water filter system, tools you've gathered, things to put in the garden, canning equipment, fire extinguishers, and so much more. Get the whole family involved so they each understand not only the "how" but the "why" when it comes to what is available in your prepper stash so they can put them to use in the most effective and efficient ways possible.
8. Teach Your Family
How much have you allowed your family to get involved when it comes to your emergency preparedness? I'm guessing, not much! That's because a lot of preppers make the common mistake of going solo and not involving their families in their plans. But the truth is, your family is your biggest asset when it comes to survival.
Not only will they be able to help you with supplies and manpower, but they'll also be a source of emotional support during difficult times. So make sure you involve your loved ones in your emergency preparedness plans and teach them how to use those supplies and survival skills so everyone can stay safe.
9. Don't Skip Out on Entertainment
Emergency supplies are not the only thing that your family will need to survive mentally and emotionally, Entertainment will be another important aspect to consider, especially for children. So make sure you have a few books, games, music, and other forms of entertainment stored away in your emergency supplies. This will help keep everyone's morale high and prevent boredom from setting in.
10. Being Physically Fit is Important
If you're not in good physical condition, you may not be able to handle the strenuous tasks that are required of you during an emergency, and all of those emergency supplies will be all for naught.  I recommend that you get started on strength training and cardiovascular exercises to improve in those areas. Not only will this give you the strength and endurance you need to survive, but it will also help improve your mental state and give you the confidence you need to get through tough situations. This isn't a prepper tip that everyone wants to focus on, but it's true! To prepare, we also have to take care of ourselves.
One Additional Thing, You'll Need More Than One Way to Communicate
In an emergency situation, you may not be able to rely on your cell phone or landline to communicate. That's why it's smart to have more than one way to communicate with your family and loved ones. Two-way radios, satellite phones, and even CB and ham radios are all great options to consider. Plus, if you have your ham radio license, you are a rock star!
More Prepping Tips
Final Word
Prepping for an emergency situation is not something that should be taken lightly. It takes time, effort, and planning, but it is worth it if it means you and your loved ones have a better chance of surviving that emergency.  These prepper tips are without a doubt something everyone should know about.
These are just a few tips to get you started on your journey, but remember, there is no one-size-fits-all approach to prepping. What works for one person may not work for another. Where you live and what emergencies are more common in that area should also be considered. The makeup of your family also comes into play. So take some time to educate yourself on all things preparedness and find what works best for you and your family. May God Bless this world, Linda. 
Copyright Images: Disaster Management AdobeStock_338908899 by SpeedShutter