How To Use A Volcano Stove
If you want to know how to use a Volcano Stove for survival or for camping, I have you covered today. Of course, if there are fire restrictions where you live we must all adhere to those rules.
The thing I like about the Volcano II Stove is that you can use it outside for emergency cooking and baking. The deal that nails this product for me is that you can use propane, wood, or charcoal with this awesome cooking stove.
This is an updated post because I was shopping at Costco and there was a roadshow with a great young man telling people how to use a Volcano Stove. I mentioned that I love their product and I would love to try the new grill they have designed.
My Book
We talked about the book that I had published and that I recommended their stove. Prepare Your Family for Survival I sent the owners of the company a book and they sent me the griddle outlined below.
This stove even has a tent to bake bread, muffins, cornbread, etc. I invited a few neighbors over to roast hot dogs tonight so you can see this Volcano Stove II in action. It's also safe enough to use on top of your picnic table and folds down to about 5 inches tall when completely closed after using it.
The stove is easy to open and close after it cools down, then store on a shelf in the garage or shed. My purchase came with a bag to store the propane hoses, connections, and grills tucked inside.
As you may know, I feel we all should have various options for cooking devices depending on our budget and the place where we live.
A home with some property provides more options than an apartment, but we all need to have choices. This is a good one, even if we only have a balcony or deck to do outside cooking.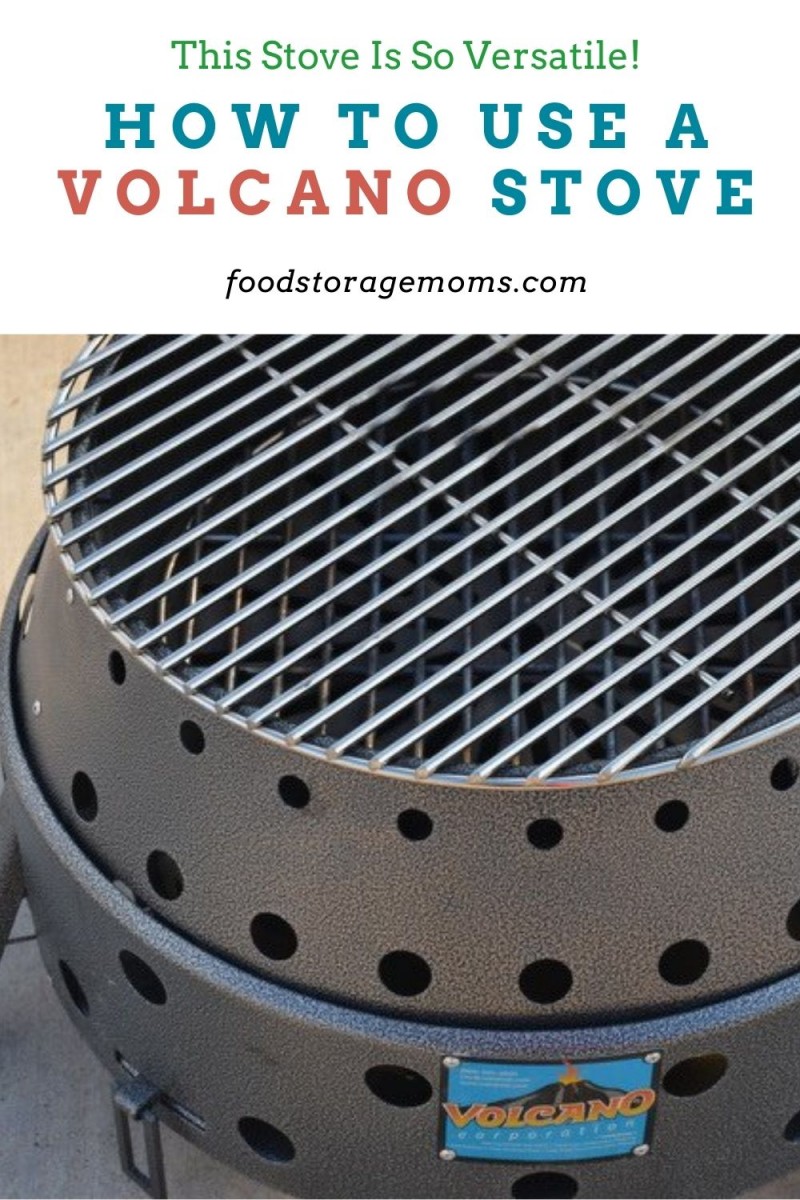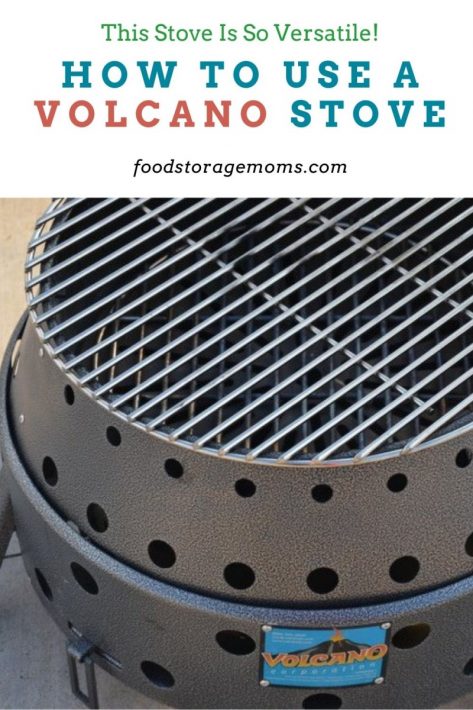 How To Use A Volcano Stove:
Here are the new Volcano griddle and grill pan. You will love this new accessory because both sides of the unit come pre-seasoned with a grooved griddle on one side and a grill pan with a pour spout on the other.
It has two handles and a detachable grip. What I love about it is the fact that it's ROUND and fits perfectly on the stove. Volcano Stove Griddle
Volcano Stove Griddle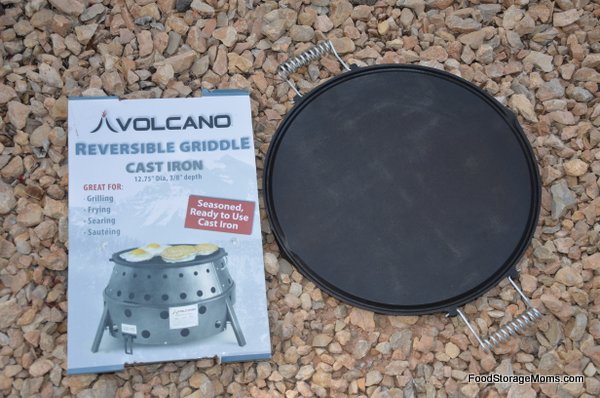 Here is what the inside of the Volcano II Stove looks like before we start to assemble it right out of the bag. There is very little assembly if you want to even call it that. Volcano Grills 3-Fuel Portable Camping Stove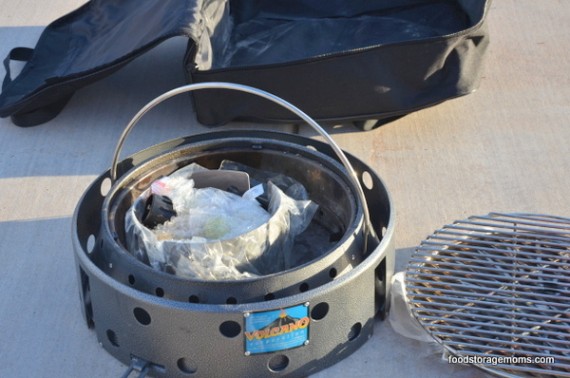 Here is the Volcano II Stove sitting flat on the concrete and ready to open by pulling straight up using the handle. The legs drop down and it is ready to start putting the grills in it.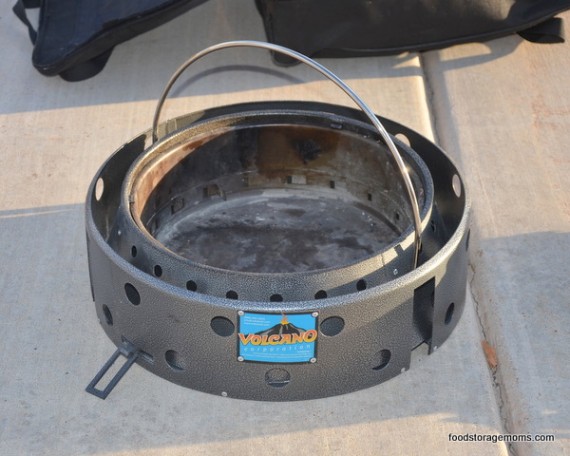 The picture below shows the unit ready to take fuel. Here is grill #1 you put inside the stove if you are using wood or charcoal to cook your meal.  
You crumple newspaper and put a few small pieces of dry wood and then throw a few more pieces of scrap wood or charcoal on top of the newspaper.
I lit the fire, and luckily my husband Mark came home and really got the fire going! I used a butane fire starter tool to light the fire. Once the fire is going, you place grill # 2 on the ridge inside the stove. This grill # 2 is where you would cook with a pan, dutch oven, or a Wok.
If you are going to barbecue, you put grill # 3 on the top (it doesn't show up very well among the rocks in the bottom left of the picture). This top grill #3 is approximately 13 inches in diameter. The lever shown above on the left side is the vent to adjust the airflow.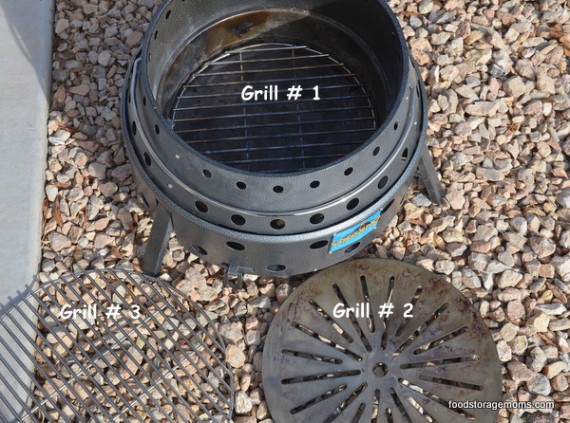 I was cooking hot dogs, I don't usually buy hot dogs because I don't want to think about what it is them. I must say, I do eat an occasional kosher hot dog with mustard and relish at Costco's.
Yep, $1.50 with a drink, and people here line up to get that bargain. Update, I heard Costco is doing away with the Kosher dogs and drinks, I hope not!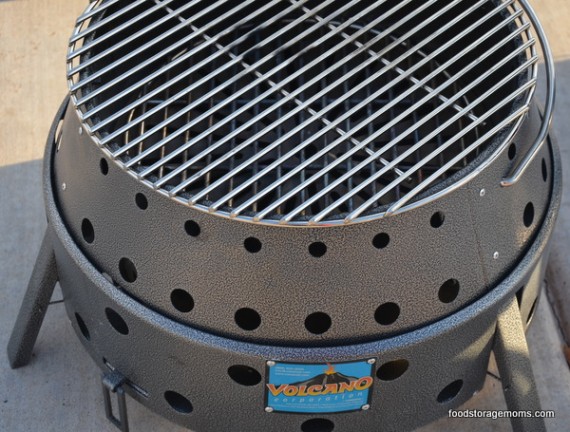 Here are the hot dogs cooked and ready to serve. Yep, hot dog, mustard, and relish with a bun!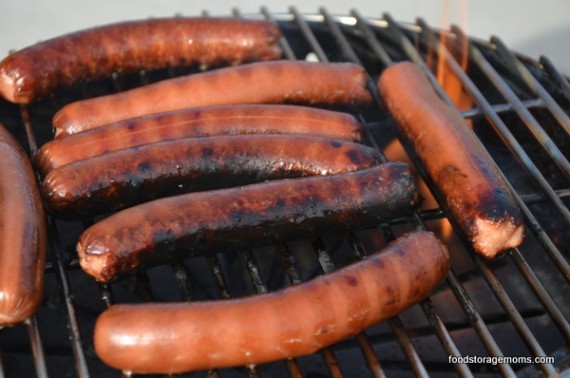 Here are the items needed for the stove if you are using propane. It has a centerpiece that the flame comes through with the connection on the lower left. The hose completes the connection for you to use your propane tank.
When I bought my stove I had to purchase the larger hose connection for the large 20-pound propane tanks like you use with your barbecue. Be sure and check to see what you are buying because some of the stoves don't come with any propane accessories.
Some come with a small attachment to go with the one-pound propane containers. The companies sell different accessories like an extra handle, tent, and propane attachments. This is the burner/cradle, 4″ nipple, hose, valve, and regulator.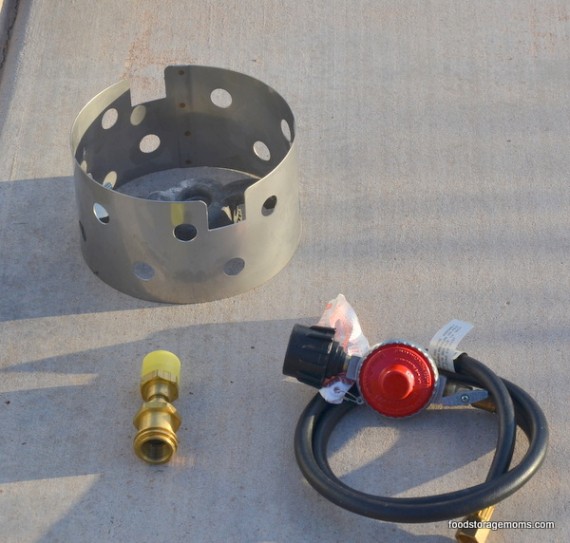 Volcano Stove Tent
Here is a Tent you can buy as an accessory to bake bread, muffins, casseroles, etc. It makes the stove like an oven. Volcano Outdoors 30-700 Lid for Grilling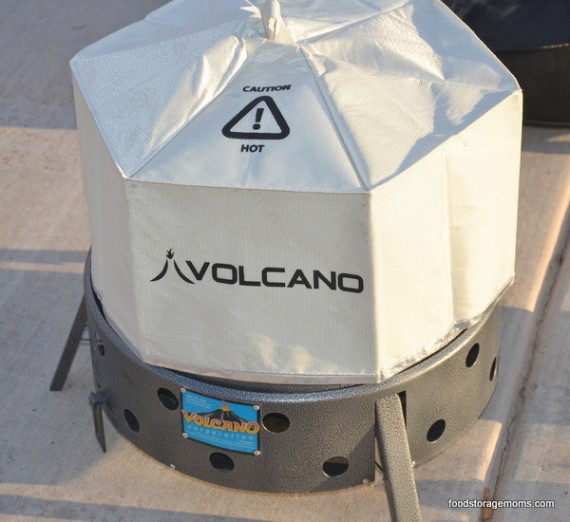 Here is the awesome bag that the Volcano Stove II is stored in horizontally. You basically let the stove cool down and shake out the little residue that is left. Wipe it out and store everything back in the storage bag shown below.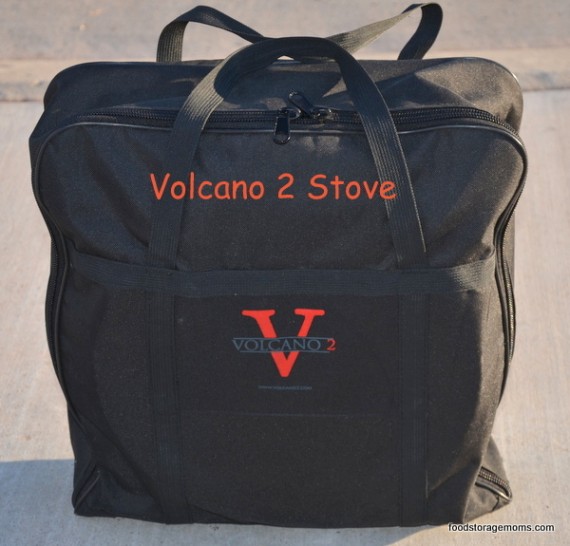 Why is the Volcano Stove so popular?
I've mentioned to my readers many times before, when planning for emergencies we need to consider not only what foods we like and how to store those, we also need to think about how we'll fix meals during the emergency situation.
Our kitchen may not be available, so how can we cook meals?
This stove is very versatile. It can use so many different types of fuels, and I've gathered and stored them all. I've written posts about the colored 5-gallon buckets and related Gamma lids I use to differentiate the fuels I store, like pine cones, briquettes, wood lump charcoal, and regular wood pieces.
There is also the option to hook up a propane tank for a "cleaner" cooking experience. That's why I love this stove, and I'm sure why others like it too.
There aren't too many outdoor stoves you can use that will provide the option to cook bread. With the tent shown, you can do that.
Also, many stove options are either too small to accommodate some of your meal choices or so big they are hard to haul around or store when you're done. This stove folds down, so it can go in the bag shown and not take up much room. I consider that a real plus!
Final Word
Here's the deal with the Volcano Stove, it's awesome to use after a disaster or an unforeseen emergency, and you can take it camping to cook your meals!
Like I said before, it uses several fuel choices, wood, charcoal, lump charcoal, and propane. Thanks for being prepared for the unexpected. May God Bless this world, Linda