How To Use An Instant Pot® And Save Time Cooking
Today I want to show you how to use an Instant Pot® and save time cooking. I'm sure you've heard the buzz about an Instant Pot®, right? Well, I have  been using an electric pressure cooker for years and an Instant Pot is a new name for an electric pressure cooker.
They do the same things like saute/browning, steam food, cook meats, and vegetables. It can also be used as a slow cooker, rice cooker, quinoa cooker, cook fruits, casseroles and keep them warm. I must tell you once you start using a pressure cooker there will be no going back. You can cook meals faster and the meat is so tender, wow, you will love it!
Did you mom or dad use a stovetop pressure cooker with a handle? I grew up watching my mom use hers.
Instant Pot® Instructions:
So, now let me show you a few tips on how to use an Instant Pot. There are a few different models, I am showing you the Instant Pot® Model #IP-DUO60 7-in-1 Multi-Functional Pressure Cooker, 6Qt/1000W today. I have a Fagor pressure cooker that I love using and the book clearly states you MUST use one cup of liquid with any food you cook in the pressure cooker.
I looked through the Instant Pot® manual and could not find any amount of liquid required in the book. I went to the Instant Pot® website and couldn't find it there either. The box contained a small plastic cup that is less than one cup but more than 3/4 cup. I went with my gut and used two of those containers filled with water to cook my chicken tenderloins.
Then I sprinkled some spices over the meat. Put the lid on and then locked it in place with the pressure valve turned to "sealing" and pushed the "manual" button, then the + symbol until it showed 12 minutes. You can adjust the time for a longer time period if needed. I need to explain two things before I go any further.
How To Release Pressure
Quick release means releasing pressure instantly after the food is cooked. When the meal is finished you push "cancel" and turn the valve to "venting" and cover the valve with a washcloth (be careful with the hot steam) so the steam doesn't burn you after you switch the valve from sealing to venting. I wear hot pads as well.
Natural release means the food continues to cook after you press "cancel" but the residual heat and steam wait for the pressure to come down on its own naturally. This will take about 20 minutes or more depending on how full the pot is filled. Then it's ready to unlock the lid and serve. There is still steam so please be careful when you turn it to "venting".
Here's the deal, you basically put the food you want to cook into the pot and add a minimum amount of water required. If you are making a certain recipe you will follow the directions in the book for that recipe. I cooked some small red potatoes with one cup of water, put the lid on, turned it to lock it and turned the valve on top to "sealing" and clicked "manual" and pushed the + symbol until it said 20 minutes.
Call me Nervous Nellie but I could not find the amount of liquid required so I used two containers. I saw complaints all over the website asking how much liquid.
I have taken many pressure cooking classes with Chef Brad so I feel comfortable using one cup as a minimum amount of liquid for meat, vegetables, fruits or casseroles.
You turn the lid clockwise to lock and counter-clockwise to unlock the lid. Remember when you turn this on the pressure is building up and is very hot when released.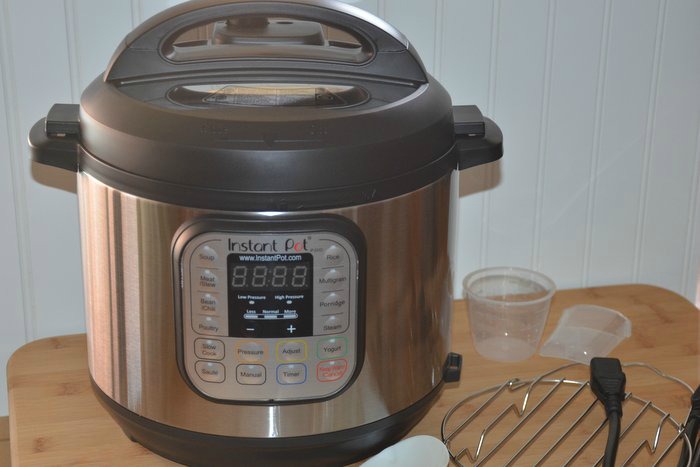 This is the front of the Instant Pot® Model #IP-DUO60 7-in-1 Multi-Functional Pressure Cooker. If you have a 6-in-1 Instant Pot it will look a little different. They both work great! I have never used more than two features on my Fagor Pressure Cooker or this Instant Pot.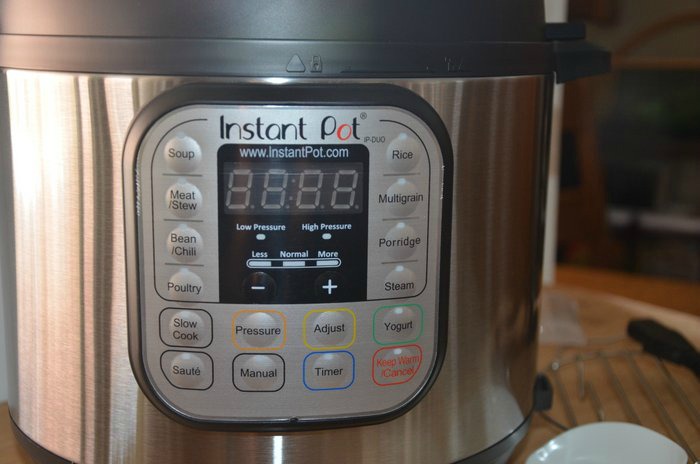 This is the top of the lid that shows you the sealing and the venting float or pressure valve. It's easy to use, I promise.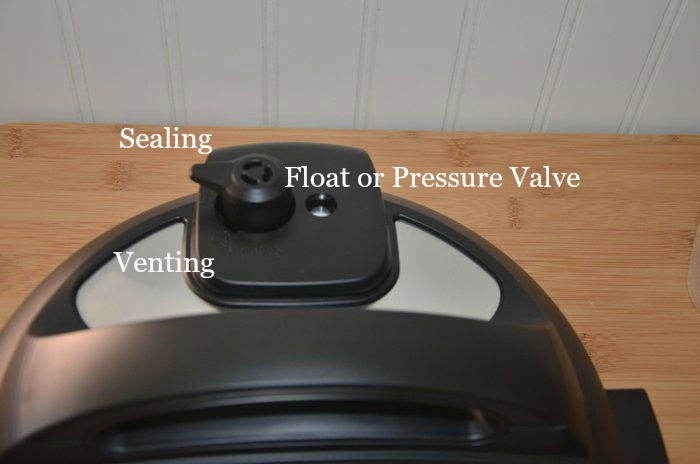 The little plastic container snaps on the side of the housing as shown below.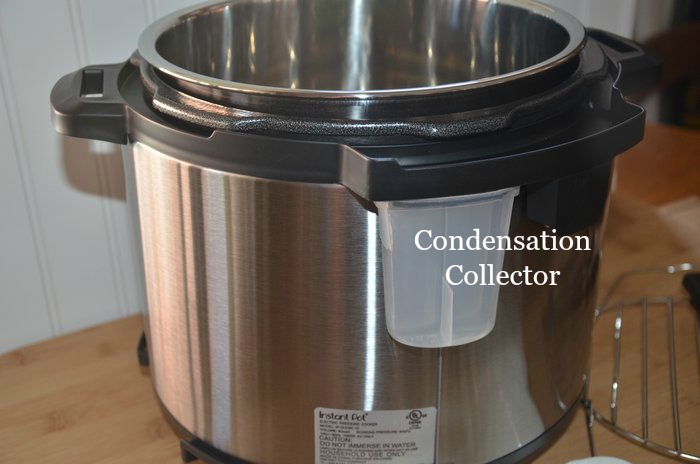 Here you can see how to turn the lid to open and close it. The lid sits firmly on the base with a twist to lock it in place.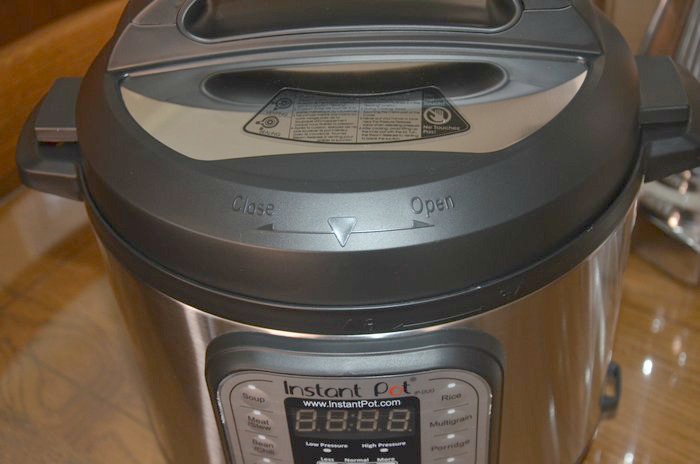 I love that we can make healthier meals (depending on what we put in the pot) faster and spend less time in the kitchen.
Instant Pot IP-LUX60 6-in-1 Programmable Pressure Cooker, 6-Quart 1000-Watt (I quote off of Amazon):
6-in-1 Multi-Functional Cooker–Pressure Cooker, Saute/Browning, Slow Cooker, Rice Cooker, Steamer & Warmer
Large, easy to use control panel with ten built-in Smart Programs, automatic keep-warm, and 3 temperatures for saute/browning and slow cook
Delay cooking time up to 24-Hours; Manual setting up to 120 minutes of cook time, UL and ULC certified with 10 proven safety mechanisms; Highly energy efficient
Includes 3-ply bottom stainless steel cooking pot, stainless steel steam rack, rice paddle, soup spoon, measuring cup, instructions, recipes, and cooking time tables
Capacity: 6L/6.33 Qt, Power rating: 1000W, Voltage: 110v/60Hz, Gross weight: 14.57 pounds
Final Word
 My favorite things:
Prepare Your Family for Survival: How to Be Ready for Any Emergency or Disaster Situation
Instant Pot IP-DUO60 7-in-1 Multi-Functional Pressure Cooker, 6Qt/1000W (Stainless Steel)
WaterBrick 1833-0001 Stackable Water and Food Storage Container, 3.5 gal of Liquid, 27 lb of Dry Food Products, Blue
Water Storage Containers – WaterBrick – 8 Pack Blue
WaterBrick WB-0001 Ventless Spigot Assembly, Fits Both WaterBrick Water Container Sizes, Blue/White/Red