Quick And Easy Slow Cooker Sloppy Joe's
I want to share my quick and easy slow cooker Sloppy Joe's recipe with you today. This sloppy joe mixture is freshly made from scratch and has a sweet tangy flavor. You can freeze the cooked meat ahead of time and just add the other pantry or refrigerator items when you want to make this recipe.
This slow cooker Sloppy Joe's recipe uses some of your food storage along with whatever meat you want to use. Or substitute the meat for your favorite beans. This recipe is great with ground venison, beef, turkey, or elk.
We have a lot of game hunters in Utah, so this recipe is a family favorite. I use this slow cooker after I fry the meat with the onions. Then I can add the other ingredients to set and forget my dinner. I fried the hamburger with chopped fresh onions (I normally only use freeze-dried onions), but I had a couple of onions I used today in the pantry. Cuisinart PSC-350 3-1/2-Quart Programmable Slow Cooker
The slow cooker sloppy joes mixture is ready to serve on your favorite hamburger buns or other rolls. They are great to serve with potato chips, dip, carrots, celery sticks, and fresh fruit. Oh, and don't forget the root beer! This is a perfect meal to take in a slow cooker to any family reunion or neighborhood get-together.
You could make this recipe with your freeze-dried hamburger as well. I would just cover the freeze-dried meat in cool water for a few minutes (I never follow the directions) and then drain it. If you don't have time to fry the hamburger or other meat of choice, you can use rehydrated freeze-dried meat.
The ONLY time, in my humble opinion, you must follow directions using freeze-dried food would be for using freeze-dried cheese. You must use cold water with freeze-dried cheese OR your cheese will start cooking, just a tidbit of information I learned the hard way, just saying. We call those mini mistakes or learning curves.
Slow Cooker Sloppy Joes
Ingredients for the Sloppy Joe's
tomato paste
ground beef
onions
butter
brown sugar
salt
white vinegar
prepared mustard, bottled-not dry
barbecue sauce
Worcestershire sauce
I cut the recipe down today because my girls have grown up and started their own families. This recipe is perfect for family reunions, or 3 day weekend holidays.
Step One
Gather the ingredients, and fry the ground beef.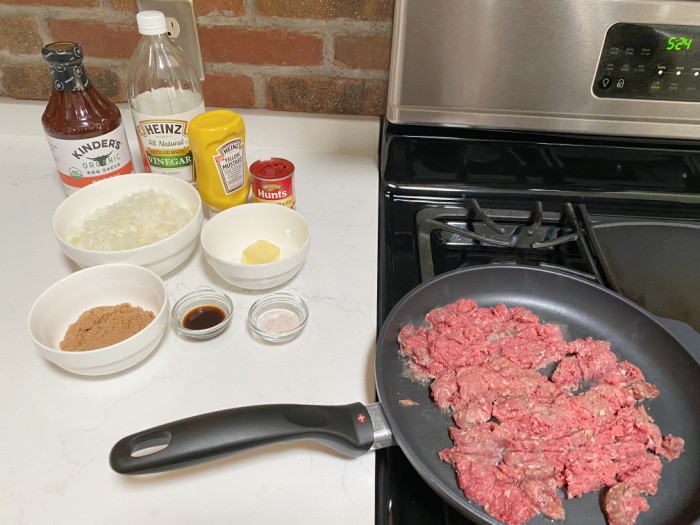 Step Two
Add the onions to the ground beef and cook through.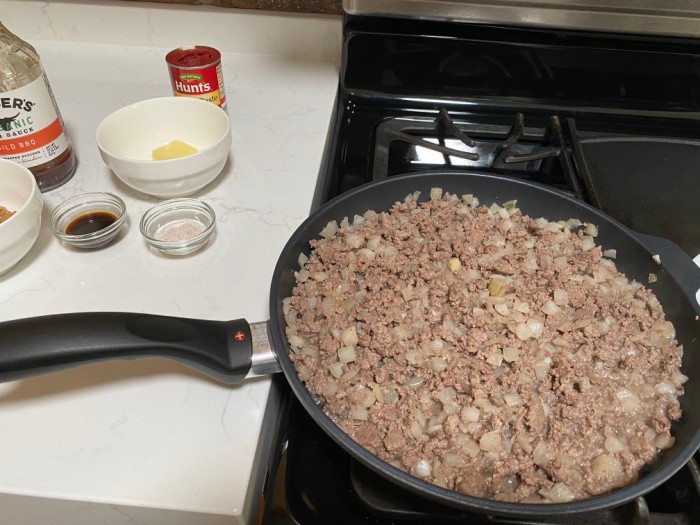 Step Three
Add the rest of the ingredients to the frying pan or slow cooker. It's at this point you can continue cooking the mixture or put the ingredients in a slow cooker.
Finished Product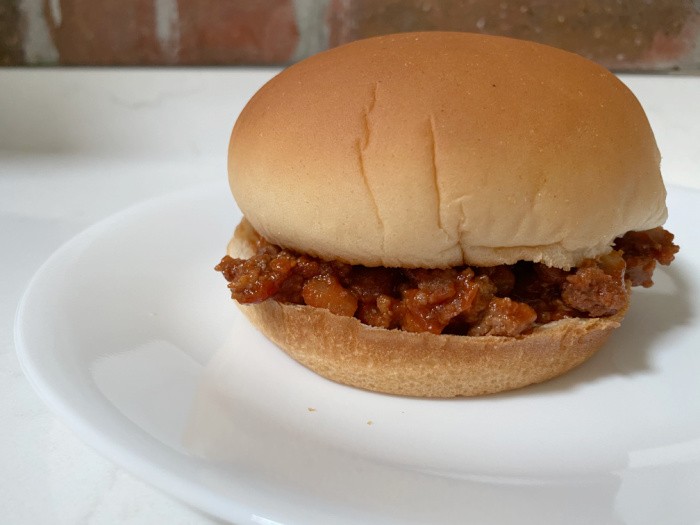 Sloppy Joe Recipe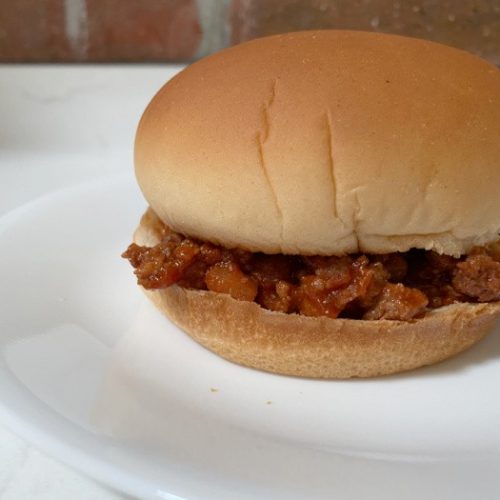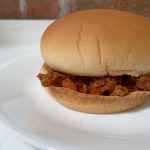 Sloppy Joe's by Food Storage Moms
Ingredients
8

-ounce

can of tomato sauce

2

pounds

ground beef

1

onion, chopped

1

tablespoon

butter

1/4

cup

brown sugar

1/4

cup

vinegar

1-1/3

tablespoons

mustard

2

tablespoons

barbecue

2

teaspoons

Worcestershire Sauce

1/4

cup

bell pepper, chopped
Instructions
Brown the ground beef, bell pepper, and onion in the butter. Add the remaining ingredients and simmer for 20-30 minutes. Serve over hamburger buns.
Homemade Hamburger Buns Recipe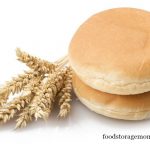 Homemade Hamburger Buns by Food Storage Moms
Ingredients
2

tablespoons

SAF instant yeast Saf Instant Yeast

1 Pound Pouch

2

tablespoons

dough enhancer

optional-this makes them fluffy NutriMill Dough Enhancer 16oz Bag

1-1/8

cup

water

1/3

cup

vegetable oil

1/4

cup

sugar

1

egg

1

teaspoon

sea salt

3-1/2 to 4

cups

white bread flour
Instructions
Preheat the oven to 425 degrees. Now, you can make these in a large bowl, but I used my Bosch bread mixer, and as you know, I dump everything in the mixer (yep, I'm a dumper). I wait until the bread dough pulls away from the mixer. I add just a little until the dough pulls away from the sides of the bowl. Now sprinkle some bread flour on the counter and knead the bread dough about 2-3 minutes and divide the dough into 12 pieces. Grease a cookie sheet and set it aside. Now you roll the pieces into balls and flatten with your hands. Place each flattened ball onto the cookie sheet. I flatten them again with my hand on the cookie sheet. Cover the pan with greased plastic wrap and let rest about 10 minutes. Bake at 425 degrees for 9-12 minutes or until golden brown.
Let me know if you make Sloppy Joes or hamburger buns from scratch. Do you have a favorite ingredient you like to use? Thanks for being prepared for the unexpected. May God bless this world.
Saf Instant Yeast, 1 Pound Pouch
NutriMill Dough Enhancer 16oz Bag
My favorite things:
Nordic Ware Natural Aluminum Commercial Baker's Half Sheet
Nesco American Harvest 4818-22 Anniversary Edition Roaster Oven, 18 quarts, Red
Great River Organic Milling Bread Blend Variety Pack, 20-Pounds
King Arthur Flour – Unbleached Bread Flour, 5 LB (2 Pack)