Making Homemade Baby Food: The Ultimate Guide
Making homemade baby food is a great way to control your baby's nutrition by managing added sugars and salt. Additionally, making your own food can help expose your baby to more flavors making them more adventurous eaters later in life. Please keep in mind sometimes the elderly must have baby food-type food that you could share.
Baby Food Grinder Mill or OXO Tot Mash Maker Baby Food Mill
Half-Pint Glass Jars For Storage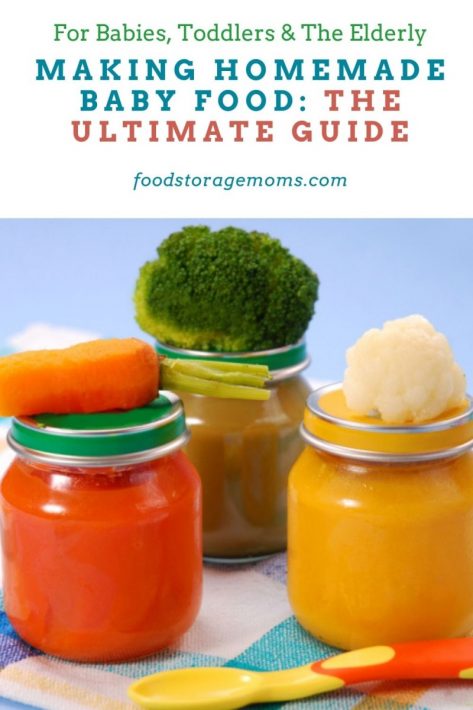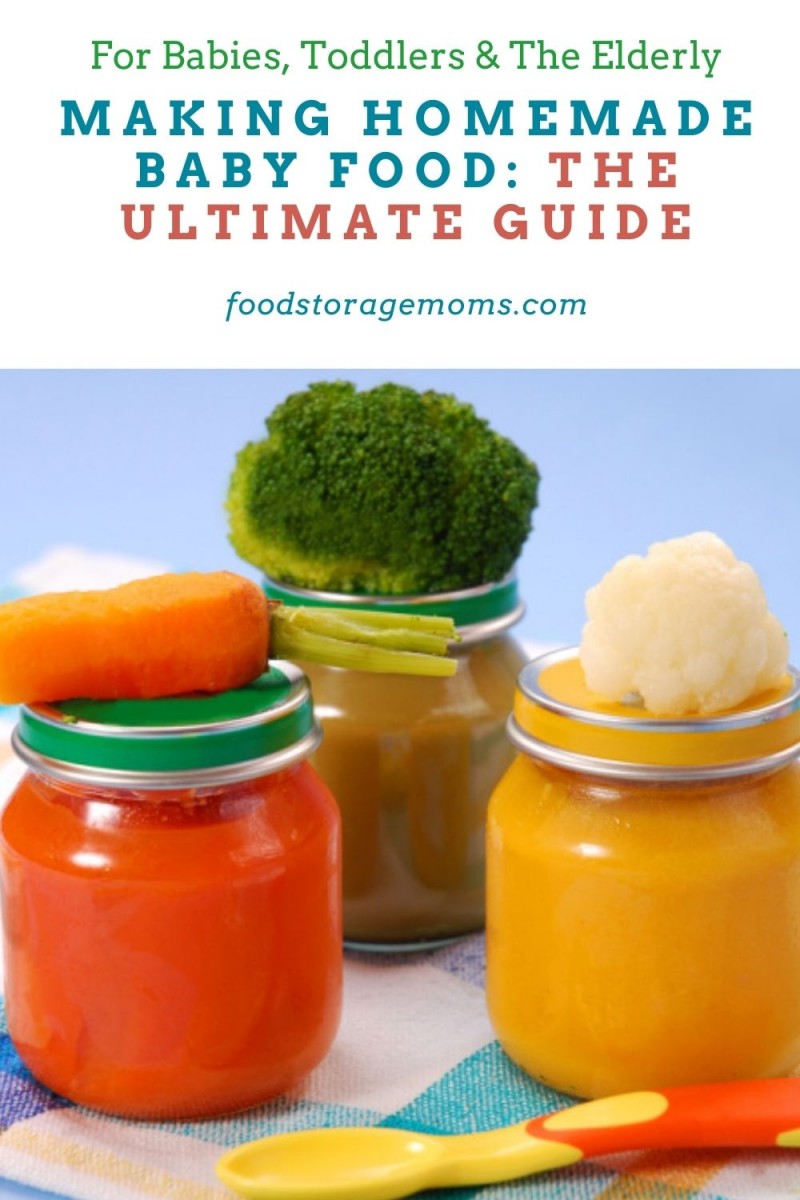 5 Reasons to Make Homemade Baby Food
Today, it's easy to buy baby food from the grocery store. Many brands have their food purees, pouches, and snack bars. But, there are several reasons why making homemade baby food is a good choice!
1. You Know Exactly What's Going In
When you make homemade baby food, you have total control over the ingredients that go into it. You can select organic fruits and vegetables free of harmful pesticides. You also can avoid foods that may cause allergies like peanuts or shellfish. Furthermore, you can decide whether you want to include salt, sugar, and other additives.
2. It's More Nutritious
Homemade baby food is more nutritious than store-bought varieties. This is because fresh fruits and vegetables contain more vitamins and minerals than those that have been processed. Homemade baby food also doesn't require water or other liquids which can further dilute the nutrient content.
3. It's Great for Families
Buying prepared baby food can be expensive, especially if you have more than one child eating it. Making your own homemade baby food is much cheaper and can save you a significant amount of money in the long run.
Not only is it cheaper, but it is great to start doing, especially as families. Not just for babies but for the elderly, at some point, it may be needed. In fact, there are many baby food and formula shortages. This means, that making your own baby food is even more important than ever before.
4. Natural Baby Food Tastes Better
Many parents find that homemade baby food tastes better than store-bought varieties. This is because homemade baby foods are often made with simple, fresh ingredients that allow the natural flavors of fruits and vegetables to shine through.
5. It's Easier Than You Think
One of the biggest misconceptions about homemade baby food is that it's difficult to make. While homemade baby food does require some prep work, you can easily make large batches that can be frozen and used throughout the week. There are also many easy recipes for homemade baby foods that you can try out.
When Should a Baby Start Baby Food?
There is no one definitive answer to this question, as baby food can be introduced at various points throughout the first year of life, depending on your baby's preferences and development. Some babies may be ready for solid foods as early as 4 months old, while others may not show any interest until they are closer to 7 or 8 months old. Be sure to check with your physician first.
What Foods to Start With
What better way to get your baby used to new tastes than by preparing healthy homemade foods? Avocado and banana puree are perfect for beginners. Some of these must be steamed or cooked. Once you've gained some experience with these basic ingredients, introduce:
Asparagus
Beets
Broccoli
Blueberries
Apples
Kale
Mango
Papaya
Pumpkin
Spinach
Squash
How to Make Homemade Baby Food
If you're interested in making baby food, you are going to want to puree foods so that the baby doesn't choke. There are several simple ways to puree homemade baby food, including using a blender or food processor. You can also use homemade baby food pouches that make it easy to store and serve homemade baby food on the go.
Step 1: Prep Your Fruits and Veggies
Prep your fruits and vegetables by washing and peeling them as needed. Cut the produce into small pieces that are easy to blend or puree.
Step 2: Cook the Food
Next, you'll want to cook the food product using a steamer or boiling it in water. Make sure the food is very tender.
Step 3: Add to Blender
Add the cut food pieces into a blender or food processor. Add filtered water, breast milk, formula, or homemade stock as needed to achieve the desired consistency.
Step 4: Add Spices or Flavorings
If desired, you can add spices or flavorings to the homemade baby food. Common choices include cinnamon, nutmeg, and ginger.
Step 5: Blend on High Speed
Blend or puree the ingredients until they are smooth and evenly combined.
Step 6: Store in Airtight Containers
Transfer the homemade baby food to an airtight container and place it in the refrigerator or freezer (see how to store homemade baby food).
How to Store Homemade Baby Food
If you don't plan on serving the homemade baby food immediately, you can store it in the refrigerator or freezer.
Refrigerator Storage
Place the baby food in an airtight container or baby food jar. Immediately place it in the refrigerator. Pureed baby food is good for 1-2 days in the refrigerator.
Freezer Storage
If you want the baby food to last longer, you can store it in the freezer. Place small portions in a clean ice cube tray and place the tray in the freezer. Once the pureed food is frozen, transfer the cubes to a clean, airtight, freezer-safe container (single-serving portions). Homemade baby food is good in the freezer for 1-2 months. Be sure to label it with a date.
Recommended Storage Containers
Tips for Making Homemade Baby Food
Never add honey to foods or drinks for children under 12 months. Honey may contain Clostridium botulinum spores.
Don't use cow's milk. Cow's milk and milk alternatives should not be used during the first year.
Make sure it blends smoothly. Chunks of food can cause a choking hazard especially if you are using grapes, raisins, or hot dogs. It will take at least 1-2 minutes of blending if not longer to get the right consistency.
Use Enough Liquid. You will know you have the right amount of liquid and are at the right speed when all the ingredients are completely circling the blender without any interference.
Scrape the sides. When blending, make sure you scrape the sides with a spatula to get all the produce and spices blended into the puree.
Top Spices to Add To Homemade Baby Food
Please ask your medical professional before adding any of these to be sure they are safe for your baby or toddler.
Cinnamon: This aromatic spice can add flavor and sweetness to homemade baby food.
Nutmeg: Nutmeg adds a warm, spicy flavor to homemade baby food recipes.
Ginger: Ginger is a versatile spice that's perfect for adding some zest to homemade baby food recipes. Try using ginger in combination with other fruits or vegetables like apples, carrots, and sweet potatoes.
Cloves: Cloves add a warm, sweet flavor to homemade baby food recipes. Try using cloves in combination with other spices like cinnamon, nutmeg, or ginger.
Mild Curry Powder: This aromatic spice blend is perfect for adding flavor to homemade baby food recipes. Try using mild curry powder in combination with other spices like turmeric, cumin, or coriander.
Fresh Lemon Juice: Fresh lemon juice adds a tart, acidic flavor to homemade baby food. Try using fresh lemon juice in combination with other fruits or vegetables like carrots, sweet potatoes, or apples.
Garlic: Garlic is a flavorful spice that can add zest to homemade baby food recipes. Just remember to use it in moderation, as too much can overpower the taste of other foods or possibly cause an upset stomach.
Salt: Salt adds flavor and sweetness to homemade baby food recipes. Use in moderation.
Can I Puree Things Other Than Fruits and Veggies?
Yes, you can also puree homemade baby food from grains, legumes, meats, and fish. Just be sure to cook these foods well before blending them. Additionally, it's important to check with your pediatrician before introducing certain ingredients like eggs or nuts into your baby's diet. Some babies may have allergies or sensitivities that make certain foods unsafe for them.
Additionally, you want to make sure you cook eggs, meats, and poultry until well done. Babies are very susceptible to food poisoning caused by undercooked foods. Use a meat thermometer and make sure these foods are cooked at the following temperatures before pureeing them:
Fish- 145 °F
Beef and pork- 145 °F
Ground meat and eggs- 160°F
Chicken and poultry-165°F
Can I mix up my homemade baby foods with store-bought foods?
If you need to supplement your homemade baby foods with some you've purchased at the store, that would be fine. We all get busy or just struggle to find time for any homemade foods. Be aware that in February of last year there was a congressional report that indicated some brands of baby food were tainted by dangerous levels of toxic heavy metals. You should consider doing some research to make sure what you are serving your baby hasn't been listed on a recall order.
Final Word
Making homemade baby food is a great way to save money and ensure your little one is eating healthy, nutrient-packed meals. With a little planning and some simple ingredients, you can make homemade baby food that's both delicious and nutritious. Just be sure to check with your pediatrician before introducing new foods into your baby's diet and always cook meats, poultry, and eggs thoroughly.
What are your tips for making homemade baby food? Share them with us in the comments below! May God Bless this world, Linda
Copyright Images: Baby Food Depositphotos_3487327_S