GMO Foods: Everything You Need to Know
Today It's all about GMO Foods: Everything You Need To Know. I have had numerous conversations with people about GMO foods. Those who are for it say that technology is the only way to feed an overpopulated world, whereas those against it say we are tampering with nature.
Who is right? My goal today is not to steer you in any direction, but to educate you on what GMO is, how it affects our food, and allow you to come to your own conclusions about GMO.
What is GMO?
GMO stands for a genetically modified organism. A genetically modified organism is any organism whose genetic material has been modified using genetic engineering techniques.
In layman's terms, it is modifying an organism in a way that does not occur naturally.
We have been genetically enhancing other organisms for thousands of years through selective breeding. This is how we have sweet corn and seedless watermelons, purebred dogs, and prize-winning rose bushes.
However, GMOs are a type of genetic enhancement that goes a step beyond selective breeding.
Technology allows us to transfer genes between different organisms! An example of this would be the tomato plant's beetle resistance. It didn't have this resistance in a natural setting.
Scientists genetically modified the tomato plant's genome by inserting a gene from a bacterium that encodes a protein that is poisonous to certain types of insects, including the beetle.
How is it Done
Have you ever used the copy and paste feature on your computer? Well, gene transfer technology is a sophisticated version of copy and paste, only for organisms.
Once the desired gene is identified in an organism's genome, it can be cut out and transferred to the desired plant and pasted into its genome.
Once the gene is introduced to the target plant, the plant can then be bred to create a new strain where that gene is passed from generation to generation.
Should We Eat GMO Foods
As I stated earlier, my goal is not to steer you in one direction or the other. Instead, I will give you information on the benefits and concerns of eating GMO foods. You can weigh those benefits and risks and decide on your own.
It is not possible to prove that GMO foods are safe, but there is currently no hazard that has been shown to exist, as of yet. With that being said, here are some health concerns and benefits.
Health Concerns of GMOs
According to studies done by the National Center for Biotechnology Information, they may cause toxic effects such as:
Hepatic problems
Pancreatic concerns
Renal failure
Reproductive issues
Alters hematological, biochemical, and immunologic parameters
Less nutritious foods
Additionally, GH (Growth Hormone) is shown to increase IGF-1 which promotes cancer. These studies have only been done with animals and not on humans.
With these issues, others are even more concerned about cross-contamination! This is where genes from the genetically modified plant or animal move to a plant or animal that has not been genetically engineered.
Benefits of GMOs
As there are concerns, there are benefits that scientists are focussing on. These benefits include:
Plants will require fewer environmental resources.
Disease and drought will not affect our food supply to the same extremes.
The use of pesticides will decrease.
We will have an increased food supply with a longer shelf life.
Faster growing plants and animals.
Food with desirable traits.
Medicinal foods can be used to save lives.
In essence, we have a lack of food problem, scientists are trying to fix it, and we are getting genetically modified foods that will prevent us from starving, but could wreak havoc on our bodies.
What Foods are GMO?
Do you think there are GMOs lurking in your pantry? The truth is, they probably are. Without any clear labeling, GMO foods are hard to avoid.
There are many GMO crops that have been approved in the United States. From apples and potatoes to salmon, there is a long list of FDA approved GMO crops or meat products.
In fact, new ones are released every year. Although you can find GMO foods in fresh food, you are more likely to find them in processed food.
GMOs hide in the ingredient list of processed food. Because 93% of corn and 94% of soybean acres in the U.S. are GMO, they sneak into a lot of our processed foods.
Additionally, they hide in additives such as corn starch, cornmeal, corn syrup, glucose, dextrose, canola oil, cottonseed oil, soy oil, soy flour, soy lecithin, and protein extracts. Even livestock feed is usually made from GMO crops.
Top 10 GMO Foods
Below, I will give you a list of the top 10 genetically modified foods. This list does not include all GMO foods, but the majority of them.
Soy: 90% of soybeans on the market have been genetically modified.
Corn: Half of the corn sold is GMO.
Canola Oil: It is one of the most chemically altered oils sold in the U.S.
Cotton: Cotton oil is a higher risk for our personal health.
Milk: 1/5th of the dairy cows in the U.S. are given growth hormones.
Sugar: Genetically modified sugar beets were introduced in 2009.
Aspartame: Completely artificial and used instead of sugar.
Zucchini: Contains toxic protein to make it resistant to insects.
Yellow squash: It has also been modified with the toxic protein to make it insect resistant.
Papaya: Genetically modified papaya trees have been grown in Hawaii since 1999.
How to Stay Away from GMO Foods
If you feel that genetically modified foods are not safe, you can do your best to stay away from them.
Buy Organic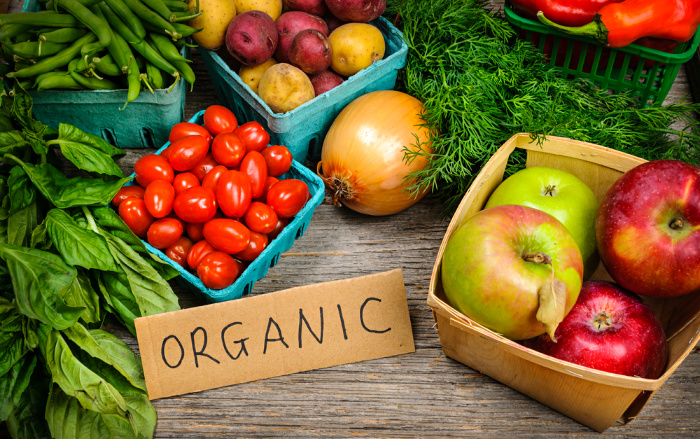 If you don't want to be eating genetically modified foods, your best bet is to stay away from them by eating only organic food. The organic label is a federal standard of how food is produced. It means the product can contain absolutely NO GMO ingredients.
Not only is organic a federal standard for no GMO for crops, but this is also the standard for meat. When you buy organic meat, the animals can only eat organically grown feed.
In addition to not having GMOs, organic foods come with other benefits. They cannot be grown with synthetic chemicals or treated with irradiation.
This means organic is truly an all-natural food free from chemicals, additives, or genetically modified plants.
Look for the Non-GMO Label
You may have seen a label for non-GMO. Although it says non-GMO, these foods can pass with this label if they have less than .09% genetically modified ingredients. This means that even with this label, the food can still be genetically modified.
Grow Your Own
The absolute best way to stay away from GMOs is to grow your own food! Here are some posts on how to grow things yourself:
Additionally, check out our "What to Plant…." posts to find information on what to plant each month in each climate zone. 
Everything You Need to Know Series:
Final Word
Because there haven't been human trials on the effects of GMOs, we really don't know what they can or cannot do to our bodies. The question that remains is "Do we starve or do we genetically modify our food?"
Some people steer clear of GMOs where others welcome them as a new and better alternative. Only time will tell if these foods are better or worse.
What are your thoughts on GMO foods? Do you think we should be tampering with nature? Share your opinions in the comments below! May God bless this world, Linda