The Best Caramel Popcorn Ever
I would love to share with you how to make the best caramel popcorn ever! It has a gooey, yummy caramel spread over popcorn or corn pops, and it stays soft, but not drippy. It's an old favorite that members of our family all love.
I guess that's how I would describe this caramel treat. I use it for apples in the fall and popcorn in the summer or anytime in between! This is a family reunion favorite shared treat!
This is so easy to make and the caramel popcorn is so soft you'll make it all the time and love it! It's one of those treats you can't stop eating it. Gotta love it!
Homemade Caramel Popcorn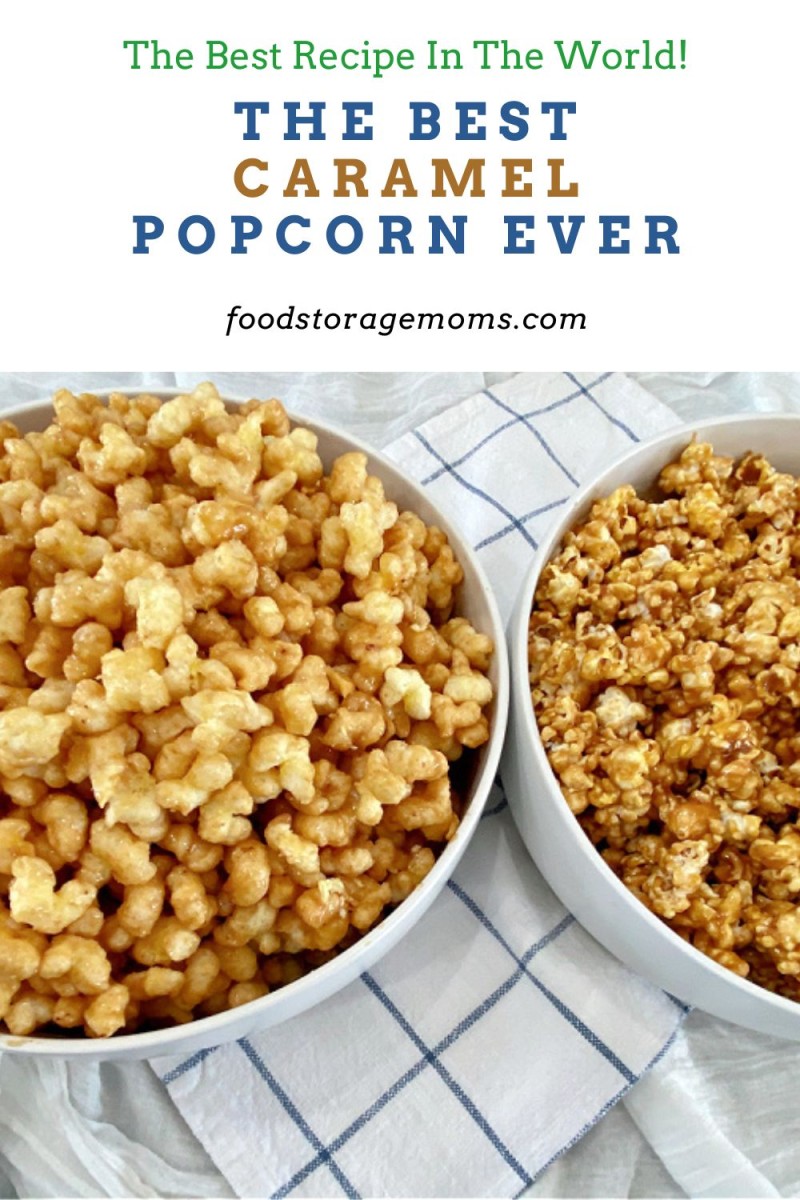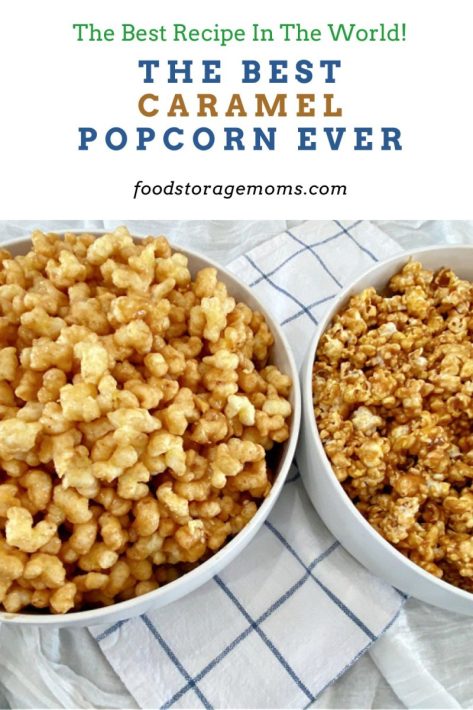 Items Needed in the Kitchen:
Medium Saucepan
Silicone Spoon
The Best Caramel Popcorn Ever Ingredients
Brown Sugar: A mixture of granulated white sugar and molasses. It's added for flavor and to help maintain a moist texture. It caramelizes as it cooks, creating a robust rich flavor that makes this caramel truly incredible!
Light Corn Syrup: The ideal mild-tasting sweetener that is perfect for making caramel popcorn, candy, frosting, and sauces. It is a transparent syrup made by extracting the syrups from cornstarch with added vanilla flavoring.
Salted or Unsalted Butter: Helps to keep the caramel from crumbling. It prevents the sweetened condensed milk from evaporating, which creates moist, soft, and fluffy caramel popcorn. Due to the ready-made prepackaged popcorn and corn pops, there will already be salt added. So it is up to you whether you use salted or unsalted butter.
Sweetened Condensed Milk: Milk that has sugar added and most of the water has been removed. It has a very sweet and creamy flavor with a syrupy texture.
Popcorn: A corn kernel that when heated enlarges and puffs up. Perfect for absorbing the luscious caramel in this recipe!
Corn Puffs: Similar to popcorn, but without the kernels! I use Clover Clubs Corn Puffs, not the well-known Kellogg's Corn Pops cereal.
Step One: Gather Ingredients
These are the only ingredients you need. The Karo Syrup does not have High Fructose Syrup in it.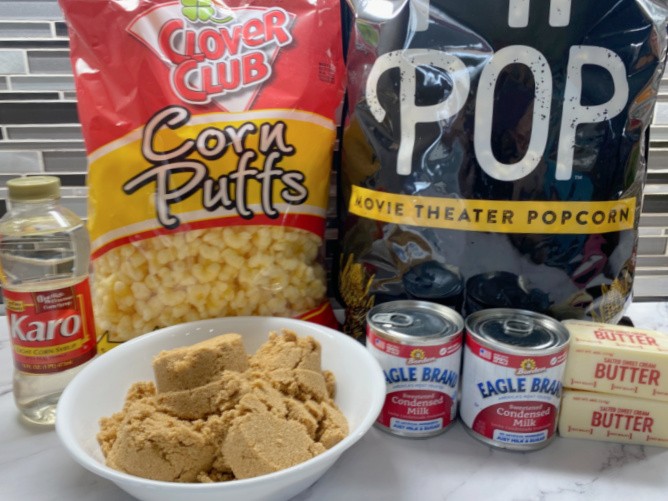 Step Two: Grease Two Large Bowls
The very first step is taking a plastic bag with some butter to grease two very large bowls. One large bowl for the popped popcorn and another bowl for the corn puffs. These are the bowls I use: Stainless Steel Bowls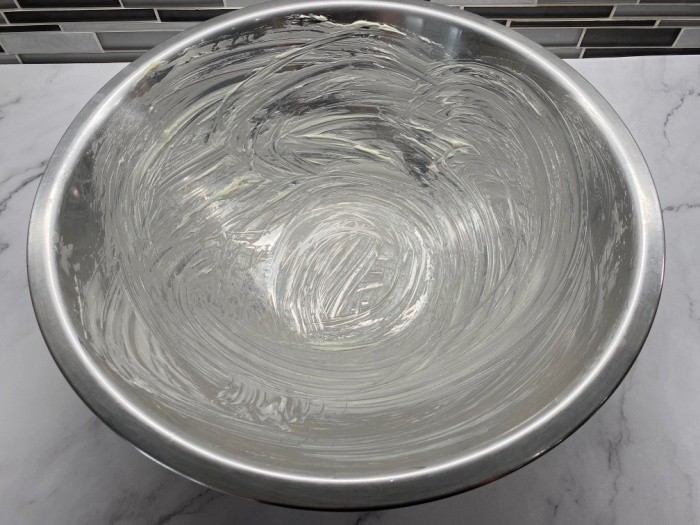 PopCorn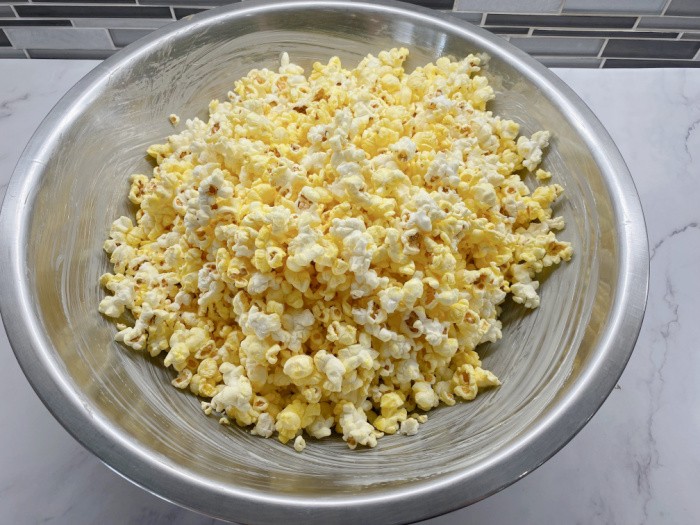 Corn Puffs (not the cereal kind)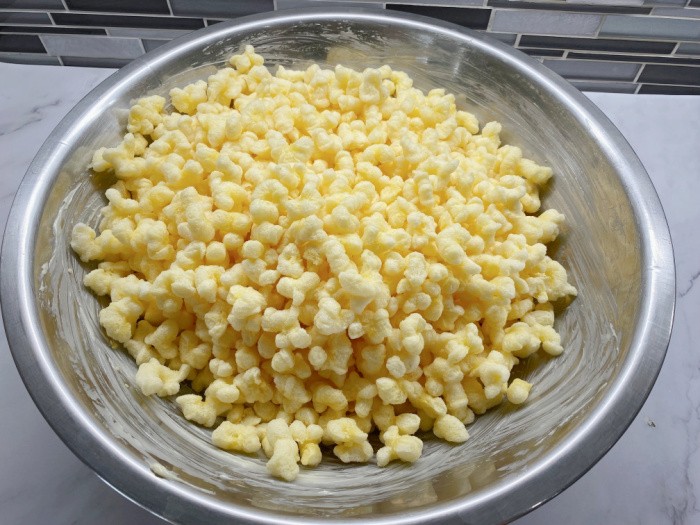 Step Three: Bring the Brown Sugar and Corn Syrup to a boil.
On the stove, at medium-high heat, bring the brown sugar and corn syrup to a boil.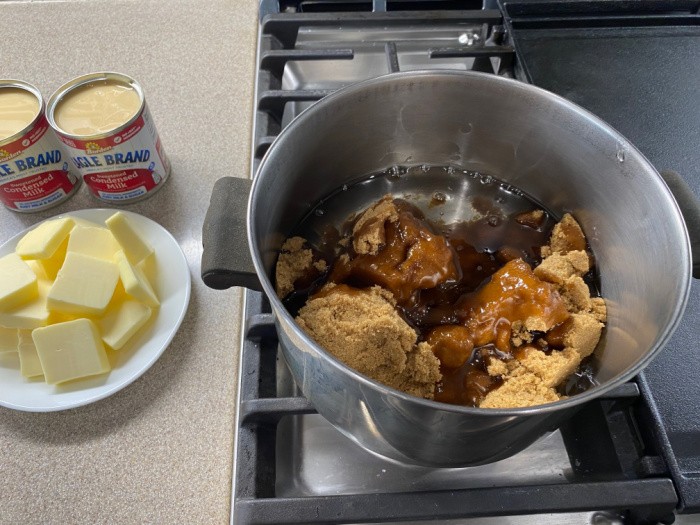 Step Four: Stir Constantly
I've found that if I don't continue stirring the mixture can get "burned" on the bottom and stick to the pan. It also helps make sure all the mixture comes to a boil, not just along the edges.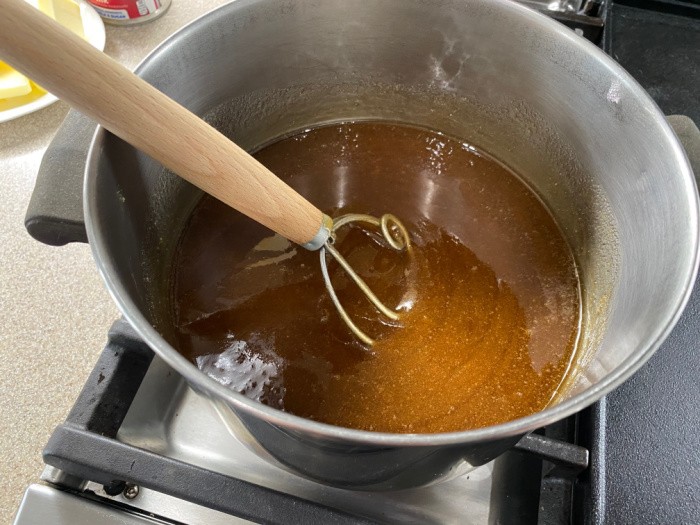 Step Five: Bring Brown Sugar and Corn Syrup to a Boil
Continue stirring constantly over medium heat until you see it come to a boil.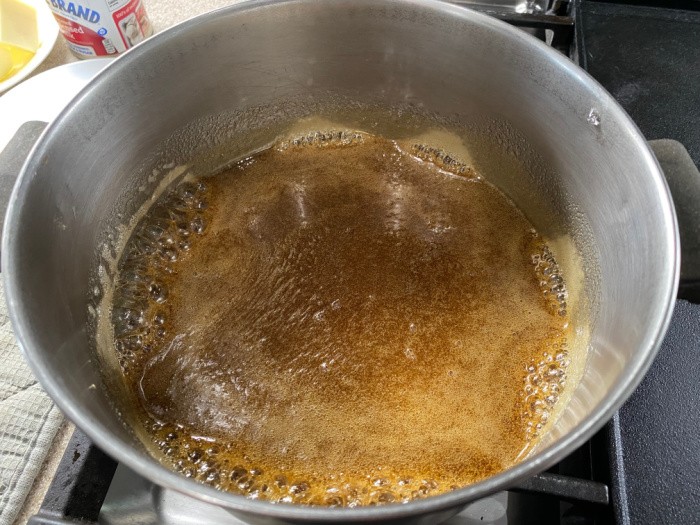 Step Six: Add Butter and Sweetened Condensed Milk
Stir constantly and add the butter pieces and sweetened condensed milk.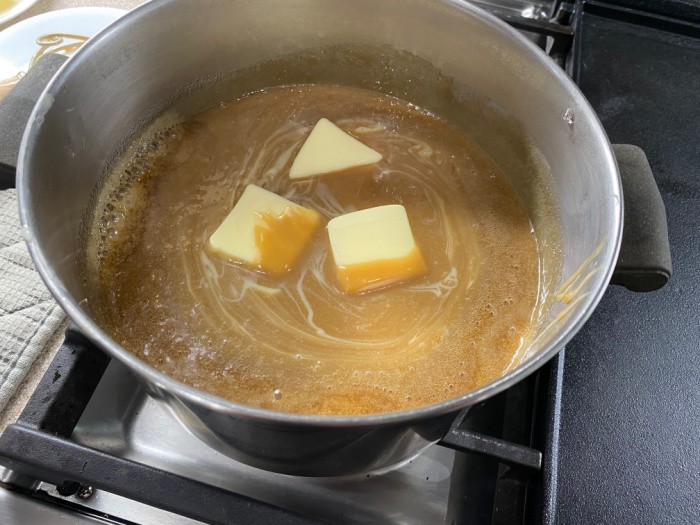 Sweetened Condensed Milk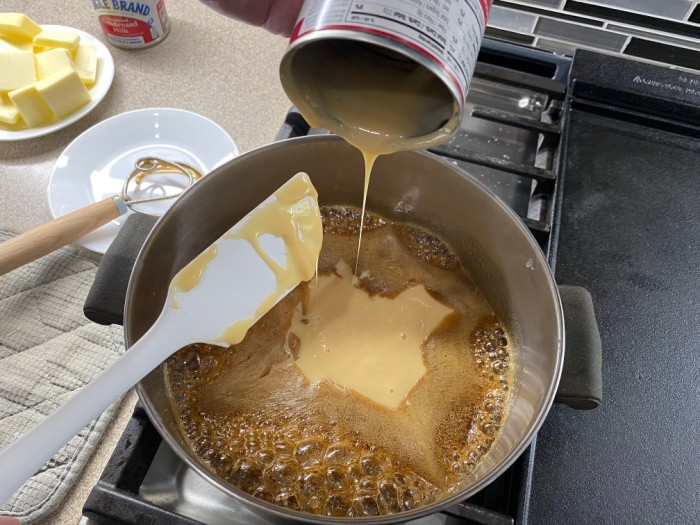 Step Seven: Stir Constantly
Again, you need to continue the stirring action. As the mixture comes to a boil it becomes a lighter color and thickens. Try to get the boiling mixture to a temperature of 220 F to 240 F before turning off the heat. I used a candy thermometer, but almost any food thermometer should work fine.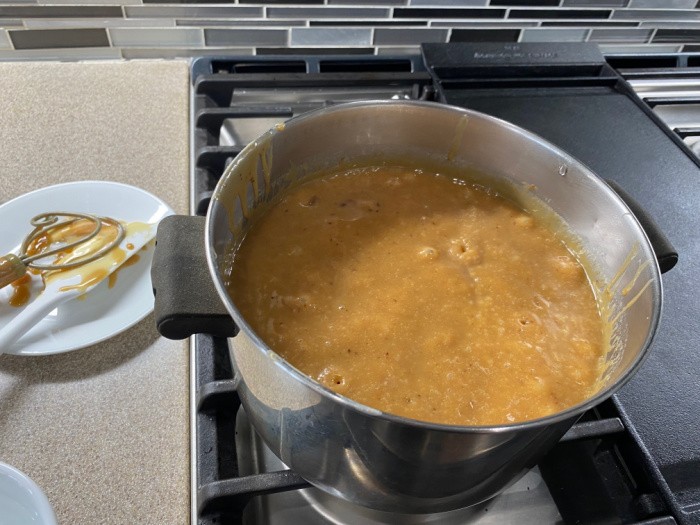 Step Eight: Cook Until Mixture Forms a Semi-firm Ball
Cook to a semi-firm texture. To test out the texture you drop some caramel in a cup of cold water and if it can be made into a semi-firm ball, it's ready.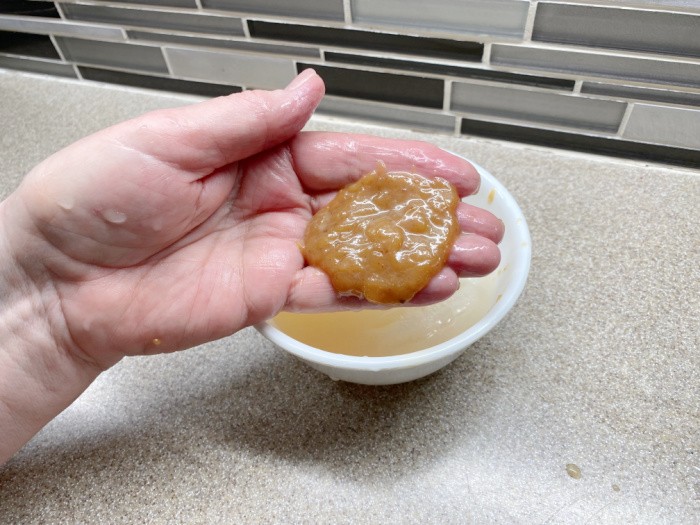 Step Nine: Pour Caramel Over Popcorn and Corn Puffs – Stir
Pour the caramel mixture over the buttered popcorn and the corn puffs. Then start stirring quickly with a silicone spoon making sure that the caramel totally covers the popcorn and corn puffs in each bowl. This will mean bringing the caramel and the corn from the bottom to the top as part of the stirring action. You need to be careful as you do this since the caramel is hot.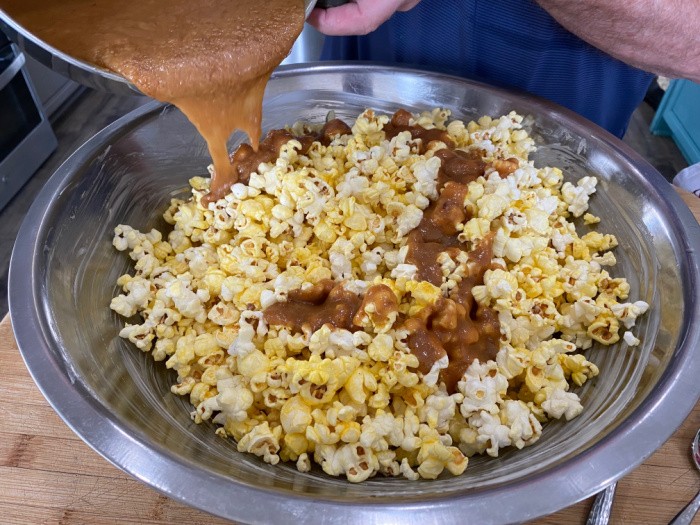 You're welcome to serve the caramel popcorn and caramel corn puffs right from the large bowls, or you can spread them out on baking sheets or more dressy serving bowls. It really depends on how you'd like them to look as you serve them. I wouldn't put the mixture on a cooling rack as you let it cool off to room temperature like you do your cookies. It would make more of a mess and make clean up more difficult.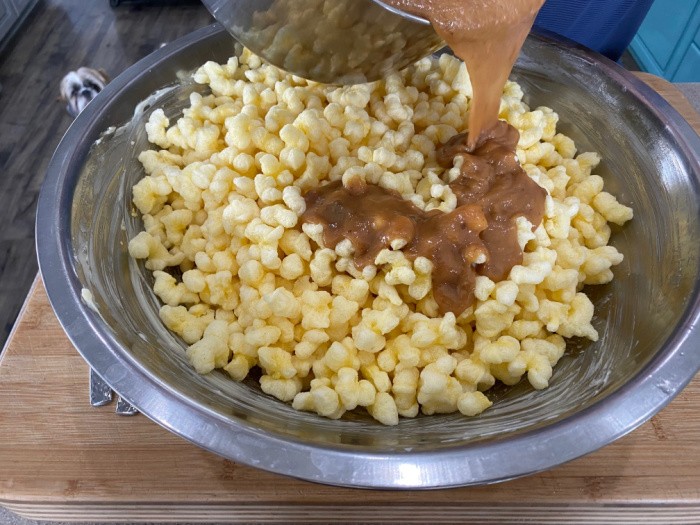 Finished Product: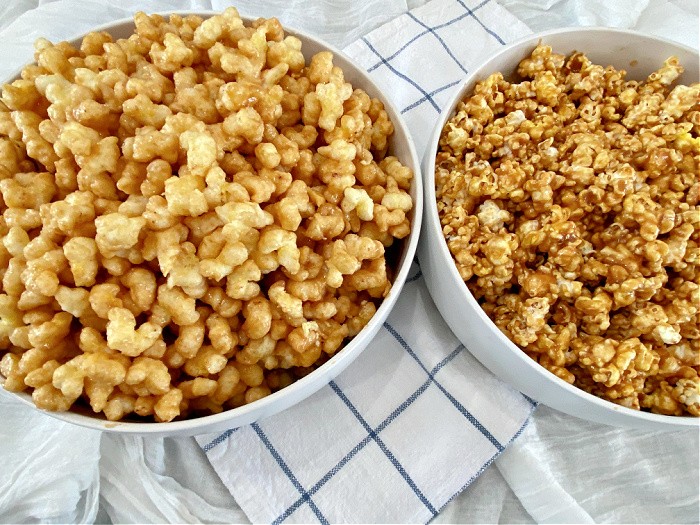 The Best Caramel Popcorn Ever Recipe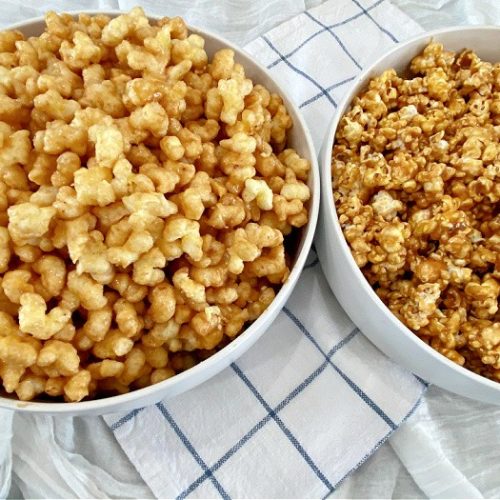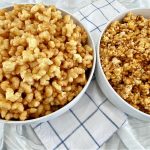 Homemade Caramel Popcorn by Food Storage Moms
Ingredients
4

cups

of brown sugar

2

cups

of light Corn Syrup

1

cup

of salted or unsalted butter (cut into pieces)

2

14-ounce cans of Sweetened Condensed Milk

Buttered popcorn (bag)

Clover Club Corn Puffs
Instructions
Gather all of your ingredients. Take a plastic bag with some butter on it to grease two large bowls. One for the popped popcorn and another bowl for the corn puffs.

Bring the brown sugar and corn syrup to a boil.

Stir constantly and add the butter pieces and sweetened condensed milk.

Continue stirring constantly over medium heat. Cook until you can get the mixture to form into a semi-firm ball. To test out the texture, drop some caramel in a cup of cold water and if it can be made into a semi-firm ball…it's ready.

This makes a lot of caramel so you can make a large batch of caramel popcorn. I like to buy already-popped popcorn at Harmon's grocery store, or a similar grocery store. The corn puffs package I used today is called "Corn Puffs" from a company called Clover Club (not the cereal corn pops) and a package of buttered popped popcorn. Put the popped popcorn and/or corn puffs in a very large greased/buttered bowl so you are ready to stir the caramel over the 1 pound of popcorn very quickly. You can add peanuts, pecans, and almonds for a unique flavor. Enjoy!
Can I pop my own popcorn instead of buying it?
You are welcome to pop your own popcorn. I really like the flavor of the buttered pre-made popcorn you can buy at the store. The flavor of that popcorn, along with the caramel in the recipe, is unbeatable! Plus, it's all about simplicity, right? One less step if the popcorn is ready to go!
How do I store the caramel popcorn?
I highly recommend storing the caramel popcorn in an airtight container. It will last about 3-5 days on your countertop if stored properly. If you feel you want a warm treat, I'd put the caramel popcorn in your microwave for a short period, depending on how much you're trying to heat up. I wouldn't try to reheat it in your oven.
What are some variations I could make to this caramel popcorn recipe?
I really love this caramel popcorn the way it is! If you'd like to add some ingredients to make some variations to the recipe, I would recommend adding some nuts – such as cashews, pecans, peanuts, almonds, or walnuts. Or you could drizzle milk or white chocolate over the caramel popcorn.
You could add a teaspoon or two of vanilla extract to the caramel mixture, but I feel that the flavor is perfect and doesn't need the added flavoring. The options are endless with this recipe!
Some like to add a little baking soda to their caramel popcorn recipes, but I don't feel that it is necessary for this recipe. The ingredients really come together nicely without it.
If you want to make Caramel Apples with the Caramel Sauce
Wash the apples and dry them completely. Put the "Popsicle" sticks in the apples and place the apples on parchment paper in the refrigerator. The caramel sticks to cold apples better than room-temperature apples.
I usually have a small hammer next to the apples because it's the only way I could get the sticks into the crisp apples.
You can roll the caramel apples in mini chocolate chips (let the hot caramel cool down or they will melt), coconut, or chopped pecans.
Expect two things two to happen after you make and serve these fun treats: (1) your fingers and teeth will get sticky caramel all over them, and (2) your family will beg you to make more batches once these are quickly eaten up. Enjoy!
Final Word
I hope you try making my caramel popcorn recipe, please let me know if you do. It really is the best caramel popcorn ever!
The taste of how the brown sugar, light corn syrup, butter, and sweet condensed milk caramelizes as it heats, is absolutely amazing! The chewiness is the perfect blend of gooey and just the right amount of crunch from the popcorn and corn puffs! You and your guests will go back for one handful after another!
Be sure to check for unpopped popcorn kernels, particularly if you pop your own at home. You can cause some damage to your teeth if you happen to bite into one of the kernels.
It's great to take to parties, family reunions, and neighborhood get-togethers. It is also perfect for a snack while watching movies on movie night or gifting to your neighbors as a Christmas gift.
Please keep prepping, we must. May God bless this world, Linda