What to Store in Your Pantry for an Emergency
Today it's all about what to store in your pantry for an emergency. In almost every disaster situation, many people are left blindsided and totally unprepared. You just never know when an emergency could happen and you're no longer able to head to the grocery store to pick up some last-minute supplies.
The recent pandemic, hurricanes, winter storms, and power outages have been true-life examples of this. This is why you need to have a pantry that's ready for those emergencies.
At this time of year we are reminded of the importance of family, and friends, and how blessed most of us are. But we also hear about the plight of so many who suffer from hunger, and poverty, the mission of soup kitchens and food banks.
Are You Aware Of Homeless Students In Your Area?
Mark's civic club, the Exchange Club, is involved in providing volunteer time and gathering donation funds to provide food and clothing to the local high school students who are homeless and living in their family's cars.
So many of us are uninformed about our neighborhood community members and other residents who are the recipient of food stamps, and other essential services just to survive. The latest news on the radio this morning reported that the new mayor of Los Angeles has declared a state of emergency in their city as a means to move residents out of homeless shelters and into housing where they can feel safe and not feel helpless when it comes to food insecurity. Some of these people have been under the care of the VA in years past, but have fallen through the cracks.
We are all subject to changes in our lives that create the unexpected "emergency." That could come in the form of a serious accident, severe illness, loss of job, or another event we hadn't planned on. Now is the time to prepare by stocking up our pantry and taking other necessary steps so we are better able to protect our family.
Let's talk about what to store in your pantry for an emergency.
Related: Emergency Essentials Every Family Should Have
In times of emergency, it's important that you're still providing your family with the right nutrition, even when your circumstances aren't so great. Here's more on what to store in your pantry so that you're prepared for an emergency. Please pass this PRINTABLE on to people who need help with food storage, Food Storage List-Where Do I Start Free Printable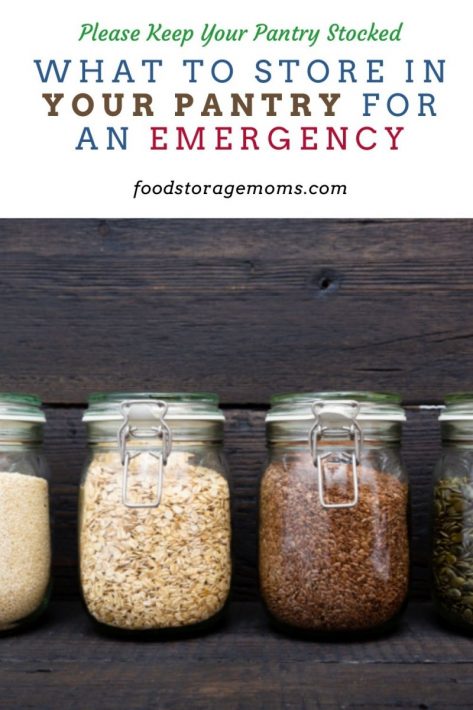 What to Store in Your Pantry for an Emergency
Drinking-Water
For obvious reasons, drinking water takes up the top spot on my list. Your body is made up of around 60% water and can only last a few days without it.
Whether you plan on storing your drinking water in bottled form, in 5-gallon containers, or even larger tanks, make sure that you have at all times a minimum of four gallons of water per individual, per day, for at least a 3-day period or longer.
This will cover your family's drinking and sanitary hygiene purposes for the most part. And don't forget your pet's needs. You need one ounce of water per pound for each day. So, if your pet weighs 10 pounds you will need 10 ounces of water stored for them to drink each day.
For those of you who live in a hotter climate, are pregnant, or have a baby that drinks formula, you'll want to have more on hand. Another reason you may want to plan on storing more is in case one of your family members were to get sick and require more fluids to keep them hydrated.
Related: What You Need in Your Working Pantry
Electrolyte Drinks
It can be an extremely dangerous situation when you're sick and your body is unable to retain fluids and electrolytes, especially during an emergency. Electrolyte drinks, such as Gatorade or Pedialyte, provide you and your children a way to hold on to those fluids if you were to have vomiting or diarrhea symptoms. I feel so much better when I have this product stocked in my home, Pedialyte Electrolyte Powder Variety
In case you missed this post, How To Know When Someone Is Severely Dehydrated
Natural juice products without a lot of added sugars are also very helpful as you try to stay hydrated.
Canned Vegetables and Fruit
Have you ever had the unfortunate experience of buying fruits and vegetables in the produce department of your local grocery store and never getting the chance to enjoy them? Happens to me too often. Instead of purchasing products that spoil far too quickly, why not buy them canned so you have something when you're in a pinch? Not only do they last in your pantry for a reasonably long time, but they also have similar vitamins and minerals that fresh produce provides.
Pasta
Pasta contains important carbs that can give your family energy, as well as fiber to help with digestion. It stores for several years and comes in so many different shapes and sizes. Be sure to also have a variety of pasta sauces that you can use so that the pasta doesn't get old when eating it multiple times a week if necessary.
Canned Soups
Another warm and hearty meal that lasts for a number of years in your pantry is canned soup. Many have plenty of nutritious value and only require to be heated up. It's also not necessary to add any milk or water to some of them, which is a good thing when you're dealing with an emergency situation where those ingredients may not be available to you.
See the comments below about case lot sales on canned goods, it can save you some money and give you peace of mind knowing you're better prepared.
Canned Meat and Fish
Listen up, all you meat-eaters! If you're ever faced with an emergency situation and fresh meat was not currently available to you, that doesn't mean that you have to go entirely cold turkey (sorry, I couldn't resist). Canned meat and fish come packed with protein, vitamins, minerals, and omega-3 fatty acids that are important for your family.
You also have plenty of tasty options, whether it's canned chicken, ham, SPAM, Manwich, sardines, tuna, or salmon. They not only come in cans, but you can also find them in foil pouches that don't require a can opener.
Mark and I particularly enjoy the canned chicken breasts from Costco. We make chicken salads, chicken salad sandwiches, and other entrees we both enjoy. The same can be said for canned tuna products, with lots of versatility when it comes to meal prep.
We've had "case lot sales" a lot this fall and early winter where the stores in our area sell various canned goods products at a discount if you're willing to purchase them by the case. If that's an option in your area, I'd strongly suggest you take advantage of the sales and be creative when it comes to finding places in your home to store some larger inventories.
Beef Jerky and Other Dehydrated Meats
Beef jerky and beef sticks are excellent snacks for you that are filled with protein to provide you with energy. Just be careful not to eat too much because they tend to contain a lot of sodium. As long as it's sealed up properly, jerky can store for a couple of years.
If you're not much of a beef fan, there are a number of other dehydrated meats that you can try, such as ham, turkey, venison, salmon, alligator, buffalo, and even kangaroo.
Protein and Granola Bars
Granola and protein bars come individually wrapped and can come in handy when you're in need of a quick breakfast or a sweet snack. Plus, they're much healthier comfort food for your children instead of them eating a chocolate candy bar.
Dehydrated Fruits
For those of you who can't seem to get enough fruit, you should consider storing raisins, craisins, apricots, and other dried fruits to hold you over. While most dried fruits typically have much of their vitamin C compromised, there are still plenty of other nutrients that they contain.
It's better if you go with the "no-sugar-added" dehydrated fruits when you can, but no matter which way you prefer them, they'll last for a long time when properly sealed in their container.
You may want to consider canning some fruits at home. As we raised our kids, the fall harvest and canning season was a busy one in our home. We canned peaches, pears, and apricots, and made tons of apple sauce in quart jars.
These canned treasures made memories as we processed the fruit, but also for months after as we enjoyed them as part of a healthy breakfast or mid-day treat.
Nuts and Seeds
Another wonderful emergency snack to stock in your pantry would be a combination of nuts and seeds. Whether you're a pecan, walnut, cashew, pistachio, or peanut lover, each of them has plenty of protein, along with fiber and other important nutrients.
If you're looking for a supply that will last you the longest, then I'd encourage you to purchase the nuts and seeds that still come in their shell.
While I'm on the topic of nuts, don't forget to have a few jars of peanut butter, especially if you have children. Please remember all nuts must be kept in the freezer for longer storage plans. Because of their oil content, they'll go rancid very quickly. In case you missed this post, Health Benefits of Nuts: Stock Up
Multivitamins
It's pretty safe to bet that your family could be missing out on some rather important vitamins and minerals from their diets when dealing with a stressful emergency situation. Don't allow it to come to that! Be sure to add daily multivitamins to your pantry to fill in those deficiency gaps.
I'm not a doctor, nurse, or anyone in the medical field, but I will recommend these vitamins if they work with any medications you are taking. Always check with your medical advisor. Vitamin D3, Vitamin B-12, and Zinc. Please stay healthy, let WHOLE food be your medicine.
Can Opener
Several of the food items on this list come in can form, but it's going to be difficult to open any of them without a can opener, so make sure you have one set aside. I have several Hand Can Openers, and because of my arthritis, I opted to have an Electric Can Opener as well.
What to Store in Your Pantry for an Emergency
Final Word
Covid-19 was certainly an eye-opener for Americans, as many began to see the urgency and importance of having a fully-stocked pantry in case of an emergency and related challenges like lockdowns. Because chances are, when you went to the grocery store, it was difficult to find what you needed.
A recent emergency in North Carolina was caused by vandals shooting high-powered rifles into a local electrical substation. There were hundreds of thousands without power for an extended period.
Those kinds of scenarios seem to be more common and will probably be more frequent going forward. Since you can control your own destiny when it comes to food, water, and other critical storage items, get ahead of the game and prepare now.
The experts have been telling us for some time that this winter could get even worse when it comes to sickness, severe storms, and other challenges. This is why I'd encourage you to prepare now and store several of these pantry items before things wind up being worst-case.
That way you'll still be able to provide your family with meals and snacks that also have the nutritional value we all need. May God Bless this world, Linda
Copyright Images: Pantry AdobeStock_239082975 by artursfoto