How To Know When Someone Is Severely Dehydrated
Have you been around people who have been severely dehydrated? I'm going to share a personal story with you, I hope it helps you one day. One of my daughters mentioned to me about two weeks ago she had a sore throat and thought she was coming down with a cold. Now, let me remind you, my entire family, typically or rarely goes to the doctor because we are a healthy bunch. We can usually heal our bodies naturally, drinking water and eating healthy. We are all hand washing freaks, or at least the majority of us are. I hate that word freak, but we own it. All of us own it.
I raised my girls to be strong hard working women and mothers. They are also independent, no entitlement required, thank goodness. I call it tough love. Let me tell you how my daughter got sicker and sicker. I knew she had a "cold," but she's a single mom working 60-70 hours a week, if not more.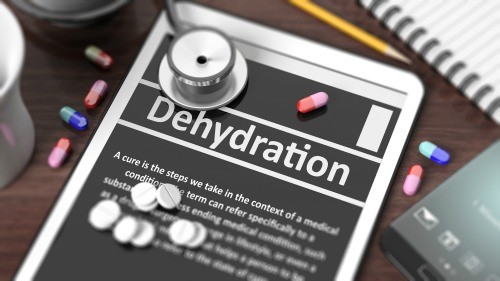 I'm not a helicopter mom, but I am a concerned mom. I sent her a few text messages and she responded she was doing better. Then ten days after the "cold" started I called her this last Friday. She said she was tired and had been throwing up for a few days. I said you are probably dehydrated, have your son (22 years old) get you some chicken soup and some Gatorade or several drinks that have some electrolytes in them. Drink them and keep me posted.
Severely Dehydrated
Now, I called her on Sunday morning and she said she was worse, I said go to an Instacare (she's a single mom). She said, no I'm fine. I said okay, rest and keep me posted. That night things took a huge turn for the worse.
I called her that night about 5:30 p.m. and she was babbling, disoriented and making no sense. She was hallucinating and incoherent. Please keep in mind we live 400 miles away from her. I called one of her friends, no answer. I then sent him a text with 911 and her name. He quickly called me back. I said my daughter is in trouble, she needs to go to the ER NOW, and I mean NOW.
I called my daughter back and I could hear my grandson talking. I didn't know he was home. I called his number and said, you need to take your mom to the ER NOW she is very very sick. He, said, let me talk to grandpa. I think he must have thought I was being dramatic. Well, Grandpa said to take her to the ER NOW. He still said I think she is just tired.
I called her friend back and said her son is there, we are good. I said to her son, if you don't take her to the hospital she could die. I have helped so many people the last few months with dehydration in our neighborhood, and my daughter was the worst I case and I knew she needed immediate attention.
I had to leave it to our grandson to get her to the hospital which was one mile away from their apartment. One freaking mile away, that's all. I knew then it was in God's hands. If my grandson didn't take her ASAP, she would die. I will never forget looking at my husband on the couch with tears running down his face and thinking there is nothing we can do.
Yes, I could have called 911, but my grandson was there. Anyway, I went to bed hoping we would get a call from the hospital letting us know how she was doing. Well, about four hours later, my daughter's friend called and said she was at the hospital with my daughter and she was in bad shape. Her sodium levels were dangerously low. The doctors said they like the number above 135, 120 is life-threatening and hers were 118. The doctors were surprised she hadn't had any seizures or worse. Well, maybe she did, we will never know.
They did a CT Scan, then an MRI, blood tests, gave her IV's with lots and lots of sodium/saline solution and Potassium. The Potassium drip took four hours and was extremely painful. She was crying with pain, she could feel it going through her body. Anyway, she ended up having to stay until Tuesday night. I think she should have stayed a few extra days, she is still exhausted. She has lost all her memory for the last tw0 to three weeks.
I called a friend who is a great doctor and he said that is normal. Okay, breathe, Linda, breathe. Mark and I could have gone down there, but I wanted to hear the results of the tests before we booked flights or whatever. Anyway, she is still not out of the woods but continues to gain strength each day.
Severely Dehydrated Symptoms
I am not a doctor, a nurse or anyone in the medical field, this is what I have learned over many years:
Little or no pee output or having very dark yellow pee
Fainting
Disoriented
Confused
Irritability/Combative
Lack of energy
Very dry skin
Chapped lips/bright shiny red lips
Rapid breathing
Rapid heartbeat
A headache
Dizziness
Dry mouth
Increased thirst
Fever
Vomiting/Diarrhea
Lethargic
No tears when they cry
No appetite
Sunken eyes
I felt strongly I needed to share my story about my daughter with you. It may save a life of someone you know. Do not wait, go with your gut if you think your friend or loved one is severely dehydrated and needs to go to the ER or InstaCare type clinic. May God bless you and your family to stay well. Please, stock items you feel you need to help your family stay hydrated.
Copyright Photos:
Dehydration: AdobeStock_97183026 by Viperagp