What You Need For Your Emergency Bathroom
Have you thought about what you need for your emergency bathroom? I was very surprised when I read on Facebook that a few people were going back and forth on what was needed for an emergency toilet or if we really needed to have one. Are you kidding me? I don't know about you, but surely people know they need one, right? I have written so many articles on making one, I was shocked to hear the idea was still under debate.
I guess I'm back on the soapbox today! We have got to get the word out to everyone that they must make an emergency toilet. They are cheap to make and you will sleep at night knowing you have one ready to use after a disaster. If the disaster is big enough the sewer lines may be shut down due to a power outage or broken lines. You do not want to have to go somewhere to use the bathroom, particularly during or right after a disaster. If you need to "go" in the worst way, how are you going to feel if the toilets don't work and you DON'T have an emergency backup plan in place? Take some time today and set out to have an emergency toilet ready to use ASAP.
I'm just surprised by all the flooding, the fires, tornadoes, hurricanes, and whatnot that people may not have water stored, extra food, and their own emergency bathroom planned out. Of course, we need so much more, but I feel strongly I need to address this topic today.
I'm Not A Survivalist
Sometimes I get discouraged because I don't know why people don't get it. I'm not a survivalist, although I know I'm prepared to survive almost anything. But I can't take care of everyone in my neighborhood. How do I get the world to realize that their church, the government, or their city will not be there to pick them up and take care of them?
It's not going to happen if you think others will be looking out for us each time a disaster happens. There are just too many of "us" for the agencies to step up and take care of. We are supposed to be self-reliant. If we can't take care of our own family then we are in deep trouble. Okay, I'm stepping down off the soapbox. Thank you for your encouraging words, you all keep me going. And I thank you for that!
Emergency Bathroom Supplies
Emergency toilet
Toilet paper
Diapers, paper or cloth
Hand Sanitizer
Baby wipes
33-gallon size garbage bags
Kitty litter
Sawdust
10-gallon garbage bags
4-gallon garbage bags
Tissues
Paper towels
Maxi pads
Tampons
Depends-incontinence needs
Bio-Blue by Reliance (cuts down on the smell)
Biffy Personal Toilet (for the car)
5-gallon buckets
6-gallon buckets
Duct Tape
Bleach (for safely cleaning up sewage)
Emergency Bathroom Ideas
There are so many options for making your own emergency bathroom or toilet facility. Let's get started. I do better with pictures, so here we go.
5-Gallon and 6-Gallon Buckets
You can see the one on the left is a 5-gallon and the one on the right is a 6-gallon bucket. You don't have to squat down so far with the 6-gallon bucket. Just giving you the heads up here. All you need is some 10-gallon garbage bags and some kitty litter, sawdust, or Reliance Bio-Blue.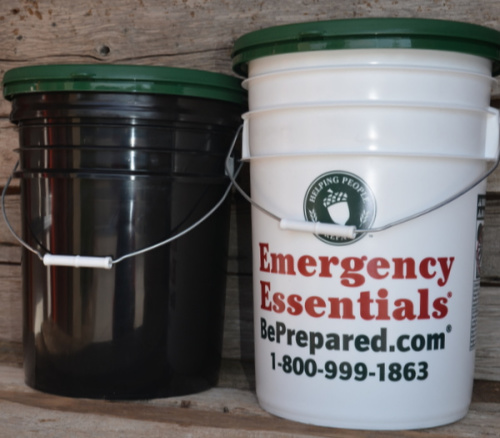 Toilet Seat Picture
These are the two styles I have for the 5 and 6-gallon buckets. You can buy these at most emergency preparedness-type stores or here: Toilet Seats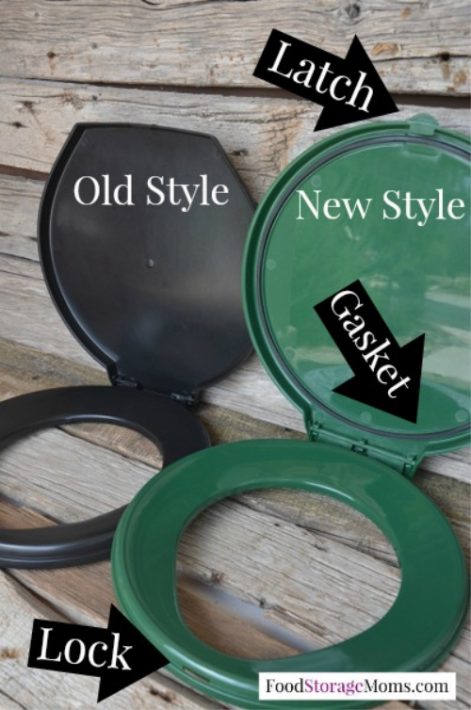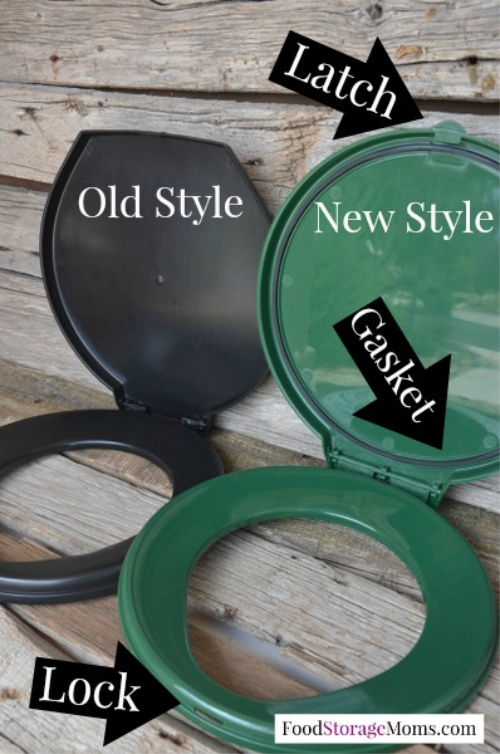 Car Emergency Bathroom
I remember taking road trips with our daughters and I always said before we left, "Has everyone used the bathroom?" Well, two hours into a trip you may need this little #10 can if you are miles from everywhere. I fill mine with hand sanitizer, 4-gallon garbage bags, duct tape, and of course, a roll of toilet paper.
Your Existing Bathroom
Here you can use your bathroom toilet by lifting the toilet seat, turning off the water supply, and placing a 33-gallon bag on the toilet base. I would use duct tape to keep it in place. Fill with some kitty litter or sawdust. The only things you need to stock are 33-gallon size bags, kitty litter or sawdust, and of course, some toilet paper.
Dane's Homemade Toilet
I wish I had the directions to make this, but I don't. My nephew, Dane is one of those awesome "handyman" guys. He can think up just about anything and build something with scraps. All you need is to build the frame, attach a regular toilet seat, and toilet paper holder, place a 6-gallon bucket inside, some 33-gallon bags, and kitty litter or sawdust.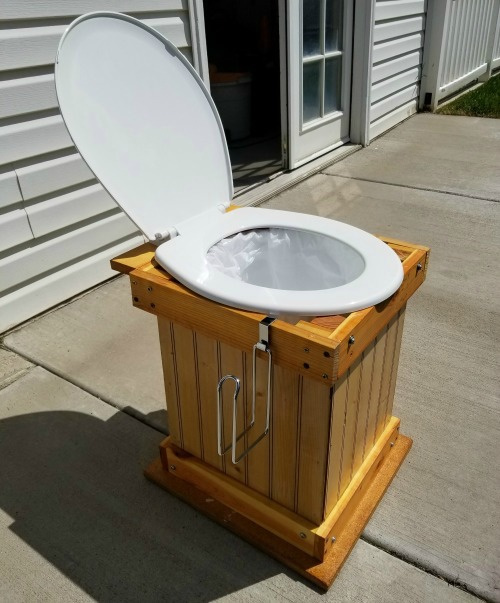 Dave H. Toilet Made With Steel
Is this awesome or what? I need to ask my son-in-law to make me one because he works with steel. Dave mentioned he used one-inch square tube steel for part of it. Is this fabulous or what? Plus, Dave mentioned he uses a Gamma Lid to keep the smell and the flies away on top of the bucket, below the toilet seat. Why didn't I think of that? Woohoo!
He even made a toilet paper holder. This rocks, right? Just so you know, most Walmart stores sell Gamma lids in the emergency preparedness section. I have only seen 5-gallon buckets at Walmart, just giving you the heads-up here. I like the 6-gallon size.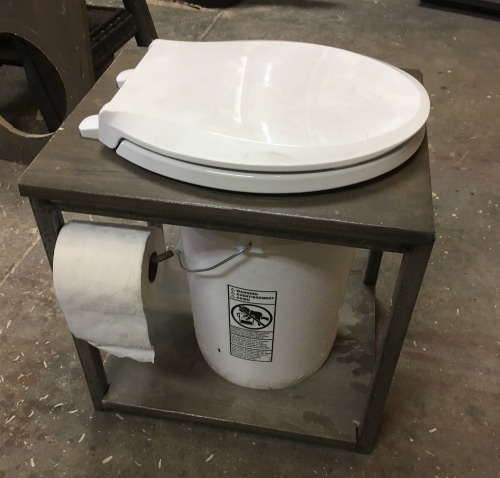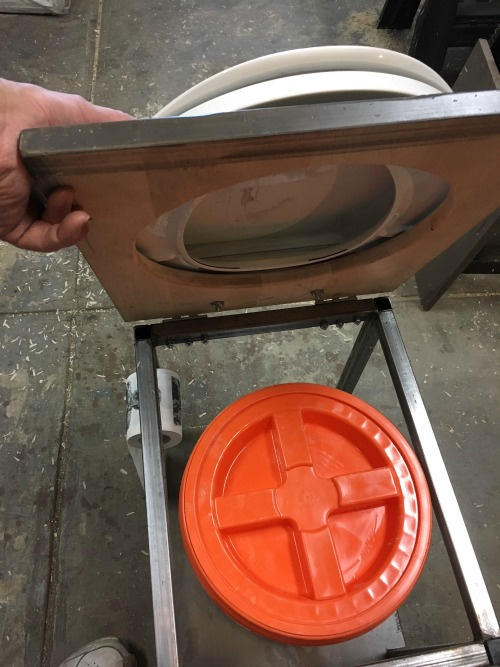 Final Word
Let's hope people read my post today so they are prepared with their own emergency bathroom and supplies. There are so many options for everyone. We just need to get people to get prepared as soon as possible. Thanks for being prepared for the unexpected. May God bless this world, Linda