20 Delicious Christmas Snacks
Whether you're making holiday snacks for yourself, a party, or as gifts for friends, you're sure to find something for every occasion in this sweet collection of 20 delicious Christmas snacks.
Related: Hot Cocoa Bombs
From truffles to fudge, from cookies to brownies, and from brittle to candy bark, you'll find every combination of festive flavors in these fun recipes. Gingerbread, eggnog, peppermint, cranberries, walnuts, pistachios, maple, and of course, chocolate are just a few of the holiday flavors that appear in these snack ideas.
Grab your apron and get ready to bake up several batches of these Christmas snacks or goodies that your friends and family will love as you celebrate the season this year!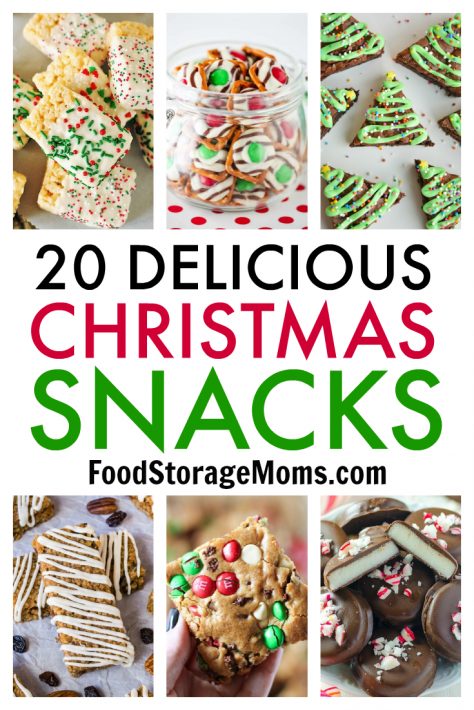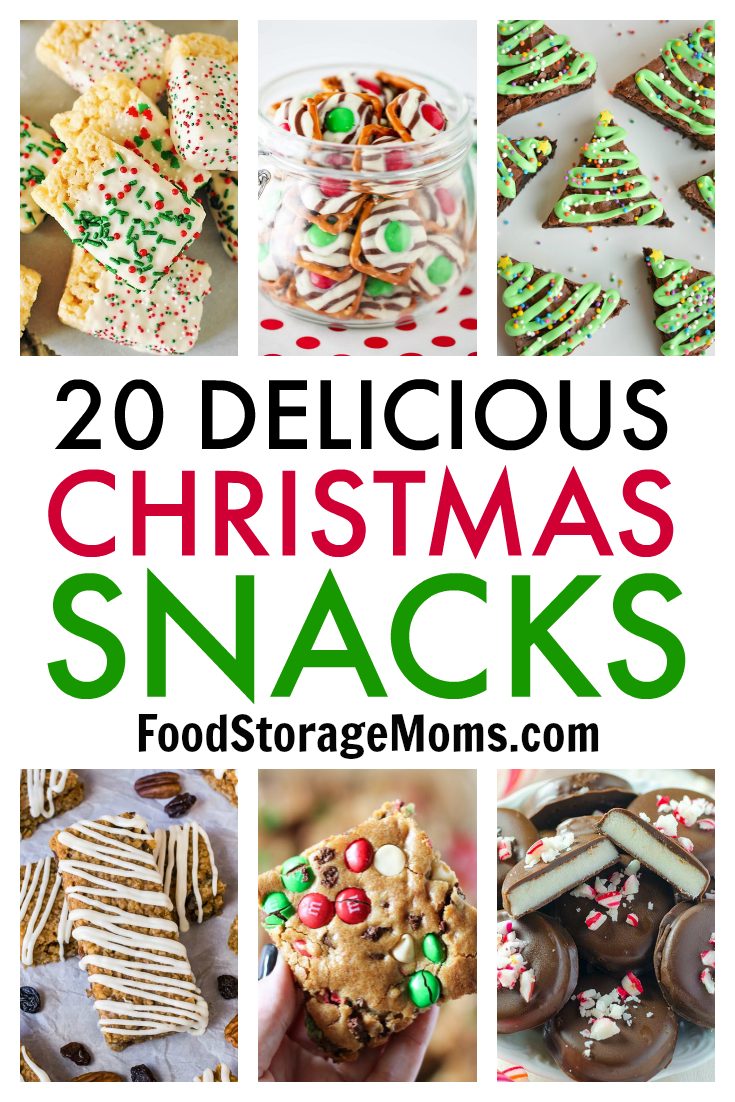 Christmas Snacks
1. Gingerbread Truffles
Gingerbread Truffles by Six Sisters Stuff
Truffles are the ultimate sneaky snack – you can never eat just one! If you love gingerbread you'll need to make these to have around during the holidays. Better make a double batch!
2. Christmas Rice Krispie Treats
Christmas Rice Krispie Treats by The Kitchen Is My Playground
You can make these Rice Krispie treats two ways – make the Rice Krispies yourself, or if you're short on time, purchase them already made. Then dunk them in white chocolate and decorate! A festive snack for the holidays.
3. Reindeer Chow Recipe
Reindeer Chow Recipe by Suburban Simplicity
Whether you call this puppy chow or muddy buddies, this snack gets a holiday makeover and a seasonally appropriate name as well!
4. M & M's Christmas Cookie Bars
M&M's Christmas Cookie Bars by Number 2 Pencil
These festive M&M cookie bars are a fun way to celebrate the season. Bake these to have on hand for school snacks, holiday parties, or just everyday yummy treats.
5. Pecan Pie Shortbread Cookies
Pecan Pie Shortbread Cookies by The Emotional Baker
Miniature goodness is what you'll find in these cookies! They are basically little mini pecan pies in bite-size form. Their buttery crust is topped with maple caramel pecans – who can resist that?
6. Orange Cranberry Almond Bark
Orange Cranberry Almond Bark by Beyond Frosting
This pretty white chocolate bark gets a punch of citrus from orange zest and a seasonal pairing of cranberry and almond as a finishing touch.
7. Maple Gingersnap Fudge
Maple Gingersnap Fudge by Love From The Oven
You'll find all the flavors of the season in this decadent fudge. Maple, gingersnaps, vanilla, and walnuts all come together to make this snackable fudge.
8. Christmas Popcorn
Christmas Popcorn by Lil Luna
Dipped in white chocolate and drizzled with M&Ms, popcorn gets upgraded to celebrate the holidays.
9. Easy Christmas Tree Brownies
Easy Christmas Tree Brownies by One Little Project
This is a fun treat for kids to help with. Make the brownies, cut them into triangles, and decorate them as Christmas trees! So creative!
10. White Chocolate Cranberry Pistachio Truffles
White Chocolate Cranberry Pistachio Snowflake Truffles by Zesty Olive
These no-bake truffles combine delicious fruits and nuts in a chocolate base. Cranberry and pistachio brighten up these snowflake white chocolate treats and give them the flavors and colors of the season. Beautiful!
11. Caramel Apple Dip
Caramel Apple Dip by Dinner At The Zoo
If you loved caramel apples as a kid, you'll love the grown-up version too. Here, we make a scrumptious caramel dip that's perfect for dipping into with luscious apple slices.
12. Christmas Pretzel Hugs
Christmas Pretzel Hugs by I Heart Naptime
Three ingredients are all you need to make these adorable little treats that kids will love to help put together. Plus, they are so pretty to look at. They would also make cute gift treats; just package them in little cellophane bags or small mason jars and put a bow on it!
13. Snowball Cookies
Snowball Cookies by Sprinkle Bakes
Snowball cookies are such fun to make and of course, to eat. Kids love them, too! Keep these classic holiday cookies around for snacking and consider gifting some to a friend.
14. Homemade Peppermint Patties
Homemade Peppermint Patties by OMG Chocolate Desserts
These gorgeous peppermint patties aren't your average after-dinner mint. These mints are made to be enjoyed throughout the holiday season (and beyond) at any time of day!
15. Elf Munch Snack Mix
Elf Munch Snack Mix by Crazy For Crust
This sweet and salty snack mix is a must to have around during the holidays. It's so easy to make! This mix also makes great treat bags for kids to take to school or to give as gifts.
16. Eggnog Fudge
Eggnog Fudge by Bakin Beauty
All the yummy flavors of eggnog have been transferred into a new setting: fudge! Whether you make your own eggnog or purchase it ready-made, save some and make this delicious treat.
17. Iced Gingerbread Oatmeal Bars
Iced Gingerbread Oatmeal Bars by Inside Brew Crew
Whether you eat these healthy holiday-flavored bars for breakfast or keep them around as a snack, you'll enjoy the seasonal tastes of molasses, spices, raisins, and nuts.
18. Salted Maple Walnut Brittle
Salted Maple Walnut Brittle by Seasons And Suppers
Sweet and salty is what it's all about with this deliciously crunchy maple and walnut brittle. This sweet treat is the perfect holiday candy to keep on hand.
19. Classic Chewy Snickerdoodle Cookies
Classic Chewy Snickerdoodle Cookies by Life Love And Sugar
You can't celebrate the holiday season without a classic cookie, so whip up these simple and delicious snickerdoodles for your cookie jar!
20. Salted Chocolate Pistachio Shortbread
Salted Chocolate Pistachio Shortbread by Sally's Baking Addiction
For a buttery and sweet shortbread treat, try these holiday cookies that are dipped in chocolate and sprinkled with pistachios and salt. These won't be around very long – better make another batch!
Final Word
I hope you try one or more of these awesome 20 delicious Christmas snacks. Please let me know which ones you made and enjoyed, I love to hear from you. It's that time of year when we enjoy taking treats or snacks to parties. Life is so good when it's homemade, right?
Please keep prepping, we must be diligent to take care of our families. May God bless this world, Linda