How To Make Whole Wheat Bread Using Solar Power
How To Make Whole Wheat Bread Using Solar Power I am demonstrating today for you. I have done a post using a Sun Oven before, but today is different. I am showing you how to use a Goal Zero YETI 1250 to grind whole wheat flour and mix the bread. This is truly what I call a cartwheel moment. This is when I get so excited that something is so awesome! I used a NutriMill L'Equip Wheat Grinder and a Bosch Bread Mixer using my Goal Zero YETI 1250. The Goal zero YETI 1250 has 1250 Watts of power. I can charge the unit in my car, the power outlets in the house as well as charge them with my Goal Zero Boulder 30 Solar Panels outside with the sunshine.
Here is my whole wheat bread recipe. Here is a link to show you how to use a Solar Oven to bake bread:  Sun Oven to bake the bread
When I go up to Salt Lake City, Utah I always go and visit the employees at Goal Zero in Bluffdale, Utah. They show me how this unit works with this and that. I love to know how things work…I mean really work. They are so patient with me because I want to be able to show my readers how to use their solar power units. My very first Goal Zero Solar Power Source purchase was the 350-watt unit. I can light up an entire school gymnasium with the 8 GZ lights I have. You would be amazed at how much those lights can put out.
Next, I wanted the new YETI 400 when it came out. Here's the deal, you can "chain" some of them together to give you the watts you need to power up certain small appliances you have. Today I am using the following items:
Goal Zero YETI 1250 Solar Power Source-this unit was easy to put together. It basically had two wheels to put on a type of rod/axle and put the screws in. Next, attach the handle. Easy peasy, right out of the box it was ready to use.
Make Whole Wheat Bread Using Solar Power:
1. NutriMill L'Equip Wheat Grinder which has: 1200 WATTS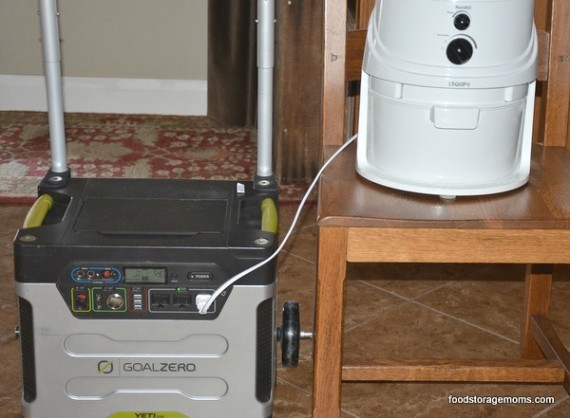 All you do is plug in the item you want to use in the solar power unit that matches a number of watts needed. Today I used the Goal Zero YETI 1250 because the wheat grinder has 1200 watts.  It worked great. I actually ground about 16 cups of hard white wheat. No problem. It hardly used any of the stored solar power. Yay!
2. Bosch Universal Bread Mixer which has: 800 WATTS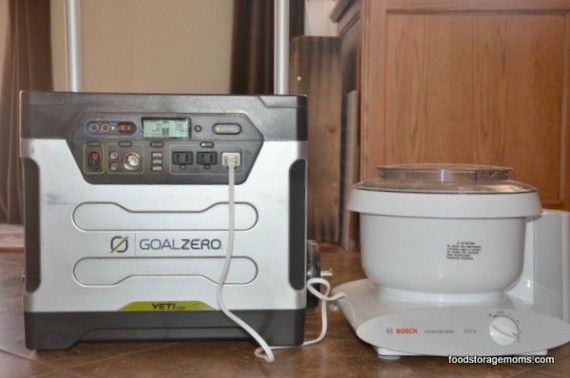 I plugged in the Bosch Universal Bread Mixer in the plug outlet on the front and turned on the bread mixer. I ran it for ten full minutes (my whole wheat bread recipe). No problem. After finishing the wheat grinding and the bread mixing (14 cups of whole wheat flour) I had only used 20% of the solar power. Yep, that was a cartwheel moment. I am totally self-sufficient. I can grind my wheat by hand as well. But I wanted to know I could use my FREE solar power. How easy, no instructions…just plug it in and it works. I will tell you this….I keep all my Goal Zero Solar Power Sources charged at all times with power surge suppressors. Gotta love solar! Thanks to Goal Zero for their great innovations/products! Who would have guessed you could make whole wheat bread using solar power?
I'd like to hear from my readers what appliances/household products you'd put to use if you had the Goal Zero 1250 Solar Power Source. I am so excited to know I can make whole wheat bread even when the power is out. WooHoo!