Quick And Easy Way To Get Rid Of Stinky Shoes
Here is my quick and easy way to get rid of stinky shoes ASAP! Of course, you can throw out the shoes or buy some expensive spray but I looked high and low for a cheap way to do it. And this works! I wanted to use something I already had in the house but wouldn't make my shoes or in this case, my husband's sandals smell like vinegar or something worse. I tried it on my sandals and it worked great. Here's the deal, if you are lucky and you don't have stinky shoes or your kids don't, you are very fortunate! I have found that some shoes don't smell at all. Then I discovered certain brands always have an odor. My husband and I shower every day and we wash our feet so it was getting frustrating when you go to someone's house and they want you to take your shoes off. I personally do not have that kind of house. I have 17 grandkids, need I say more. I tend to buy decorations that are not collectibles and are not breakable. I can't have an hour glass house, my house is welcome to all that enter with or without shoes.
Well, I was determined to figure out how to get the smell of these stinky shoes and I did! If you have good old baking soda, a bowl, water and make a paste you can do this. It's cheap and we all have baking soda in our pantry's, right? I actually did a pair of my sandals that I love and they were still in good shape so I did my practice test on them. They smell great and if they get stinky again, I will redo my baking soda paste on them. You have to decide if your shoes can get wet, I figured these were going to get wet or I would throw them out. Enough said. I removed the closet doors years ago in the master bedroom and every time I would walk past the closet I would smell the stinky shoes. My husband could not. Well, I could! So this is what I did.
Stinky Shoes
I made a medium thick paste using only water and regular baking soda in a bowl stirring it with a spoon. I spooned it on the footbed of the sandals and rubbed it in with my fingers. I let it soak for maybe two or three minutes. I then used my kitchen sink sprayer to rinse them completely.
You can see in this picture how I spread the baking soda paste onto the sandal for a couple minutes before rinsing.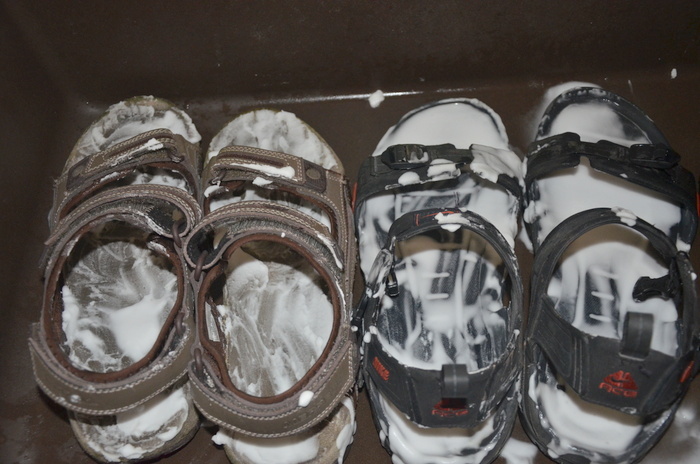 The sun was shining outside so I took the wet dripping shoes in a towel outside to dry. These no longer have a smell! WooHoo! Please let me know if you have done this with tennis shoes. I had some tennis shoes I tried this baking soda test and threw them into the washing machine. I thought, what do I have to lose? They came through fine, I dried them outside. Make sure you feel comfortable washing tennis shoes as they may not be washable. Just giving you the heads-up here.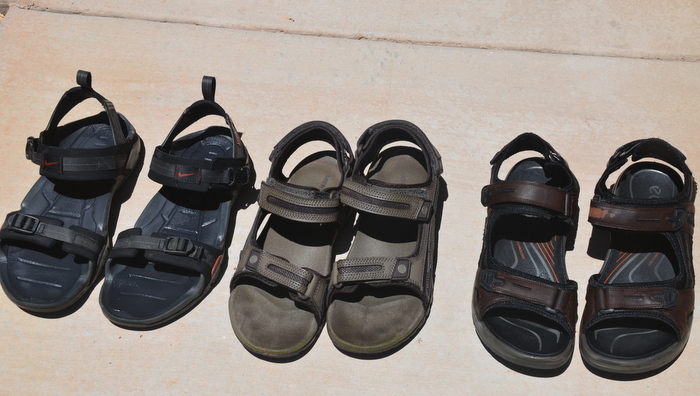 If I can save money by cleaning old sandals I will try it for sure! This works great and it's cheap. Let me know your tricks for stinky shoes. May God bless you for your efforts to be prepared for the unexpected.
Best time of the year to save money 
Readers Tips:
Teresa: shoes that aren't washable can be put in a plastic bag and throw in the deep freezer overnight. it kills the bacteria that creates the stink.
My favorite things:
My book: Prepare Your Family for Survival: How to Be Ready for Any Emergency or Disaster Situation
Arm & Hammer Baking Soda – Net Wt 1 lb – (Pack Of 2)

WaterBrick 1833-0001 Stackable Water and Food Storage Container, 3.5 gal of Liquid, 27 lb of Dry Food Products, Blue

Water Storage Containers – WaterBrick – 8 Pack Blue

Camp Chef Butane 1 Burner Stove with Camping Case

The Survival Medicine Handbook: A Guide for When Help is Not on the Way