20 Items To Start Your Food Storage Plan
I am asked all the time, "How do I start a food storage plan?" Here's the deal, you only have to start with a little rice, beans, some fruits, vegetables, and some canned meats. I have two recipes below for my homemade corn tortillas and flour tortillas. They are so easy to make, I promise.
Of course, we still need the basics to make bread, biscuits, and tortillas, I will list those items as well. I eat a bean burrito without cheese every day.
I take a flour tortilla and add a scoop of beans and roll it up and eat it. If I have leftover veggies I throw them into my burrito.
When I Started My Food Storage Plan
When I started my food storage plan years ago I had powdered milk, pinto beans, flour, and sugar. Well, things have changed in the last 20 years as far as food storage items that are available to purchase. Before I share my food storage plan with you, please think about the foods you eat most of the time.
If you will never eat oatmeal, you may not want to store as much oatmeal. Now, if you only make cookies with oatmeal, then you would store less than the family that eats oatmeal every day, or at least twice a week.
Think about the fruits and vegetables you like to eat that are fresh. If you can buy those in some cans then do it. If you don't use all of them by the end of the year donate them to your local food bank.
I want you to think about how large your family is and buy according to how much you would actually eat. This list is based on feeding two people. You may eat more or you may eat less.
Case Lot Sales
One thing you may want to consider as far using small "case lot" size cans like those listed below over the #10 cans of items, is that you may not use up all the food in the #10 can in one year.
Once open, the contents in a #10 can, depending on what item it is, you have one to two years of usable life if you transfer the food out of the can into an airtight container.
Just putting those plastic lids on will not keep the food airtight. Please use mason jars or BPA-free plastic containers. After opening the packages or cans, please remove all oxygen absorbers and trash them.
Thrive life sells some pantry cans with the same shelf-life as some of the #10 cans. Butter in #10 cans and Pantry containers
The butter in #10 cans and the pantry cans at Thrive Life has a shelf life of 5 years unopened, and opened only 9 months. It's good for baking, but I don't care for the taste of it when mixed as directed. Just giving you the heads up here.
20 Item Food Storage Plan
30 pounds of pinto beans
96 cans of ready to eat beans
96 cans of vegetables
96 cans of fruit
96 cans of canned meat, like chicken (tuna goes mushy pretty fast)
20 pounds of white rice
20 pounds of sugar, brown sugar, and 4-quarts of honey
10 pounds of instant milk (it's easier to mix and tastes better than powdered milk)
50 pounds of white flour and 50 pounds of hard white wheat (not ground). Two bags of Corn Maseca Flour (corn tortillas)
2 pounds of baking powder
5 pounds of baking soda
10 pounds of salt, your favorite spices, cinnamon, chili powder, unsweetened cocoa, garlic powder, onion powder, or the ones you use the most. Also, one-quart of vanilla extract. Some vinegar, mayonnaise, Miracle Whip, and mustard as needed based on your family's normal usage.
20 pounds of pasta
20 jars of spaghetti sauce
6 jars of peanut butter and 12 jars of jam
Olive oil, coconut oil, or canola oil
20 pounds of regular oatmeal
20 pounds of pancake mix and 4-1/2-gallons of syrup
10 pounds of SAF yeast
48 cans of cream of chicken soup
Just A Few Items You Can Make:
Tortillas
Bread
Crackers
Pancakes or Waffles
Crepes
Multiple casseroles
Oatmeal
Tuna Sandwiches
Chicken sandwiches
Grilled cheese sandwiches
Creamed chip beef on toast
Spaghetti
Peanut butter and jam
Bean burritos
Cookies
Cakes
Tacos
Rice and beans
Rice dishes
Homemade Corn Tortillas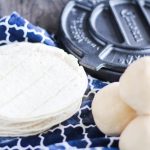 Homemade Corn Tortillas by FSM
Ingredients
2-1/2 to 3

cups

Maseca (Mexican Corn Flour)

1

teaspoon

chili powder

1/2

teaspoon

garlic salt

3

cups

warm buttermilk
Instructions
Combine the dry ingredients (start with 2-1/2 cups Maseca) then the warm buttermilk and add to mixture. Mix by hand until everything is wet. Cover and let sit 10-15 minutes. Knead lightly and add Maseca until a finger pressed into the ball of dough comes out mostly clean. Make the balls about two inches in diameter with the dough. Use some plastic wrap or parchment paper to roll out the 2 inch balls of dough. You need to roll them out according to how big you want them to be. Obviously the bigger the circle of dough the thinner the corn tortillas will be. This recipe makes about 12 tortillas. Cook each side of the tortillas 50-60 seconds. Press, heat, and serve!
Flour Tortillas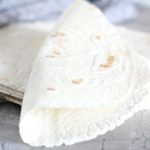 Flour Tortillas by Food Storage Moms
Ingredients
2

cups

white flour (plus a little extra for rolling out)

1/2

teaspoon

salt

3

tablespoons

olive oil, soft butter, or lard

3/4

cup

warm water
Instructions
Combine the ingredients in a large bowl, slightly mix by kneading the dough. It will be a soft sticky dough. Knead for 4-5 minutes. Form a ball and place on a floured countertop. Cover with plastic wrap for 15-30 minutes. Divide the dough into eight sections. Form the sections into eight balls. Sprinkle with flour as needed. Roll out each ball into a 7-8 inch circle. Heat a skillet and cook each tortilla 40-50 seconds on each side. They will puff up as they cook. Store in a tortilla warmer.
Final Word
Here's the deal, this is a really good start for those experienced with food storage and for others just getting started. I can cook from scratch with all of the items listed above. Give me a can of cream of chicken soup and the world is wide open with possibilities. Please remember to have a can opener and store lots of water.