How to Support Local Farmers
In today's world where industrial agriculture reigns supreme, it can be difficult for small, local farmers with local food to make a living. However, supporting local farmers and small co-ops is crucial to sustainably and ethically grow the food we eat. Not only does buying locally grown food support your community's economy, but it also helps the environment by promoting sustainable farming practices. Here are some ways in which you can support your local farmers. Why You Should Support Your Local Farmer's Market
Visit Your Local Farmers' Market
Farmers' markets are a great way to buy fresh, locally grown produce directly from the farmers who grew them. Visiting a farmers' market also gives you the opportunity to talk to the farmers about their family farm practices and learn more about the food you are buying. It also gives you a chance to ask when you're at their booth about things like the chemicals they may use, if the meat was subject to antibiotics or special hormones and if the beef was grass-fed. Of course, not all farmers have livestock where buying meat is an option, but you should be able to find those who do.
In addition to fruits and vegetables, many farmers' markets also offer meats, dairy products, and other locally sourced products. By shopping at a farmers' market, you are not only getting fresh, high-quality fruits and vegetables but also supporting local farmers and the local economy.
One of the best ways to support local farmers is to visit the local farmers' market. When you do this, you eliminate food waste, get lower prices for the best fruits and vegetables, support a family-owned farm, and help with sustainable agriculture. Your local farmers' market is one of the best ways you can support local farmers!
I realize that going to local grocery stores or supermarkets provides shopping convenience, but buying things like fresh peaches, sweet corn, and other items adds to the flavor, nutrition, and possibly the texture of your recipes.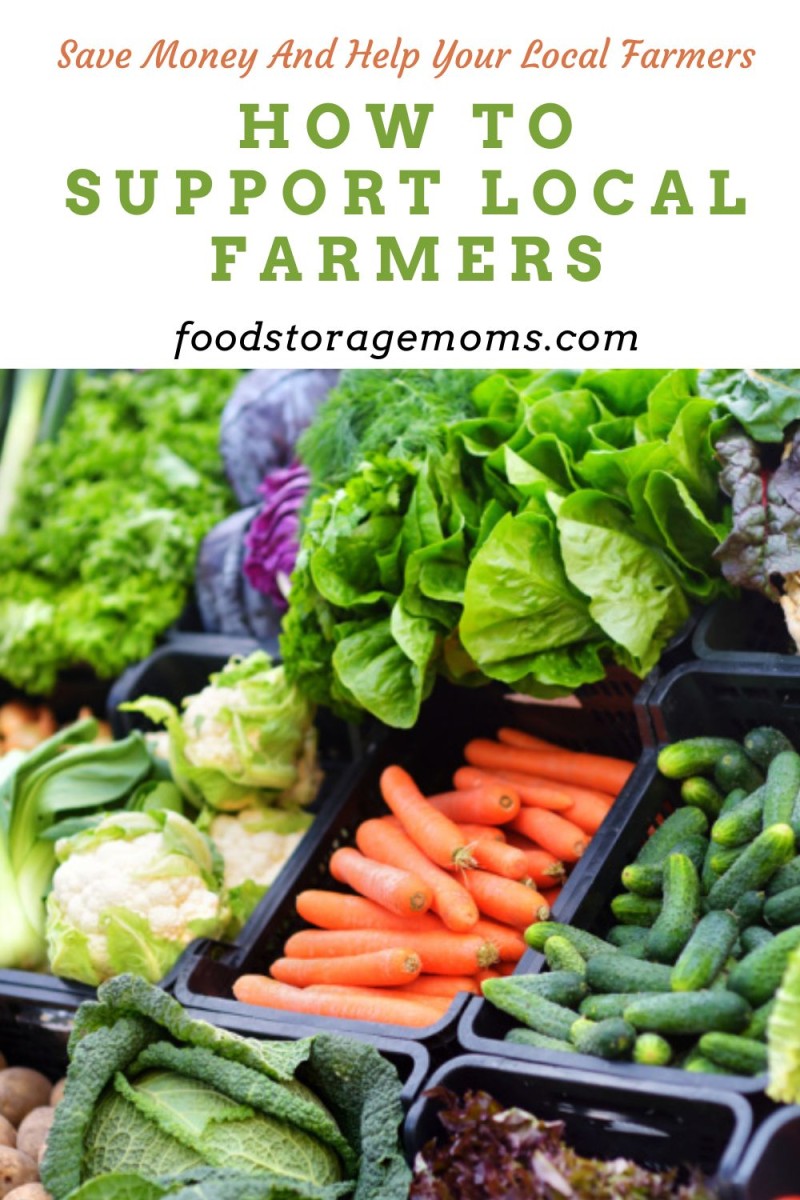 Join a Community Supported Agriculture, CSA program
CSA programs are a great way to support local farmers by buying a share of their produce throughout the growing season. Typically, members of the CSA receive a box of fresh produce each week during the growing season like a subscription service. This not only supports the farmers but also ensures that you have a steady supply of fresh, locally grown produce throughout the season. There is nothing like fresh seasonal food picked and eaten right after the harvest. Many CSAs also offer farm tours and other events that allow you to get to know the farmers and learn more about where your food comes from.
Buy Directly from the Farm
Many small farms also offer the option to buy produce directly from the farm. This not only supports the farmers but also cuts out the middleman, making vegetables and fruits more affordable. By buying directly from the farm, you can also see firsthand how the produce is grown and learn more about the farming practices used.
Some farms are u-pick farms where they let you actually go out into the fields and orchards to pick your own.
Choose Restaurants that Source from Local Farms
When dining out, choose restaurants that source their ingredients from local farmers whenever possible. This not only supports local farmers but also ensures that you are getting fresh, high-quality ingredients. Many restaurants that source from local farms also highlight the farms they work with on their menus, allowing you to learn more about where your food comes from. 17 Shocking Things You Didn't Know About Stocking Food
Advocate for Local Farmers
Advocating for local farmers can help bring attention to the importance of supporting local agriculture. This can include supporting local legislation that supports small-scale agriculture, attending community events that promote local agriculture, and sharing information about the benefits of supporting local agriculture with friends and family. A family-owned farm wants and needs you to help advocate for them.
What are the other benefits of supporting local farmers?
Farmers help local communities.
Healthy food is more accessible from small farmers through local seasonal produce.
The best selection happens from the local agriculture market program.
Local farmers help with farm-direct grocery providers.
Why should I support local farmers?
Supporting local farmers helps to sustainably grow the food we eat, supports the local economy, and promotes sustainable farming practices. It also helps to ensure healthy and fresh produce for the consumers.
What are some ways I can support local farmers?
You can support local farmers by buying directly from them, joining CSA programs, shopping at farmers' markets, choosing restaurants that source from local farms, and advocating for local farmers.
How does supporting local farmers benefit the environment?
The practices of small-scale or organic farming used by many local farmers lead to enhanced soil health, decreased dependence on pesticides, and a reduction in carbon emissions from transportation necessary for large-scale farming techniques. It also helps foster the biodiversity of the local ecosystem. Overall, it benefits the planet since fewer emissions are put into the atmosphere.
What if I can't afford to buy local produce? Some farmers' markets and other organizations offer programs such as SNAP or EBT that provide discounts or double the value of purchases for low-income or underserved populations. You can also consider volunteering for the local farmers' market.
How do I find local farmers near me?
Online directories, such as LocalHarvest and Eat Well Guide, are great resources for finding local farmers near you. Social media is also a great way to connect with local farmers and learn about their products.
Vegetables You Can Buy From Local Farmers
Tomatoes
Cucumbers
Lettuce and greens (spinach, kale, arugula, etc.)
Peppers (bell peppers, jalapeño, etc.)
Carrots
Onions
Potatoes
Zucchini
Squash (butternut, acorn, etc.)
Broccoli
Cauliflower
Celery
Cabbage
Green beans
Corn
Peas
Pumpkins
Beets
Radishes
Turnips
More Tips
Final Word
Supporting local farmers is crucial to sustainably and ethically grow the food we eat. By shopping at farmers' markets, joining CSA programs, buying directly from farms, choosing restaurants that source from local farms, and advocating for local farmers, we can all help support local agriculture and promote sustainable farming practices. Knowing your homemade jams, jellies, canned fruit and veggies, and BBQ'd meats are butchered and picked fresh at the peak of each season means a lot. Buying in bulk directly from the source saves in costs from a distributor and other middlemen. May God Bless this world, Linda
Copyright Images: Fresh Organic Vegetables at Market Depositphotos_126859458_S