Emergencies can happen at any time and without warning. Many of them can be extremely scary situations, and if you aren't prepared, things can get even worse. This is why you should have a pantry stocked with foods before the storm so that your family has something they can fall back on until your situation improves. Follow these tips to learn how to stock your pantry. 
I call my pantry my in-home grocery store. There is something about not having to run to the store for a can of this or a bag of that. Whatever, it helps me stay out of the grocery stores. I still have to go get milk and bananas for Mark's cereal each morning, but that's it for most days. In case you missed this post, Cooking From Scratch 101
How to Stock Your Pantry
Are you afraid of being labeled a "doomsday prepper" like the people you see on tv? You shouldn't. Having an emergency food pantry is actually a pretty smart thing to do and has nothing to do about living in fear. Get to work stocking your pantry with these tips.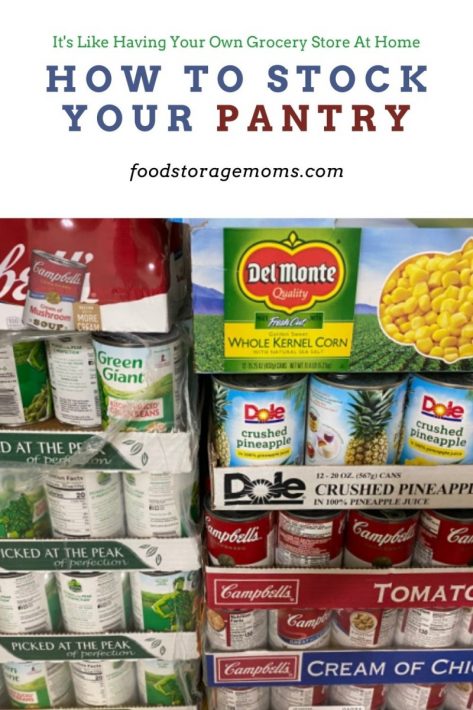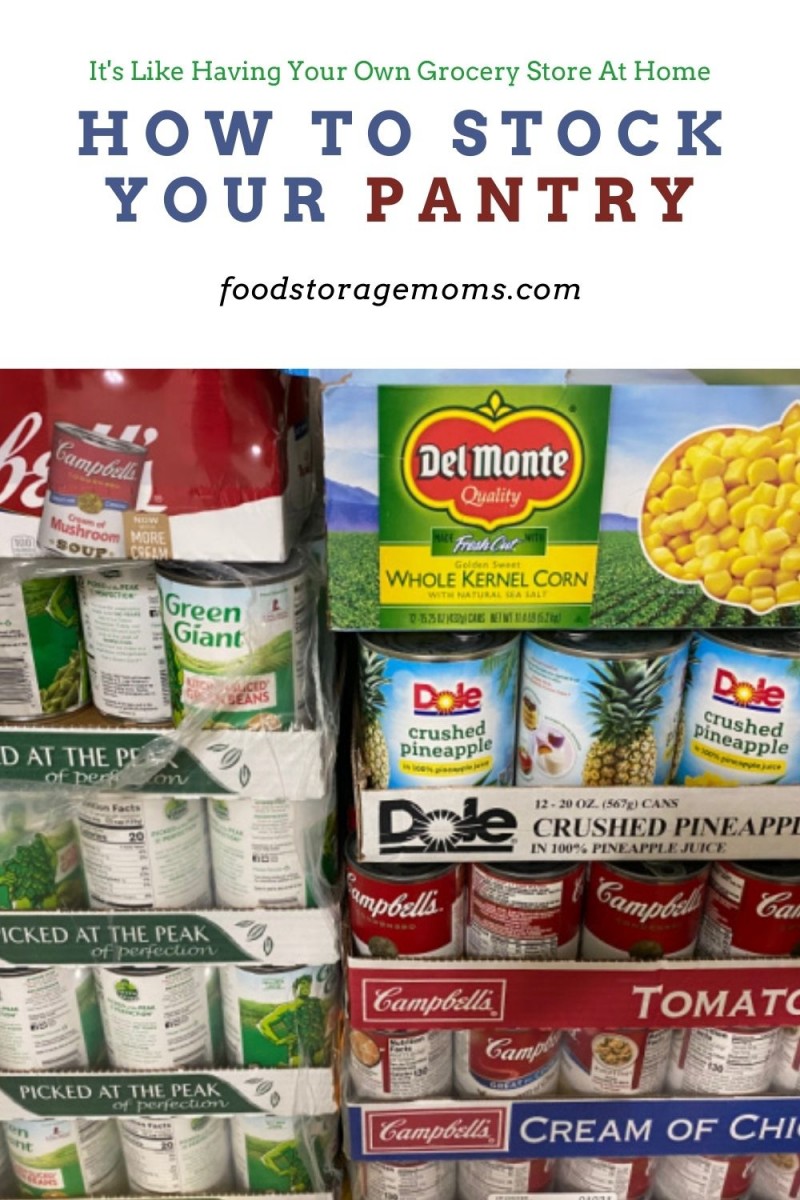 1. An Established Pantry Takes Time
For most of us, we simply cannot afford to go out and buy an entire pantry's-worth of food with only one trip to the grocery store. It's not a logical decision to make because you have other expenses to account for in your budget. Stocking a pantry takes time and planning.
Keep in mind that you will also be paying a lot more if you choose to go this route, which brings me to my next point. In case you missed this post, Canned Foods I Highly Recommend You Store
2. Look For Deals
I love a good bargain, whether it's when I'm shopping for a new pair of shoes, or when my local grocery store has an awesome sale on all of their canned goods. You will save a lot of money by waiting for those deals and then stocking up, instead of buying everything at full retail.
Just try not to wipe out the entire grocery shelf by hoarding those items, because that won't be fair to other customers. Please ask your grocery store managers to have "case lot sales" if they don't already. If we can have them here in Utah and surrounding states, other states should have them as well.
It all depends on supply and demand, I'm sure. You may be wondering where I put all this food, I have some closets that I use to stock different foods. I have a small home, so that's my life right now.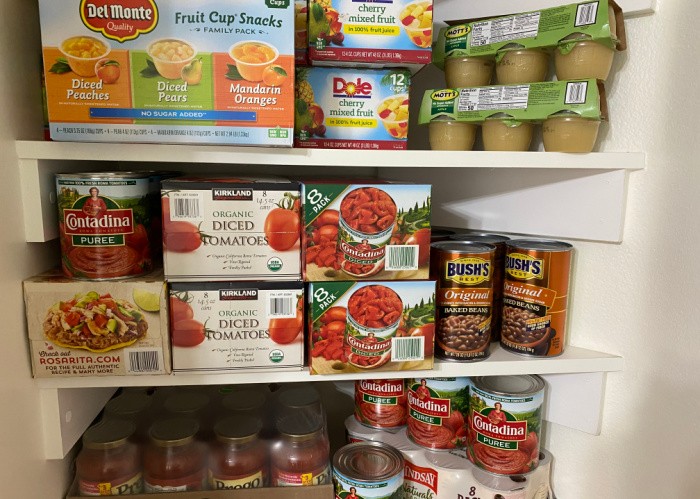 3. Only Buy What You Will Eat
You know your family better than anyone, so don't waste your money on food that you know your kids won't touch, even if their lives depended upon it. Those canned mushrooms may seem like an incredibly good deal at the time, but if you're the only one eating them, it won't do your family any good. Stock your emergency pantry with foods that everyone enjoys.
4. Keep Allergies in Mind
For those of you who have family members with food allergies, I'm sure that you take their needs into account every time you're at the grocery store. You'll want to do the same when you are creating a stockpile for your pantry so that they have something healthy to eat as well.
That doesn't mean that you can't still stock up on some of those food items for your other family members, but you will want to keep them in your pantry separated so there's no mix-up.
5. Have a Variety
It's actually a pretty big deal to have a variety of foods that your family can eat during an emergency. Your situation may already be tough and boring enough as it is, and if all you have are cans of fruits and vegetables to hold you over, that will be one more reason for your kids to complain.
Instead, have a variety of pastas, grains, nuts, and snacks for emergencies, so that you don't end up with food on your walls.
6. Buy in Bulk
Purchasing foods in bulk makes a lot of sense for large families. It saves them money on items that their family eats a lot of, and it means fewer trips to the grocery store. Consider buying foods like bagged rice, dried beans, and peanut butter that you can keep in your pantry. You will get several meals out of them by creating different dishes with these items. Bulk buying usually saves money too!
7. Preserve Your Grown Vegetables
You don't have to rely completely on the grocery store for all your emergency pantry needs. You could also preserve the vegetables that you grew from your garden and enjoy them when they're most needed.
They taste better too! For those of you that have never canned before, I have lots of tips on my blog. In case you missed this post, Home Canning-Important Do's and Don'ts
Dehydrating Posts I have done:
8. Have a Rotation System in Place
Non-perishable foods may have a much longer shelf-life, but that doesn't mean that they never go bad. You will want to have some type of rotation system, so that you use up anything that may be nearing its expiration date.
At the same time, you will want to replenish that item with more product, so that your pantry doesn't start to thin out.
One way of doing this is by keeping the older dated items on the front of your shelf, and then when you purchase more similar items that have a new date on them, placing them behind the older ones.   
9. Stock Up on Non-Perishable Food Items
Now that you have a better understanding of some of the do's and don'ts when stocking your pantry, you need to purchase foods that will last you a long time. Here's a closer look at some of the non-perishable food items that you should consider stocking up on.
Canned fruits and veggies
Canned soups and stews 
Canned meats (beef, chicken, turkey, fish, etc.)
Canned or dried beans (great for chili if it's cold outside) 
Boxed pasta
Rice 
Tomato sauce and paste 
Vinegar
Oatmeal (as long as you have a heating method if the power is out) 
Powdered milk 
Spices (salt, pepper, cinnamon, sugar, etc.) 
Condiments (mustard, ketchup, mayo, bbq sauce, hot sauce) 
Applesauce
Protein bars 
Beef sticks, jerky
Nuts, trail mix, ( keep in mind food allergies) 
Peanut butter (most families with children can't go without this food item) 
Honey 
Snack items: Chips, snack cakes, fruit snacks, candy, etc. (It's okay to fall back on comfort foods during an emergency. Just remember that most of them don't store for very long so you will want to rotate them out regularly.)
In case you didn't know, I was asked to write a book called, "Prepare Your Family For Survival"
Final Word
As long as you follow these basic steps, stocking your pantry can be easy while saving you money. It also prevents those last-minute extra trips to the grocery store. Your family will also be left with one less thing to worry about if an emergency situation were ever to happen to you.
What are some tips you have for how to stock your pantry? May God Bless this world, Linda.