The Ultimate Prepping List
There are so many things to think about when it comes to prepping. Sometimes it's hard to narrow it down to a list. In many cases, we prepare for certain disasters, but the truth is we just never know what could happen. So, I have made the ultimate prepping list broken down into categories:
Power
Cooking
Sanitation
Food
Medication
Water
The Ultimate Prepping List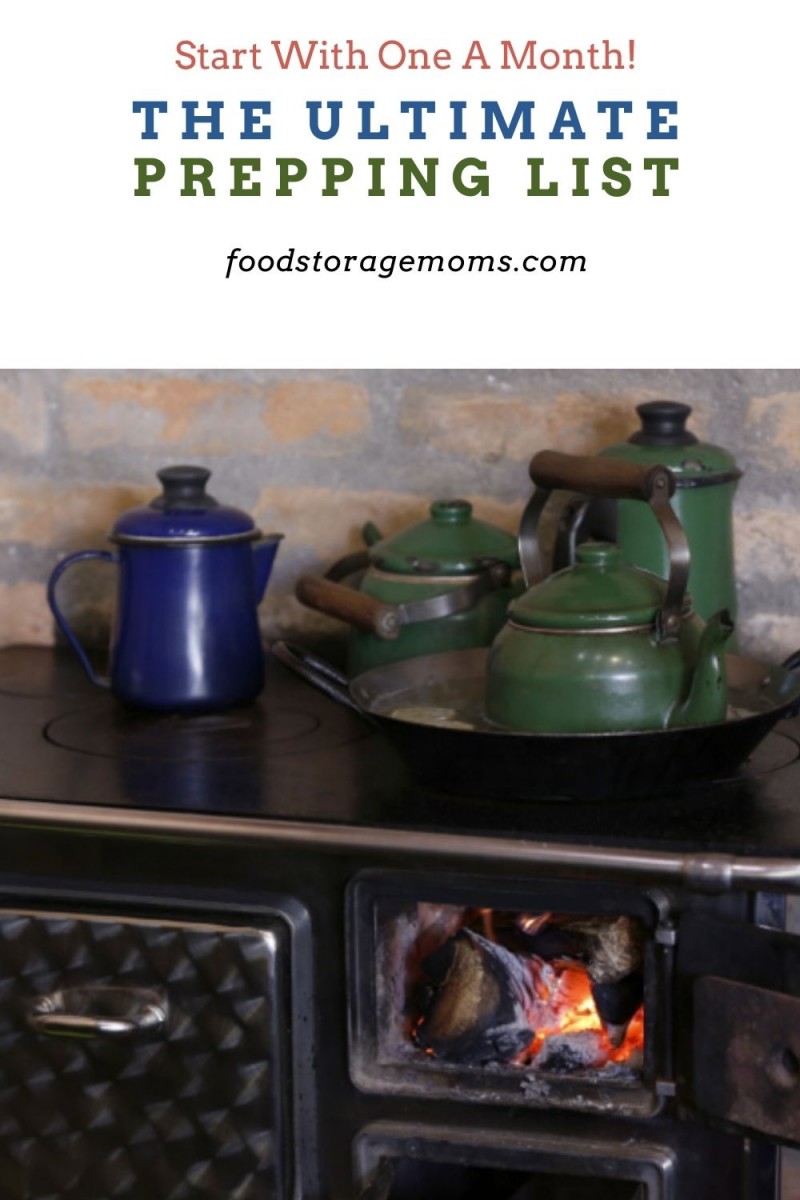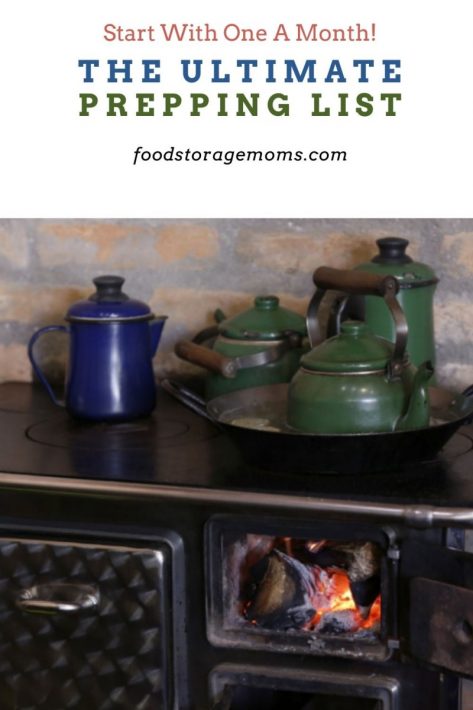 Where Will My Power Come From?
Storms can knock out the power for hours, to several days, or even weeks! Mother Nature isn't always consistent, so it's important to have other power sources for when these things happen. Here are some basic things to consider when thinking about your power sources:
Wood Burning Stove
This would be something to consider getting, especially if you live in an area with cold winters. Of course, even places that never get ice and violent storms can sometimes have extreme weather (think Texas). If the power goes out, so does the heat. So, when it comes to power, you should also think about heat sources. 
Related: How to Stay Warm Without Power
Don't forget about stocking wood, fuel, fire starters, and lighters.
Backup Generator
For most of us, a backup generator is great to have on hand, especially if you will only be without power for a few days to a week. There are several options:
Batteries
Lots of things in your home can be powered by batteries. In fact, your computer and phone just have rechargeable batteries, so it would be good to have a backup storage pack so you can recharge those. Stock up on all the batteries you would need! In addition to making sure you have batteries, grab some of the things you can use the batteries with, such as:
How Will I Cook?
You may have enough food to keep you and your family alive for a year, but it does no good if you can't cook it! If you lose power, you may struggle to keep your food cold for longer than a few days, but things like pasta, baking bread, and other meals require you to be able to cook your food as well. Here are some very good ideas:
Related: Why Do I Need Different Emergency Cooking Stoves
In addition to a cooking source, you will also want to stock fire starters and fuel such as:
Related: Types of Fire Starters to Stock
What Will I Do With My Garbage?
Depending on the situation, you may need to be prepared to deal with your own garbage and waste. You can either burn your garbage or you can bury it. But, what about human waste?
Related: Proper Waste Disposal During an Emergency
Well, back in the day, we used outhouses. It was basically a hole in the ground with a building around it. A combination of lime, dirt, and ash can be used to cover the waste and minimize the smell and spread of germs. Be sure to protect your local water system from the waste.
Related: How to Deal with Human Waste
What Food Should I Stock?
It is important to have a variety of different kinds of food stocked. You especially need to have non-perishable items as it will be very difficult to keep things cold if the power goes out. Here's a list of survival items you will want to stock:
Wheat Berries 
Salt
Ready to eat canned food
Protein bars
Dry cereal or granola
Peanut butter
Dried fruit
Canned juices
Non-perishable milk (canned or powdered)
Food for babies and infants
Canned soups and chili
Dry pasta
Sports drinks
Honey
Baking soda
Dry yeast
Popcorn
Instant Potatoes
Crackers
Beans
Rice
Lentils
Oatmeal
Nuts
Pasta sauce
Teas. 
Oils
Corn starch
Pancake mix (add water)
Eggs and powdered eggs
If you have pets they'll need food too
Foods You Can Grow
In addition to stocking up on non-perishable items and a variety of food, you should also learn to grow your own fruits and vegetables. Whether you have a yard or not, you can still learn to grow a few things on your own, from tomatoes to strawberries. If you aren't sure where to start, along with this ultimate prepping list, check out my guides for what to plant each month of the year:
Make sure you are saving or buying seeds as well. I get my seeds from SeedsNOW!
What Medications Do I Need?
If you are on prescription medications, you will want to have at least 3-month supply of your medication stocked up. It can be difficult to do this with prescriptions, but if you talk with your doctor about being a prepper, some will send in more than you need for a month. If your doctor won't, look for a doctor who will. In addition to your prescriptions, you will also need to stock up on over the counter medications which include:
Related: 35 OTC Medications You Should Store
How do I Store Water?
You can store water in a variety of different ways. It is recommended to store 1 gallon of water per person in your household per day. I would recommend increasing that to 4 gallons of water per person per day. I would also recommend having at least a month worth of water stored for each person.
55-gallon water barrels
Waterbricks
BlueCans
Water Sanitation
No matter how much water you store, if a situation lasts longer than you prepared for, you are going to have to find water. But, you want the water to be safe to drink you need to read my post: How to Make Your Water Safe to find out what you need. 
Other Items to Stock
Besides the above items in this ultimate prepping list, you will also need other essential items. Here's a list:
Final Word
The best way we can be prepared is to break down what we need and stock up a little at a time. Don't feel pressured to get all of these items on my ultimate prepping list during one shopping trip. Pick and choose what you will need and get one thing at a time! May God Bless this world, Linda
Copyright Images: Wood Burning Stove AdobeStock_139391005 by Casa.da.Photo