10 Healthy Foods Under $1
Do you want to eat healthy foods without spending a fortune? If you're working with a tight budget, but you want to eat food that will properly fuel your body, providing you with the vitamins and nutrients you need, check out this list of the healthy foods you can buy for $1 or less, depending on where you shop. These foods can get you through the week, making it possible for you to spend about $10 per week on these essential healthy items that are good for you and are versatile enough to make various meals.
In case you missed this post, Canned Foods I Highly Recommend You Store
Inexpensive Farberware Sauce Pan
10 Healthy Foods Under $1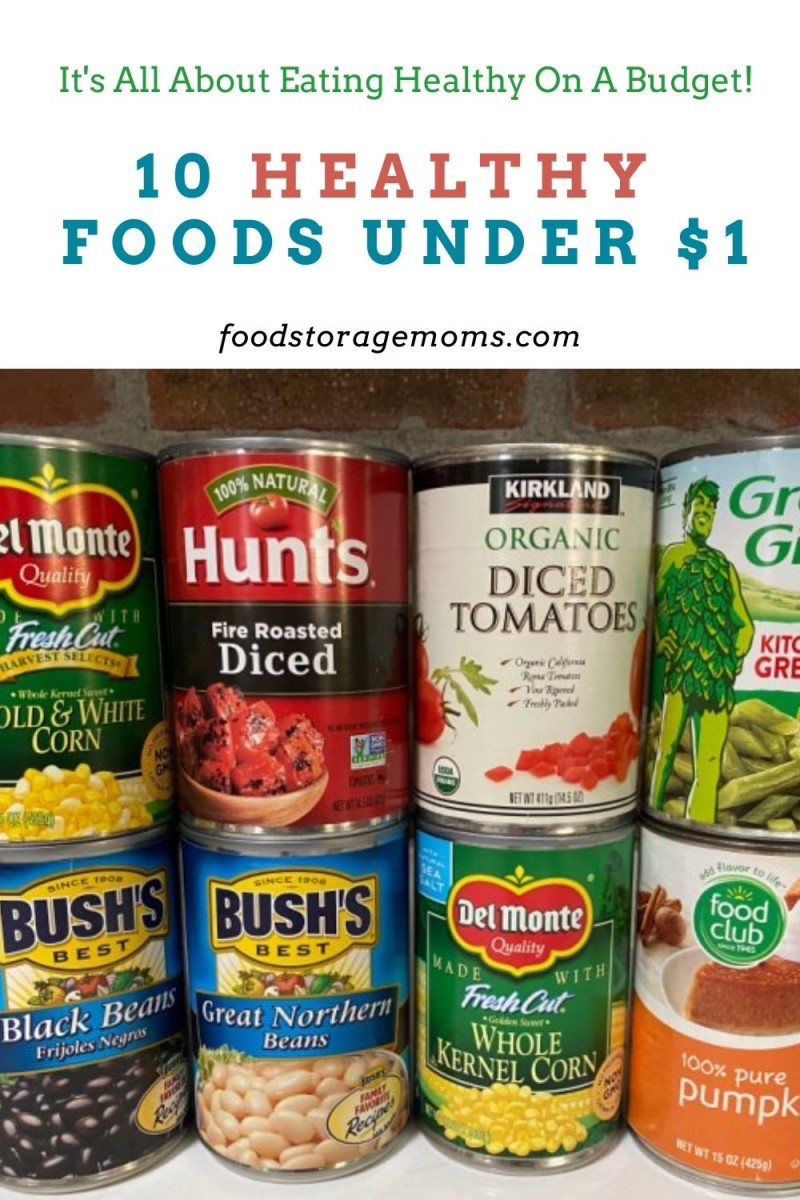 1. Brown Rice
Did you know that you can get a small bag of brown rice at the dollar store? If you didn't know that, it's true, and it's worth buying for several reasons. Brown rice contains nutrients that are good for your heart. Eating a bit of brown rice as a side dish with a source of protein and vegetables is a great way to prepare a healthy and fulfilling meal to get through the day. Because brown rice is so beneficial and you can find it at the dollar store, it's worth buying for $1 to save money and have healthy food at home.
2. Canned Veggies
When you don't care about the brand name, you can get canned veggies for less than a dollar. The great news is that most of the generic brands charge 50 cents or less per can, so you can get at least two cans of veggies for a dollar. You can choose from mixed peas and carrots, corn, string beans, peas, and more. Having two cans of veggies can get you far when you're preparing wholesome, filling meals, especially if you combine the veggies with brown rice.
3. Yogurt
Sure, some of the leading brands of yogurt may cost more than $1, but if you're looking for some flavorful yogurt to eat for breakfast, you can get a great deal on generic options. Some healthy yogurt options available at Aldi cost less than 50 cents per container, so you can get more than one to last you throughout the week! Add some of the yogurts with a bit of fruit and you have an enjoyable meal that can keep you full until lunchtime.
4. Beans
Beans are great because you can do a lot with them. Whether you're adding them to a tortilla to make a bean burrito, putting them in a salad, using them to make chili, or even eating them with your brown rice, they're good for you and offer the vitamins and nutrients you need. So, it's a good thing that you can buy them for less than $1. Depending on the brand and style of the beans, you may be able to get two cans for a dollar. It's never a bad idea to have some cans of beans available in your pantry.
5. Eggs
Of course, this will depend on where you live. In some areas, the price for a dozen eggs is LESS than $1. You can get the best deal on eggs when shopping at discounted stores, such as Aldi and Walmart. It's always good to have eggs in the fridge. Not only are they an excellent source of protein, but they're also versatile enough to prepare in different ways. You can make fried eggs, hard-boiled eggs, chopped egg salad, egg drop soup, and much more.
6. Whole Wheat Bread
If you shop at Walmart or Aldi and buy the generic brand of whole wheat bread, you can get it for $1 or less. In some stores, it's available for as low as 79 cents, which is quite a steal. Whole wheat bread is good to have because it's a complex carb, an excellent source of vitamins, and it contains antioxidants. You can make all kinds of sandwiches with bread, including ham and cheese, peanut butter and jelly, turkey and cheese, and much more. You can even use the bread to make French toast, toast with butter, and other delicious treats.
7. Canned Tuna Fish
The generic brand of canned tuna fish is often available for less than $1. If you can get it on sale, you can usually get two cans for the price of one, which will give you more than enough tuna to use in different ways. You can mix it with mayo to make a sandwich spread or add it to pasta with other ingredients for a tuna macaroni salad. Tuna fish is good for you because it contains omega-3 fatty acids that support brain development. Best of all, the fish flavor isn't too overwhelming, so it's great to have, even if you're not that big of a fish eater.
8. Bagged Baby Carrots
Check out your local grocery store for bagged baby carrots. These small bags are often available for $1 or less and can stretch far. You can steam them, bake them, or eat them raw. If you're going to eat them raw as a snack, be sure to have something to dip them in for more flavor, such as ranch dressing or peanut butter!
9. Bell Peppers
While packages of bell peppers may cost more than $1, a single bell pepper should cost less than that. You can slice one bell pepper into pieces and prepare it with rice, saute it with onions and meat, or dip it into cream cheese for more flavor. It's a great ingredient to add to meals, but it also works as a quick snack when you want something healthy to eat.
10. Bananas
If bananas cost 49 cents a pound or less, you can get a handful of them for $1. Bananas are good to have because they provide potassium and essential vitamins. You can eat them with yogurt, oatmeal, or even by themselves for a healthy, flavorful treat. Mark has eaten bananas with his cereal for years. He feels that combination starts his day off right, and since at age 75 without taking any prescriptions he may be on to something.
Final Word
These are some of the healthiest foods you can buy for under $1. If you're trying to stick to a budget but want to eat healthy while avoiding fast food, these are some of the best foods to add to your pantry and fridge. Be sure to shop at stores that offer generic brands at some of the lowest prices to get the most for your money. May God Bless this world, Linda