How To Make Natural Yeast Crepes From Scratch
Do you know how to make natural yeast crepes from scratch? My friend, Melissa Richardson knows how to make natural yeast crepes BIG time. She wrote a book about using natural yeast, "The Art of Baking with Natural Yeast". This is actually the crepe recipe from her book with a few minor changes. Melissa put herself through college by baking bread, this is why she is called the "Bread Geek"! She's an amazing friend, mother, cook/baker, and person. Sometimes you can check with neighbors and get some natural yeast that has been made with the water in your area. You keep the natural yeast in the refrigerator and you feed it every few days as needed with more water and freshly ground whole wheat flour.
Today, I am making a box of instant vanilla pudding to put inside the natural yeast crepes. I have some extra bananas and some blackberries to top off these yummy crepes. Oh, and, of course, the whipping cream is ready to help top it off! If you want to try another regular crepe recipe I have that recipe below. I love crepes!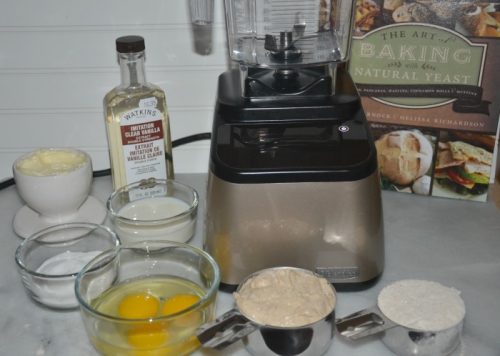 You only need a few ingredients, the first silver measuring cup is the natural yeast from my refrigerator. You can see some air bubbles in it which lets you know the yeast is alive. It smells just like whole wheat dough, just zero chemicals, and preservatives. I have the printable recipe for you below.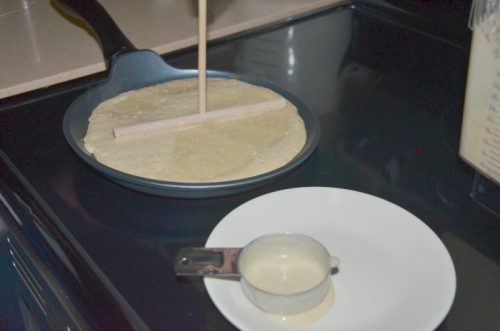 The picture above is my black stove with a crepe pan using 1/4 cup natural yeast crepe batter. I am using the crepe wand to swirl the batter, but you really can just twirl the pan and it will do the same thing.
How To Make Natural Yeast Crepes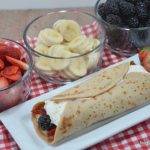 How To Make Natural Yeast Crepes
Ingredients
1

cup

natural yeast starter

2

tablespoons

softened butter

¼

cup

sugar

¼

teaspoon

sea salt

3

eggs

½

teaspoon

vanilla

½

cup

milk of choice

½

cup

freshly ground hard white wheat flour
Instructions
Blend all of the ingredients in a blender. Pour into a well greased frying pan in ¼ cup increments. Tilt the pan as you pour the batter into the pan swirl the batter around to make it thin across the surface. Cook until the bubbles have stopped forming and the top is no longer shiny. I flip the crepes and cook the other side. Slide the crepe onto a plate. Serve with custard, fresh fruit, pudding or whipped cream.

I use a crepe wand to swirl my batter in the fry pan