Today I'm sharing my spinach artichoke dip with you. This recipe includes ingredients that most of us should have in our pantry and freezer. The artichokes may not be a staple in your pantry, but other than that one ingredient, you can make this recipe at the last minute for a party or special family get-together tonight!
You've heard me say this before, people love to get together to laugh and talk to one another. I'm here to tell you appetizers are the thread that binds the party together!
Can you picture for a minute knocking on the door of a neighbor, you enter the home and you see tables and countertops with chip and dips, tortilla chips with salsa and guacamole? And lots and lots of different cheese balls with all different kinds of crackers!
In the spirit of always trying to be prepared, I've been trying to share many appetizer recipes with my readers the past couple of weeks. I hope you have benefited from the wide variety of options and made your holiday parties and family get togethers extra "flavorful" this year.
This dip is creamy, cheesy, and rich with artichokes and spinach filled in a bread bowl. It's always a hit at every party, be ready to hand out the recipe.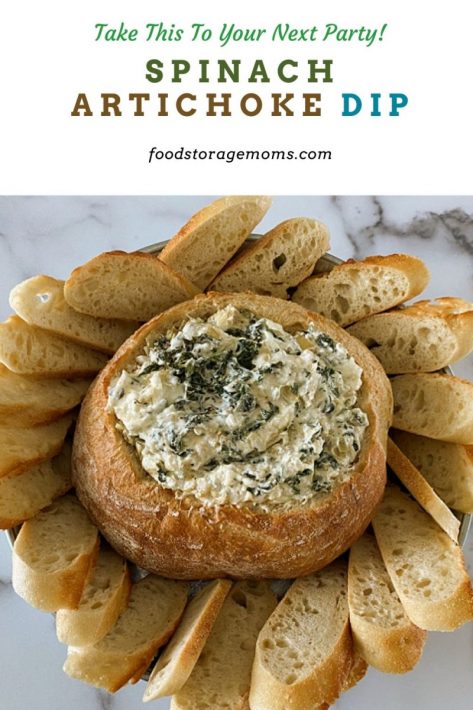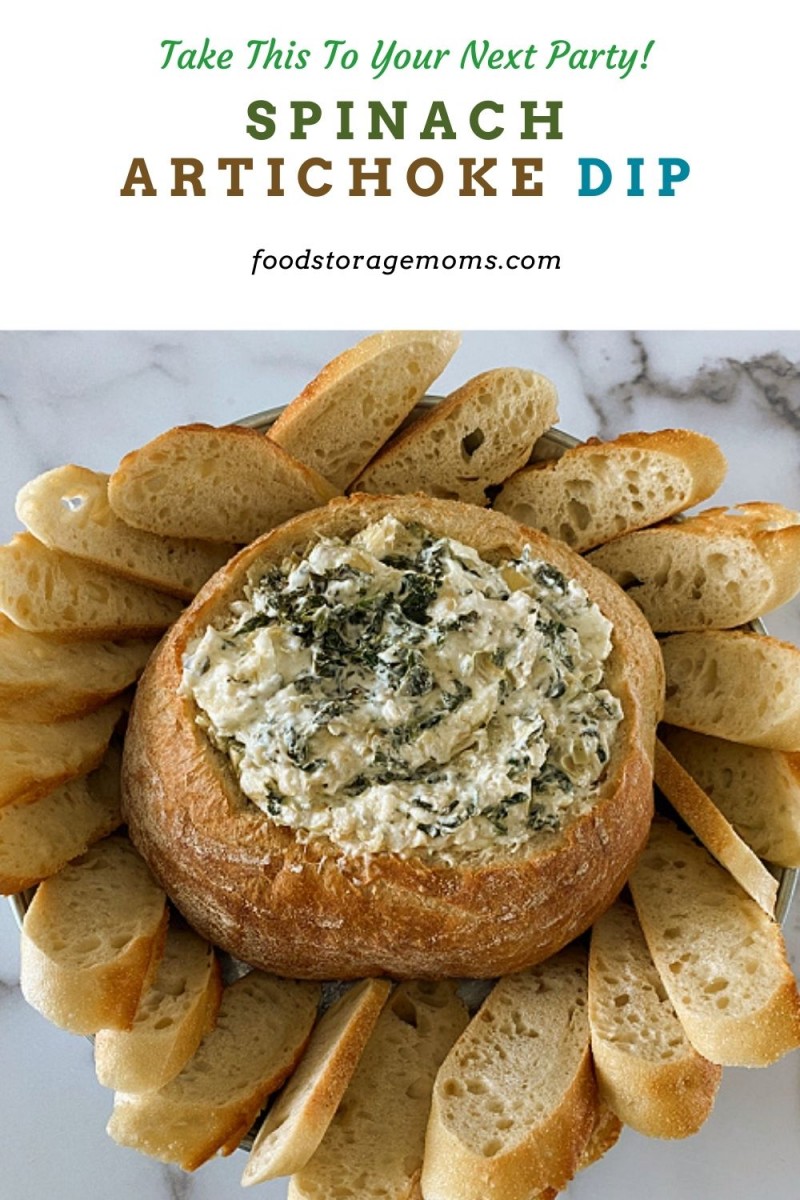 Items You May Need In Your Kitchen
My Other Cheese Balls
Spinach Artichoke Dip
Step One
Hopefully, most of these ingredients will be in your freezer, pantry, or refrigerator. This is why I love making cheese balls and dips!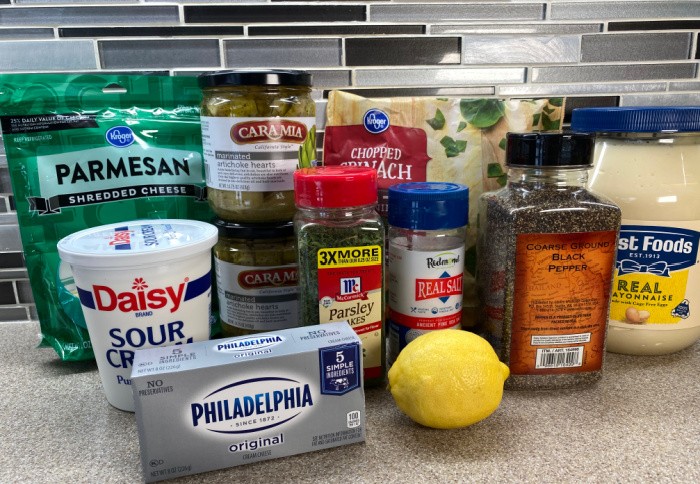 Step Two
Cut the 8-ounce package of softened cream cheese into one-inch cubes and place them in the slow cooker.
Step Three
Drain the spinach, it takes longer than you think. You can run cold water over it to speed up the thawing and draining time required.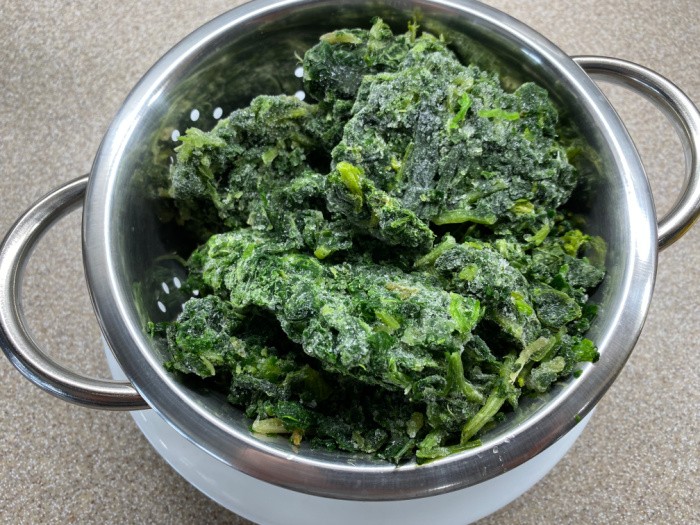 Step Four
Now, after draining the spinach, press on it to remove any excess water. We don't want the moisture in the spinach artichoke dip.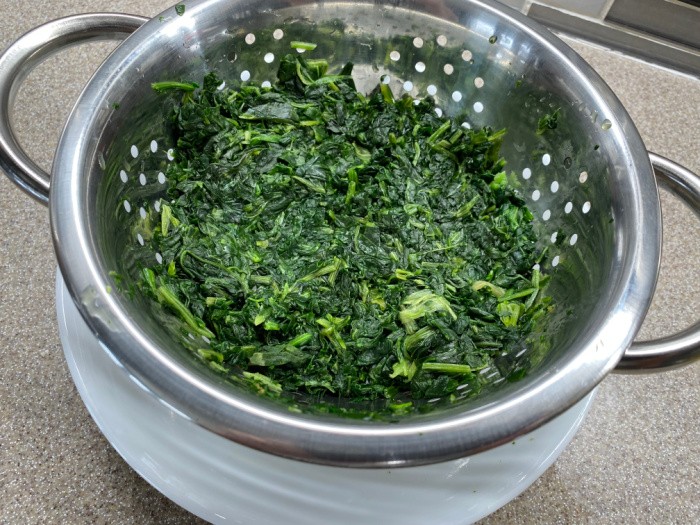 Step Five
Add spinach, parmesan cheese, sour cream, mayonnaise, lemon juice, and parsley to the cream cheese in the slow cooker.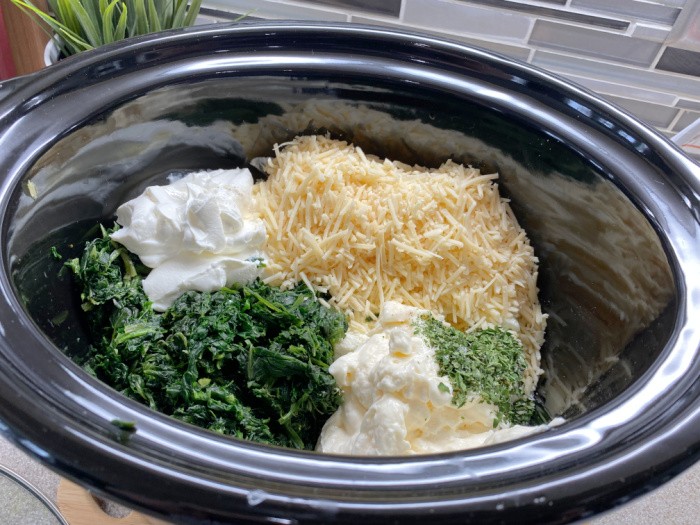 Step Six
Drain and chop the artichokes into small pieces.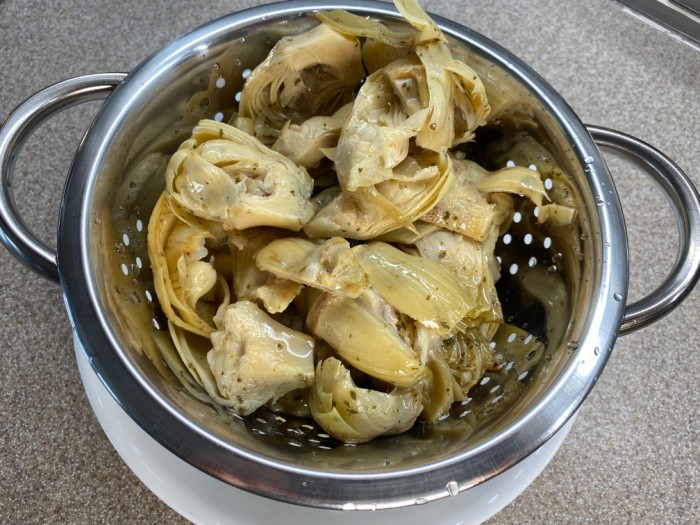 Step Seven
Add the chopped artichokes to the slow cooker. Turn the slow cooker to high for 2 hours, or set it on low for 4 hours. Stir the mixture so the ingredients are well mixed. You may want to stir it periodically while cooking so the cheese melts throughout.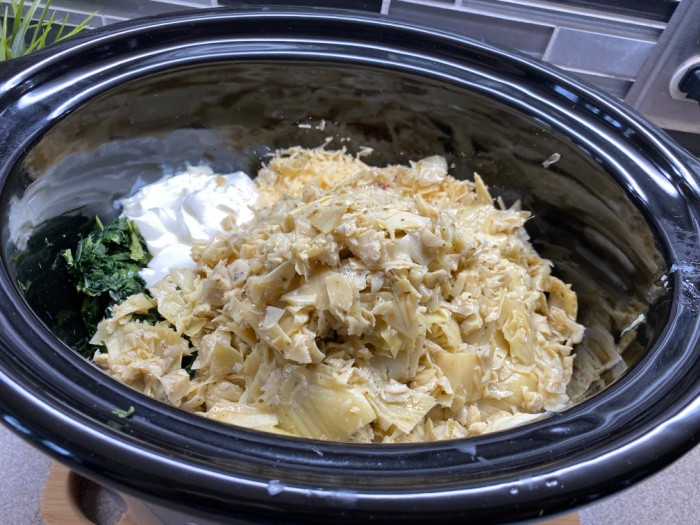 Finished Product
Make sure it's heated throughout the mixture. Feel free to serve the dip from the slow cooker for ease of serving. I like to serve mine in a round loaf of sourdough bread after cutting out the top section and removing excess bread so it can be served in the "sourdough bowl." Serve with sliced baguettes or crackers of choice. Enjoy!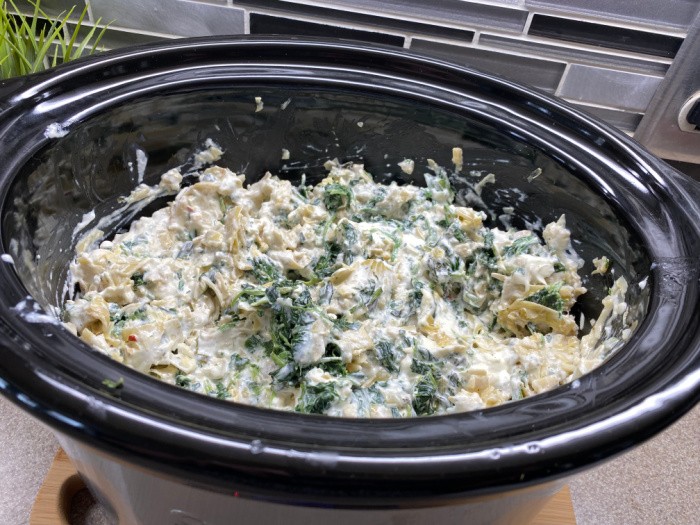 Spinach Artichoke Dip Recipe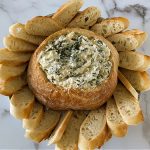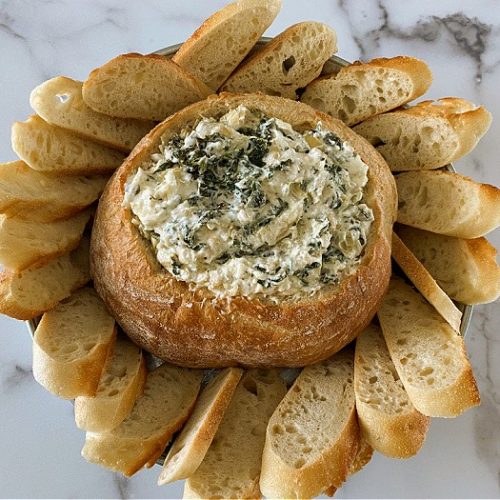 Spinach And Artichoke Dip
Ingredients
1

9-ounce

frozen spinach (thaw and drain the liquid)

1

8-ounce

package cream cheese (cubed and softened)

1

cup

mayonnaise

1

cup

sour cream

1

tablespoon

lemon juice

2

teaspoons

dry parsley

1

15-ounce

jar marinated artichoke hearts (chopped fine and drained)

salt & pepper to taste

1

cup

Parmesan cheese
Instructions
Slow Cooker: Combine all of the ingredients in the slow cooker and cook on low for 2-4 hours, or until heated through. Serve with baguette sliced bread.

Oven Baking: Preheat your oven to (350°F)=(176°C). Grease a 9 by 13 baking pan. Combine all of the ingredients in a bowl and mix thoroughly. Scoop the mixture into a greased pan. Bake for about 20 minutes or until heated through.
What can I serve with this besides baguettes?
Pita Chips
Tortilla Chips
Chicken N'Biscuit Crackers
Triscuit Crackers
Crostini Slices (see below)
How I store this recipe?
I store my dip in the refrigerator for 3-5 days. I worry about the spinach flavor getting a bit stronger, so we try to eat it up before that happens.
Can I use low-fat cream cheese?
Yes, you can, it may have a slightly different texture, but if you're used to using low-fat cream cheese, it will be fine.
Can I freeze this after making it?
I can't recommend it because I have never frozen it. Because the spinach was frozen, I tend not to refreeze it.
Can I use fresh spinach?
Yes, you can, but you will need to blanch it in blowing water, then rinse it in ice-cold water, and then drain it.
Can I use a different cheese or two?
If you have cheddar or another cheese, I would use it. It will have a different flavor because, as we all know, freshly grated Parmesan cheese has a little different taste. It will still taste great!
What is Crostini?
I'm sure you have made these and weren't aware of what they are called. You basically slice up the baguette loaf of bread into 1/2-inch slices, then brush the rounds with olive oil. Now, preheat your oven to (400°F)=(204°C).
Place the slices on a cookie sheet and bake until they are slightly crisp on the edges, or golden brown, depending on the texture you like with the slices. You can buy them, but they are so cheap to make, I make them often.
Final Word
I hope you try making my spinach artichoke dip. It didn't take long for my whole batch to disappear. Remember, it's all about teaching our kids and grandkids how to cook from scratch. Any recipe works, they are learning to measure ingredients, beat the mixture until fluffy, and enjoy working together, etc. Stay safe, stay well. May God Bless this world, Linda