How To Put Together A Vehicle Survival Kit

Have you been thinking lately that maybe you need a vehicle survival kit? If a disaster hits the road you are traveling on, you may want a few of the items listed below in your car or truck. Everyone is different, but I hope this list gets you started. If you think of some ideas, I will add them to my list to help others. Let's help the world be prepared for that unforeseen emergency on the freeway, back roads, or highways.
Dangerous road conditions can happen with little or no advance notice. There is something about being relaxed knowing I always have the "stuff" I may need in case of an emergency. I just barely changed out a few smaller bags and purchased this DeWalt toolkit. I decided I better put a "Red Cross" on the top of the middle container indicating this is my first aid kit. Plus, I didn't want someone to break a window thinking I had some awesome tools in the toolkit.
This makes it so much easier so I can grab it if I'm on the road or at a picnic with family or friends. The bag on the left has items for my car and the bag on the far right has water, food, and snacks. I have water bottles tucked everywhere in my little Honda CRV. You can pack a lot more than you might think in a vehicle survival kit in a very small car.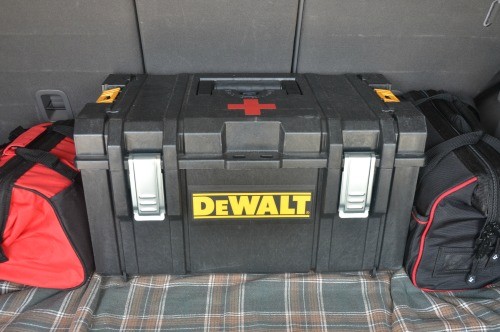 Vehicle Survival Kit
Cash
Ones, fives, tens, and 20 dollar bills. You may find a situation where the banks are closed or the ATM's don't work due to a power outage. Better safe than sorry, a debit or credit card may not work anywhere.
Contact Information
If you are unconscious, having a paper with your important contact information would be great. I have this download that maybe will help you. Be sure and have pictures of you and your pets in case you are separated in a huge car pile up. Emergency Contact Information
Food and Hydrating Needs
Water: I pack more water than anything else. My favorite water for the car is Blue Cans because they store up to 145-150 degrees. It lasts for 50 years, I love this, store a case a month. I suggest packing at least 4-gallons per person per day. If you can only pack one-gallon per person per day, then do it. Try and pack enough water for three days at the very minimum.
Food/Snacks: I put packages of freeze-dried food that we can eat right out of the container. I do not put nuts of any kind because they will go rancid in the heat where I live. I also have cans of chili, ravioli, and beef stew I can eat cold if needed. Rotate as needed.
Tin foiled packets of tuna and chicken with crackers or just individual cracker packets. Thank you, Wendy.
Refried beans, soups, canned meats, thank you, Michelle
Datrex bars and Datrex Water Packets, thank you, Cameron.
Water purification tablets: I prefer these bottles: Berkey Sports Water Bottles
Paper, cups, paper towels or napkins.
Can opener: you can always use a can opener.
Pet needs: will be water, food dishes, leashes, cans or bags of food. If you have a copy of the pet's immunizations in your kit, you'll be glad you have them. Update as needed.
First Aid Kit
Put together a first aid kit with as many of the things you use in your home as possible. Rotate as needed. Here is my First Aid Kit article with a printable list.
N-95 Masks.
Entertainment Items
Books, colored pencils (crayons melt), scissors, plain paper, or coloring books. Decks of cards and small board games that will fit nicely in a bag. If the car is parked on the highway for hours, please be prepared to entertain the little ones. Plus, who doesn't love a card or board game?
Vehicle Survival Kit Toolkit
Flares.
Fire extinguisher.
Battery jumper cables.
Ice scraper.
Folding shovel.
Car Jack.
Flashlights, batteries that you must rotate because of the heat or get a hand crank one. Solar is even better when choosing a good flashlight.
Multi-use tool.
Toolkit.
Fix-a-Flat.
Flares.
Waterproof matches.
Tire plug set.
Work gloves.
Self-fusing silicone tape.
12-volt air compressor.
Compass.
Battery jump box, thank you, Illini Warrior. Battery Jump Box
Sturdy hanging storage/organizing pockets can be found in tack & feed stores. Try Jeffers or Schneiders for good prices. These are designed for stall or wall mount but can be easily modified to hang from doors or the back of seats inside vehicles. They are much better made than items from the housewares section. These are made for use around livestock and will stand up to rough usage. These can be found on sale for about $25. Thank you, BDN
Ponchos, first aid kits, flares, sturdy knife, waterproof matches, paracord, thank you, Cameron

Shelter Clothing

Pack a tent or some kind of shelter to keep you warm or cool from the weather.
Extra shoes, socks, clothing, and jackets.
Hand Warmers.
Hats with a brim may keep you cool as well as warm.
Gloves.
Umbrella.
Ponchos, thank you, Kathy! This way our hands are free.
Backpack, thank you, Wendy! We may need one to walk a distance to get help.
Small tent for privacy, thank you, Chris!

Personal Hygiene

Toilet paper.
Portable toilet.
Menstrual needs.
Hand sanitizer.
Baby wipes.
Disposable diapers.
Toothpaste and toothbrushes.
Extra underwear.
Sunscreen lotion or cream.

Now, please remember you don't have to go out and buy everything on this list. Purchase one item at a time according to your budget. By the end of the year, just think what you will have in your car. Once you have your own vehicle survival kit complete, you can relax knowing you are prepared for the unexpected. You may not want to have all these items on short trips to the store or to visit friends or family, but versions of this kit should certainly go with you when on a trip in your car. May God bless you and your family.

Copyright picture:

A car with an emergency triangle: AdobeStock_211630355 by Naypong