10 Things You Should Do Before You Evacuate
Whether you are being forced to evacuate a dangerous situation or you have chosen to do so, there are some things that you should do BEFORE you leave. When you are in a hurry, you may not consider these tasks important, but they are. Of course, only complete these tasks if you have time. Don't ever risk your life or anyone else's life to do these things. This is why we prepare NOW, so we don't have to rush around later.
Things You Should Do Before You Evacuate
Some items on this list aren't anything new. I'm sure I have shared them in previous blog posts. However, it is so nice to have a list right in one spot. Go ahead and check out these tasks you should be doing before you evacuate. Print out this list and keep it in your prepping binder.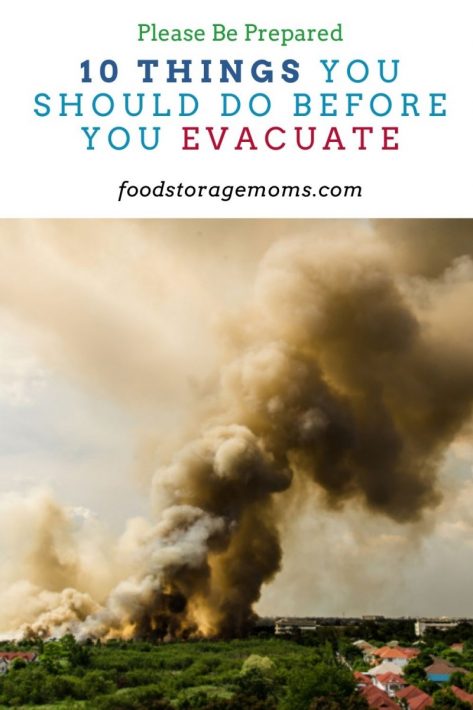 #1. Stock Up on N-95 Masks
If you were to ask any of us a year ago if we knew we'd be wearing masks for most of the year, we wouldn't believe it. One of the best things you can do is stock up on N-95 masks. You may have to wait a few months, until after the pandemic is over, but this is something you need to stock up on. I have a feeling these may be hard to get for a while, but once they are in stock, STOCK UP!
#2. Sign Up For Emergency Notification Services
As much as you'd like to believe you will be listening to the radio or television when an emergency strikes, this isn't always the case. Take the time to sign up for an emergency notification service. Ready.gov is a good one! However, you can also go to PublicAlerts.org to sign up for emergency notification services.
#3. Offer a Place for Others to Stay
What if you have friends that are evacuating, but you are not? Why not offer others a place to stay? Sure, it's not always ideal to have others in your house. However, an emergency is an emergency. If you can, allow others to stay with you who may be evacuating a natural disaster. You won't believe the amount of gratitude they will have for you extending your hospitality. 
#4. Prepare Yourself Mentally
I have to admit that there is a lot of adrenaline when you are evacuating. You are likely to forget a lot of stuff, which is why starting now is important. You are going to need time to prep yourself mentally. Spend time learning your evacuation plan and what you need to do before you leave.
#5. Purchase a Battery Operated Radio
If there was ever a time that you needed to evacuate but your cellphone was useless, what would you use? Radios are a great way to keep in touch with others and hear what is going on in the world. You will want to purchase a battery-operated walkie talkie and an emergency radio. Both are great tools to help you get help or communicate with others. We recently purchased an emergency radio that has batteries, but also has a crank so you can operate it if the batteries run out of juice.
#6. Always Keep Your Gas Tank Nearly Full
You can't evacuate in an emergency if your gas tank is empty. This is one of those REALLY important tips. Don't ignore this one. In an emergency or evacuation, everyone will be trying to get gas and the gas stations will be packed. If at all possible, keep your gas tank as close to full as possible. 
#7. Keep Your Phone Charged & Have a Backup Battery
When you need your cellphone most is when it seems to have a dead battery. If you can, always try and keep your phone charged. If you are unexpectedly needing to evacuate, you would be in trouble if your phone wasn't charged. Keep a backup battery in your emergency bag as well. It doesn't hurt to keep an extra phone charger cable in your car. You have to think of these things now, so they can help you later. 
#8. Pack an Emergency Bag
Way before an emergency evacuation strikes, make sure you pack an emergency bag. You should have one packed for every single person in your family. An emergency bag will have everything in it you need to survive for at least a few days in case of an emergency. Of course, this isn't a long-term solution, but it does help you survive for a few days in an emergency situation. 72 Hour Kits Please have one ready for your pet as well.
#9. Gas Mainline Should Be Shut Off
When you are being asked to evacuate, you can assume that you don't know what will happen to your home while you are gone. Like most people, you hope to return. One thing you can do to ensure your house doesn't explode, on top of everything else going on, is to turn off your main gas line. This is something that not everyone remembers to do! However, it can help keep houses from exploding in case of a natural disaster.  Keep in mind you may have to have the gas company turn it back on, so be aware of that. Please have a 4-in-1 tool on hand.
How To Turn The Gas And Water Off To Your House
#10. Make Sure You're Safe
If I am being honest, something you should do before you are forced to evacuate is to do it on your own. Don't wait until someone tells you to do it. Also, don't avoid evacuating. Your life is so important and if emergency personnel thinks it's important that you evacuate, then please listen to them. Making sure you're safe is one thing you should always put first. 
Final Thoughts
This isn't an extensive list of everything you should do before you evacuate, but it is a good start. You don't want to get caught "with your pants down," so to speak. When you spend time prepping and making sure you're ready, you can be ready for anything. The year 2020 has shown us that we don't always know what to expect. The world isn't done with us yet! Remember that anyone can be asked to evacuate for a number of reasons, and at any time. Are you prepared? May God Bless this world, Linda. 
Copyright Images: Fire in City Deposit photos_46884281_s-2019