Applying for Food Stamps Online: A Simple Guide
Times are tough for so many people right now. People who didn't ever think they would be on food stamps are finding themselves applying for food stamps online. With the Internet, technology has made many tasks easier, including applying for government food assistance programs such as food stamps.
Here's the deal, you may know someone who you feel needs a little help right now. We all know the prices of groceries have gone up significantly in the past few years. I honestly don't know how families can feed themselves as they try to cover their overpriced rent costs, utilities, and high fuel prices. Inflation certainly affects us all, but particularly the elderly and needy families.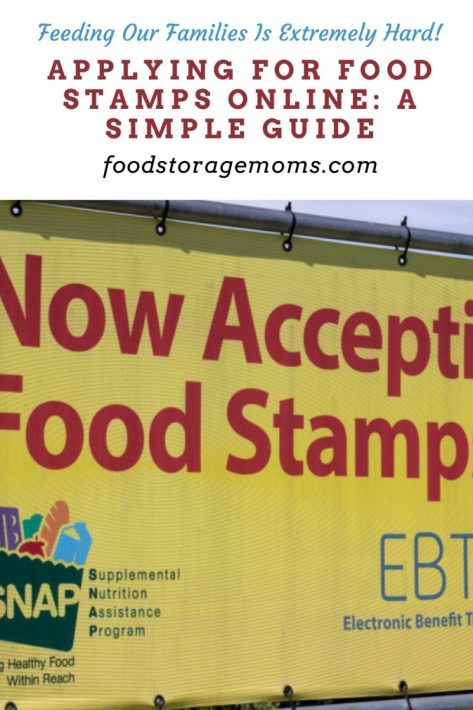 I recently heard about several people who were lucky enough to buy homes 2 years ago when the mortgage rates were below 3% for a 30-year mortgage. Well, the rates were the lowest in over 60 years, but if someone loses their job it doesn't matter what that rate is if they don't have the funds to cover normal monthly expenses.
Some had a death in the family, some lost their overtime pay, families going through a divorce, and a few mentioned they didn't realize their property taxes would increase significantly. Here's the deal, when the home is new the taxes haven't been accurately accessed. So when the county recalculates them, bam they can go up big time.
Unfortunately, we'll continue seeing some home short sales or foreclosures as people struggle to make ends meet. For those who meet the eligibility requirements, food stamps can be a temporary solution. Don't just guess if you think you qualify since you consider yourself "low income." Go through the process and make the most of your opportunities.
What is SNAP or EBT?
The Supplemental Nutrition Assistance Program (SNAP), commonly known as food stamps for many years, provides eligible individuals and families with financial assistance to purchase nutritious food. If you think you need assistance under one of the government's nutrition services programs and will meet the SNAP eligibility guidelines, then this is a guide that will help you figure out how to get things started!
Starting in 2004, actual stamps weren't issued anymore by mail. People who qualify receive an EBT Card (Electronic Benefits Transfer card). Each month the government authorizes your qualified benefit amount to be applied to your card, much like a gift card, that's why it's referred to as electronic benefits.
Most supermarkets and grocery stores will accept these cards. They usually can't be used to purchase prepared foods like you find at fast food chains. It's anticipated that you use the card to buy food products you can use to make meals at home.
Gather Your Information
Before you begin the online application process, it is important to gather all the necessary information and documents that will be required. This may include personal identification documents, proof of income, residency verification, your social security number, and any other relevant information specific to your state or region. By having everything prepared beforehand, you can streamline the application process and avoid delays. You'll be glad you already have everything ready for this process!
Find Your State SNAP Office
Each state has its own SNAP office responsible for processing applications and determining eligibility. Start by locating your state's SNAP office website or the official website of the Department of Social Services (DSS). You can easily find this information by performing a quick search online using keywords like "apply for SNAP benefits + [your state]."
You should also find links for your questions, like FAQs, general program information, guidelines for monthly gross income, numbers of deductions, whether is citizenship required, etc.
Complete the Online Application
Once you have found the official website of your state's SNAP office, navigate to the section where you can apply for benefits by completing the SNAP application. Many states now offer online application portals, making it easier and more convenient to apply from the comfort of your own home. Look for an option such as "Apply Online" or "Online Application."
Create an Account
Some states may require you to create an account before starting the application process. This is done to ensure the security and privacy of your personal information. Follow the instructions provided to create a username and password, and make sure to keep this information safe for future reference.
Fill Out the Application Form
Most online application forms have actually become simplified applications and will prompt you to provide detailed information about yourself and your household. This may include personal details, income information, household size, and expenses like medical expenses. Be thorough and accurate when filling out the form to avoid any complications or delays in the processing of your application.
Upload Required Verification Documents
As part of the online application process, you will likely be required to upload certain verification documents. These documents may include a birth certificate, identification cards like a driver's license, proof of income, bank statements, utility bills, and rent or mortgage statements. Each state and county has its own verification of documents process, so make sure you follow it.
Review and Submit
After completing the application form and uploading the required documents, take a moment to review all the information you have provided. Double-check for any errors or missing details. Once you are satisfied with the accuracy of your application, submit it electronically through the online portal. Family Documents: What You Need
Follow Up
After submitting your application, you will receive a confirmation message or reference number. Make note of this information as it will be important for any future correspondence with the SNAP office. Keep an eye on your email or mailbox for any additional requests for information or notifications regarding the status of your application.
It is important to remember that the processing time for SNAP applications can vary, depending on the volume of applications received and your particular case. If you haven't received a response within the expected timeframe, feel free to contact your state's SNAP office for status updates.
More Tips
Final Word
Applying for food stamps online has made the process more accessible and convenient for individuals and families in need. Following these steps and ensuring that you have all the necessary information and documents, you can figure out the online application process with ease. Remember, SNAP benefits are designed to provide temporary assistance during challenging times, so if you find yourself in need, don't hesitate to explore the available resources. May God Bless this World, Linda
Copyright Images: Food Stamps Yellow Depositphotos_371601702_S by 11,625 jetcityimage2, Food Stamps SNAP EBT Cards Depositphotos_383813678_XL by jetcityimage2