12 Budget-Friendly Beautiful Garden Tips
Are you looking for ways to add what's missing to your garden, but you don't want to spend a whole lot of money to do so? Good news! There are several different options out there that will add the beauty, character, and liveliness that you're searching for. A few of them may not cost you anything. These are 12 budget-friendly beautiful garden tips.
12 Budget-Friendly Beautiful Garden Tips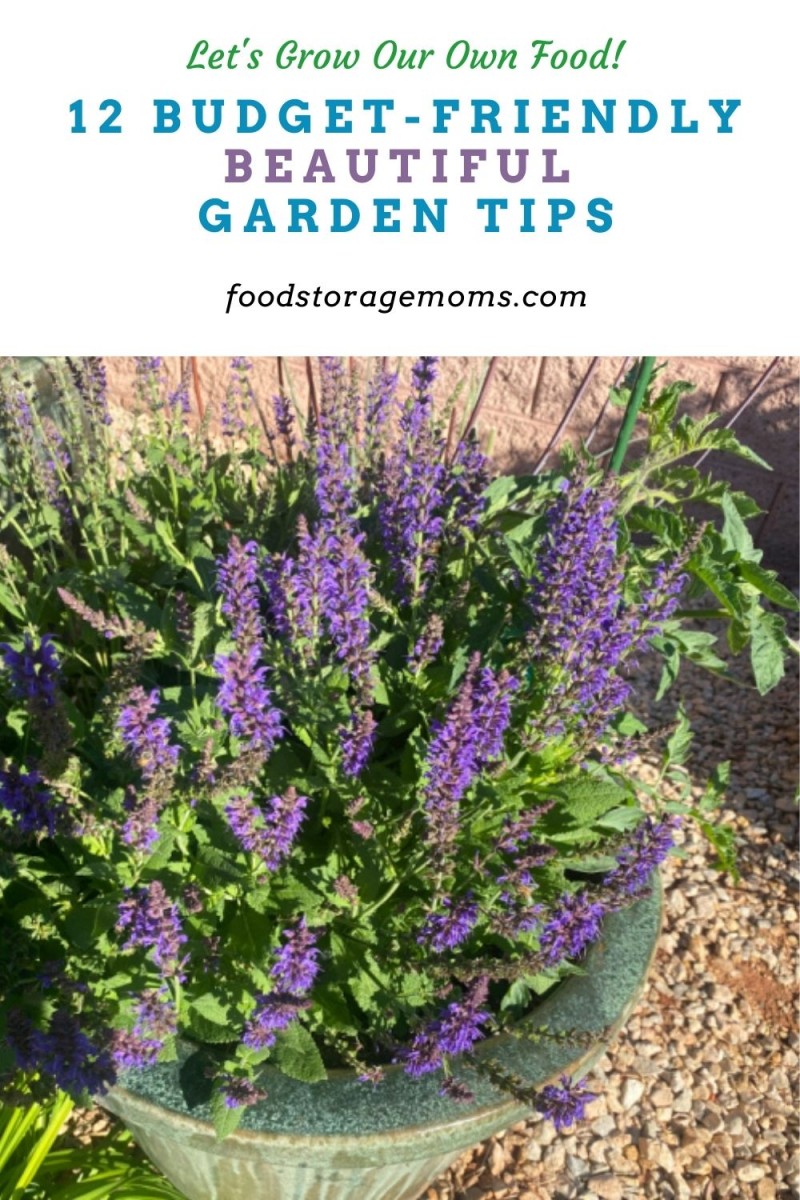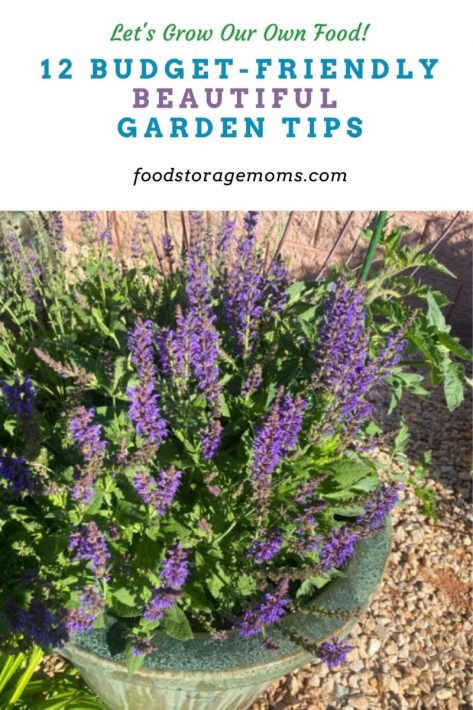 1. Start from Seed
Instead of picking out flowers and plants that are already mature, choose to start growing them from seed. This method will take longer before you have a great-looking garden, but you won't be going outside your budget and you'll save yourself a bunch of money. You just have to be a bit more patient. This is where I buy my garden seeds: SeedsNow
2. Plant More Perennials
While you will be paying more upfront for perennials than what you would for annuals, you will be able to enjoy them year after year. You also have the option of waiting until the end of summer to find some great deals on perennials at your local garden center or nurseries. They may not look like much at the time, but they'll look great the following spring. I plant Perennial Salvia in my garden because it comes back year after year as shown above. Can you see a tomato plant on the right-hand side?
3. Plant a Few Trees
For how long you get to enjoy them, trees are inexpensive and will add the appropriate height to your garden. Smaller trees, such as crab apple, Juneberry, or Prunus x in cam 'Okamé' are great options. These are a few other gorgeous trees that will look fantastic in your garden. This is a budget-friendly garden tip to keep in mind! You can also buy bare-root trees, and as long as you plant them according to your zone planting times they will survive and flourish.
4. Use Lawn Edging
Are you wanting to add planting zones to your lawn and garden without having to break the bank? If you choose to go with stonework all around your garden, you will wind up spending a small fortune in order to do so. Instead, go with lawn edging that's made of plastic and recycled rubber tires to create that appealing separation that you've been looking for. 
5. Lay a Gravel-Path
You will be adding a lot of character, along with a place for you to walk, when you consider laying a gravel path in your garden. Gravel (or mulch) is a pretty cheap material that will look sharp within the lawn edging you picked out. Just be sure to lay the garden fabric down beforehand so that you can keep weeds to a minimum. Here's more on how to lay gravel in your garden.  
6. Paint your Fence and Garden Shed
Does your shed and fence around your garden lack color, causing an eye-sore every time you look up while you're out working in your backyard? Spruce them up with lighter colors that match. If you have a bit of the artist touch running through your veins, you can add more color by painting beautiful flowers all around your fence. It will create a dazzling backdrop with your garden's greenery.
7. Add a Decorative Feature
Placing a centerpiece feature inside your garden will draw the right kind of attention that you're hoping to get. This bit of advice might sound expensive, but you can find decorative pieces that you can add to your garden for a reasonable price if you know what to look for. You can find decorative garden water features for cheap, and they don't use that much electricity. This is an important budget-friendly beautiful garden tip to truly help beautify your garden.
8. Attract Birds to Your Garden
Drawing wildlife into your backyard can add what's been missing in your garden. You'll be rewarded with dazzling-colored birds, and be able to listen to their song. Research has shown that listening to birds singing can reduce your stress level and anxiety. Seems like a good solution, not only for your garden, but for your wellbeing as well. It's really up to you whether you buy or make your own homemade birdhouse and feeder. A birdbath would also be a welcome sight for these beautiful creatures.  
9. Add Garden Lighting
Wouldn't it be nice if you could still enjoy the beauty and sanctuary that your garden provides long after the sun has gone down? Well, you can. With just the right lighting, you can illuminate your flower beds, trees, shrubs, and sculptures to create yet another attractive dimension to your garden. Solar-powered lighting is arguably among the cheapest lighting that you can use, or you can go with the battery-operated clip-together systems.   
10. Build a Pond
This next tip might sound expensive and hard to do, but it doesn't have to be. Creating a DIY pond will also help to bring more wildlife into your backyard. All you need to do is dig a hole, place a pond liner in the bottom, and lay rocks and pebbles all around it. Then fill it with water and add a small fountain if you want to. It will look wonderful when surrounded with colorful plants and greenery.
You'll need a good pump to keep the water circulating. You'll also need to add water from time to time due to evaporation. Keep an eye out for stuff growing in the pond and treat as needed with chemicals.   
11. Hanging Baskets
Hanging baskets are another great and inexpensive way to add the finishing vibrant touch to your garden. Bring more color by going with flowers like petunias, verbena, or fuchsias. You can even plant vegetables like tomatoes in them if you choose to do so. Please remember flowers will bring the bees we need to pollinate our plants.
12. Keep Up with Weeding
One of the best (and free) ways of keeping your garden looking great is by staying on top of your weed situation. It's a simple and effective way to reinvigorate your garden. For some of you gardeners who have a tougher time getting on your hands and knees, I'd encourage you to get yourself a weed puller tool. That way you can pull weeds while standing up because of their long handle.     
Final Word
Gardening isn't just for the rich folk. You can still have an amazing-looking garden without having to spend a bunch of money. Which of these do you plan on incorporating in your lawn and garden? What are some other cheap ways you've discovered to make your garden look great when you're on a budget? What are some budget-friendly beautiful garden tips you'd like to share? May God Bless this world, Linda.
Please Check Out What To Plant Each Month: