Lavender: Everything You Need to Know
A native plant to the Mediterranean Sea, lavender has been used for thousands of years for a number of reasons, not just for its calming fragrance.
The Egyptians used lavender during their mummification process, while the Romans used it to spice up their community's heated baths. Lavender has been found to be effective on a number of other medical issues as well. 
While you may have discovered several uses for it already, we bet you'll be surprised how many other ways you can use lavender on a daily basis. So here's to lavender and everything you need to know about it.
Lavender: Everything You Need to Know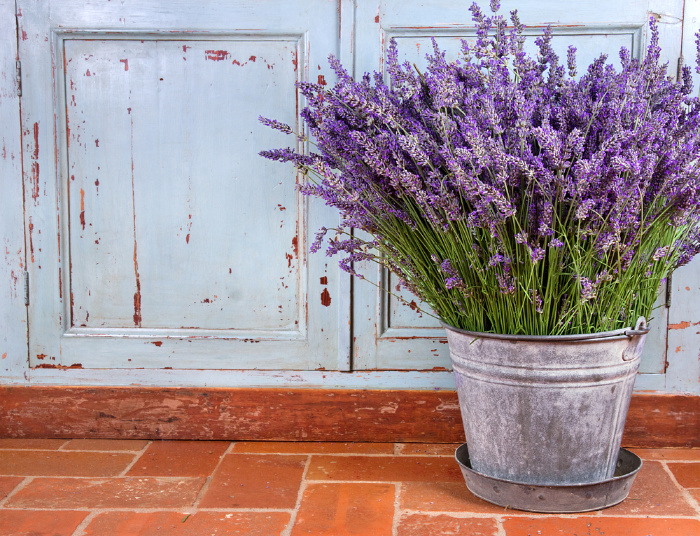 There are actually numerous types of lavenders from all around the world, but we'll focus on the two most common ones. Each has unique properties and different strengths that can be used for a number of situations.
Lavandins
Lavandins are considered French lavender that does not produce seeds, and if they do, their seeds are sterile. Because of this, they can only be produced from cuttings.
Not only do they produce wonderful aromas in your home, but they also can be used in a number of household cleaning products. It's recommended that you don't use the Lavandins species when you're in your first trimester of pregnancy, or if you suffer from epilepsy.
Lavandula Angustifolia
An English lavender, Lavandula Angustifolia is the best to use for many medical purposes. The Hidcote and Munstead are two varieties of this type of lavender. This is the type of lavender that you can cook with, as it's much sweeter. You can flavor jams, pastries, and meats with it.   
Is it Poisonous to Eat?
In most cases, lavender oil is not poisonous for adults, whether swallowed or breathed in during therapy. You may happen to notice a reaction for children who have swallowed small amounts of it. The most common allergic reaction is that it can cause their skin to break out.
What Can Lavender Do?
Helps You Relax
Many people that suffer from sleep insomnia, stress, and anxiety have discovered that lavender helps them relax. After a day in the office, or hearing an earful from the boss, who doesn't need a bottle of this stuff?
It's also been found to help those that suffer from depression. Applying lavender oil on your skin just before bed can give you the calming, restful night's sleep that your body needs. 
Has Healing Properties
Lavender is believed to also help with minor burns, scrapes, and bug bites/stings. That's because it's an electrical nerve stimulant that sends calming messages back to the brain. People also use it to help with headaches, sores, toothaches, and even sprains and sore muscles.
Helps Digestive System
Have you ever gone to bed at night, only to be woken up by an upset stomach? Talk about a restless night of sleep. Studies have shown that ingesting lavender by making an herbal tea, can actually help you when you're suffering from an upset stomach, vomiting, nausea, and intestinal gas. 
Sinus Issues
People that suffer from sinus problems have claimed that lavender oils can actually help reduce pain and swelling in their sinus regions.
Hair Loss
Some people have found that applying lavender on their balding spots with treatments up to 7 months have had a substantial amount of hair growth in those regions. This could save you a lot of money going about the treatment this way versus more expensive methods.
Use Fresh Lavender in Salads
If you're looking for a way to spruce up your salad, look no further than lavender, which can add the extra sweet flavor that you've been missing. Apparently, it's tasty as a lavender lemonade or even one of the main ingredients in lavender lemon bar recipes.
What Can You Make with Lavender?
There's an endless quantity of homemade things that you can make when using lavender. We'll show you a couple of goodies that you can make, and click on the links below for the directions on how to make them.
You can make a lavender oil or lavender salve that helps with aches, tired muscles, and restlessness. Have your spouse or partner give you a full massage with your own lavender oil that you've made.
Lavender can also be made into wonderfully fragranced soaps that will not only help you smell nice, but also helps with irritated, cracked, or dried skin.
Making a simple lavender tincture will help alleviate your headaches or sleep insomnia. Simply apply it to your temples and your scalp region, and you won't believe the difference that it will make.

There's also lavender lotion and lavender honey hand scrub that will work wonders on your skin on other various regions of your body.   
How to Grow Lavender
It doesn't get much easier than growing lavender. It's a low-maintenance plant that can endure drought-like conditions, as they will need a lot of direct sunlight. They also thrive in loose soil that drains well. 
For the first three months, you'll need to water them every few days. Don't water them every day or you will kill them. They'll grow between 20 and 24 inches tall, and will not spread out as quickly as other herb plants do.
Lavender is a perennial flower that will continue coming back year after year, lasting up to 12 years. Some types of lavender will not flower their first year when seeded in the springtime. They will come back fuller and full of flowers in the second year.
It's best to prune your lavender no earlier than August. This way if you prune too early, your lavender doesn't begin sprouting just before the winter arrives.
You also don't want to prune too much off, or your lavender won't come back next spring. To be safe, cut off right around ⅔ of the plant's total height, just above the plant's two sets of leaves. I love learning about lavender: everything you need to know.
Final Word
Do you happen to have lavender in your home currently? If so, what have you found that it's been useful for around the house? What are some other ways that you've discovered for the uses of lavender that may have not made our list?
This post is a guide to Lavender: Everything You Need to Know is essential to anyone who's curious about lavender. Please stay safe. May God bless this world, Linda