15 Items Older People Want For Survival
I know of at least 15 items older people want for survival at the very least. Please remember your family members or friends living alone or possibly in a care center when considering things needed for survival.
I remember getting an email from a reader a few years ago asking me what her mom should have stored in her apartment at her assisted living facility. Here's the deal, we may think our mom, dad, aunt or uncle will be just fine after a disaster if they are living alone or at a care center. But will they?
The employees in a care center can only help so many older people after a disaster. There will be panic, we know that. Let's get started to help those we love to be prepared before they need to be. I want you to think about this situation if you haven't already.
Let's say we have a minor disaster, older people sometimes will be unsure of what's going on around them. They may be scared, so let's hope they can call you if the power is out. Hopefully, they remembered to keep their cell phones charged, if they have one.
If they live alone, I hope they have neighbors they can reach out to for help if needed. If the caring family lives nearby that's awesome if the roads still work. We never know what kind of disaster or unforeseen emergency may occur.
Of course, we don't want to alarm our older family members, but if something does happen we would want them to have a few items in their home or care facility.
Remember, it's all about peace of mind for them. As I look back I know my mom was prepared with food and water in her home even close to the time she passed away.
She taught me well from a very young age to be prepared for whatever may happen. I highly recommend making one of these for all family members: Survival Bed Pouch by Food Storage Moms
You don't need to get all of the items on the list today. I recommend getting a few things, starting with water and food right away. I remember going to visit some older ladies at a care center.
The rooms were really nice, not like the olden days where they were not so great. I would take candy and caramel corn to one particular lady. She loved all things that were sweet. So do I! I would now take a case of water to her if she was still alive.
15 Items for Older People:
1. These items would make a great gift to take to your family the next time you visit them. First of all their budgets are limited in most cases and they may be too proud to ask for things like this.
2. Water, please make sure the cans of water have lids that can be opened by the elderly. Man, some of those bottles are so hard to open. My favorite choice for stored water is: Blue Can – Premium Emergency Drinking Water
 These cans have the best tasting water and they last 50 years. These come in a box and fit nicely under a bed, in a closet or on a shelf. If the water is turned off because of tainted water or a disaster we all need water. The very minimum is four gallons per person per day for me. I get thirsty just thinking about the water getting shut off. Yikes. The BEST place to buy the BLUE CANS are on this website: Brownells
3. Food is critical even if they live in a care center because if the roads are damaged or the grocery stores are empty those care centers will be unable to feed the residents after a few days. If you have a loved one living alone they may not even think about having a few shelf-stable items in the pantry. Or they may not even have a pantry. If you can take at least seven days worth of food that you know they would eat, do it today, not tomorrow. Trust me, you will feel so much better knowing they have a few items to eat. If you can afford 30 days worth of food, that's even better. Prepackaged items are best that taste good without needing to be cooked. Grab some snack packages like tuna and crackers, pretzels and cheese. Walk down the supermarket aisles and grab a few items that do not need to be prepared. Throw in a can opener, just giving you the heads up here.
4. Flashlights, solar or battery, just remember to give them extra batteries to store in a safe place. Place the bed pouch indicated above in their bedroom and put the flashlight in it. They will love it, the security of having light at their fingertips is calming and reassuring.
5. Cash and coins, there is something about having hard cash and coins in your possession. The ATM's and banks will not work if the power is out for an extended amount of time.
6. Sanitation items like baby wipes, hand sanitizer, and extra toilet paper.Kirkland Signature Baby Wipes, 13.8 Pound
 and individually packaged toilet paper (split a case for several families) to store: Georgia-Pacific Envision 19880/01 White 2-Ply Embossed Bathroom Tissue, 4.05″ Length x 4″ Width (Case of 80 Rolls)
 Hand sanitizer you can pick up at most stores. Clean hands will cut down on infections in large groups. If the baby wipes dry out, no worries, just add water to them. They make a great mini-bath for our private areas when needed.
7. Whistle like this one: UST Marine Hear Me Whistle (2-Pack), Yellow
8. First aid kit: First Aid Kit For Survival and Minor Emergencies (100 Pieces) Light, Compact, and Comprehensive – Perfect for Home, Auto, Road Trips, Camping, or Any Other Outdoors Activities
 A simple band-aid is critical if they need it.
9. Cell phone charger and emergency solar light (if they have a cell phone), this one is the one I have: Goal Zero Solar Charger
10. CPAP charger: Goal Zero Yeti 400 Solar Generator Kit w/Nomad 20 Solar Panel
 This is critical for people who use a CPAP and need oxygen to breathe during the day and/or night. Panic will set in big time if they can't breathe when the power is shut off for any amount of time. If they have asthma, they need power for a nebulizer.
11. They need to store an extra pair of prescription glasses in case one pair breaks. Make sure they have at least 30 days if not 90 days of their necessary prescriptions filled if possible. Yes, I realize Medicare and Supplemental Insurance only covers so much. You may have to pay cash for one extra month of meds if ordering them is possible.
12. Make a list of emergency contact information for them. In an emergency people sometimes get confused and need a sheet of paper with names, addresses, phone numbers, email addresses of family, friends, doctors, and insurance companies, to name a few. I like to use card stock with my printable: Food Storage Moms Emergency Contact Info
13. Make a list of their prescriptions, the dose, etc. Make copies of their Medicare cards and insurance cards. Make sure they have copies of their important documents like birth certificates, etc. in a binder with printables. You can download my FREE printable binder contents on my home page. Look for this picture on my home page and download the pages. It's a HUGE file so please be patient because it takes a few minutes but I promise it's worth the wait: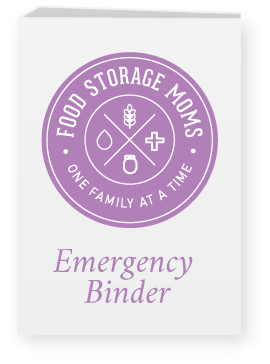 14. If they haven't already established a buddy system, it's a good idea to officially start one. Of course, care centers would be checking on the residents, it's the people living alone I worry about. Before my mother died, she and her best friend had set up a calling program every morning to check on each other. When my mom didn't answer the phone one day for several hours her friend contacted our sister Susan who lived in the same city. Susan immediately went over to check on my mom. I lived 400 miles away and I called her every Wednesday. She died on a Thursday, we wouldn't have known that she had died without her best friend calling daily. This is why it's critical those elderly living alone have a buddy to check in with every day. Please check on the older people in your area.
15. They need a good fire extinguisher and they need to be shown how to use it when needed: Kidde FA110 Multi Purpose Fire Extinguisher 1A10BC, 1 Pack
Bonus Items: Add incontinence items, pads, disposable undies… Sad but most older people must use them. And creams to care for rashes
PORTABLE TOILET: Elderly Toilet
Final Word
Give them a bag with wheels (it's easier for older people) filled with some extra clothing and space to fill items they need to grab and go with if needed. It's better to be prepared before they need to be. I would also talk about the geographical areas and the possible situations that could occur where they live. We don't want to stress them out, but they need to be aware of why we want them to store a few items for an emergency.
If they watch television they can see what is going on all over the world. They will be so grateful and sleep better knowing they are prepared for the unexpected. May God bless you for helping a neighbor or loved one with a few of these items needed for survival.
Copyright Images: Depositphotos_2300332_m-2015Elderly Couple