How to Stock Sugar & 8 Sensible Reasons Why You Should
Sugar is a staple in most households, but what happens when you run out? Do you know how to stock sugar so that you have what you need during good times and bad?
When it comes to prepping, many people overlook the importance of having a stockpile of staples like sugar. In this blog post, we'll discuss how much sugar you should consider having, what type is best to have on hand, why you should stock it, and how to stock it properly. If you have health issues and can't stock white sugar, be sure and stock the sweeteners of choice. In case you missed this post, Stevia: Everything You Need to Know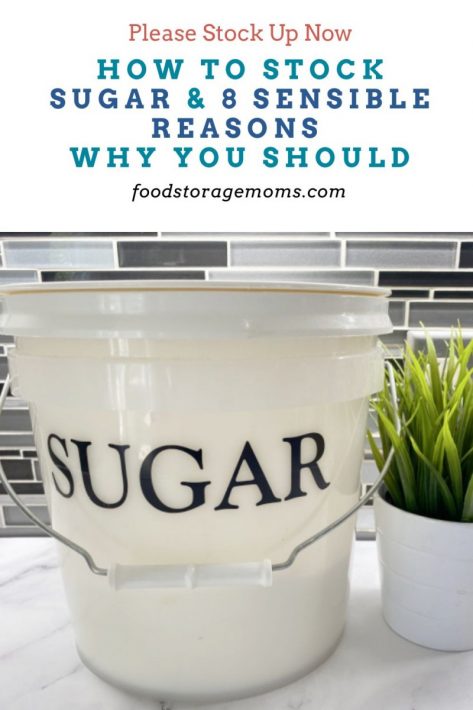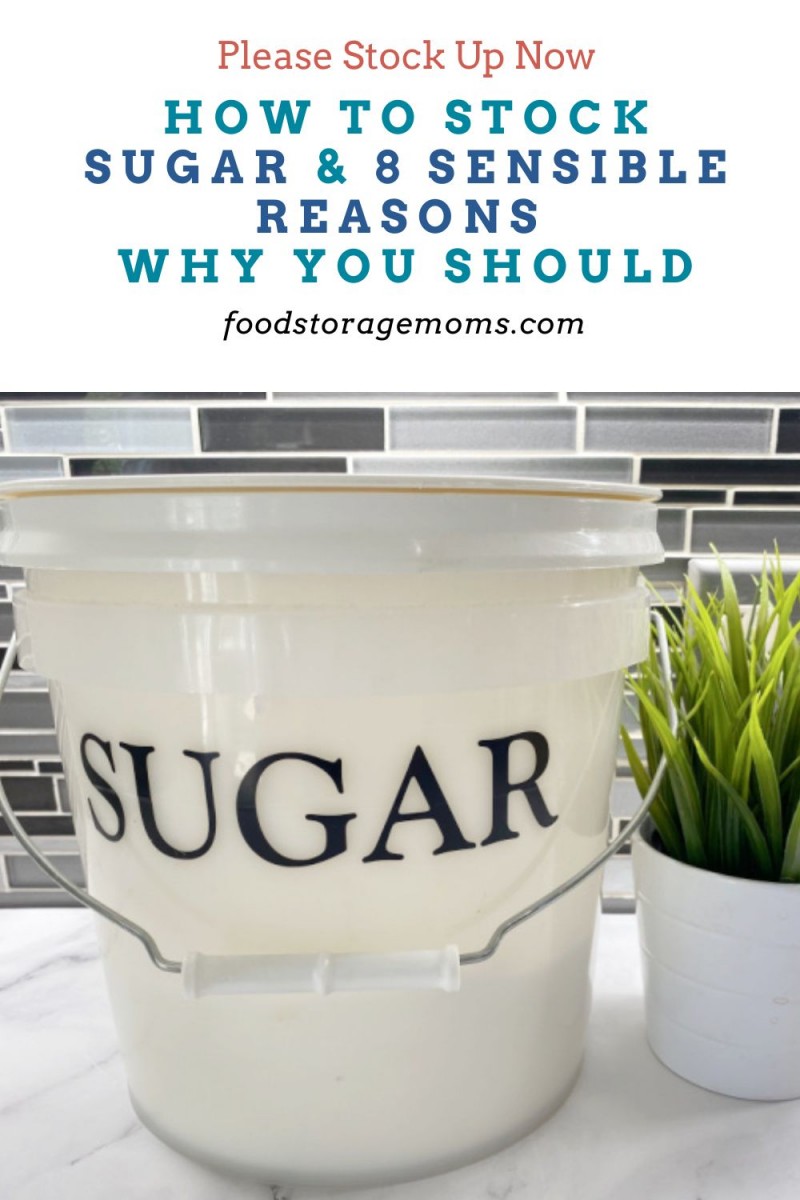 Why You Should Stock Sugar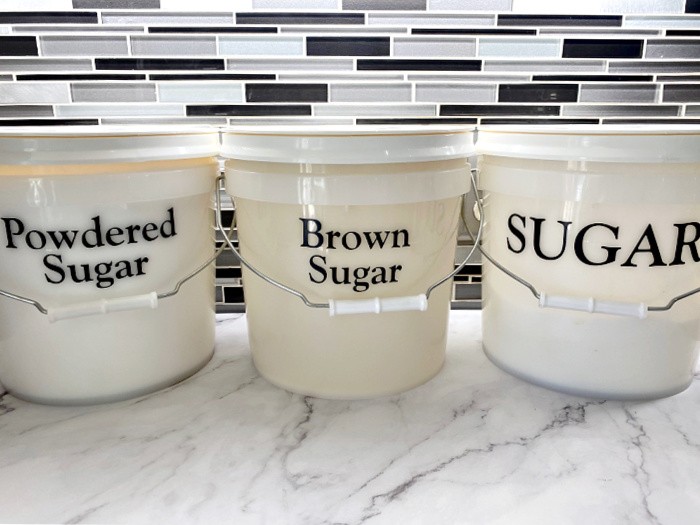 If you're like most people, sugar is probably one of the last things on your mind when stocking your pantry, particularly for a longer-term and for emergencies. However, sugar can actually be a valuable addition to your food storage. Here are a few reasons why you should stock sugar:
1. Sugar Has a Long Shelf Life
When stored properly, sugar can last for years. This makes it a great option for long-term food storage.
2. Sugar is a Versatile Ingredient
It can be used in sweet and savory dishes alike. Whether you're baking a cake or making a stir-fry, sugar can help to enhance the flavors of most foods.
3. It's an Essential Ingredient in Baking
Many baked goods require sugar, so if you love to bake, it's important to have sugar on hand.
4. Sugar is a Good Source of Energy
If you need a quick burst of energy, sugar can give you the boost you need. Just a few spoonfuls in a drink or baked item can help to increase your energy levels and help you power through your day.
5. It Can Be Used For Cleaning
Sugar can be used for cleaning purposes. A mixture of sugar and water can be used to clean windows and mirrors, while sugar sprinkled on carpets can help to freshen them up.
6. Sugar Can Be Used as a DIY Exfoliant
Just mix equal parts sugar and olive oil, and use it to scrub your hands, feet, or lips for soft and smooth results.
7. Sugar is Relatively Inexpensive
Unlike other staples like flour and grains, sugar is relatively affordable. This makes it a great option for budget-minded shoppers.
8. It's a Natural Preservative
Sugar is a natural preservative. When added to food, it helps to prevent spoilage and keep food fresh for longer periods of time.
Types of Sugar to Stock
When you think of sugar, you may be thinking about white granulated sugar, but you really should think of all the different types of sugar! Here are some of the most common types of sugar, and how you can use them:
How Much Sugar to Stock
The amount of sugar you need will depend on your family's consumption habits. A good rule of thumb is to stock 2-4 pounds of sugar per person per month in your household. This will ensure that you have enough sugar on hand to meet your family's needs. If you do lots of baking, particularly baked goods in the form of desserts, consider having more in your inventory.
How to Store Sugar
Once you've decided how much sugar you need, it's time to learn how to store it properly. Here are a few tips for storing sugar:
Store Sugar in Airtight Containers
To keep your sugar fresh, be sure to store it in an airtight container. This will help to keep moisture and pests out. I store my white granulated sugar in 5-gallon buckets with Gamma Lids.
Keep Sugar Away from Heat and Light
Heat and light can cause sugar to deteriorate, so be sure to store it in a cool, dark place. A pantry or cupboard is the perfect spot.
Never Use Oxygen Absorbers
Never use oxygen absorbers with sugar; the stored sugar will become solid like a brick. Oxygen absorbers are not necessary because sugar is a low oxygen food.
Check Your Sugar Regularly
Be sure to check your sugar regularly for signs of spoilage. If you see any bugs or notice that the sugar has clumped together, it's time to figure out where the bugs were able to get into the sugar, and also how moisture is gaining access. If stored in air-tight containers, you really shouldn't have an issue with pests or moisture. It may be time to replace those containers if they don't seal tightly or have cracks.
Storing Brown Sugar
There are two types of brown sugar: light brown sugar and dark brown sugar. Light brown sugar has a milder flavor, while dark brown sugar is more molasses-flavored.
Light brown sugar can be stored in the same way as white sugar. Be sure to store it in an airtight container in a cool, dark place. However, dark brown sugar stores best in airtight glass containers.
In case you missed this post, How to Make Brown Sugar
Storing Powdered Sugar
Powdered sugar can be stored in the same way as white sugar. Be sure to store it in an airtight container in a cool, dark place.
How Long Does Sugar Last?
When stored properly, sugar can last indefinitely. However, over time, it may begin to lose its flavor-enhancing properties. If you notice that your sugar doesn't taste as sweet as it used to, it's time to replace it or use it in recipes that don't need lots of flavor enhancement.
The Best Sugar to Stock
There are many types of sugar, but the best type of sugar to stock is the type that you and your family will use the most. If you bake often, you may want to stock more brown sugar than white sugar. If you have trouble keeping track of when you last used your sugar, it's a good idea to buy smaller quantities more often. This will help to ensure that you always have fresh sugar on hand.
No matter what type of sugar you choose to stock, be sure to follow the proper storage instructions to keep it fresh and flavorful.
You May Also Like
Final Word
Sugar is an essential ingredient in many recipes. It's important to have sugar on hand so that you can make your favorite sweets and treats. When stocking sugar, be sure to buy the type of sugar that you and your family will use the most. And don't forget to store it properly to keep it fresh and flavorful.
What type of sugar do you like to have on hand and why? If you also have other uses I haven't highlighted, let me know and I'll pass them on to my readers. Share your thoughts in the comments below! May God Bless this world, Linda