My family has made this taco salad recipe for years, it may be over 50 years. We used to make our own "Catalina" type salad dressing with tomato soup. I love making my own salad dressings, but sometimes if I see Catalina on sale I'll grab a few jars for the pantry.
This salad is so easy to make at the last minute, if you have the ingredients in your freezer, refrigerator, and pantry. I love making this recipe the most in the summertime when I have homegrown tomatoes, but today I had to purchase some.
This Taco Salad Recipe has a Mexican flair with ground beef, taco seasoning, shredded cheese, beans, chopped lettuce, tortilla chips, and olives. Add the Catalina dressing, and the sweetness comes through with each bite.
If you haven't ever made this salad, I must tell you right now, when you take this salad to a neighborhood party, it will be a show-stopper. What I mean by that is the fact that it looks like you worked all day to make it, and you didn't!
Here's the deal, it's a homemade salad, not a salad in a bag. Nope, nada. It looks and tastes like a 5-star salad at a fancy restaurant. I'll be honest, I haven't eaten at a 5-star restaurant, but I'm confident that's true! Okay, now I have the giggles as to what I would wear to a 5-star restaurant. Enough of that. Life is good when we eat at home, right?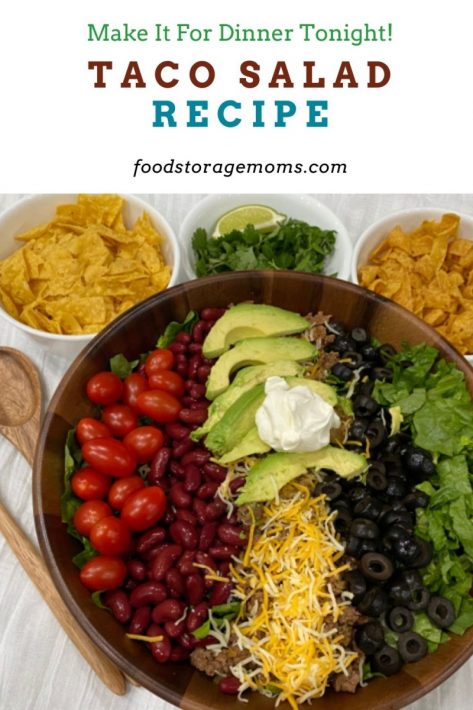 In case you missed this post, How To Cook Beans
Kitchen Items You May Need:
Taco Salad Recipe
Step One: Gather Ingredients
I love to gather all of the ingredients just before I start my recipe preparation.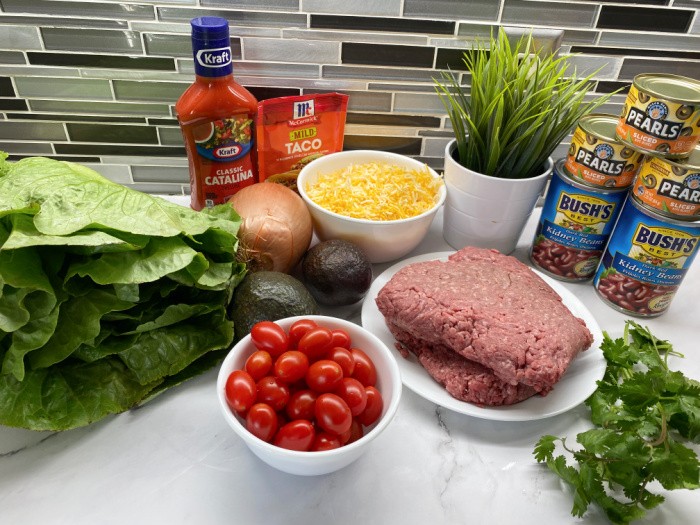 Step Two: Brown the Beef
Grab a frying pan and brown the ground beef with the chopped onion, then drain any grease.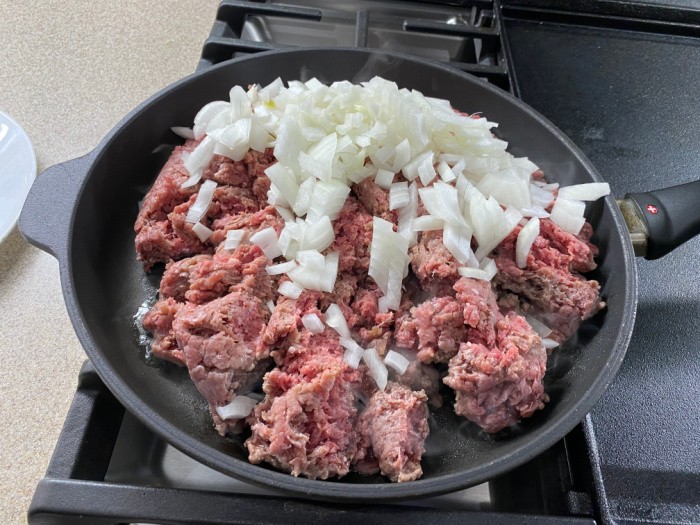 Step Three: Add Seasonings
Add the taco seasoning and cook a bit longer. Stir until mixed through.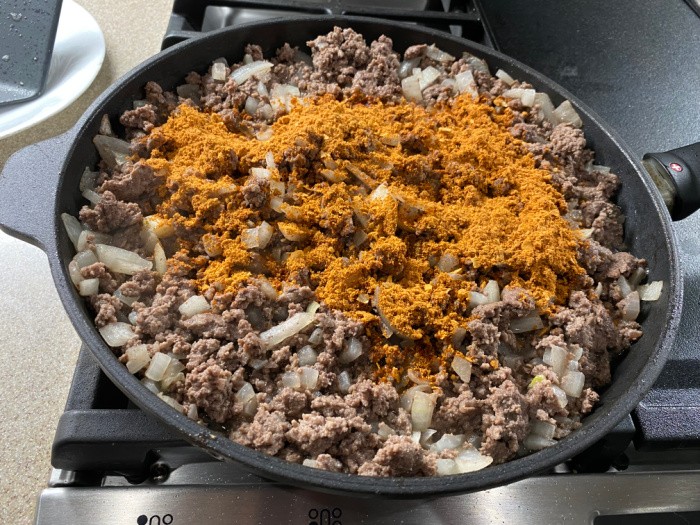 Step Four: Cook & Stir Til Done
Tonight, I took pictures of all the ingredients before I layered them in the salad bowl.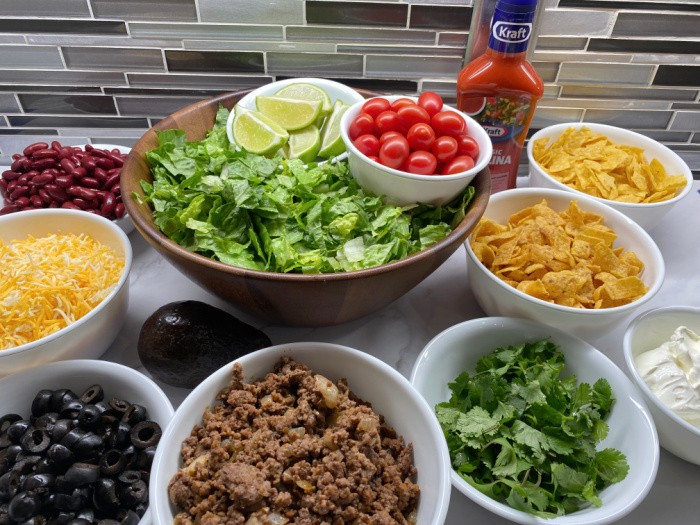 Finished Product
Pour the Catalina/French Type Dressing over the salad JUST before serving, or serve it on the side. Add bite-size broken tortilla chips or Fritos. Garnish with sour cream, cilantro, sliced avocado, and lime wedges. Enjoy.
Taco Salad Recipe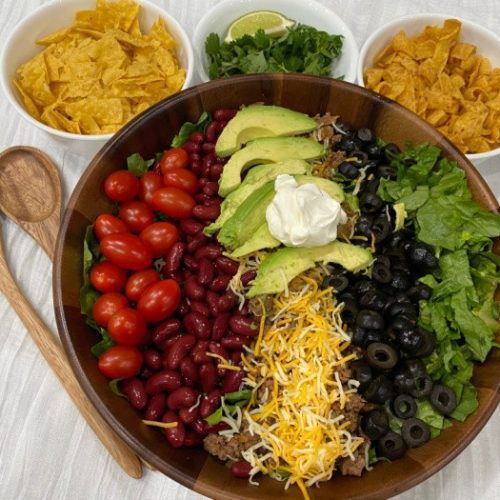 Taco Salad Recipe
Ingredients
1

pound

Ground beef browned, drained, add one package of taco seasoning

1

Onion, chopped

1-2

cups

Grated cheese

1-2

heads

of chopped Romaine lettuce

1

can

Kidney beans or black beans, rinsed and drained

1

can

Olives, sliced

2

Tomatoes, chopped

1

Bottle

Catalina/French Type Salad Dressing

1

bag

Tortilla Chips, slightly crushed into bite-size pieces

Garnish with sour cream, cilantro, sliced avocado, and lime wedges
Instructions
Grab a frying pan and brown the ground beef with chopped onion. Cook until completely done. You will need a large mixing bowl to make this salad. Start layering the chopped lettuce, chopped tomatoes, olives, and beans in the large bowl. Scoop the cooked meat mixture over the salad layers. Sprinkle this mixture with shredded cheese. Pour the Catalina/French Type Dressing over the salad JUST before serving, or serve it on the side. Add bite-size broken tortilla chips. Garnish with sour cream, cilantro, sliced avocado, and lime wedges. Enjoy.
How do I store the leftover salad?
After you add the salad dressing it does make the salad a bit soggy over time. I will still eat it, but you may want to serve the bottle of salad dressing on the side. Add it as needed. The salad will stay good for 2-3 days in the refrigerator. Of course, fresh is best, but you know that.
Can I use Fritos instead of tortilla chips?
I actually like to serve both, so each person can choose their favorite chip in this salad.
Do I have to use Romaine lettuce?
No, any lettuce will work, it's just easier for me to chop, and I love the bright green color.
What other vegetables can I add to this salad?
This is why I love a taco salad, you can add sliced radishes, chopped green onions, sliced bell peppers, zucchini bite-size pieces, or any of your favorite veggies.
What can I serve with this salad?
Refried beans
Spanish Rice
Sliced Avocado
Salsa
Black Bean Soup
Tortilla Soup
Sliced Mangos
Coooked Frozen Corn
Fresh Fruit
What other salad dressing can I use?
When I don't have Catalina, I use my homemade ranch dressing. You can even just drizzle olive oil over your salad.
What does Catalina salad dressing taste like?
It's slightly sweeter than a typical French dressing, with some yummy tang to it!
Could I use rotisserie chicken with this salad?
I love rotisserie chicken and it's delicious when used in this salad.
My Favorite Chips
Now, I need to show you a picture of my favorite chips. I know, we all have our favorite, but this bag of tortilla chips is our family's favorite. Who doesn't love Fritos as another choice? The tortilla chips shown are light and crisp and the perfect chip anywhere.
I live in Utah, and someone told me about these tortilla chips and I went bonkers over them. I love salsa on anything, and these chips are good with or without some salsa. Let me know if they are available where you live. If not, tell me your favorite brand. I'm sure Frito's are sold everywhere, and they're a critical pantry item for me to enjoy with so many meals.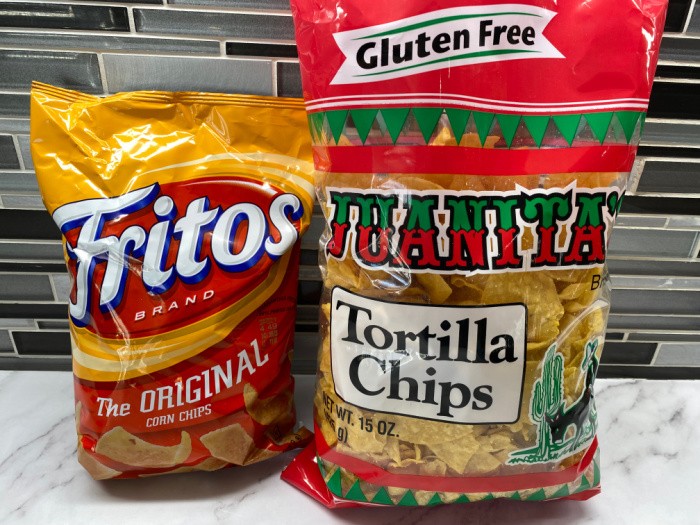 When you're trying to eat healthy foods, salads are a great choice. I realize that the ground beef listed as an ingredient may not be viewed as a "healthy" addition. The good thing about this salad is that there are so many delicious add ons that leaving out the ground beef doesn't detract from the overall flavor that much.
For me, a couple of scoops of the ground beef and onion mixture provides just enough meaty flavor that I enjoy. If beef isn't for you, remember that beans are a great source of protein, so you can eat this salad and feel good that you're not only getting a great veggie combination, but also the protein you need from each meal.
This is a super summertime salad since it is a cool-temp meal on those hot days when we want to steer clear of hot, or even warm, meal choices. The Catalina dressing also adds not only a tangy flavor, but also helps keep you "cool" since it comes right out of your fridge. Give this salad a try any time of the year, you'll be serving it often.
Final Word
Let me know if you make this taco salad recipe or one similar to it. Tell me what you put in yours, I love to hear from you. It's all about teaching our kids and grandkids how to cook from scratch. May God Bless this world, Linda