20 Delicious Quinoa Recipes
Whether you call it a grain or a seed, quinoa is a plant-based protein that is renowned for its protein-packed powers. It's a versatile ingredient that works well in salads, casseroles, desserts, and soups. These 20 delicious quinoa recipes will help you find new ways to use this ancient grain.
Quinoa comes in several different colors, too, most commonly, white, red, and black quinoa, as well as a tricolor mix of all three. Here, you'll find recipes that use quinoa for burgers, fried rice, zesty salads, breakfast bowls, brownies, energy bites, meatballs, and more.
How To Cook Quinoa and Store It
Quinoa: Everything You Need To Know
Quinoa is easy to cook and perfect for meal planning. Make a batch or two to last throughout the week as you explore these delicious quinoa recipes!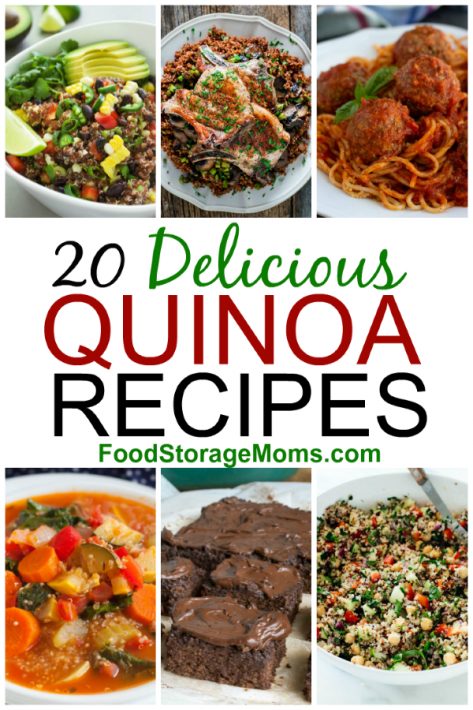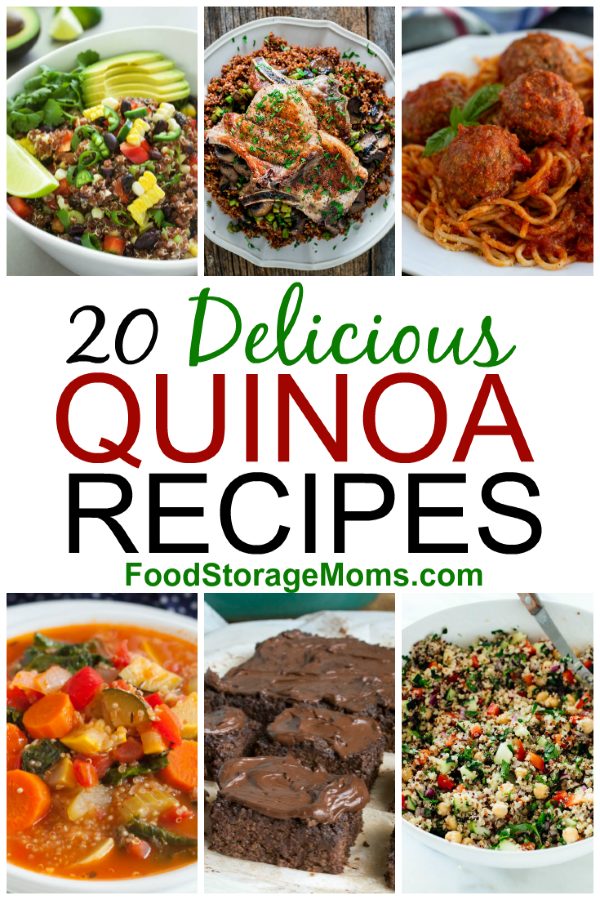 20 Delicious Quinoa Recipes
Vegan Quinoa Kidney Bean Burgers by Lauren Caris Cooks
Even meat-eaters will rave about these protein-packed burgers! Kidney beans and quinoa join forces along with tasty seasonings, such as cumin, soy sauce, and chili powder to kick up the flavor of these oven-baked burgers.
Green Chile Chicken Enchilada Quinoa Casserole by Recipe Runner
This one-pan casserole layers all the delicious flavors of green chile chicken enchiladas without all the work of assembling them. How? Layer it! Quinoa goes down in a baking dish and is topped with chiles, peppers, black beans, onion, and shredded chicken. Top it with enchilada sauce and cheese and bake.
Mocha Quinoa Energy Bites by Bites Of Wellness
If you're looking for a little boost of protein, make these no-bake energy bites. They're full of delicious goodness from quinoa, coconut butter, coconut milk, cocoa powder, and chocolate protein powder. Keep them in the fridge and grab one or two when you need a sweet snack!
Italian Lentil Quinoa Meatballs by Stacey Homemaker
Lentils and quinoa combine to create these flavorful and protein-packed meatballs. They're a vegan, gluten-free, oil-free, and nut-free option for a delicious addition to the family favorite meal of spaghetti and meatballs.
Everyday Quinoa With Lemon, Shallots, And Herbs by Feasting At Home
Uplevel basic quinoa with sautéed shallot, lemon zest, salt, and fresh herbs. Drive all those flavors home with a drizzle of olive oil and serve this delightfully simple dish to rave reviews.
Cajun Shrimp And Quinoa Casserole by This Gal Cooks
If you can handle the heat, consider this spicy cajun shrimp and quinoa casserole. Saute shrimp, onions, and jalapenos and add to the top of a cooked quinoa and tomato mixture. Garnish with fontina cheese and bake for 15 minutes. Yummy!
Apple Sweet Potato Quinoa Salad by Cooking On The Front Burners
Fall is the perfect time to make this sweet and healthy side dish. The quinoa salad is full of sweet potatoes, apples, pecans, and cranberries. Drizzle it with dijon mustard, vinegar, and maple syrup dressing. So tasty!
Instant Pot Quinoa Soup Recipe by Eating On A Dime
Bursting with flavor, this quick quinoa soup can be made in about 20 minutes. It's full of healthy veggies like carrots, celery, zucchini, yellow squash, and red bell pepper, and it's seasoned to perfection. Serve with crusty bread slathered with butter. Oh, my!
Quinoa Fried Rice by Peas And Crayons
With the addition of garlic, soy sauce, and frozen peas, carrots, and onions, you can transform quinoa into a "fried rice" item. You can even scramble an egg in for protein. Your family will gobble this one up!
Crock Pot Sugar-Free Chocolate Quinoa Brownies by Sugar-Free Mom
Make this healthy brownie recipe when you need a sweet treat to indulge in. Quinoa leads the way in this batter that gets processed before going in your slow cooker to magically evolve into brownies. When cooled, frost with an easy and creamy sugar-free frosting. Awesome!
Cheesy Zucchini Quinoa Egg Muffins by Spoonful Of Flavor
Make a few batches of these freezer-friendly egg and quinoa muffins for those busy mornings, or too tired to cook evenings. Full of quinoa, eggs, cheese, and zucchini, whip these up quickly and bake them. So easy and convenient.
Grilled Pork Chops with Quinoa, Asparagus and Mushrooms by Jo Cooks
Savory and seasoned red quinoa gets topped with juicy pork chops and cooked mushrooms and asparagus. Get all your protein and veggies needed with this mouth-watering meal.
Easy Quinoa Salad by Two Peas And Their Pod
If you meal prep quinoa to use throughout the week, you can assemble this nutritious salad in no time at all. Add spinach, tomatoes, green onion, avocado, and cucumber and drizzle with a simple lemon dressing. Fresh and delicious!
Cinnamon Quinoa Breakfast Bowl by Love And Lemons
Cook your quinoa in almond milk and cinnamon sticks for a delicately spicy breakfast version that you can top with fresh fruit and nuts. It's vegan, gluten-free, and protein-packed!
Vegan Quinoa Cauliflower Burgers by Jessica In The Kitchen
Try this zesty vegan burger made from quinoa and cauliflower. Using ground flax, eggs, and rolled oats, these make-ahead burgers are freezer-friendly so you'll always have a healthy meal available with little to no prep work. Win-win!
Ham And Pineapple Quinoa Salad by Kim's Craving
Go tropical with this sweet take on a hearty ham and quinoa salad with chopped green onions and chopped red bell pepper. Use leftover ham or a ham steak cut into bite-sized chunks. So yummy!
Black Bean And Quinoa Freezer Burritos by Hey Nutrition Lady
Perfect for breakfast, lunch, or dinner, this freezer option is a great way to have a yummy vegetarian meal ready when you need a hand-held version for portability, or just need to take a break from cooking. Black beans, quinoa, and tons of veggies and seasoning make this a delicious meal.
Best Quinoa Salad by Cookie And Kate
This fresh and bright salad will become one of your favorite ways to eat quinoa. It's full of diced cucumber, red onion, chickpeas, red bell pepper, fresh herbs, and a lemon and garlic dressing. Outrageously tasty!
Quinoa Chocolate Bark by Well Plated
You'll flip over this super easy two-ingredient sweet treat! All you need is quinoa and dark chocolate. Just puff the quinoa grains in a hot pan on the stove to take away the hardness, but to still leave a little nutty crunch.
Melt the dark chocolate, stir in the puffed quinoa and spread on parchment paper and let cool and harden. Break into bark pieces and enjoy!
Final Word
I hope you try a few of these 20 delicious quinoa recipes. I'm really stocking up on quinoa. I'm a bit worried about our food chain right now. When I frequent grocery stores and they state "only one per customer" it's very frustrating to me.
Thankfully, my food storage is just the right amount for Mark and me. But, if I'm making an appetizer like Water Chestnuts in Bacon, one can of whole chestnuts doesn't cut it. My daughter went to a store in California to get six cans of beans to make chili. It proved harder to do than she expected.
Now, granted, most of us would have six cans in our pantry. She is a single mom with limited funds. She had to go to six stores to get six cans of beans. She even explained I'm making chili. This is why we need to be prepared for the unexpected. May God bless this world, Linda