20 Instant Pot® Bean Recipes
One of the best ways to determine if the Instant Pot® really is a more efficient way to cook meals is to test it on something that usually takes hours to cook. Our test subject today is dried beans.
Traditionally, dried beans need to be soaked overnight before proceeding with cooking. With the Instant Pot®, there is no need to pre-soak most beans!
With just a few exceptions, the recipes in this collection allow you to add the dried beans directly to your pressure cooker with the liquid required by the recipe, then turn on the Instant Pot® and let it work its magic. You'll find that the beans come out tender and infused with awesome flavor from each recipe's seasonings.
From white beans to garbanzo beans, from green beans to black beans, and from lentils to mung beans, you'll find a variety of recipes to inspire you to use your pressure cooker to try these deliciously easy Instant Pot bean recipes.
I still love my Fagor Pressure Cooker over my Instant Pot Pressure Cooker but I want to teach people how easy it is to use either one of them. Cooking at home on a budget is the way to go. If we eat together as a family at home, I have achieved my goal.
20 Instant Pot® Bean Recipes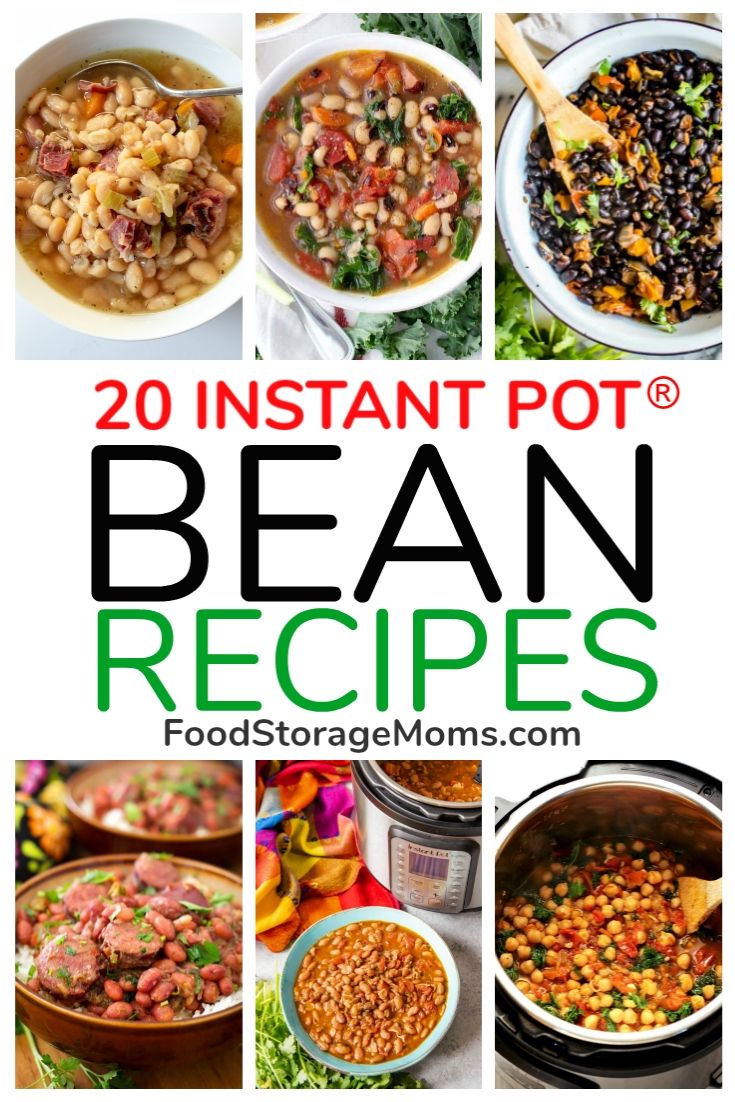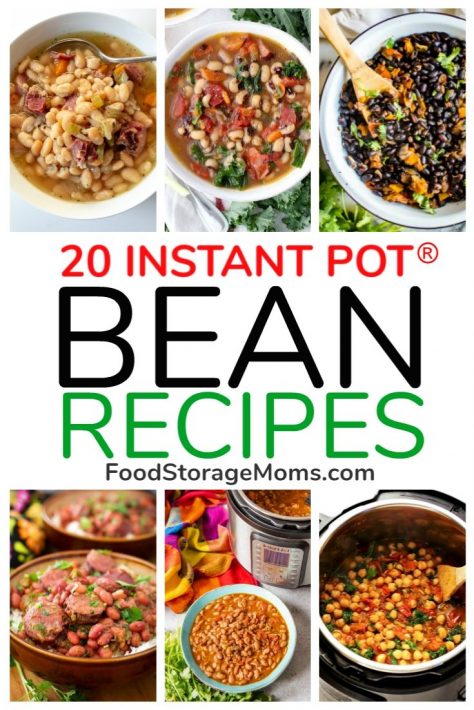 1. Instant Pot Black-Eyed Pea Soup
Instant Pot Black-Eyed Pea Soup by Bowl Of Delicious
Traditional collard greens are replaced by kale in this gorgeous black-eyed pea soup that's perfect for a New Year's day celebration. Packed with a delicious smoky flavor, this soup is full of delicious ham, tomatoes, carrots, onions, and a host of spices that make this a family favorite soup!
2. Instant Pot 15-Bean Soup Recipe
Instant Pot 15 Bean Soup Recipe by So Very Blessed
If you love all beans and have trouble deciding which variety to go with, make 'em all! Grab a bag of dried 15 beans and season these beauties with some veggies and broth. In no time at all, you'll have a delightful soup combo that's perfect for a cozy fall meal.
3. Instant Pot Green Beans/Potatoes
Southern Style Instant Pot Green Beans And Potatoes by The Bearded Hiker
If you love fresh green beans and potatoes you'll want to try this seasoned recipe. Your choice of bacon, sausage or ham adds a southern-style flavor to this dish. The recipe also calls for making rice, using a trivet for the rice container, so you'll have a full, delicious dish of yumminess.
4. Pressure Cooker Pinto Beans
Pressure Cooker Pinto Beans by When It Raynes
No soaking required with these perfectly seasoned pinto beans! If you love southern-style pinto beans with ham, this recipe is for you. It's easy, simple and produces the most creamy and delicious beans. Serve with a side of cornbread and enjoy!
5. Instant Pot Boston Baked Beans
Instant Pot Boston Baked Beans by Homemade Interest
Molasses, pork, sweet sauce, amazing seasonings, and dried navy beans will make you the most awesome dish of Boston baked beans you've ever had. Sweet and savory is the hallmark flavor is this recipe. It's the perfect side dish for all your potlucks, picnics, game days and beyond.
6. Lentil Vegetable Soup
Lentil Vegetable Soup by Running To The Kitchen
This vegetarian meal is full of flavor, thanks to the mushrooms, spinach and green beans that are packed into this lentil vegetable soup. Warm spices, such as cumin, turmeric, and smoked paprika add just the right touch. This high-protein meal just needs a side of warm crusty bread!
7. Instant Pot Ham & White Bean Soup
Instant Pot Ham and White Bean Soup by The Hungry Blue Bird
This classic combination of Great Northern white beans and ham is perfect for meal planning. You can make a batch or two and freeze it for later use. It has the traditional seasonings of onion, celery, carrots, garlic, and some lovely herbs for good measure. Perfection!
8. Instant Pot Vegan Red Beans/Rice
Instant Pot Vegan Red Beans And Rice by Cozy Peach Kitchen
Vegetarians love this classic combo of red beans and brown rice, and the Instant Pot just made this dish even more delicious. Veggies and cajun spices give this an aromatic and flavorful depth that will have you making this recipe again and again. But wait! Make a big batch all at once and freeze single portions so you can have it ready to eat almost instantly.
9. Instant Pot Chickpeas
Instant Pot Chickpeas by Frugal House Frau
Chickpeas, also known as garbanzo beans, are a nutritional powerhouse and lend themselves well to being cooked in a pressure cooker. They're great to have around because you can freeze them and use them in a variety of dishes as you meal plan your week and month.
You'll learn how to brine them with salt and water for extra flavor before cooking them.
10. Instant Pot Butter Bean Soup
Instant Pot Butter Bean Soup by Everyday Maven
Butter beans, which are mature dried lima beans, are perfectly suited to produce rich and creamy soups. This soup uses butter beans, along with veggies and chicken sausage for a hearty meal in a bowl.
11. Mung Bean Stew
Mung Bean Stew by Knead To Cook
Just a quick soak overnight for the mung beans (or for a scant 15 minutes if you're pressed for time) sets you up for a delicious stew full of highly-seasoned beans, tomato, and rice goodness. Delish!
12. Pressure Cooker Refried Beans
Pressure Cooker Refried Beans by Temecula Blogs
Refried pinto beans with diced chilis, onion, cumin, and hot sauce, oh my! To "refry" them, just use an immersion blender or a regular blender to achieve the consistency that you desire. Makes an awesome side dish for any Mexican-inspired meal.
13. Instant Pot Cuban Black Beans
Instant Pot Cuban Black Beans by The Natural Nurturer
If you're looking for a healthy and quick bean recipe, try this naturally vegetarian, gluten-free and dairy-free recipe for Cuban black beans. Fabulously flavorful and perfect for meal planning, you can store these cooked beans in the freezer and reheat for a quick meal down the road.
14. Charro Beans
Charro Beans by House Of Nash Eats
Charro, which means "cowboy" got their name from the Mexican cowboys who ate them. The beans are seasoned with chipotle, paprika, cumin and cilantro and make the perfect side dish for any Mexican cuisine you're making.
15. Instant Pot Red Beans-Rice-Sausage
Instant Pot Red Beans With Rice And Sausage by Simply Happy Foodie
Creamy and flavored perfectly, this New Orlean's inspired dish uses Andouille sausage for its zestiness, as well as a healthy dose of Creole seasoning. This is as close to authentic as you can get without actually taking a trip to The Big Easy.
16. Pressure Cooker Hoppin John
Pressure Cooker Hoppin John by Noshtastic
This Hoppin' John recipe hails from the low country of the state of South Carolina. This recipe uses a turkey leg, rather than ham, to lend a smoky flavor to the dish, as well as additional meat. This is an easy and delicious recipe to make any time of year.
17. Instant Pot Chicken-White Beans
Instant Pot Chicken And White Beans Soup by Feasting At Home
Chicken, garlic, Herbs de Provence, and your choice of white beans will have this hearty soup on your table being met with rave reviews. It's the soup to make during chilly weather and is good for whatever ails you!
18. Pressure Cooker Butter Beans In Tomato Sauce
Pressure Cooker Butter Beans In Tomato Sauce by Vegan Lovlie
There's just something about butter beans in stewed tomato sauce served over warm rice that's cozy and comforting. Cooking the beans and tomatoes at the same time in the pressure cooker infuses the beans with awesome flavor.
This is a simple and nutritious meal that you can make on busy nights when you're too tired to cook!
19. Instant Pot Chickpea Stew
Instant Pot Chickpea Stew by Garden In The Kitchen
Plan ahead with these dried chickpeas that should be soaked first, and then carry on with this outrageously delicious tomato, kale, and chickpea stew. If the beautiful colors don't entice you, maybe the fact that it contains only a few ingredients will do the trick. So easy and worth it!
20. Instant Pot Split Pea Soup
Instant Pot Split Pea Soup by Bowl Of Delicious
This recipe takes dried split peas and combines them with chicken stock and a ham bone for a soup that's full of depth and flavor. The ham bone is the secret to the awesome flavor, but if you don't have that, no big deal: regular ham is great too!
Final Word
Just think of all the recipes you can try this month using the beans from your pantry! Please let me know if you fix one of these 20 Instant Pot® Bean Recipes! Life is so good when we cook at home and eat together as a family.
Please grab a bag of black beans, pinto beans, or any beans the next time you go grocery shopping. Thanks for prepping and being prepared for the unexpected. May God bless this world, Linda
Instant Pot® Beginners Guide by Linda