6 Paper Products For Survival-How I Store Mine
Sometimes we need a friendly reminder that we need to stock up on the 6 paper products I have shown today. We could use all six for any disaster or any unforeseen emergency.
I also have 32 white plates (not shown) that I could use and wash if I need to serve the biggest breakfast out in my front yard after a disaster. Just saying, please check through your stuff and you might find you need some spoons. Or more forks, or whatever.
Today I started with the 6 paper products below that we can throw in our shopping basket, one package at a time. This is the bare necessities we need. I have toilet paper and paper towels in another cupboard.
Here are the 6 Paper Products I suggest:
1. Plates
I do have several Corelle white plates I can use, but if I need to feed 200 people breakfast I can do it with my paper products. I like to have both paper and washable plates. Can you imagine washing plates, cups, and silverware for 200 people?
I just pick up some extra paper plates when I see them on clearance. The Dollar Store is a very good place to buy them, sometimes. They are not always the cheapest place to buy stuff.
I do not store paper bowls because I decided I could use the larger, heavier paper cups for cereal and milk. I picture fixing more pancakes or biscuits in an emergency. I can make those from scratch or a packaged pancake mix. I will need plates to serve most meals.
Peanut butter and jam sandwiches will be a great lunch to serve on paper plates! I picture using my Dutch oven to make meals to serve on plates as well. So please stock up on paper products.
2. Straws
I love straws, what can I say. I have paper cups with lids (hole in the top) and I could make hot chocolate for 200 people or more if I had too. I want straws for hot chocolate or hot cider. I love straws for cold drinks as well.
My grandkids love using straws, you can buy like 3000 straws for under $20.00 at the box stores. Yep, I love straws! We could make crafts with these straws to divert the stress level of the small kids in a disaster situation.
3. Large & Small Cups
The thing with cups (not waxed-they melt in the garage) is you can buy so many different sizes. Some are for cold drinks and some are for hot drinks. I like to buy some of the little tiny cups because they are perfect for kids drinking juice.
They are little for little hands. Its a grandma thing, and it saves on the drinks too, since less goes to waste. One perfect item is to buy those huge boxes of hot cups with matching size lids. Hot cocoa or hot chocolate would rock!
4. Knives
I really was unaware that I was out of knives when I went to pull out my paper products. So I just added plastic knives to my grocery list. We will need knives to cut the pancakes, spread the peanut butter and jam on bread, and so much more. Yep, knives have got to be in my stash!
5. Forks
Forks are a given because we need them to eat the pancakes, the scrambled eggs, macaroni, and cheese, etc. Those cans of beans, vegetables or freeze-dried veggies we can eat with our forks!
6. Spoons
We need spoons for pudding, fruit cups (freeze-dried) or canned fruit. Mark would want his cold cereal with instant milk, yep, we need spoons for so many things!
These are just a few reasons why we need to have at least 6 paper products stored so we are properly prepared for the unexpected.
My Storage Cabinet for 6 Paper Products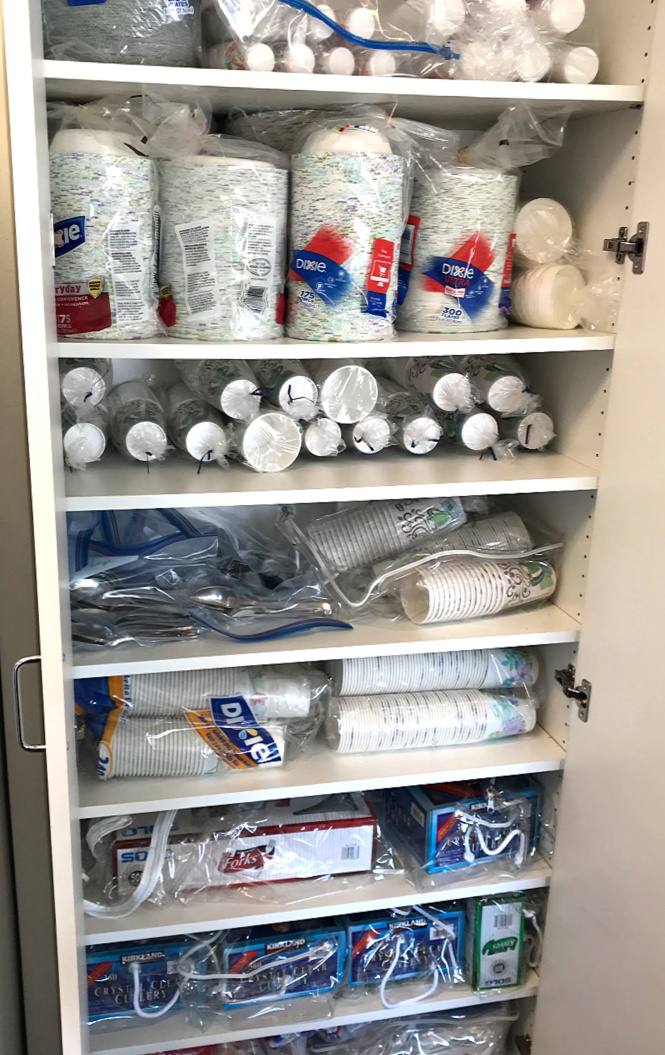 FEMA-Federal Emergency Management Agency
Final Word
I hope this picture helps you see how I store more than my 6 paper products but you get the idea, right? I'm a visual person and I like sharing pictures so you can see how I store my preps. I buy those zippered bags on Amazon or at Bed Bath and Beyond to protect my stuff from dust.