Chicken Recipes Your Family Will Love
Can you use some new chicken recipes? Do you ever stand in your kitchen and think to yourself, "What should I fix for dinner tonight?" I love having some chicken breasts or thighs in the freezer ready to prepare a meal.
I can sleep at night knowing my pantry is stocked and my freezer has items I can use to prepare almost any meal. It's so exciting to see pictures on Facebook or Pinterest where people raise their own chickens for eggs and meat. When you live in a complex with a Home Owner's Association, or HOA, as I do, that's not going to work, at least not in my HOA.
I love to dream about raising chickens or beef, but it's not going to happen. So I pick up meat when it's on sale. I'm not sure I could slaughter them anyway. I'm hoping these chicken recipes give you some ideas of how to cook with very few ingredients, in other words, on a shoestring. Please print them out because you may need them sooner than later. My goal is to teach the world to use their pantry and cook from scratch. Let's do it!
Tips On Chicken
Buy a Rotisserie chicken and debone it, freeze it in meal-size bags.
Buy Rotisserie chicken at Costco, the cheapest and biggest chicken at $4.99.
Purchase the Costco Rotisserie chicken that's already deboned and divide the pieces into meal-size bags and freeze them for later.
Cook chicken breasts ahead of time, shred with your Kitchen Aid mixer and divide them into meal-size bags and freeze them.
Thaw a bag the night before in the refrigerator for dinner the next day.
Chicken Recipes
Sesame Chicken Pasta Salad
This salad can be cut down, but just so you know, it's good the next day too! This is a favorite salad for family reunions, church parties, and neighbor get-togethers. Have the recipe ready because people will ask you for it!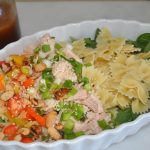 Sesame Chicken Pasta Salad by FSM
Ingredients
4-6

cooked chicken breasts, shredded

2

16-ounce

boxes of pasta, cooked (I use Mini Farfalle)

1-2

bunches

of green onions, sliced

3

Bell peppers, red, green, and yellow, chopped

1/4

cup

sesame seeds

1/2

cup

sliced almonds (fry with 2-3 tablespoons sugar)

1-16

ounce bag of baby spinach
Salad Dressing
3

tablespoons

sugar

1/3

cup

red wine vinegar

1/2

cup

canola oil

1/3

cup

soy sauce

salt and pepper to taste
Instructions
Salad Dressing
Combine ingredients in a blender and mix thoroughly.
Salad Instructions
Combine ingredients in a large bowl and pour the dressing over the salad. Serve immediately.
Easy Barbecued Chicken
Once you try this easy marinade you will be making barbecue chicken all the time. It literally makes the chicken so juicy and tender, it's unreal!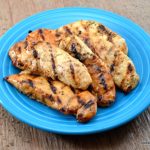 Easy Barbecued Chicken by FSM
Ingredients
2

cups

7-Up or Sprite

1

cup

Soy Sauce

1

cup

oil

1/4

teaspoon

garlic powder

6-8

raw chicken breasts
Instructions
Combine the lemon-lime drink with soy sauce, oil, and garlic powder. Marinade the mixture over the chicken breasts in the refrigerator at least 12 hours. Barbecue the chicken breasts until fully cooked. These are so tender and juicy.
Apricot Chicken
I have made this recipe for over 50 years and I still love the taste and how easy it is to make at the last minute. It's perfect to put in the oven when you head off to church. Dinner is ready when you get home. Gotta love it!
Apricot Chicken by FSM
Ingredients
4-6

raw chicken breasts

1

cup

Catalina or Russian salad dressing

1

cup

apricot jam

1

package

dry onion soup mix
Instructions
Preheat the oven to 375 degrees. Grease a 9 by 13-inch baking pan and place the chicken breasts in the bottom. Combine the salad dressing, apricot jam, and dry onion soup mix. Spread the mixture over the chicken. Cover and bake for one hour. Serve over rice.
How To Cook White Rice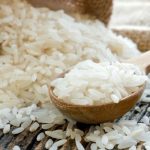 Basic White Rice
Ingredients
2

cups

white rice

3

cups

water
Instructions
I typically use 2 cups of dry rice to 3 cups of water. You can rinse your rice, if desired, and use a saucepan, rice cooker or pressure cooker. If you boil the rice, bring the water and rice to a boil. Cook with a lid on for 17 minutes. I like using my rice cooker because I just throw all the ingredients in the pan, put the lid on and push the button to turn it on. Then I go about doing my daily activities and serve it when the yellow light comes on. It keeps it warm, and that works for me.
Chicken Cordon Bleu
I have made this recipe for years and I've been wanting to share it with you. This is perfect for Sunday dinner with freshly mashed potatoes.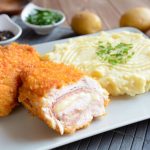 Chicken Cordon Bleu by FSM
Ingredients
4

chicken breasts

4

slices ham

4

slices Swiss cheese

2

cups

flour

2

cups

breadcrumbs

2-3

beaten eggs
Ingredients for Alfredo Sauce
4

tablespoons

butter

1/4

cup

finely chopped onion

1/2

cup

white cooking wine

1

pint

heavy whipping cream

salt and pepper to taste

1

cup

freshly grated Parmesan cheese to grate over the chicken breasts when serving them.
Instructions
Chicken Cordon Bleu
Butterfly the chicken and flatten the pieces between plastic wrap. Lay one slice of ham and Swiss cheese on each chicken breast. Roll up and secure with a toothpick. Dip the chicken in flour, then beaten eggs, then in the breadcrumbs. Place the chicken rolls in a greased glass baking pan. Bake at 375 degrees for 40-45 minutes or until golden brown. Top with the Alfredo Sauce.
Alfredo Cream Sauce for Chicken Cordon Bleu
Combine the butter, onion, wine, and cream in a saucepan. Bring to a boil and simmer for 5 minutes, stirring constantly. Pour the sauce in equal amounts over each serving of Chicken Cordon Bleu. Grate fresh Parmesan over each serving.
Final Word
I hope you try some of my chicken recipes soon, let me know when you do! I love hearing from you. Thanks again for being prepared for the unexpected. May God bless this world. Linda