World's Best Clam Chowder
Do you make the world's best clam chowder? If not, I have the best recipe anywhere, and I mean anywhere! When Mark and I were dating clear back in 1968 we would go to this restaurant in Salt Lake City, Utah called Bratten's Fish House. We would indulge in a large bowl of clam chowder and enjoy every bite with the sourdough bread the restaurant would serve at each table. We would spread our bread with butter and love every bite of their clam chowder. Well, the "cook from scratch chick" that I am, I had to experiment until I could make my soup as close to theirs as possible. The reason this recipe is so awesome is that most of us have all the ingredients in our pantry and refrigerator. I typically always have fresh potatoes because I grow them year-round in my backyard. If you buy organic non-GMO potato seeds you will never go hungry if you keep planting them after each potato dig.
Clam Chowder Ingredients
Minced Clams
Chopped Onions
Chopped Celery
Diced Potatoes
Butter
Flour
Cream or Half & Half
Salt
Sugar
White Vinegar
Dash of Pepper
Water
Clam Chowder Recipe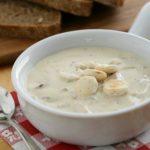 Clam Chowder Recipe by Food Storage Moms
Ingredients
2

cans minced clams

1

cup

finely chopped onions

1

cup

finely chopped celery

2

cups

finely diced potatoes

3/4

cup

butter

3/4

cup

flour

1

quart

half & half or cream

1-1/2

teaspoon

salt

1/2

teaspoon

sugar

1

teaspoon

wine vinegar

Dash of pepper
Instructions
Instructions

Drain the clam juice into a pan with chopped vegetables. Add enough water to cover the vegetables. Simmer, covered, for 25 minutes. In the meantime, melt the butter, add the flour, blend and cook for a full minute. Add the half & half or cream and stir constantly until smooth and thick with a wire whisk. Add to undrained vegetables along with the clams you set aside. Add salt and other seasonings. Warm through and serve. Serves approximately 8 people.
Items To Serve With Clam Chowder
Bacon Bits
Grated Cheese
Croutons
Saltine Crackers
Saltine Oyster Crackers
Sourdough Bread
French Bread
Linda's No-Fail French Bread Recipe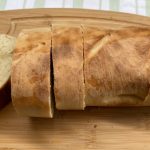 French Bread In One Hour
Ingredients
2-1/2

cups

hot water

4

teaspoons

SAF instant yeast

3

tablespoons

sugar

1

tablespoon

salt

1

tablespoon

shortening or melted butter

6

cups

bread flour
Instructions
I dump everything in a bowl or my Bosch bread mixer and mix the bread dough for about 6-8 minutes. I then cut the dough with a dough cutter into two sections. I roll out the two pieces of dough into a rectangle shape and roll up into a tube shape and place them on a greased cookie sheet or French bread/baguette pan. Grease some plastic wrap and cover the dough and let rise until double in size. Just before placing the loaves in the oven to bake, remove the plastic wrap and use a sharp knife to slice a few shallow cuts on the diagonal on the top of the dough. Preheat the oven to (400°F) = (204°C) and bake for 25-35 minutes or until golden brown. Lightly brush the baked loaves with butter on the tops and serve while warm.
I hope you try making this clam chowder because you will see how easy it is to make. Oh my gosh, my mouth is watering right now for a hot steamy bowl. Thanks for being prepared for the unexpected. May God bless you for being self-reliant.
Copyright pictures:
Clam Chowder: AdobeStock_26038377 by JJava