You Don't Want or Need Christmas Gifts
How to tell your family you don't want or need Christmas gifts is on the docket today. Every year in November I send an email to my four daughters to remind them that Mark and I no longer need or want any Christmas gifts. I also call them, to let them know we are fine with it.
I don't want them to feel guilty that we are not getting a present under the tree. I'm updating this post because I feel more than ever before that this topic is important.
I've spent the last year or so decluttering my small home and it's been refreshing to have more space. We have now sold that home and are looking forward to a new adventure in Northern Utah where we'll be closer to family. I'm grateful that I did the decluttering since it made the packing and moving somewhat easier. It also reminded me that I don't need stuff.
In case you missed this post, Old-Fashioned Vintage Christmas Candy Recipes
Practical Gift, Olight Baton Pro 2000 Flashlight
You Don't Want or Need Christmas Gifts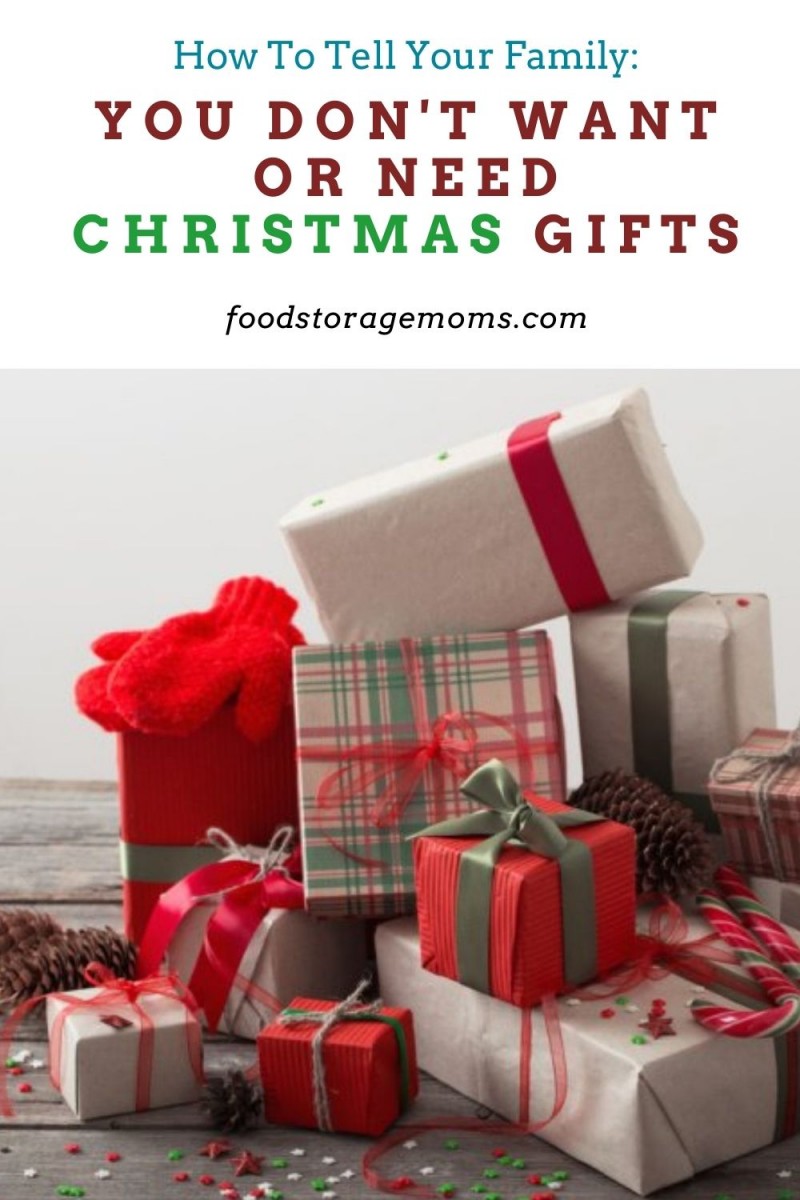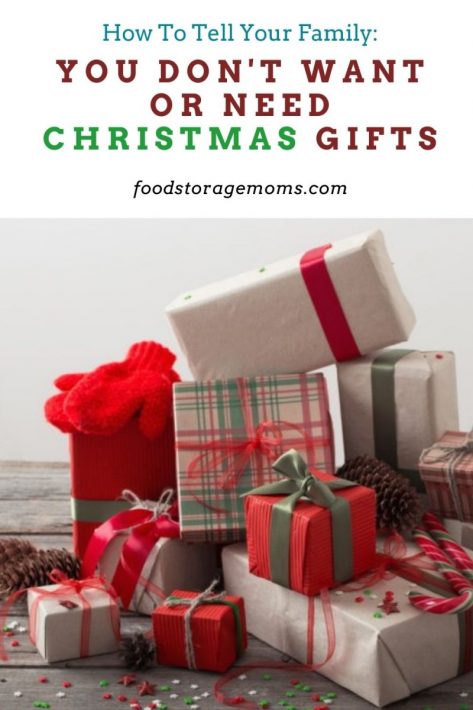 Stuff Was Awesome
I used to think the stuff was awesome, but then you get to an age and stage in life that you realize stuff doesn't make you happy. Don't get me wrong, I love getting up on Christmas morning and watching the grandkids take turns opening presents.
When I was little I got one present and I was thrilled with that ONE gift. I'm glad that my daughters don't go overboard with spending money on gifts for their kids at this time of the year. They have never gone into debt to buy Christmas stuff, I'm so proud of them.
I remember when Mark and I were first married and some of the family members on both sides wanted to give gifts to each other. I thought at the time, "Oh my gosh, we can hardly afford groceries."
We were putting Mark through college and he was working two or three jobs and I was babysitting kids and ironing clothes for people just to bring in extra money. I also made bread to sell to my neighbors so we could survive.
In 1972 we didn't know about or didn't want to use student loans or grants or low-income housing to make things work out financially for us. I remember there was a waiting list to live on campus in student housing.
We scraped every penny and bought our first home for $18,400.00. Now we were only making a few hundred dollars a month back then so we were not rolling in the dough by any means. We both grew up in homes with very little money, so we both know how to be frugal.
I remember thinking I don't want Christmas gifts, it puts too much pressure on me and my budget, and that's how I feel about my kids and their gifts.
I don't want Christmas gifts
My point today is if you are a young couple, single, or even an older couple on a limited income, you don't have to spend money to make other people happy, or even yourself happy. I remember one of the best gifts my parents ever received from my family was a handwritten letter, expressing our love for them and thanking them for memories we had shared together.
I will never forget the look on my dad's face when he opened his letter. He literally started crying with joy and pulled his handkerchief out of his pocket to wipe his tears. My mom also had tears rolling down her face with her lips trembling as she read her special notes of love.
Here's the deal, if you want to give a lot of presents and have the means to do it, so be it. But some of us don't, and I would rather have my daughters pay off their houses or help the grandkids with college expenses than give us or another relative a gift that will end up in the thrift store in a year or two. Does that make sense?
I live in a neighborhood that has a few elderly people and some have mentioned their kids arranged the gift of having someone clean their house once a month. They are in their eighties, what a great gift. The special gift approach doesn't clutter a house, and who doesn't love a CLEAN house, right?
It's hard at first to mention to Aunt Bella that you would rather have a phone call or personal visit from time to time than to exchange checks for each other or gift cards.
I would much rather plan an inexpensive day at the park together (complete without any mobile devices) with friends and family. Or in the backyard roasting marshmallows over an open fire pit. We can give handmade letters containing memories we have shared together. I promise those are the best gifts.
Start New Traditions
The first year you start a NEW tradition of giving less, or nothing, the easier it is on all those involved. It was very hard the first year I decided I could no longer give Christmas gifts to my daughters, sons-in-law, and grandkids.
Was it uncomfortable, yes? But, I will not use a credit card just to give a gift I can't afford to give. The funny thing is my grandchildren didn't even notice there wasn't a gift for them under the tree from Mark and me.
I realize some people will say, "I HAVE to give something to my grandkids." I get it, but I can't. The funny thing is they didn't even notice.
They know when they come to visit me I will make them Mickey Mouse pancakes and that's the highlight of their visit. My oldest grandson is 28 and he has to have them because he said I'm the only one that makes them just right.
The Exchange Civic Club
This year when we attended Mark's civic club's Christmas Social we were asked to bring some socks suitable for teenage boys and girls. The local Children's Justice Center had expressed the need to provide these to families they were working with.
Usually, the Exchange Club had a White Elephant gift exchange as part of the social, and although it was fun and generated some laughs, my guess is that many of those gifts are thrown away shortly after the party.
It really gave me a good feeling to know that the small gift of socks we and the others provided would be gratefully received and immediately put to use.
Final Word
Christmas is such a special time of year. We plan company parties, have family gatherings with those we love, and we exchange gifts with all those people who we cherish. There are so many ways to express love this time of year.
If you really think you need to give "something," consider adding to your family's food storage or emergency prep inventory. If you have the means, you might also consider taking a trip with family or special friends. What a great opportunity to build memories that will last a lifetime.
As you make your Christmas plans this year, please share the gift of love. Please let your family know if you don't want or need Christmas gifts. May God Bless this world, Linda
Copyright Images: Gift Pile Depositphotos_91786660_S