Mommy's Get Home Bag: Get Ahead of the Game With 15 Clever Tips
Have you thought about making a Mommy's Get Home Bag for someone you know? What would you do if you had to leave your home in a hurry? If a natural disaster or other emergency strikes, would you be ready?
Most people don't think about it until it's too late. That's why it's important to have a "get home" bag packed and ready to go. Whether you have a new baby, a toddler, or kids of all ages, you need a survival kit for mommies!
These would make great holiday gifts, trust me, every family could use one. I've updated this post because I believe every family needs one.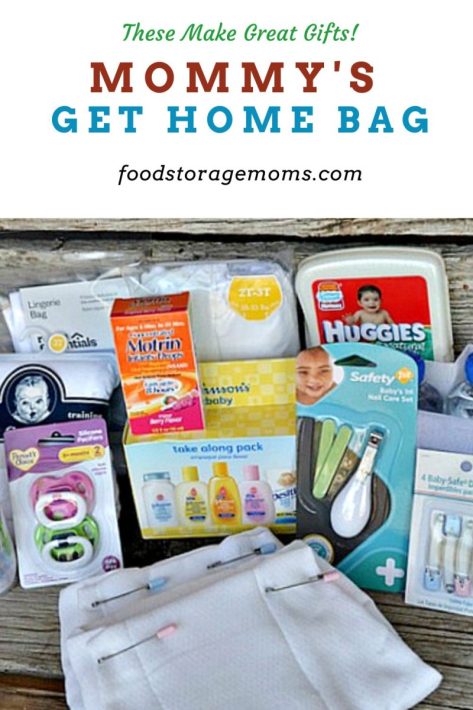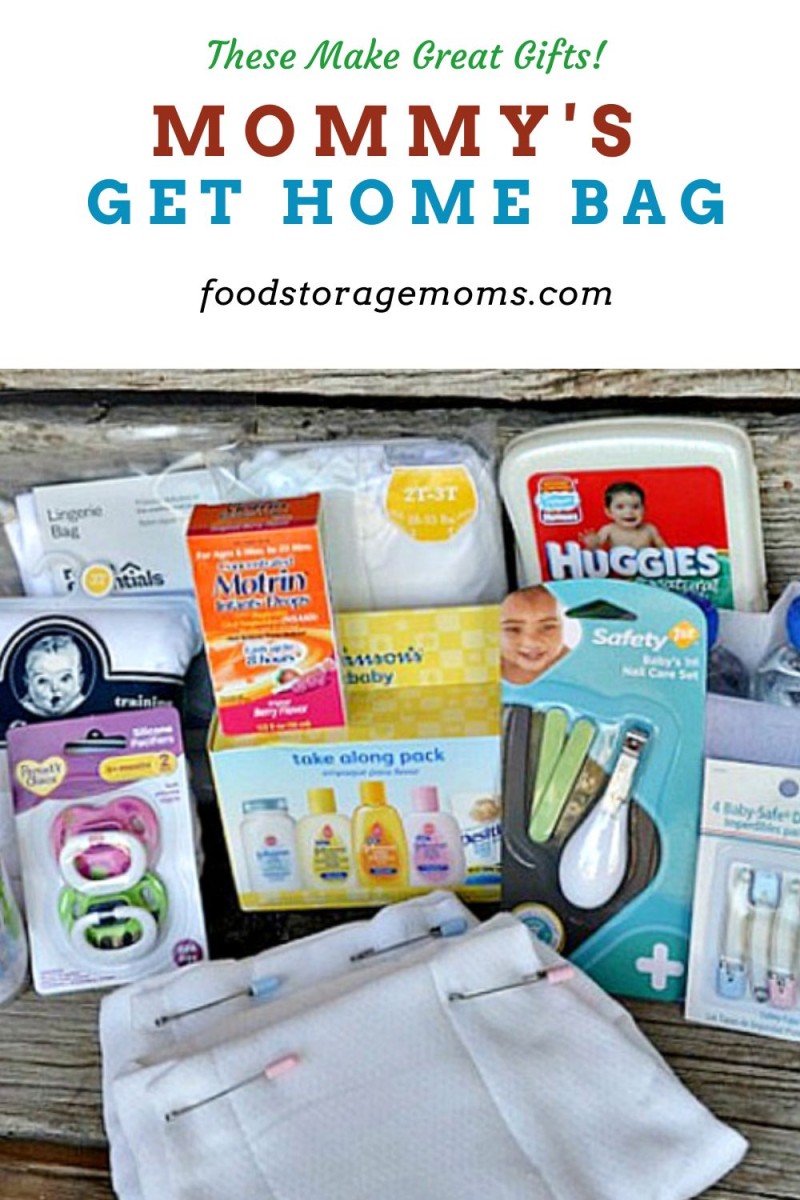 What is a Mommy Get Home Bag?
A mommy get-home bag is a bag that every mom should have in her car. It is packed with items that will help you in an emergency situation. The bag should include a first aid kit, snacks, water, a phone charger, and a change of clothes.
Having a mommy get-home bag can be a lifesaver if you are ever stranded somewhere with your kids. If your car breaks down, or you're in an accident, having this bag will help you to be prepared.
It is also a good idea to keep a blanket and a flashlight in the bag as well. You never know when you might need them!
Why You Need a Get Home Bag: Recent Events
I recently read where families were confined inside an Amtrak Train for about 36 hours. Because of poor weather conditions, the train hit a fallen tree. There were over 200 passengers aboard the train.
Amtrak decided because of the deteriorating weather, they wouldn't try and move the passengers off the train. The train had some food, some water, and bathrooms available. Some people did run out of diapers and formula, according to a news report I heard.
Keep in mind, that this year has had record-breaking snow and/or rain totals in many places throughout the country. This is why it is always a good idea to have a mommy get-home bag just in case.
In case you missed this post, check out my Building A Get Home Bag.
What is A Mommy's Get Home Bag?
Most of us are past the diaper bag stage more than likely, thank goodness. But, we may have children or grandchildren with mothers who are still packing diapers, bottles, and pacifiers. Here's the deal, there's not a lot of difference between a diaper bag or a get-home bag.
If you think about it, we know mom or dad will grab the items they need for their baby or toddler if they leave the house for an appointment or to run errands. But they may be thinking everything will be fine and that they will be home tonight, right? What if they can't get home for two days, three days, or longer due to unexpected situations that come up?
So, this bag is pretty close to a 24-hour bag, similar to a 72-hour kit or bug-out bag, but with fewer items to haul around. If a disaster happens as you leave a grocery store or a church meeting, are you prepared to walk home? Hopefully, you'll have one of these bags in your car or truck.
What are 30 Things You Need to Survive? Essential Items:
Keep in mind that what you need for your mommy get-home bag will be geared towards you and your kid's specific needs. For example, if you have a newborn, your bag will be filled with many different things than if you have a toddler. Thus, each bag will be slightly different. Here are some essential items to get you started:
Disposable diapers, at least one dozen
Cloth diapers with diaper pins and waterproof pants
Potty training pants or pull-ups
Water
Formula
Extra clothes for baby (onesies or gowns) or toddler (t-shirt, pants, & shorts)
Baby nail clippers
Baby lotion
Baby soap
Baby shampoo
Extra shirt for mommy
Snacks for baby, toddler, and mommy
Sun Hats
Sunglasses
Small blanket
Duct Tape
Phone charger
Small tent or tarp in case of inclement weather
Small first aid kit
Hiking shoes with socks
Small fold-up umbrella
Warming Scrunchies
Bibs
Electrolyte bottles
Prescription medications
Toothbrush
How to Pack Your Mommy's Get Home Bag
Packing your mommy get-home bag is pretty similar to packing a diaper bag. You'll want to make sure you have enough supplies to last for at least 24 hours, but not so much that the bag is too heavy to carry.
You'll also want to pack plenty of items that are easy to grab and go. The last thing you want to do is rummage through a bag of items to find what you need in an emergency situation.
Here are some tips for packing your mommy get-home bag: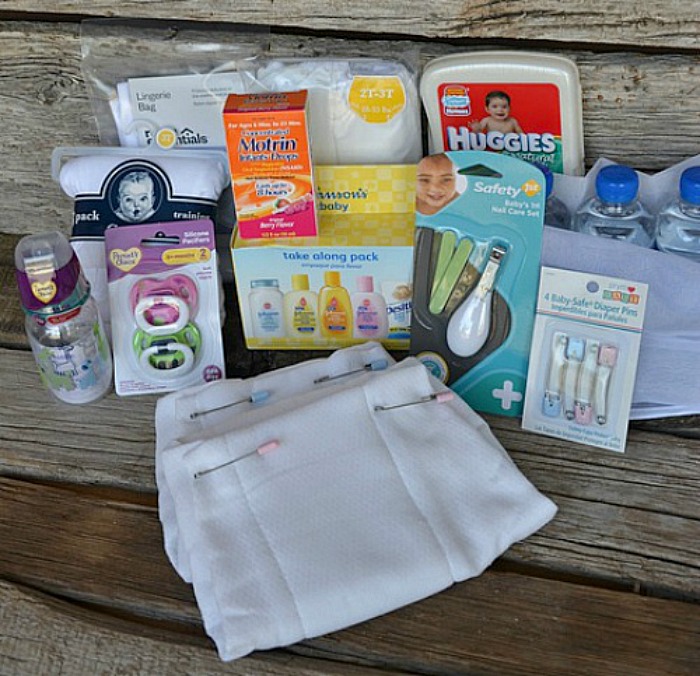 Use Laundry Bags for Water
The easiest way to pack and store water bottles on the go is to use Laundry Bags. They are easy to grab from the car when the bag is zipped closed. They can be put in a stroller to take just about everywhere when needed.
In the picture below, you can see how easy it is to store water bottles in a laundry bag in your car.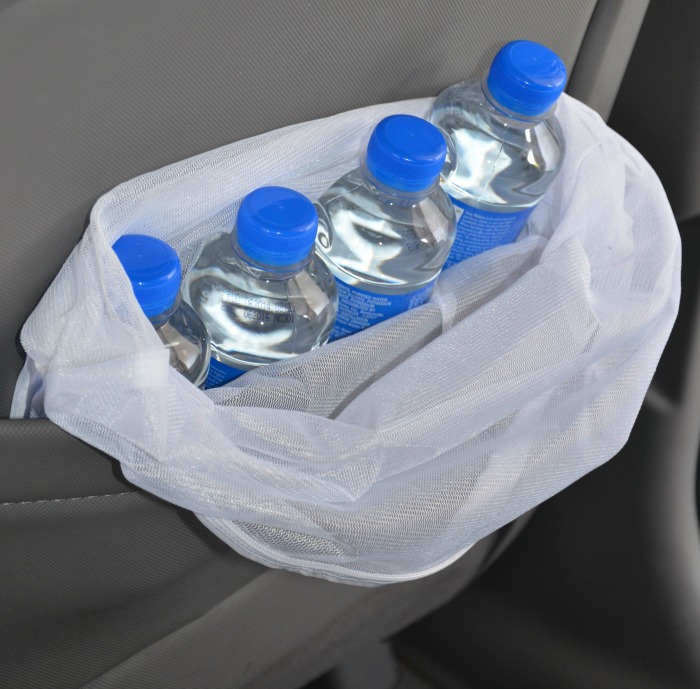 Pack Travel Size Toiletries
In case you need to stay away from home for an extended period of time, it's a good idea to pack travel-size toiletries. This way you don't have to worry about running out of important items like shampoo, soap, and toothpaste. You can find travel-size toiletries at most stores in the personal hygiene, toiletries, or travel section.
Use Zippered Bags For Essentials
You can make several different zippered bags, such as the one below, and zip them closed. Add items such as a brush, ointments, shampoo, conditioner, medicine, hair ties, lip balm, shower items, and other small items your child may need.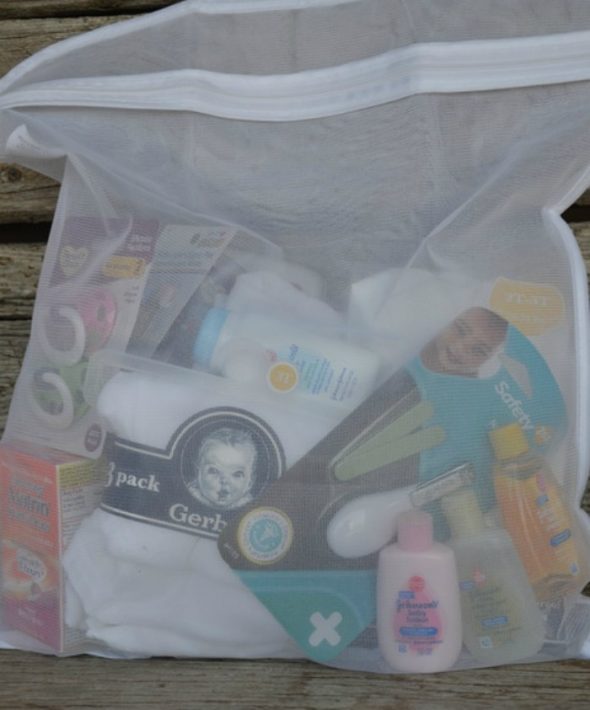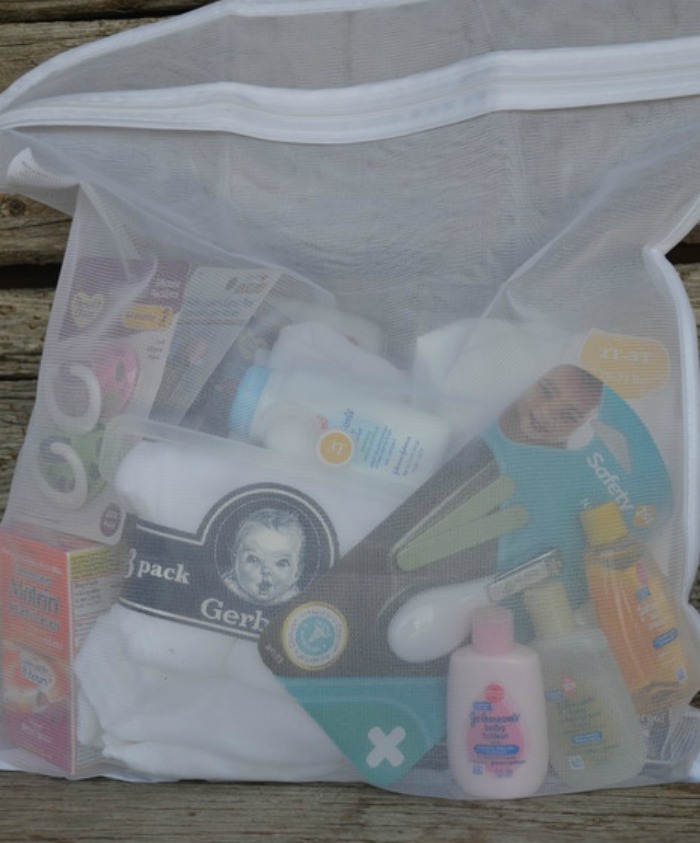 Be Aware of Temperatures
Of course, you're going to want to be aware of the seasonal high or freezing temperatures when you choose the items you need to put in your car.
You can place them in a bucket in the back of your car with your walking shoes and socks for yourself in case you need to walk home, or if you have to stay put in your car for 24-36 hours.
Use a Backpack or Duffle Bag
You'll be able to carry more items this way. Plus, it will be easier to grab and go if you need to leave in a hurry.
Also, please think about putting some small backpacks in the bucket in your car with the zippered bags. If the kids are old enough and could carry some of the water or snacks, for instance, it would take a little weight off what the mom must carry.
I always say, expect the worst and be prepared for it. Don't dwell on the worst things that can happen in life, but be ready if they smack you in the face, so to speak. In other words, be prepared for the unexpected.
Use Space Saver Bags
Space saver bags are great for storing extra clothes, blankets, and towels. They take up much less room in your bag than if you were to pack these items loose.
Plus, space saver bags can be used for other things like wet clothes or diapers. Just be sure to label the bags so you know what is inside them.
Only Pack What You Need
It's easy to overpack a diaper bag, especially if you are a new mom. You may think you need to pack everything but the kitchen sink, but trust me, you don't.
You'll want to pack only the essentials in your mommy get-home bag. This way, you won't have to carry around a lot of unnecessary weight.
Check Your Bag Regularly
You'll want to check your mommy get-home bag every few months to make sure the items inside are still usable, haven't expired, and still apply to the age of the children at home.
You'll also want to check to see if you need to add or remove any items from the bag. As your kids grow, their needs will change, and so will the items in your bag.
Packing Tips for Your Mommy Get-Home Bag
Now that you know the essential items to pack in your mommy get-home bag, here are a few packing tips to make the process easier:
Use a checklist. This will help you make sure you don't forget anything important. Although this may seem like a lot of paperwork, it can really keep you organized. It's just like a hospital bag checklist.
Pack items in order of importance. Pack the items you are most likely to need first and the less important items last. For example, if you are nursing, you may use a nursing bra, but that may not be as necessary as other items to pack.
Pack according to the season. Be sure to pack seasonal items such as summer clothes or winter hats and gloves.
Make sure you have enough water. Please plan on enough water in your car to last a minimum of three days in case you are stranded because of weather, damaged roads, or any unforeseen emergency. I recommend two gallons per person per day. So if you have two adults and two kids, you need eight gallons per day or sixteen gallons for 2 days. Please do the math before you get in the car.
Label everything. This will help you stay organized and know exactly what is in each bag.
Think about different circumstances. It could be as simple as a broken-down car 15 miles from home. We may be able to call friends and family to help us. But what if we have zero cell service? What if it's 100 miles from home? Can we walk that far? Are their cabs, Uber, or a local transit service available?
Use reusable bags. This will help you save money and the environment.
Don't forget the extras. Think about items such as a first-aid kit, a flashlight, insurance cards, a cell phone, and batteries.
Consider your children's needs. If you have young children, be sure to pack items such as diapers, formula, and baby food.
Pack the right food. I would not put nuts in your car because they may go rancid, so you should probably skip those. You can put animal crackers, jerky, cold cereal, and fruit cocktails in cans with flip-open lids.
Rotate the food. If you choose foods that you can rotate, you can choose the foods you know the kids will eat. This can be any food that does not need refrigeration.
Pack enough formula. For travel, I recommend having individual liquid formula bottles or individual packets. The packets are a great way to save space, but the liquid formula means packing less water. Do what works for you.
Get a heavy-duty stroller. Hopefully, mom will have a good stroller in the car in case they do need to walk to a shelter, a bus stop, a hospital, or home. Some of the items above can easily fit in the stroller compartment. Besides, pushing a stroller with a baby or toddler is so much easier than having to carry them and a few prepared items.
Don't forget about your pets: If you have pets, be sure to pack food and water for them as well.
Ask for help. If you are unsure about what to pack, ask a friend or family member for help.
How Much Food and Water Should Be in a Get-Home Bag?
Ideally, your get-home bag should contain enough food and water to last you for three days. This may seem like a lot, but remember, you'll need food for energy and water for both drinking and hygiene. When packing food, focus on items that are high in calories and easy to eat on the go, such as granola bars, peanut butter, and trail mix. As for water, pack at least one gallon per person per day at the bare minimum. If you can't carry that much, pack as much as you can and supplement with purification tablets or a filter.
In short, a get-home bag should contain enough food and water to sustain you for three days. By being prepared, you can ensure that you'll be able to make it home safely in the event of an emergency.
Final Word
I hope these tips help you in your journey to become prepared. Remember, it is always better to be safe than sorry. So please take the time to gather the essential items above and put them in your mommy get-home bag so you will be prepared in case of an emergency.
You never know when you might need diapers. So it's always good to have some in your bag, just in case. Don't forget to pack entertainment items for your little ones as well such as small toys, coloring books, crayons, and a pad of paper.
I also suggest that you have a plan for what you will do if you are stranded. Whether it's calling a friend or family member to come to get you, or walking to the nearest freeway exit, make sure you have a plan in your pocket so you and your family can stay safe. May God Bless this world, Linda