Why You Need Emergency Contact Information
You may wonder why you need emergency contact information today, or tomorrow for that matter. Today most of our cell phones have our contact information. Our home phone landlines might have caller ID.  If you got an emergency message either from the TV, radio or your phone(s) telling you to evacuate immediately, hopefully, you will remember to grab your 72-hour kits, water, food and your emergency binder with all of your information. Hopefully, you have downloaded my FREE binder contents with instructions for making an emergency binder. Food Storage Moms FREE Printable Emergency Binder Download Please be patient it takes a few seconds to download.
Here's the deal, if we lose power and you do not have a way to charge your laptop (if you grabbed it) or your cell phone battery is dead will you remember all the email addresses you need to remember? Will you remember the phone numbers of your family and friends that are critical to contact? You will not have speed dial if your phone battery is dead and you may have no way to charge it. Well, once you find someone, or I should say if you find someone with the capabilities to charge your phone or laptop, how long will the lines be before you get a turn to make a call or two? You might find someone kind enough to let you text your favorite people if you have the numbers memorized. If not, please add this sheet to your 72-hour kits, in a disaster, we might not recall the numbers we need.
Contact Information FREE Printable: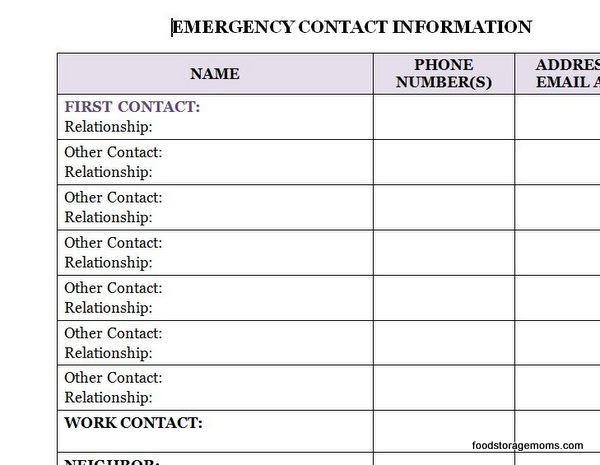 Printable: FSM Emergency Contact Info
Please be sure and add two pictures in photo or baseball card folders to share in an emergency should you get separated. One for you to keep and one to tape or pin to a "find me" board. You will be glad you have photos, I promise. Let's be prepared for a disaster or unforeseen emergency before it happens.
Please remember to register your phones with your city or county, Reverse 911, so you will be notified of any pending dangers in your community. For instance, I live in Washington County (Utah). You need to Google your county and state followed by Reverse 911. So, I would Google: Washington County, Utah Reverse 911, then click on the first link that comes up and follow the instructions. Do it today, not tomorrow. Just saying.
Here is one of my favorite websites: FEMA.gov
My favorite things:
My book: Prepare Your Family for Survival: How to Be Ready for Any Emergency or Disaster Situation
Goal Zero 41001 Switch 8 Silver/Black Solar Recharging Kit
Water Storage Containers – WaterBrick – 8 Pack Blue
Blue Can – Premium Emergency Drinking Water