I admit I don't like grocery store shopping. There I said it. I do like to go and take pictures and check on prices. Today, I may have to get on my soapbox, we have a problem, my friends. It's our food chain, the drought around the world, the price of gas to deliver the food, food shortages, higher prices, and the list goes on and on.
Today I want to talk about some food shortages and higher prices on the food we like to purchase. I must be honest, I miss really good thick center-cut bacon. I refuse to cave to the prices. Luckily we couldn't have a garden with fresh tomatoes this year for my BLTs, or I may have had a tantrum at the store looking at the prices of bacon. I'm just kidding, but if I was prone to high blood pressure it would have gone sky-high.
This is the third time this month that I've taken the time to write about possible food shortages you may experience when shopping now, or in the near future. Some shortages may prove to be somewhat localized, but others will probably be more universal.
My research has determined the following items very likely will prove harder to get, if not that way already in your area. Read through the information, check out your local stores, and then plan and act according to your family's food needs when it comes to stocking up.
In case you missed these posts, 10 Food Shortages You Need To Stock, or this one, 17 Shocking Things You Didn't Know About Stocking Food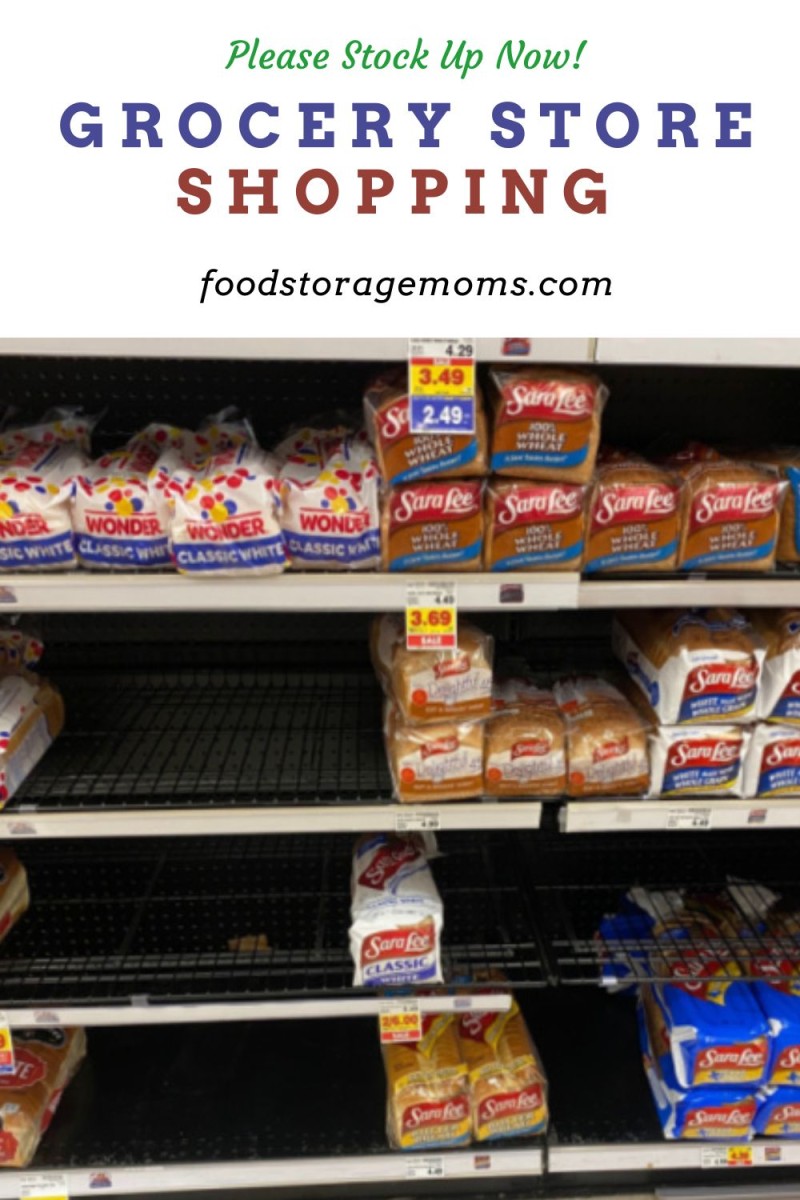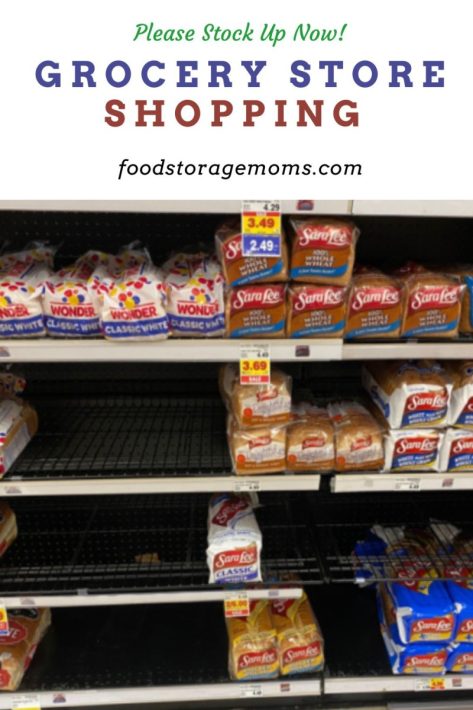 Grocery Store Shopping
1. Pork
Shortly after the virus issue became global in nature, the news reports were full of pictures and stories about farmers and ranchers who were having to destroy thousands of animals because so many of the meat processing plants had closed. The plants simply couldn't operate with the reduced labor available. It was in April of 2020 that Smithfield Foods, the world's largest pork producer, shut down a plant in Sioux Falls, SD.
At about that same time, Tyson Foods reported having to shut down its pork processing plant located in Waterloo, Iowa. The country quickly found itself in a severe pork shortage. Demand quickly dwindled too with the closure of so many restaurants.
We're now two and a half years down the road from those tough times, but we find ourselves still dealing with some common issues. One key challenge is getting enough quality labor to support the operation of those plants. Another concern is the cost and availability of food for the animals.
Both drought and floods have caused crops to be affected in many parts of the country. Some farmers have debated the choice to pay higher food costs for their stock, or not to replace the stock since they may not be able to sell the meat at a price to cover costs, let alone make a profit.
Contributing to the dilemma is the cost to both ship food to those farmers and the cost to ship the animals to slaughterhouses. Then there is the cost to ship the finished meat products to stores throughout the country. The high cost of diesel fuel is affecting many industries.
Thank goodness the trends for more products are showing positive signs, according to the Pork Trends report from US Foods. They are seeing some highs and lows, depending on your location and the types of cuts desired. It could be a while before we see more stability across the pork industry.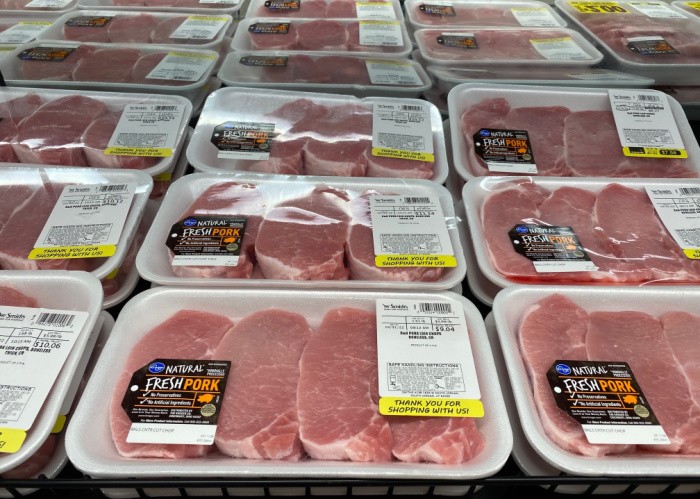 2. Bacon
Bacon is seeing the same challenges as the general pork industry as discussed above, but the additional processing that goes into bacon manufacturing adds to the cost and related effects on our normal food systems. I mentioned the effects of severe drought and floods in the pork industry, but other factors play out too. The reduced availability of fertilizers for their crops, and the higher-than-normal fertilizer prices directly affect the cost of agricultural production, including the food for bacon-producing pigs.
I wanted to bring to the attention of my readers, particularly those living in California, the effects of legislation passed in that state. I wasn't aware that 99% of California pork consumption comes from pork that is raised and processed out of state.
Years ago their legislature passed Proposition 2 which required birds and animals raised for food production to have certain living conditions, particularly how much room each one had to move around. More recently, the legislature passed Proposition 12 which went additional steps to protect those birds and animals so there wouldn't be any cruel treatment.
What Prop 12 does is extend those requirements to out-of-state providers. Meat producers have fought the legislation, but many animal rights groups have pushed very hard to see Prop 12 implemented. There has been much dialogue about the negative economic impacts the proposition will have, not only in California but also in those states where the birds and animals are being raised and processed.
One of the economists who have weighed in on the issue is Lan Hatamiya, the former Secretary of the California Technology, Trade, and Commerce Agency. He issued a White Paper on the matter and indicates he anticipates a 50% reduction in pork supply, which is supported by an independent market expert, Rabobank.
Mr. Hatamiya states: "Market access restrictions from Proposition 12 will further limit available supply into California, thereby driving up pork prices for all consumers. The negative financial burden falls largely on the diverse ethnic consumers and communities that make up California, with pork being an important source of protein for African American, Asian American, and Hispanic households, businesses, and restaurants."
We need to think about those most adversely affected by this legislation, including those on WIC, others experiencing poverty, and those already challenged by acute food insecurity. Nutrition is an issue, as those facing hunger issues need levels of protein consumption just like the rest of the population. I'm not sure about the number of people affected, but it certainly seems the legislation sidesteps many social determinants of health.
Some experts are expecting a 50% retail pork price increase from retailers, and the resulting consumer cutbacks in purchases will reduce by multi-millions what California consumers spend on bird and pork products annually.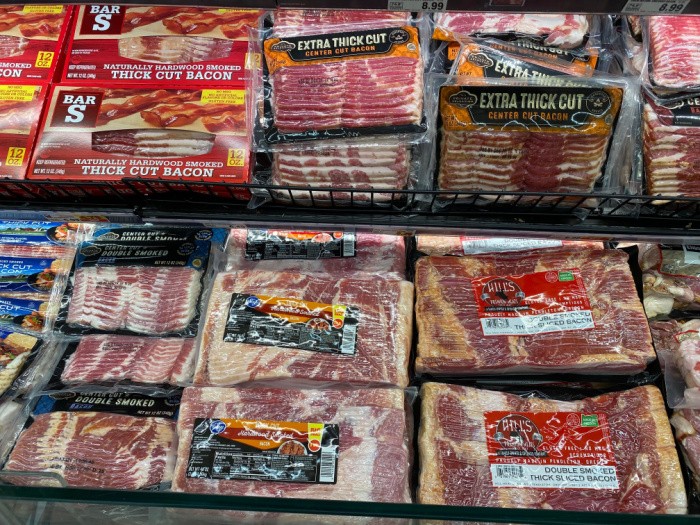 3. Pasta
Pasta as we know it is generally made from durum wheat semolina flour, added to a water and salt mixture. The strange thing is that durum wheat has been selling for prices much lower than normal, so the wheat isn't being grown in the quantities seen in years past, with other types of wheat and farm products being grown and harvested in its place.
With the shortage of regular pasta, many chefs and restaurants have been forced to make their "pasta" entrees with other wheat-based versions and deal with the difference in texture, taste, and consistency.
For those of us at home, we may not even notice a difference. But if we are purists and want the durum wheat varieties of pasta we've enjoyed for years, we'll have to keep our eye out for stores that carry those products, with the understanding we'll probably pay more for them. Check the stores in your location for availability and buy anything that might go on sale.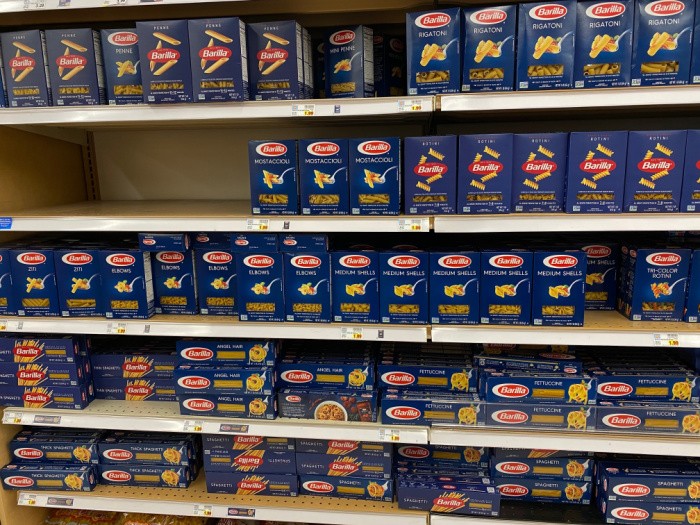 4. Apples
Like other fruits and veggies, apples are grown throughout the U.S., but some states, like Washington, are known for their apple varieties, quality, and high production levels. Also like other fruits and veggies, climate change and the variations in weather patterns have had a direct influence on apple production in the past few years.
I read an article this week about a farmer in Versailles, KY who has had a great apple harvest this year. But he indicated that other areas of KY haven't been so lucky. He indicated that apples can be a little picky and require a certain set of sun, water, and pollination conditions to succeed. Many areas in the country are experiencing drought, so sufficient water has been a challenge, and it doesn't look like that's going to change soon.
We've all heard about the challenges to the bee industry in the past few years too. Both disease and insecticides have decimated thousands of bee colonies, making pollination of all crops, including apple trees, hard to accomplish. The bees seem to be making a comeback, but full production levels may be a few years out.
If you see apples on sale, even if you aren't seeing your favorite variety on display, I'd suggest you buy some so you have what you want for holiday treats over the next couple of months.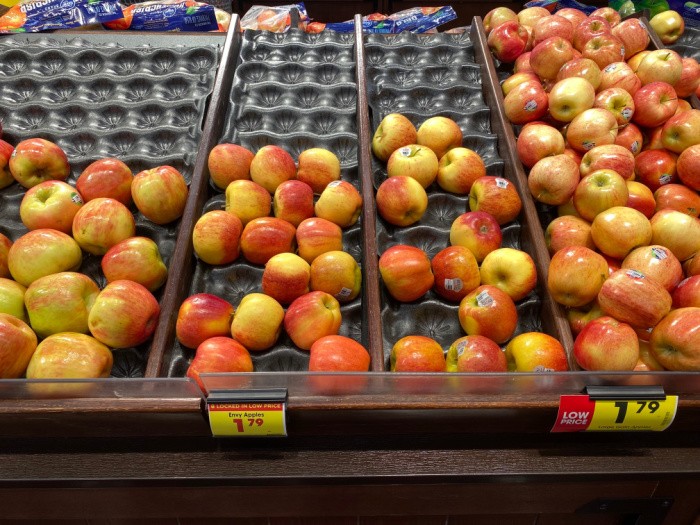 5. Oranges/Lemons
We all love our citrus juices to drink and cook with. Most of us realize that much of the citrus production in the U.S. comes from the state of Florida. We've seen the devastation in many of the beach areas of western Florida as a result of Hurricane Ian, but we may not be aware of the extreme damage to the agricultural areas of Florida, including the trees that grow oranges and lemons.
The U.S. Department of Agriculture has issued reports that crop production as a result of the hurricane will plummet to record low levels this year. Prior to the hurricane, the state was already dealing with some weak citrus production levels. Florida oranges have served as feedstock for a long time when it comes to most orange juice that is produced in the U.S. That feedstock has been diminished significantly by a disease called greening disease in the past few years. The disease can cause the trees to generate fruit that is not only smaller but also a fruit that doesn't have as much sugar content.
With the combination of Hurricane Ian and the greening disease, the USDA forecasts that 28 million boxes of Florida oranges will be produced during the 2022-2023 growing season. That is the lowest production output of oranges since 1943, and significantly lower than last year's already low production level of 41 million boxes.
Add that to the lower production expected from California-based orchards due to the western states' drought, we are looking at a "perfect storm."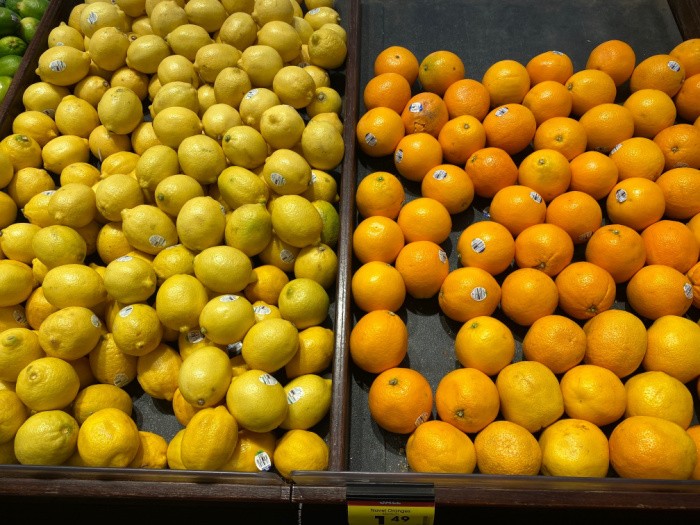 Orange Juice
Two additional considerations that influence the cost and availability of orange juice from a limited orange crop this year will be the cost of the plastic containers the juice comes in and the cost of distribution. The woes we are all experiencing due to supply chain issues carry over to packaged food and drink products. We haven't even covered the cost that comes from labor shortages in all industries. Fewer employees, but increased labor costs are affecting companies across the board.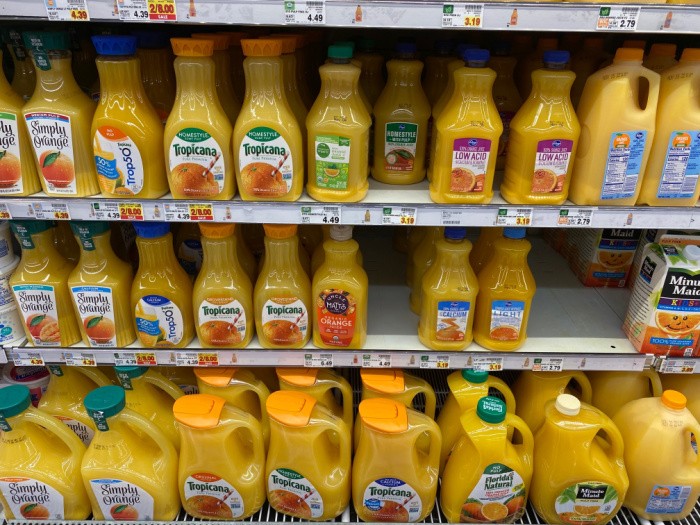 6. Bread
We've talked about the increases seen in the cost to produce many agricultural products because of unfavorable weather conditions, shortfalls in available fertilizer, transportation and fuel costs, labor shortages, and more. The U.S. and other countries had already been seeing challenges in production before the virus issue, but now with the conflict in eastern Europe between Russia and Ukraine, those challenges have been compounded.
This is especially the case with the production of wheat. A year ago Bloomberg had indicated U.S. government forecasts for global wheat reserves were down to a five-year low, creating a global deficit. Since wheat is considered a food "staple," food price inflation is a given. Higher wheat prices lead to higher flour prices, and flour is the key ingredient of bread and bread-related products of all kinds.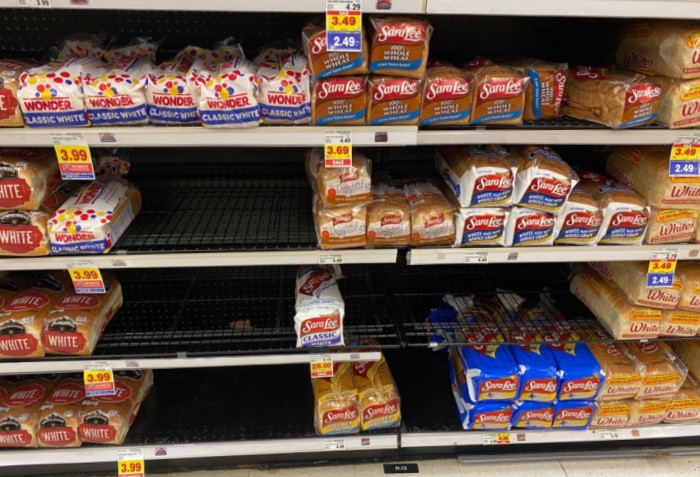 7. Donuts
Since donuts are made from wheat flour, the same issues apply to them as the ones discussed above regarding bread.
During my research, I came upon an interesting discussion about shortages of various varieties of donuts at Dunkin' Donut locations, particularly in certain eastern states. It related more to the type of glaze or fruit fillings that weren't available, making the donut run during the holidays a new adventure. Check out the piece on Mashed.com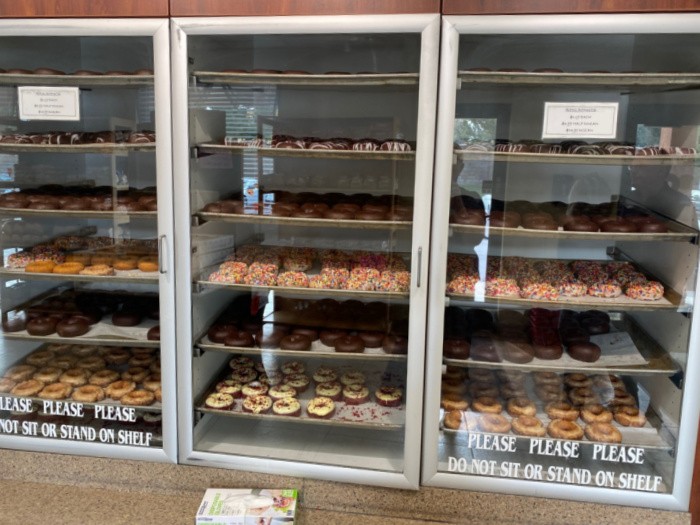 8. Steak
Many beef shortages and related price increases mirror what we discussed above with the supply of pork products. In many cases, the shortages were due to challenges resulting from the widespread virus. Those included layoffs, plant closings, disputes about getting the needed shots, cutbacks in feedstock animals, costs of raising those feedstock animals, distribution costs and labor shortages, and more.
Now that we are getting back to a more "normal" situation when it comes to food supplies, costs don't seem to be coming back in line as we anticipated. One thing that is happening, particularly at this time of year is an increased demand due to all the holiday cooking taking place, whether at home or with restaurant visits. People are trying to be more social and getting together more often, either with home-centered parties, or more fancy get-togethers at favorite eating establishments.
One thing I recently heard about was an increase in businesses that have been victimized by cyber-hacking. That was the case at JBS USA, which is a huge beef processing company headquartered in Greeley, CO. Yes, we all rely on those computers every day to accomplish personal and business goals. When those attacks hit a company like JBS USA, it can cause numerous plants to close until their computer systems are up and running again.
If you love beef steaks, consider checking into the availability of buying your meat directly from a local rancher. You might find some savings in price, but also can often get custom butchering services so the cuts of meat match your size and quality desires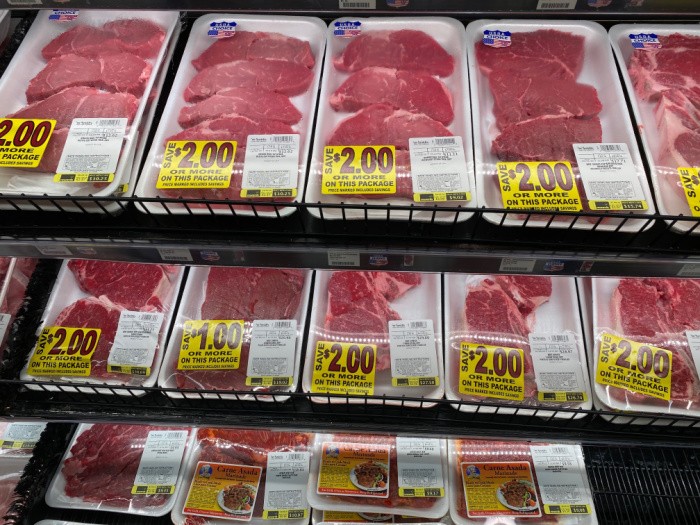 9. Ground Beef
The discussion here would mirror the dialogue above for steak. There is one aspect of ground beef that adds to the mix and that is the extra time it takes to process the meat. Yes, ground beef usually doesn't require the highest quality cuts, but it does take time to run it through the machinery, adding to labor and equipment expenses.
Again, if you buy from a local rancher you MAY be able to get better quality cuts, which will actually make the ground beef a better per-pound option.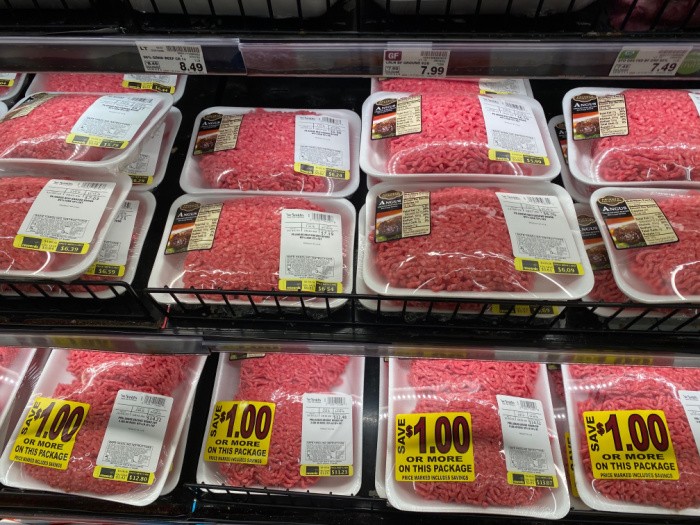 10. Chicken
Much like the issues with pork and beef, chicken has been affected by market conditions too. Tom Super, who belongs to the National Chicken Council, has indicated that factors like high demand, particularly with more families cooking at home, record expenses in the raising, processing, and distribution of chickens and their food products, and extended labor shortages at the plant level have all influenced the availability and pricing of chicken at the retail level.
You'd think we may be able to acquire more chicken products from foreign sources, but the supply chain bottlenecks make that a risky option. I would much rather purchase meat right here in the USA.
Also, the Proposition 12 issues discussed above regarding pork also apply to chickens being processed and shipped to California. Don't be surprised if you see the pricing of chicken products of all kinds continue to go up.
11. Breakfast Cereal
Cereal has proven to be subject to shortages just like other products tied directly to the agricultural sector. Many kinds of cereal are made from wheat, but other farm products like oats, rice, barley, corn, etc. also come into play. The last year has also been filled with labor issues as illustrated by the strike at Kellogg. That company was able to mitigate some of the shortages until a settlement was negotiated when they went offshore for the needed commodities.
Cereal shortages and related product pricing will be determined going forward by weather, manufacturing costs, transportation expense, and local demand for specific cereal types.
Mark went to Walmart yesterday and bought close to $100 dollars for a multi-month supply of his favorite cereal brands and flavors. He's found that from time to time one product will seem to disappear from store shelves. No, he didn't hoard the cereal, he bought the larger more expensive sized packages since the cost per ounce is less. He did see some empty shelves, but all his favorites were available.
Hopefully, next year's growing season won't be adversely affected by the crazy weather patterns we've seen the past few years, otherwise, it won't be just cereal that's found wanting from the farmers' fields.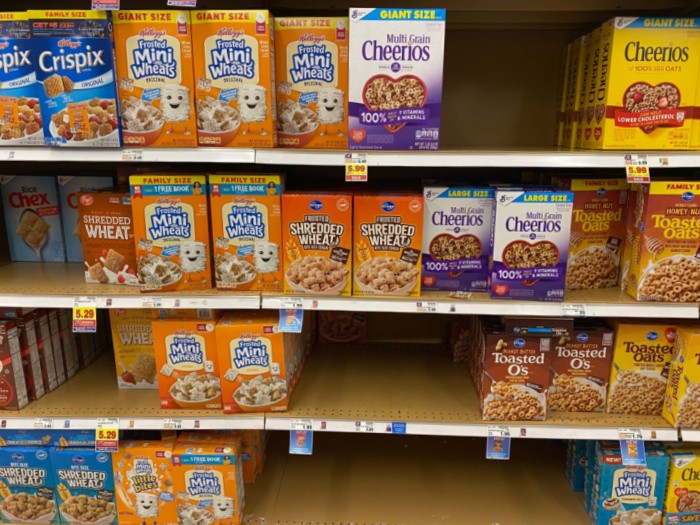 12. Personal Hygiene Products
In an earlier post, we talked about shortages of women's monthly hygiene products. Additional research has determined that the combination of increasing costs of paper and plastic materials to make and package them has both gone up. Bloomberg reported that tampon prices have gone up 9.8% and menstrual pad pricing has increased 8.3% over the past year.
Procter & Gamble is one of the primary manufacturers of these products, claiming to have nearly 50% of the market. They haven't commented about shortages or cost changes but did indicate that their demand has seen significant increases. They are working to step up production and hope things will stabilize in the near term.
A spokesperson for Resilinc, a supply chain monitoring company, indicated that there are still challenges with the supply of key materials to make these products. From the effort to find raw materials, getting those products to the manufacturing plants, the workers to run the plants, and then on the trucks for delivery to the stores, each step is seeing issues of cost and availability.
For those of you who are willing to give them a try, you might want to consider making reusable menstrual cloth pads that can be washed and reused. Maybe not as comfortable or convenient, but an alternative that will keep you protected, and save you money at the same time.
There have been reports of shortages and price increases for personal hygiene products like bars of soap and liquid hand soap. Walmart even posted apologetic signs in many of their stores regarding shortages, even though the shelves where the signs were posted had full shelves.
Apparently, packaging and distribution issues did prompt some concern, but also there appear to have been some increase in purchases as people tried to stock up "just in case." Another issue is the increased use of these products since we were all asked to wash our hands more often as a protection against the virus. Things seem to have stabilized, but you might want to have extra on hand as a hedge against possible future price increases.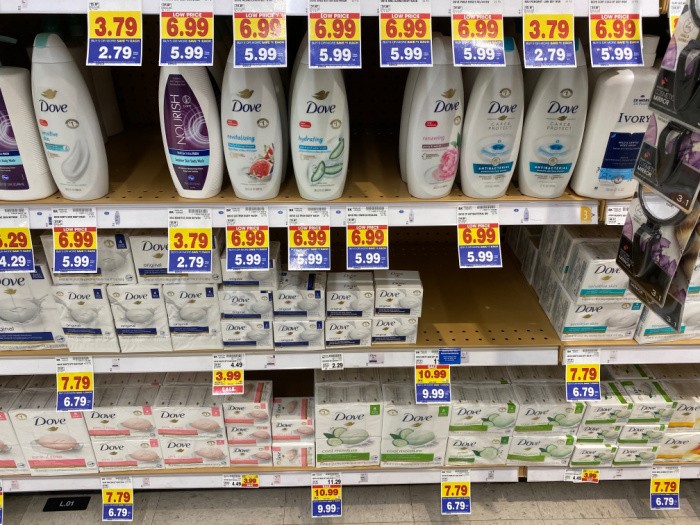 13. Paper Products
Although not as severe, there still is a shortage of paper products of all kinds. The Phoenix Group of Companies reported that both coated and uncoated papers were in short supply at manufacturers, wholesalers, marketing companies, and print shops throughout the country. Much of the original shortages were due to lockdowns across the industry and the continued supply chain issues affecting most industries.
Online shopping trends have also added to the shortage challenge. With the increased demand for packaging, many mills have shifted production from regular paper products to paper packaging, cardboard, kraft supplies, and other materials needed by the likes of Amazon and other online retail outlets. If you've ordered anything of significant size online you know what I mean.
There have also been some paper mill strikes in countries like Finland where much of our paper is milled before shipment to the U.S. The Russia-Ukraine conflict has also contributed to supply chain blockages, along with the increased cost of gas and freight to get products to plants and markets.
There has been a recent shift back to regular paper production from some of the domestic mills that had moved towards packaging production, but that will take some time. Many mills are still reluctant to make any major changes in either direction due to the enormous cost of machinery that it takes to support such a move. We'll see over the next few months how well new production sources come online to support the demand for paper products of all kinds.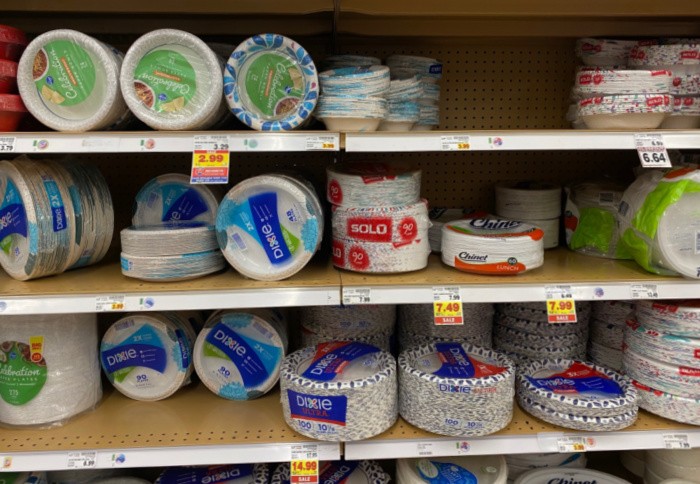 14. Yogurt
In another recent post, we talked about the possible shortage of many dairy products. Those shortages are due in part to the shift from dairy production prompted by many consumers moving away from dairy to more fruits and veggies, a drop in production at the plant level. Add to that the increased cost to produce dairy products, whether is the cost of feed to the cows, the cost of labor to draw workers back into the workforce, the cost of transportation of the milk to processing sites and then to retailers, and more.
An additional challenge to the mix, particularly when it comes to yogurt, is the fruit generally added to the yogurt for flavor, color, and nutritional value. As mentioned, many fruits are going to be hard to supply because of weather challenges that may stem from floods, drought, or the extremes of heat and cold we see now from climate change.
Add to that the challenges of acquiring the raw materials for the plastic containers and other packaging materials, the distribution channel bottlenecks, labor shortages, and other market forces that make for smooth processes from farm to table.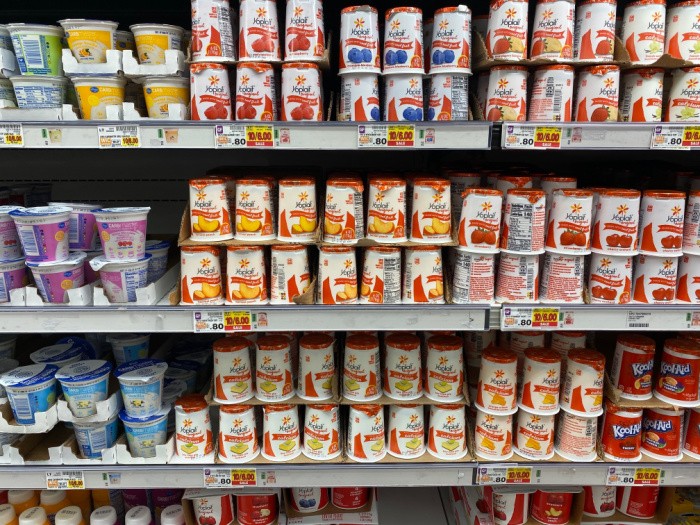 Final Word
I'm sure we are all tired of hearing about the shortages of so many products we take for granted. There have been many markets and world event forces that have come together to cause the shortages, so, it's hard to estimate when we may see things at a level we feel more comfortable with.
Shortages are frustrating, but the current costs for things of all kinds are making it hard for millions of families to make ends meet while trying to provide a healthy and safe environment for members of each household. When I shop with Mark I think to myself that I don't know how young families with kids are able to provide the necessities of life with the cost of living where it is right now. Hunger can be a scary prospect if funds are limited, particularly if we have young kids and infants.
I've always suggested to my readers that they should consider a garden to at least help offset the high cost of fresh vegetables we all love to eat. We should also have a plan in place to stock up on food, water, and other critical things so we can better survive during trying times. My favorite place to buy my garden seeds is SeedsNow. I highly recommend you stock quality seeds and learn to save them for the following year.
Thanks for the continued support shown by visiting my site and reading my posts. Let me know if you've experienced any shortages I haven't outlined so I can pass that info on to others. May God bless this world. Linda