What You Need In Your Hygiene Kit For Survival
Maybe you have already thought what you would need in your hygiene kit for survival. I felt very strongly I needed to write this post today after the holidays. Yes, you can add one of these bags to your 72-hour kits or bug out bags.
I hope you already have one or two in every bag you have. My thoughts today are different based on a little trip I took up to Salt Lake City, Utah and caught the TRAX city transportation system from the airport to Sandy, Utah before Christmas. Here's the deal, we have all taken city transportation system like buses, trolleys, trains, etc.
I was adamant that my daughter NOT come to pick up my husband and me at the airport. I REALLY wanted to learn how to make the transfers on TRAX in case I made the trip to her house on my own sometime in the future. We didn't use the FrontRunner commuter train to get to Sandy, Utah but probably should have simply due to the time the TRAX light rail took to get to our destination. We are senior citizens and it cost $1.25 each to go 15 miles. What a bargain and we are helping save the planet from car emissions.
My husband and I observed many things on the TRAX system. It makes several stops and the weather was very cold and windy that day. As I write this post I am getting choked up with emotion because I do not normally see all the things I saw on that ride to Sandy, Utah. If you think about it the city, county or state are going to place these railway systems in places where the property is cheaper, in most cases.
The railway went through some really sad looking neighborhoods in some areas. I saw one house with a small window air conditioner and a pillowcase hanging above it waving in the wind as we passed by it. It was only 25 degrees that day. I'm talking cold, and it was snowing.
It seemed every time the railway stopped it appeared as if there were three to four homeless people hopping on when the doors opened. They would hop off at the next stop. Then some new homeless people hopped on and this started the cycle all over again. You may ask how I knew they were homeless?
I don't know for sure, but they had large backpacks on their backs and thread barren jackets. Some had hats and gloves. Some had shoes that didn't match. My heart sank as I watched these people get on and off. I'm assuming they did this to get warm from the outside blowing snow.
I think they possibly didn't want to get caught for not paying. It took one hour and 15 minutes for the ride, so I had a lot of time to observe and watch. My husband and I were heading to our daughters for Christmas, to have parties, to visit friends and enjoy a warm home.
When I arrived back home I went to our supermarket and picked up enough stuff that I can deliver a bag filled with a few necessities to five homeless people. I wanted to keep the price under $50.00 total for everything. I am not rich by any means, but I hope to share five bags a month with the homeless in our local community.
I remember reading on Facebook that someone said: "I had no idea we have homeless people right here in St. George, Utah." Yes, we do and I am proud to say I know a preacher that feeds dozens of them every Sunday at his church. He and his wife try to get donations from various sources, and the community does support them pretty well, but some of the food and paper goods come out of their own money.
His name is Jimi Kestin and his church is called Solomon's Porch. If you live in Southern Utah they could use donations to help those less fortunate. He truly is one of God's servants.
So that is my number one idea, to give a bag to some of the homeless people in your area. The other reason I want to show you today's post is to let you make one or two bags of these every month for people who might have to come to your home AFTER a disaster. If we have an unforeseen emergency some people may become displaced and need to stay with us for a few days, or maybe even weeks.
Maybe we will have to evacuate our neighborhoods and go to the local schools or churches and it would be nice to be able to take some of these with us to hand out to those folks who came without the necessities. It would be awesome if we could all hand out a bag or two to those people who are not prepared for the unexpected. They could at least brush their teeth, shave, and have some other necessities they may need.
Emergency Hygiene Kit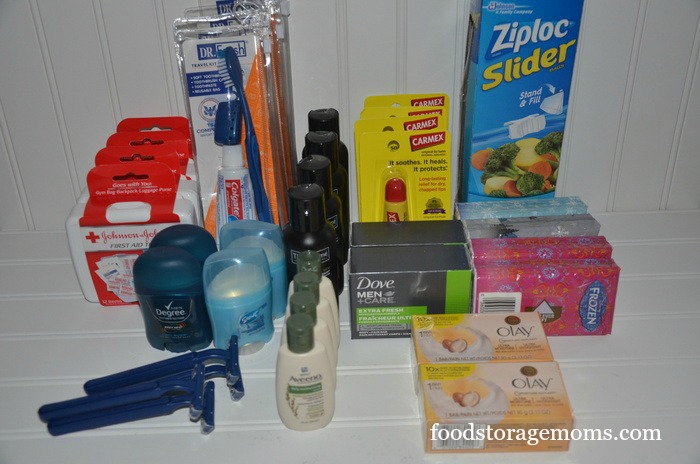 Hygiene Kit Items:
A mini first aid kit
Toothbrush and toothpaste
Deodorant
Shampoo
Lotion
Bar of soap
A razor
Kleenex
Lip protector
Carol mentioned adding washcloths and baby wipes
I had hoped a quart bag would work for the hygiene kit, but I ended up having to use gallon bags, this is what they look like filled: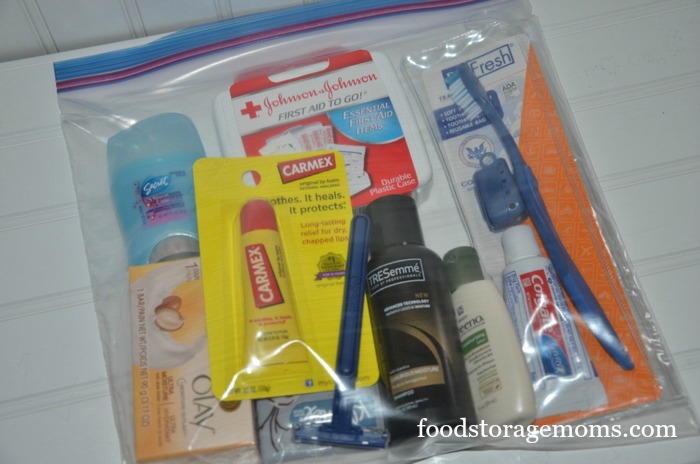 Keep in mind these are the minimum items people can use if they are homeless or if we need to have some people come to live in our homes after a disaster. I get that, but we need to think of others and try to do a little to help those less fortunate. May God bless you for your efforts. Let's teach the world to be prepared for the unexpected.
FEMA Website Federal Emergency Management Agency