What You Need In First Aid Kits With A Printable Checklist
What You Need In First Aid Kits With A Printable Checklist is ready for you to print out. We all have plastic strips or Neosporin or something similar for cuts and bruises. I decided I wanted all, or at least most of my first aid kit supplies in one container. I soon learned that this fishing tackle box is way too small. For most people, it might be too big. Oh, and it's way too heavy, so this would be very hard to use it to grab along with a 72 Hour Kit or Bug Out Bag. But none the less, I feel great having 70% of my first aid supplies in one container.
Picture Above Is Looking Down At The Tackle Box:
The picture above is showing the fishing tackle box open with a top view of items included. Of course, you cannot see everything because I really had to shove and push stuff in every nook and cranny. I dragged out my C.E.R.T. green bags and inspected to see what I had stashed in them. I combined some of the items in that C.E.R.T bag into this box. We all have different things we will put in our first aid kits. I get that, so please keep in mind that the FREE Printable Checklist is the bare bones of what you might need or want in your first aid kit.
Front Picture Of First Aid Kit: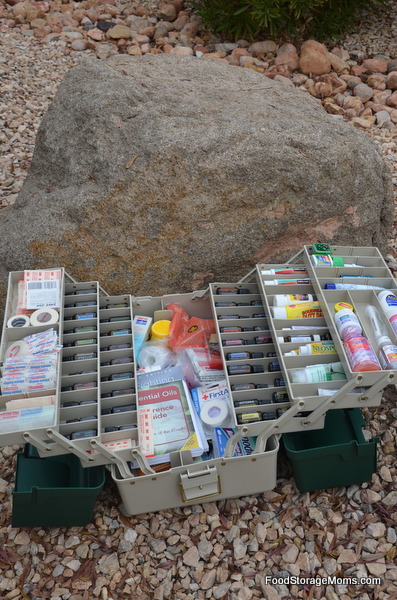 You can see the tackle box top lids laying on the ground and the trays fully extended. I cannot even tell you how many stores I dragged my husband through to find the perfect one. Of course, here in Southern Utah we only have a few stores but still…..he was very patient. Love that guy!
Closed Fishing Tackle Box First Aid Kit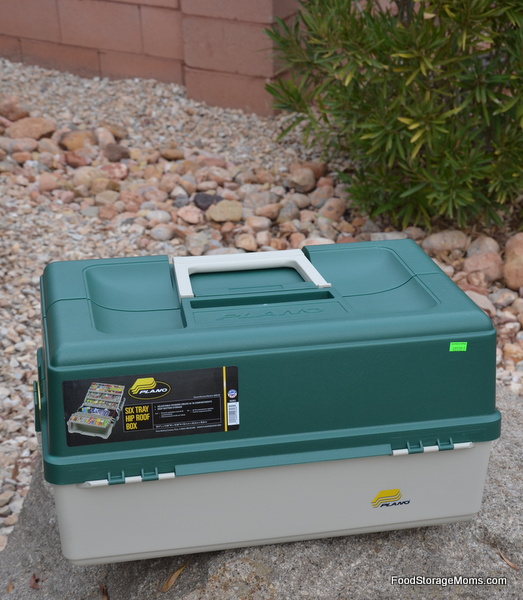 You can hopefully see that this fishing tackle box is made by Plano. It cost about $60.00, as I remember. It's cheaper on Amazon.com. It was actually the sturdiest one I could find. I went to a JoAnn's Fabric store to see if I could find a craft box. They were not strong enough, in my opinion, for all the stuff I was going to cram into one of these babies. I found this one at Sportsman's Warehouse right here in Southern Utah. It's also available on Amazon.com. Fishing Tackle
Family First Aid Kits
Now before you check out my first aid kit checklist, I want you to think about the first aid products you use often. I made a Children's First Aid kit a few months ago. The reason I did was that my grandkids would come and I wanted to make sure I had the pain relievers for their particular ages. It seems like when our large family gets together someone usually has a fever or a cough. They are coming from out of state so the humidity and temperatures are not what they are used to.
Start jotting down the products you like. Do you have some in your home if someone becomes ill? I remember thinking my girls always got a fever in the afternoon or late evening. That's typically when fevers rise, but it's nice to know you have something in the cupboard without having to run to the store. Just keep thinking what can I put in my first aid kits?
Oh, and we grandmas love having Hello Kitty band-aids or whatever character is popular at the time. My grandkids love ouch band-aids even when they don't need them. They love digging through my first aid kits to find just the right one! Yep, that's what we do and love every minute of it, right?
First Aid Kits Checklist: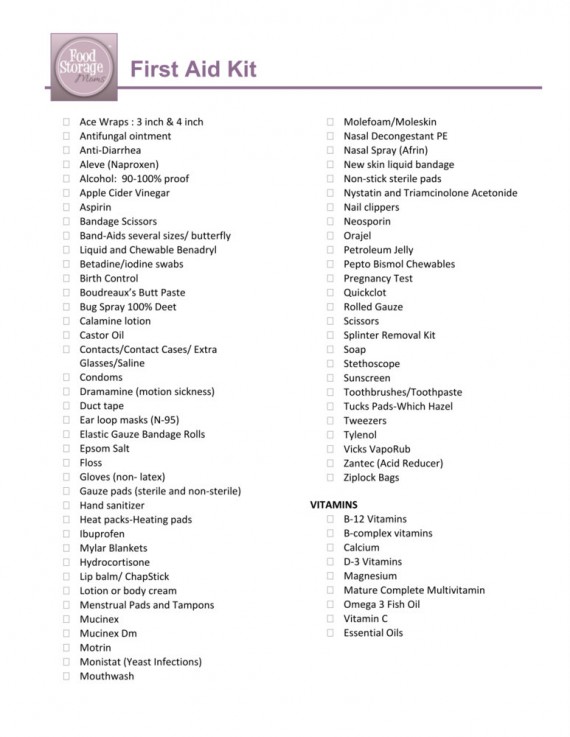 Download your FREE First Aid Kit Checklist Printable.
No, these first aid kits would not be good for a 72 Hour Kit because it is extremely heavy. BUT I love the fact that I have all my first aid (well almost all) supplies in one container. I couldn't put everything in this fishing tackle box, although I tried to put as much as possible in it! How many first aid kits do you have? Would you need a small, medium or large first aid kit? Maybe you have several first aid kits? Let me know about your experiences with essential oils and also what things you consider to be critical additions to your first aid kits.
Essential Oils small handbook: Essential Oils Pocket Reference
Food Storage Moms: 30 Pandemic Essentials.
Food Storage Moms: 20 Reasons To Store Bag Balm.
"Randomized study of the efficacy and safety of oral elderberry extract in the treatment of influenza A and B virus infections." PubMed.gov.
"Inhibitory activity of a standardized elderberry liquid extract against clinically-relevant human respiratory bacterial pathogens and influenza A and B viruses." PubMed.gov.
American Red Cross Website.