Uncommon First Aid Items We Should All Have
Today, it's all about many of the uncommon first aid items we should consider having around and adding to our first aid stash. Building a first aid kit is a great way to ensure that you'll have easy access to essential tools during a medical emergency.
It's always a good idea to have one of these kits at home and one in your car, especially if you travel often because you never know what could happen.
While most people are aware of the essential items to include in these kits, such as aspirin, gauze/bandages, and antiseptic ointment, there are a few unusual items that are worth adding to your first aid kit. If you're not sure what those uncommon items are, be sure to check out this detailed list! In case you missed this post, First Aid Kits-What You Need To Survive
In case you need a Printable First Aid Kit List
Uncommon First Aid Items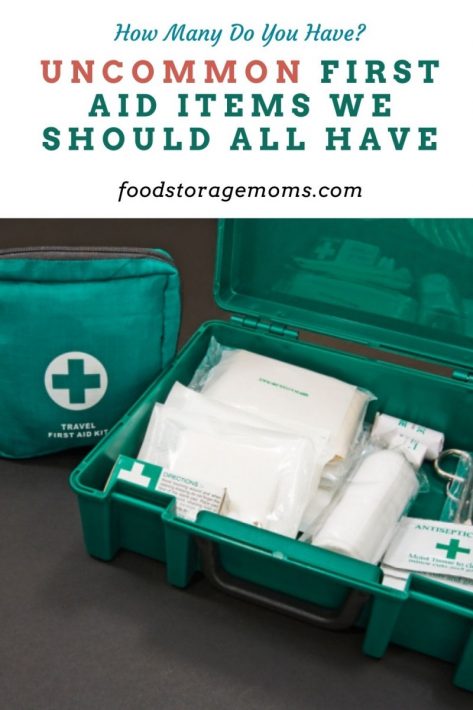 Super Glue or VetBond
If you have a small cut, it helps to have some super glue available. You're probably wondering why you'd need to have superglue in your kit. When you have a minor cut that continues bleeding, you can clean it off by wiping away the blood and dirt and then quickly apply super glue to the area.
It's a great way to stop the bleeding so that your injury can start to heal. You won't need too much super glue to make this happen.
Also, don't use superglue if you have a significant wound because it won't work. Be aware, applying it may cause the wound to sting for a short period. Super Glue or VetBond
Note that I've heard the following items are also good to have around to stop the bleeding:
Blood Stop – Advanced Clotting Spray
Sam Soft Splint
Matt reminded me about having a few bendable soft splints available for broken, arms, etc. Sam Soft Splints
Hand Sanitizer
Well, it might not seem as uncommon in today's world because of the very frequent use of this item right now, but hand sanitizer is an excellent item to add to your first-aid kit. While most people wouldn't think to put it in the kit, it's great to have access to it because it kills germs and bacteria on the spot.
Scissors
Always have a good pair of scissors in your first aid kit. You may want to consider scissors that are sharper than the safety scissors often found in kits. The safety scissors typically aren't as sharp as you might need when dealing with an emergency. Trauma/Medical Shears
There are a few good reasons to have scissors in your first aid kit. First, you may need to cut gauze and bandages to fit specific wounds.
Second, if you need to make a tourniquet for an emergency, there's a possibility that you'd need scissors to cut the fabric of a t-shirt or something else to make it. Get yourself a good pair of sharp scissors to put to good use!
To tie in with the scissors theme, I'd also suggest you consider buying a suture kit. Mark and I took a first aid class some years ago and they actually taught us how to sew up a wound. I think the instructor brought some pigskin for us to practice with. It was weird, but actually useful information we may need to put to use someday.
Duct Tape
A lot of people don't realize that duct tape can come in handy in an emergency. For example, if you don't have bandages and need to protect an open wound, you can apply gauze and keep it in place using duct tape. Duct/Duck Tape
While you can use it on yourself if you sustain an injury, duct tape can also come in handy for fixing issues with your vehicle and belongings when you're away from home.
It's always good to have because of its durability and many uses. If you plan to add it to your first aid kit, make sure that you're getting a good brand so that it's as reliable as possible when you need it.
Some other items that can be useful in a pinch are dental floss, razor blades, braided fish line, and goggles. Be sure to check them out and how they could really make a difference during an emergency.
Solar Phone Charger
A solar phone charger is a must-have, especially if you like to travel in your vehicle to visit new places. If you don't have an electrical source for charging your phone, it can die, and then you can't stay connected with your loved ones. Solar Phone Charger
Bring a solar phone charger with you in your first aid kit if you want to make sure if your phone does die you can charge it up. And, if possible, you might even want to get a battery-operated one.
Of course, you can always bring spare batteries to have just in case the battery-operated charger ends up dying out on you when you need it the most.
Strong Antiseptic
It may not be one of the things you'd expect to see in a first aid kit, but it's beneficial for several reasons. First, the antiseptic works as a disinfectant and an anesthetic, making it a great item to include in your first aid kit. You can use it to clean open wounds to avoid infection by killing germs.
It works on poison ivy, bug bites, and other skin irritations, too. Best of all, it doesn't matter what kind you use. You don't need to go out and buy an expensive brand to add to your first aid kit.
Instead, grab an affordable bottle and place it in the kit with the rest of your equipment to use when you need it. Isopropyl Alcohol and Hydrogen Peroxide
Safety Pins
Be sure to include a few safety pins in your first aid kit. These pins can help you keep bandages in place when wrapping an arm, leg, or other parts of the body. In addition, the pins can keep wraps and bandages secure and in place until you seek professional medical treatment at a hospital or urgent care facility.
Old T-Shirt
Don't forget to pack an old t-shirt in your first aid kit. You don't know when you might need some material, whether you need to make a tourniquet or stop the bleeding of a wound by pressing down on it. Use a thick and durable t-shirt that you no longer wear. It doesn't hurt to have this garment added to your first aid kit because unexpected emergencies can occur at the most inconvenient times.
Uncommon First Aid Items We Should All Have
Some other items I suggest could come in handy are listed below. Take a few minutes to check them out and see if you think they are worthy of inclusion in your first aid supply kit or cabinet:
Tampons – Sanitary Napkins
Chewable Ginger
Natural Antibiotics – like honey
Hard Candies
Final Word
Make sure you're fully prepared for potential emergencies by packing unusual items into your first aid kit with the rest of your supplies. While things like a strong antiseptic, an old t-shirt, safety pins, and scissors might not sound like the essential items you could put to good use in an emergency, they're more convenient and effective than you might think.
So if you're the type of person who'd rather be safe than sorry, grab these items while they're on sale and add them to your homemade first aid kit. I hope you enjoyed my post on the uncommon first aid items we should all have. If you have other items you think I should have included, please let me know so my readers can benefit from your experience. May God Bless this world, Linda
Copyright Images: Green First Aid Kit Depositphotos_12355423_s-2019