The Best Emergency Food For Survival
Today it's all about the best emergency food for survival. Everyone has different budgets, I get it. I have talked about this before, not all food storage fits everyone's needs or wants. I want to make it easy for you to get started storing food, or adding to what you have right now. Please keep in mind, the government will not deliver food to your doorstep after a disaster for days, weeks, and possibly months.
If your community had an unforeseen emergency are you prepared to hydrate and feed your family? Please remember, you need a minimum of one gallon of water per person per day. I recommend four gallons of water per person per day. Let's get started with the best emergency food. Oh, and make sure you have a good can opener.
The Best Emergency Food For Survival
I remember teaching one of my emergency preparedness classes and one lady said, "I don't need a can opener." Here's the deal, we all need a can opener, please put one in your 72-hour kit and one in your kitchen. I realize some of the new cans at the grocery store have the pull tabs, but some do not.
We may be evacuated to a school or church, but trust me, we will all need a can opener unless you only pack Slim Jims, crackers, and juice boxes in your 72-hour kits. Enough said.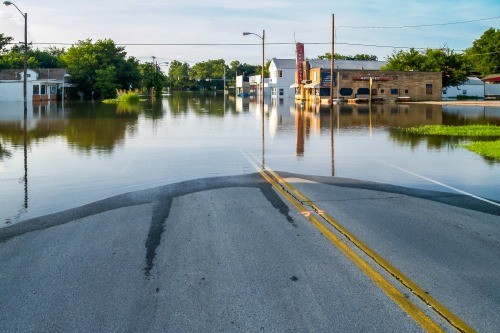 If we lose power we need a way to cook our food, a butane stove is perfect in most situations. The box on my butane stove states that it needs to be used outdoors, but I used one in almost every indoor class I taught. If you need to boil water, the butane stove is an excellent choice. Butane Stove and Extra Butane Fuel
The Best Emergency Food
Food In The Grocery Aisle
This is a really fun trip for the family when you head to your local grocery store and everyone gets to choose the food they will eat for their three days (minimum) food allotment. Please note seven days is better. Thirty days is the very best!
Now, keep in mind it may all be processed food. That's okay, it will last a bit longer in your pantry. If you never need it you can donate the food to your local food bank at the end of the year before it expires. It's a win-win for all.
Flour
Honey
Sugar
Coconut oil
Olive oil
Baking powder
Baking soda
Vanilla
Cereal, hot and cold
Canned beans
Dry beans
Canned vegetables
Canned fruit
Pancake mix
Syrup
Muffin Mixes
Chili
Rice
Salsa
Pasta
Spaghetti sauce
Snack Ramen
Canned tomatoes
Spices
Canned meats
Mayo
Crackers
Chocolate
Instant milk
Pros:
Watch for sales and buy case lots when available, they make it a lot more inexpensive. Remember, one can at a time, or a case if they are cheap enough. The average family can't afford to buy a case of freeze-dried food every month, so these cans are a lot more affordable. You can eat from the can if you have a can opener.
Cons:
Typically canned food has a one to five-year shelf life. I always look at the bottom or sides of the cans to see the expiration date before I place them in my grocery basket. If the date is less than six months I will not purchase it because I may not use it within that time period.
Dehydrated Food
Dehydrated food is just food like fruit, vegetables, and meats with the moisture removed.
You can make so many meals if you have just these three dehydrated foods to add to the "canned food" section in your pantry or storage room. You can make soups, chili, and stews. Please note, all dehydrated food needs more water and must be cooked.
Potatoes
Onions
Celery
Pros:
Dehydrated food is cheaper than freeze-dried foods. The shelf-life is usually 5-10 years.
Cons:
You need more water to hydrate dehydrated food and you must cook the product as well.
Freeze-Dried Food
You may remember that you can eat freeze-dried food right from the can. It takes less water to hydrate and less fuel to cook it.
Freeze-dried cheese
Fruits like apples, cherries, grapes, pineapple, and strawberries are great to munch on.
Vegetables like corn, green beans, and peas are awesome! Yes, they taste great right from the can.
Meats are awesome to add to any soup, stew, or chili. Some are even good with a little mayo on crackers.
Pros:
You can buy fruits, vegetables, meats, and cheeses that are freeze-dried. They have a longer shelf-life compared to dehydrated food. Typically 15-25 years. You can eat them right out of the can.
Cons:
They are more expensive.
Buckets of Food
You may have seen these buckets online, at Costco, and Sam's Club. They post how many calories, typically. You may want to look a little closer at these because the serving size is not for an adult, it seems more like a child portion to me. Just giving you the heads up here.
These work great for your 72-hour kit or stashed in your pantry for emergency meals. I like the quality of Valley Food Storage.
Pro:
You can buy a bucket with a variety of foods. The price is reasonable.
Cons:
You can't choose the foods you want. Each package may have a different expiration date. Small food portions.
Prepackaged Meals

When I mention prepackaged meals I think of Mountain House. I have tried a few and they really do taste pretty good. You just add water, simple and easy. Mountain House Meals
Pros:
The bucket comes with a variety of foods. Typically very reasonable for what you get.
Cons:
You can't choose the foods you may want. The portions may not be what you think you need for your family.
Pallets of Food
I know a few people who had a pallet or two of food storage delivered to their homes. I won't mention this company because I think they are too expensive. This choice may work for you if you would like a company to deliver the goods all at once.
Pros:
It comes on a pallet with a variety of foods.
Cons:
Very expensive and the food has ingredients I can't pronounce.
Please let me know the food storage you have purchased and why you like it. It's all about the best emergency food today! Thanks again for being prepared for the unexpected.
Copyright Pictures:
Food: AdobeStock_109404711 by Anjelagr
Flooding: AdobeStock_124814557 by Jsnewtonian
Linda's Book: "Prepare Your Family For Survival"