50 Pumpkin Recipes For Any Occasion
When pumpkin season rolls around you want to be prepared to take advantage of cooking and baking with this large orange fruit. Did you know that pumpkins are actually classified as a fruit? It's true!
High in fiber, pumpkins are also excellent sources of vitamins A and C. Pumpkins are a versatile fruit to cook with, and you'll find them in sweet as well as savory dishes. I've gathered 50 diverse pumpkin recipes that will provide you with any pumpkin recipe that you could need for any occasion.
You'll find pumpkin pies, pumpkin desserts that aren't pies, pumpkin drinks, pumpkin Keto recipes, pumpkin gluten-free recipes, savory pumpkin recipes, and pumpkin soup, stew, and chili recipes.
Go beyond your tried and true pumpkin recipes and get ready to make some scrumptious dishes this season from this collection of awesome pumpkin recipes.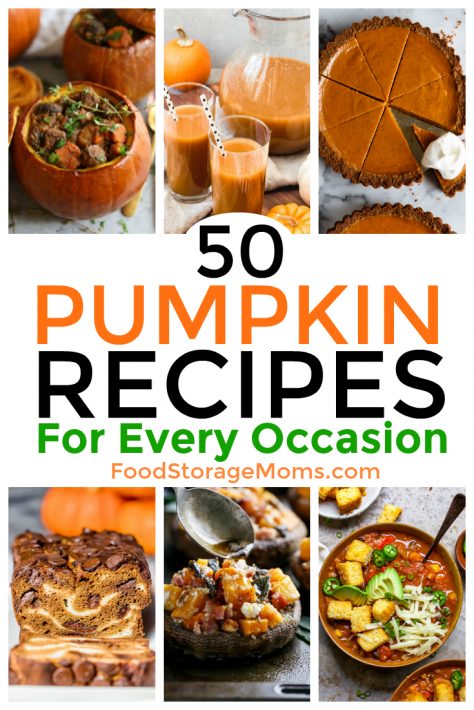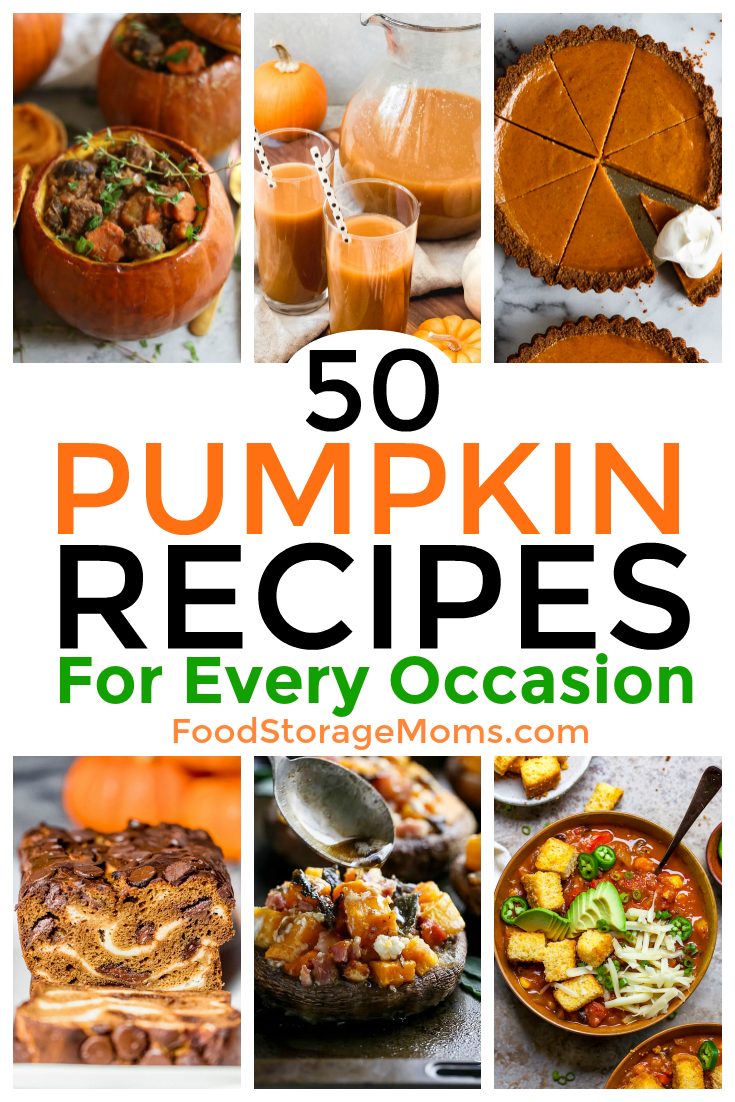 PUMPKIN PIES
Praline Pumpkin Pie by Carlsbad Cravings
Give your pumpkin pie that little something extra with the addition of a crunchy praline top layer full of pecans, brown sugar, and vanilla. This pumpkin pie filling is a little thicker to hold all that chewy topping, but it's still smooth and delicious. Perfect for Thanksgiving and beyond!
Nutella Swirled Pumpkin Pie by Sally's Baking Addiction
Nutella lovers, this pumpkin pie is for you! Grab your jar of hazelnut spread and get ready to make this drool-worthy dessert. Time-saving tip: you can make this pie ahead of time and freeze it for up to 2 months. Who are we kidding? You won't be able to wait that long knowing it's in the freezer. Enjoy!
Pumpkin Caramel Ice Cream Pie by Beyond Frosting
If you're looking for something different than the traditional pumpkin pie this holiday season, consider this awesome pumpkin caramel ice cream pie. Give your oven a rest since this pie requires no baking. The graham cracker crust gets filled with a delightful mixture of cream cheese, heavy cream, pumpkin puree, and spices. Freeze and drizzle with caramel sauce before serving.
Gingerbread Eggnog Pumpkin Pie by Thumb In Plum
All the flavors of the season meld beautifully in this holiday pie. From the gingerbread crust to the eggnog-infused pumpkin filling, this is a showstopper pie for a flavor explosion. Use the leftover gingerbread dough for a pie topping, or make some gingerbread man cookies with it!
Best Pecan Pumpkin Pie by Little Spice Jar
This pie makes a glorious presentation with its toasted pecans arranged beautifully on top. The creamy filling is what pumpkin pie lovers dream of. Take the extra time to make the 4- ingredient homemade crust with this one!
Amaretti Pumpkin Pie by Love And Olive Oil
Change the flavor profile of your pumpkin pie with the addition of almonds. An Amaretti crust and a hint of almond in the filling makes this a dreamy and tasty surprise. Send it over the top with an Amaretti-flavored dollop of whipped cream on each slice.
Gingersnap Pumpkin Pie by Fork Knife Swoon
This pie combines two delectable desserts of the season: gingersnap cookies and pumpkin pie. This pie filling is more custard-like, giving it a rich and creamy texture. For fun, use a fluted tart pan for the pretty edges. Beautiful!
PUMPKIN DESSERTS THAT AREN'T PIE
Pumpkin Cheesecake Snickerdoodle Cookies by Homemade Hooplah
If you're a cheesecake lover, you'll love these cookies! It's like eating pumpkin cheesecake but in cookie form! These pumpkin cheesecake snickerdoodles only look complicated; they're actually fun and easy to put together. Decadent and full of yumminess!
Easy Pumpkin Creme Brûlée by Cultured Table
Impress your friends and family with this fancy dessert! The custard gets the addition of pumpkin puree and warming spices, and of course, a top coating of sugar that will become the brûlée crust. If you have a kitchen torch to help create the crust, great, otherwise your broiler will do the trick!
Pumpkin Chocolate Chip Bread With Cream Cheese Swirls by Drive Me Hungry
Chocolate chips plus cream cheese swirled throughout a loaf of pumpkin bread? Yes, please! This has a full-on pumpkin flavor that uses a whole can of puree, so you're guaranteed all the pumpkin goodness that you can stand! This is a must-make for the season.
Vegan Pumpkin Ice Cream by Clean Eating Kitchen
This easy dairy-free pumpkin ice cream uses coconut milk for its base. You'll need to use your ice cream churn for this one, but it's worth it to have this awesome and healthy ice cream ready to offer your family and guests this season.
Pumpkin Crumb Coffee Cake by Averie Cooks
No mixer required for this batter, just stir and bake. Oil instead of butter keeps this pumpkin coffee cake soft and delicious, while the crumb and nut topping gives it a crunchy texture with each bite. Perfect with a cup of coffee, as a snack, or a seasonal dessert.
Pumpkin Roll by Lil Luna
Your family and guests will love this beautiful pumpkin roll cake with a swirl of sweet cream cheese in every slice. Cinnamon, nutmeg, and ginger flavor this pumpkin cake roll that's easy to assemble. Make this classic this season and enjoy the compliments!
Maple Streusel Pumpkin Cake by Lemon Tree Dwelling
This showstopper maple streusel pumpkin cake is the perfect centerpiece dessert for Thanksgiving. The maple and cinnamon buttercream frosting is topped with a cinnamon and brown sugar streusel. Cut into this masterpiece to reveal a luscious pumpkin layer cake. Decadent!
PUMPKIN DRINKS
Healthy Pumpkin Pie Smoothie by Fox And Briar
If you're obsessed with smoothies (or even pumpkin!) keep this recipe on file for a healthy pumpkin beverage this season. Best tip: keep your pumpkin frozen to make this smoothie cold like a milkshake. So good!
Hot Pumpkin Pie Drink by Ashlee Marie
Here's the best way to create a warm pumpkin drink that you'll love to sip all fall and winter long. Cozy up next to your fireplace with a mug of this spicy and warming beverage and reflect on all that you're thankful for. Sweet!
Pumpkin Juice by House Of Nash Eats
Harry Potter fans will love drinking this copycat pumpkin juice recipe! No wand required to make this delicious beverage of pumpkin, apple cider, spices, and a few secret ingredients.
Slow Cooker Drinkable Pumpkin Pie by Basil And Bubbly
Crank up your crockpot and make this drinkable pumpkin pie beverage for your next party! This awesome recipe needs just 4 ingredients and 3 hours to work its magic. Perfect for Halloween or Thanksgiving!
Salted Caramel Pumpkin Latte by Midget Momma
Skip the drive-thru and make your favorite pumpkin spice latte right at home with this easy recipe! Add yummy salted caramel for the big finish, and enjoy this healthier version that you can make any time you want.
Sparkling Pumpkin Spice Punch by No Biggie
This fun pumpkin punch recipe is perfect for a Halloween or Thanksgiving party. Orange juice concentrate and pumpkin puree get a punch of soda pop for some sparkle. Add some pebble ice to keep it festive. Your guests will love this!
PUMPKIN KETO RECIPES
Low Carb Curried Pumpkin Soup by Jennifer Banz
Full of savory goodness, this hearty and warming curried Keto pumpkin soup comes together quickly on your stovetop. For a smoother soup, use an immersion blender before ladling into bowls. Add a dollop of creme fraiche or sour cream on top before serving. Out-of-this-world good!
Low Carb Savory Pumpkin Casserole by Low Carb Yum
This cheesy pumpkin casserole gets a savory herbal topping which makes it a great Keto side dish for the holidays. You can meal plan and make this ahead and freeze for later.
Keto Pumpkin Blender Pancakes by Healthy Ambitions
Make easy work of pancakes by blending up the Keto ingredients of eggs, pumpkin, almond flour, butter, almond milk, and spices before pouring on the griddle. Delicious, healthy, and perfect for a fall breakfast!
Keto Low Carb Pumpkin Pie by Wholesome Yum
A delicious almond flour crust holds this Keto pumpkin pie filling made from just 5 ingredients. There's no refined sugar in here, so even if you're not on a Keto diet, make this recipe and enjoy a slice of pumpkin pie this season!
Keto Pumpkin Pie Fudge Cups by The Big Man's World
Chocolate and pumpkin go Keto in these adorable and tasty little fudge cups. They're also paleo, vegan, and sugar-free, so make a batch of these to keep on hand during pumpkin season.
Fluffy Low Carb and Keto Pumpkin Mousse by Low Carb Spark
This glorious mousse is creamy and decadent and tastes just like pumpkin pie filling. Make this if you're looking for a no-bake pumpkin dessert to serve. Make-ahead so you have time to chill it before serving.
Pumpkin Spice Keto Truffles by How 2 Do Keto
Make these creamy pumpkin Keto fat bomb truffles to have on hand as a yummy snack when you need a pumpkin fix. Full of cream cheese, pumpkin, cocoa butter, and spices, they also make a great appetizer for your holiday parties.
Keto Pumpkin Cheesecake by Sweet And Savory Meals
Keep your holidays Keto with this pumpkin cheesecake that even non-keto folks will rave about! Full of creamy cheesy goodness, this cake is highly spiced with all the fall flavors you've come to expect in a pumpkin pie. Make ahead and freeze, or keep refrigerated until ready to serve.
GLUTEN-FREE PUMPKIN RECIPES
Chipotle Pumpkin Veggie Burgers by Peas And Crayons
Add pumpkin to burgers? Yes! These gluten-free vegan burgers add pumpkin puree to a cannellini bean and oat mixture full of savory spices. Throw in a little chipotle pepper for a kick and fry these burgers in a pan. So delicious and healthy!
Gluten-Free Vegan Pumpkin Pasta by Avocado Pesto
Using gluten-free linguini, make this vegan pumpkin pasta dish with coconut milk for a creamy and deliciously flavored sauce. Have this on the table in about 20 minutes!
Pumpkin Cinnamon Rolls by Petite Allergy Treats
If you love gooey cinnamon rolls, take the time to make this easy gluten-free dough. The pumpkin puree gets mixed in with the dough! There's no long waiting time before you roll this out and assemble it. A sweet way to use pumpkin this season!
Gluten-Free Pumpkin Layered Dessert by Overstuffed Life
Gluten-free flour helps bring this luscious multi-layered pumpkin dessert into a healthier realm. After the crust is baked, the rest of the ingredients are layered and then chilled to a sweet pumpkin perfection.
Baked Pumpkin Donuts Gluten-Free by Allergylicious
Pumpkin puree and fall spices get added to this easy gluten-free batter for a quick turn on the griddle. Serve this stack of delicious pumpkin pancakes with butter and maple syrup for the full autumn season breakfast experience.
Gluten-Free Pumpkin Pancakes by Brea Getting Fit
No need to deep fry these round treats! Using gluten-free flour, this pumpkin donut mixture gets piped into a donut pan and baked to perfection. When cooled, frost them with a delicate maple cinnamon glaze. Oh, my!
Gluten-Free Maple Pumpkin Cobbler by GF Jules
This pumpkin and maple cobbler uses gluten-free flour to make this pudding-like dessert. It's a fusion of cake, bread pudding, and a crisp touch that's full of pumpkin filling and a crunchy maple pecan topping. Yummy!
SAVORY PUMPKIN RECIPES
Pumpkin Spice Cupcakes With Marshmallow Frosting by Peace Love And Low Carb
Make these impressive gluten-free "marshmallow" frosting pumpkin spice cupcakes this season. Using almond and coconut flour, these cupcakes are low in carbs and full of pumpkin flavor. Whipped egg whites help make the sugar-free marshmallow-like topping. It's a gluten-free delight!
White Bean Pumpkin Hummus by Minimalist Baker
This spicy hummus uses canned white beans, pumpkin puree, tahini, and spices like cumin, paprika, and cinnamon to give it an autumn kick of flavor. Makes a perfect appetizer for your holiday entertaining.
Pumpkin And Kale Lasagna by Foxes Love Lemons
Lasagna gets a makeover for fall and winter with the inclusion of pumpkin and kale. This outrageously delicious meatless recipe uses pumpkin puree and sautéed kale and garlic in its layers. Of course, mozzarella is in there to keep it cheesy. Your family will love this!
Pumpkin And Potato Gratin by The Typical Mom
Ready for a new holiday side dish? Make your scalloped potatoes with the addition of pumpkin puree. The dish is savory and cheesy and full of fall flavor from the pumpkin. Bake until cheese is bubbly on top. Your friends and family will love this surprise flavor!
Pumpkin And Bacon Stuffed Portobellos by Cafe Delites
If you love portobello mushrooms, try this awesome stuffed appetizer recipe. A clove of garlic and bacon-infused mixture includes some roasted pumpkin. All that flavorful goodness gets stuffed into the mushrooms and then drizzled with a brown butter and sage sauce. Oh, my!
Vegetarian Pumpkin Enchiladas by A Mind Full Mom
Stuff your enchiladas with this enticing mixture of refried beans, pumpkin puree, diced tomatoes, and cheese. It's so easy to pull this vegan pumpkin enchilada recipe together on a busy weeknight. Bonus: it's kid-approved!
Roast Pumpkin Spinach Feta Salad by Recipe Tin Eats
Nothing says fall like roasted pumpkin! Roasted pumpkin joins pine nuts and feta cheese in this spinach salad that's drizzled with a zesty Balsamic and honey dressing.
Pumpkin Cream Cheese Skillet Cornbread by Melanie Makes
Want to take your cornbread over the top? Add cream cheese, cheddar cheese and pumpkin puree to it. You must try this! Make it and pair it with chili or stew. Or just slice a piece, add a bit of melted butter to it, and dig in. So good!
PUMPKIN SOUP, STEW, AND CHILI RECIPES
Pumpkin Lentil Soup by Salt And Lavender
Make this protein-packed soup with red lentils and pumpkin puree. Leeks, garlic, seasonings and vegetable broth combine on your stovetop to create this fragrant and hearty meal. Use an immersion blender to create a creamier texture.
Smoky Pumpkin Bisque by How Sweet Eats
Bacon is the key to this smoky pumpkin soup. Fried bacon joins up with onions, garlic, paprika, pumpkin puree and more spices, Vegetable stock, and heavy cream complete this delicious soup, making it thick, creamy and a hearty meal for a chilly day.
Slow Cooker Pumpkin Beef Stew by Spices In My DNA
This ultra-savory pumpkin beef stew gets its flavor from the low and slow heat of your crockpot, plus the flavors from potatoes, carrots, and mushrooms. Add a little pumpkin puree in the saucy mixture to make it a one-of-a-kind autumn stew that your family will love.
Instant Pot Turkey Pumpkin Chili by Savory Nothings
Ground turkey adds protein to this hearty chili recipe. Add a can of pumpkin puree for additional flavor. Use your Instant Pot to cook this to perfection. It does take about an hour, but you'll be able to use that time for something else. Kid-approved, so make this with confidence that they will gobble this right up!
Carrot Pumpkin Apple Soup by Nibble And Dine
This delicious pumpkin soup gets a touch of sweetness from carrots and apples. Onion, ginger, and garlic give it a savory touch. You can meal plan and make this soup ahead of time. It will keep up to 3 days in the fridge.
Harvest Corn And Pumpkin Chowder by Table For Two Blog
This autumn chowder boasts a spectacular array of fall vegetables. Corn potatoes, pumpkin, carrots and celery become a hearty chowder in a base of chicken stock, while whole milk gives it its creaminess. Leftovers are a bonus: stash in the fridge and reheat it the next day for a quick meal!
Vegetarian Pumpkin Chili by Two Peas And Their Pod
Black beans, pinto beans, fire-roasted tomatoes, vegetable broth, and pumpkin puree get spiced with warm chili seasoning and simmered until tender. Serve with homemade or store-bought croutons or cornbread. A perfectly cozy meal for fall and winter!
Final Word
Oh my gosh, I hope you try one or all of these 50 pumpkin recipes for any occasion very soon! Or at least over the holidays! I can hardly wait to try each and every one of them. Thanks for being prepared for the unexpected. May God bless this world, Linda