How to Use a Tarp for Shelter

When it comes to outdoor adventures, having the right gear can make all the difference. One essential item that should always be in your pack is a tarp. Not only can a tarp be used for shelter, but it can also serve as a ground cover, rain fly, and even a makeshift poncho. In this guide, we'll explore how to use a tarp for shelter.
What is a tarp?
A tarp, short for tarpaulin, is a large sheet of waterproof material that is commonly used as a protective covering for objects or as a temporary shelter from the elements. Most tarps are often made from polyethylene or nylon fabric material and come in various sizes and colors to fit different needs.
Matt suggested a camo one, so I'm adding this link, Camo Heavy-Duty 10 Mil Tarp
Choosing the Right Tarp
Before you start setting up your tarp shelter, it's important to choose the right kind of tarp. There are many different types of tarps available on the market today, each with its own unique features and benefits.
The most common types of tarps are made from either polyethylene or nylon material. Polyethylene tarps are typically more affordable and durable, while nylon tarps tend to be more lightweight and compact.
When selecting a tarp, consider factors such as size, weight, durability, and weather resistance. A good rule of thumb is to choose a rectangular tarp with dimensions of at least 8×10 feet in size for optimal shelter coverage. Taking the time to find the best tarp setup for your needs is the best way to make the most of your time and money. The tarp you choose should provide maximum protection and utility for the outdoor activities you most often pursue.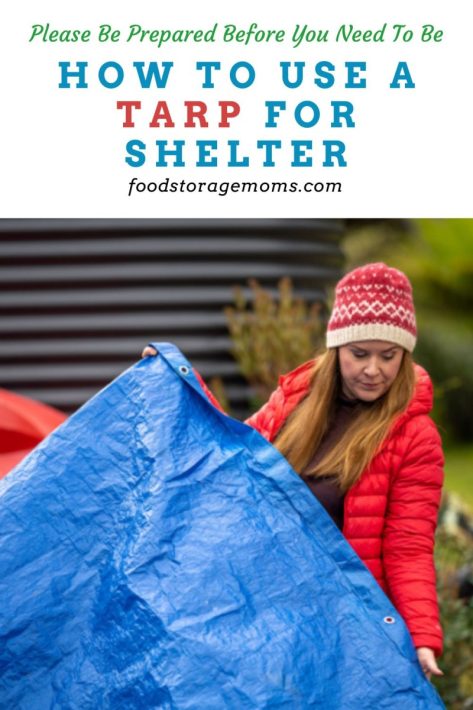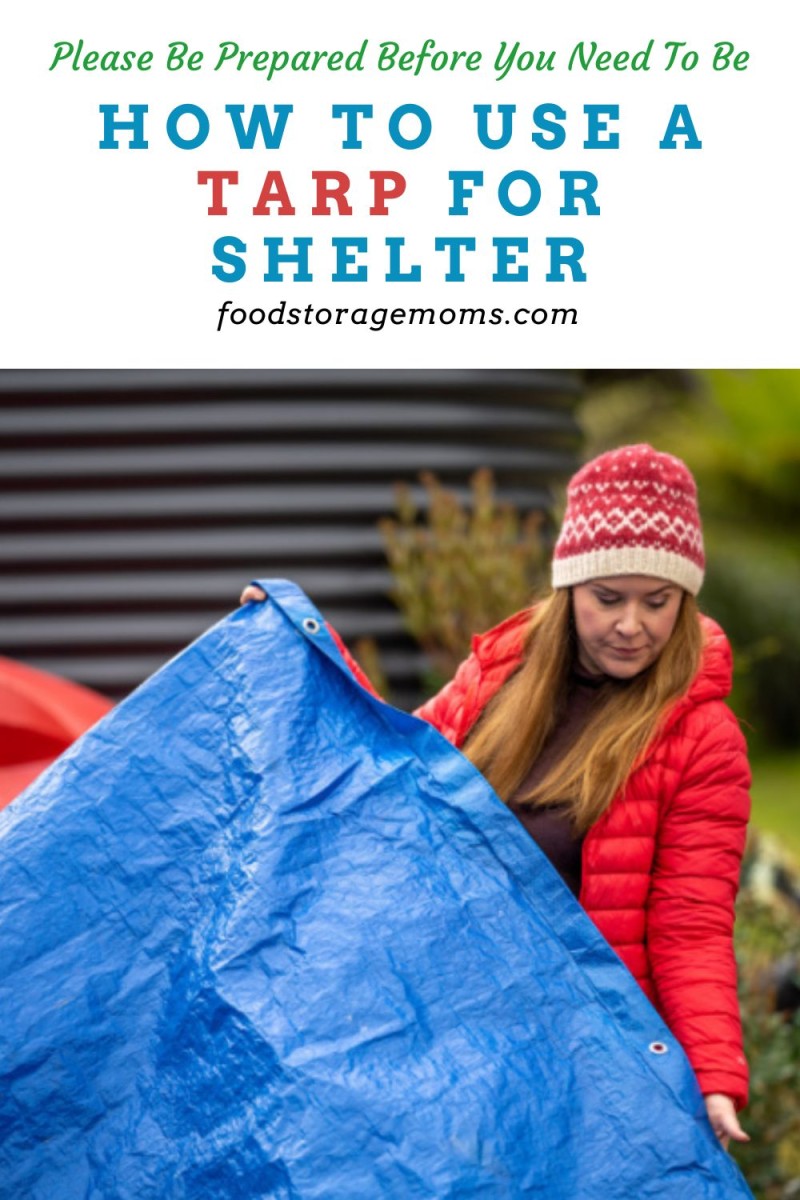 Setting Up Your Tarp Shelter
Once you've selected your tarp, it's time to set up your shelter. Here are the steps for a very common configuration:
Choose an area with level ground and clear any rocks or debris.
Tie one end of your rope to a sturdy tree or post that's at a height to provide adequate headroom or the sleeping area you want.
Stretch the rope, cord, or paracord out to where you want the other end of your shelter to be and tie it off securely.
Drape your tarp over the rope so that half of it hangs down on either side. If you want a lean-to tarp shelter then one side will be much longer.
Secure each corner of the tarp using stakes, pegs, or rocks as anchors. Most tarps should have metal loops or grommets built in to accommodate the anchors. Having a guyline to hold the shelter in place is important. Guylines can be attached to the corners, sides, and even the top so the shelter maintains shape and is sturdy.
Adjust any slack in the tarp by pulling on one side or another until it's tight.
Congratulations! You now have a basic shelter using just a simple tarp.
Additional Tips & Tricks
While setting up a basic tarp shelter is relatively easy, there are some additional tips and tricks that can help make your experience more comfortable and enjoyable.
If you're expecting heavy rain or wind, consider adding additional support using trekking poles along the sides of your shelter to provide the tension needed for rain and wind protection.
To prevent water from pooling on top of your shelter during rainstorms, create a steeper-degree angle or pitch in the tarp by tying one end of your rope higher than the other.
For added insulation during colder months, layer blankets or sleeping bags between yourself and the bottom layer of your tarp shelter. Although our discussion is based on a shelter with a tarp, remember tarps can be used as ground cover or groundsheet for campers.
Always bring extra stakes and ropes in case you need them for unexpected weather conditions. You'll want to bring along a hammer to make sure the anchors can be properly set.
Pros and Cons of Using a Tarp
Using a tarp for shelter has its advantages and disadvantages. Here are some pros and cons to consider:
Pros
Lightweight: Tarps are generally ultralight, or at least lightweight, making them easy to carry in your backpack when tarp backpacking with other hikers.
Versatile: Tarps can be used in a variety of tarp shelter configurations such as ground cover, rain fly, shelter, or even as a makeshift poncho.
Affordable: Tarps are typically more affordable than other types of outdoor shelters such as tents or hammocks.
Customizable: With different sizes and colors available, tarps can be customized to fit your specific needs.
Cons
Limited Protection: While tarps can provide some protection from the elements, they may not offer as much protection as other types of outdoor shelters such as tents or hammocks. You want sufficient ventilation when out camping, but maybe more protection from the elements such as rain and wind protection.
Noisy: During windy conditions, tarps can make noise as they flap which may disrupt your sleep or relaxation.
Requires Setup Skills: Setting up a tarp shelter properly requires some practice and skill. If you're not familiar with how to set one up correctly, it might take some time to get it right. You'll also need to have some understanding of various knots like a trucker's hitch and bowline knot.
Not Ideal for Long-Term Use: Tarps are designed for temporary use and may not hold up well over long periods of time.
Corners: You really need to know and understand tarp corners. The corners of the tarp, the side of the tarp, and the opposite corners are going to be how you put the tarp shelter together!
Getting a flat roof that's tall enough for you to walk in isn't always easy. It's vital to know the different ways to create a shelter with a tarp.
Overall, using a tarp for shelter is an excellent option if you're looking for an affordable and versatile approach that's easy to transport. However, it's important to keep in mind that tarps have their limitations when it comes to providing protection from the elements.
In what situation would you need to use a tarp for shelter?
In case of an emergency, tarp camping is really easy!
There are plenty of tarp shelter ideas out there to check out in case of an emergency!
Using a tarp is one of the easiest ways to stay off the wet ground and out of strong winds.
If you don't want to spend a lot of money on camping, a tarp can act as a simple shelter.
In case inclement weather is here, you can quickly put together a reasonably good shelter with a tarp!
What is a diamond fly or diamond tarp?
A diamond tarp is a square-shaped tarp that is designed to be hung in a diagonal configuration from the ridgeline rope or cord and tied down on both sides. You're limited with the amount of pitch you can have and this approach doesn't provide as much coverage as most people want.
Some campers like a c-fly tarp shelter when they know the bad weather is coming from a particular direction. One side of the tarp is hung from a tree or some posts and the other is attached to the ground below. The tarp's shape then forms a "c" with the material. Check it out online!
Extra Items or Skills You May Need to Use a Tarp as a Shelter
You can use a tarp as a shelter but still use a sleeping bag to sleep on.
Tent poles can also be used to put together the frame shelter on the tarp.
A tarp is the type of shelter where you can use basic knots on the sides of your tarp and it will stay!
More Tips
Final Word
Using a tarp for shelter is an essential skill for any outdoor enthusiast. With proper planning and setup techniques, you can create a comfortable and reliable shelter that will keep you protected from harsh weather conditions no matter where you go.
Remember to always choose high-quality materials when selecting your tarp, take time to properly secure each corner of your shelter using stakes or rocks, and consider additional support poles if needed. By following these tips and tricks outlined in this post, you'll be able to enjoy all that nature has to offer without sacrificing comfort or safety! May God Bless this world, Linda
Copyright Images: Blue Tarp AdobeStock_554107853 by William