Today it's all about making my favorite Bacon Ranch Dip. Oh my gosh, I can hardly wait to share it with you. It's that time of year when we are all going to holiday parties, or family get-togethers and this recipe can be made with almost everything you have in your pantry or refrigerator.
I love when I don't have to go to the store to make a treat to take somewhere in the neighborhood, or for a civic club party. All of these ingredients are part of my food storage stash. The less I have to go to the store, the more money I save. Therefore, recipes like this bacon ranch dip are a keeper for me. Oh, and I always stock Ritz crackers. I will share my own homemade Ranch copycat recipe below if you need it.
Bacon Ranch Dip Ingredients
1. Cream cheese
2. Sour cream
3. Mozzarella or cheddar cheese
4. Green onions
5. Bacon
6. Ranch dressing powder
7. Crackers, pretzels,  or vegetables for dipping
Most of us will have all of these ingredients in the pantry, garden or refrigerator. This is why I love this recipe because I can make it in less than 15 minutes and head to any party. I am a visual person, so I took this picture before I mixed it all together and placed a few more bacon bits and chopped green onion on top for the garnish.
This bacon ranch dip is creamy and has just enough crunch from the bacon to make it extra yummy! Some folks think things need to be fancy or take a long time to prepare to be worthy of taking to a special event. Not me, the simple ones are my favorites.
We love to sit around the pool during the summer, or the TV on cool nights and snack on chips and dips like this one. Having family and friends around seem to make things taste all the better.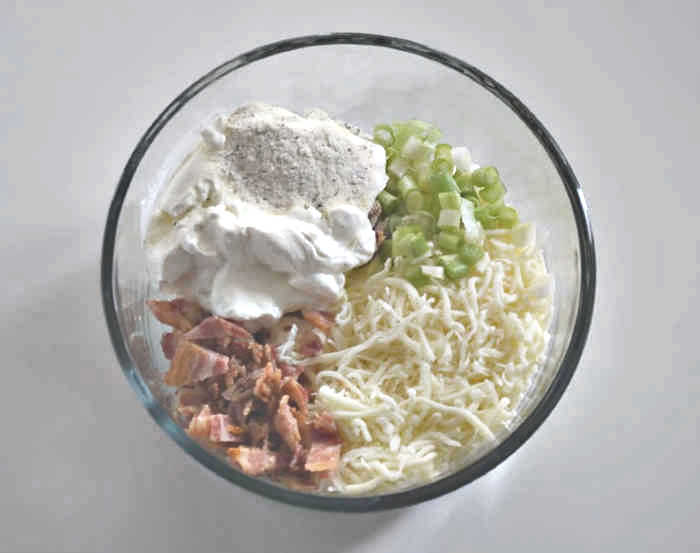 I stock Ritz crackers in case of emergency, or just for soup. I picture serving chicken or tuna salad on them to neighbors after a disaster. It will seem like we are going up and down the aisles at Costco for samples. I won't have enough bread to make sandwiches for all of them unless the disaster happens just after my bread making day.
Bacon Ranch Dip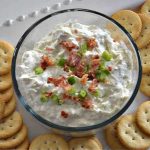 Bacon Ranch Dip by Food Storage Moms
Ingredients
Ingredients

1 8-

ounce

cream cheese, softened

1-1/2

cups

sour cream

1 1-

ounce

packet ranch salad dressing dry seasoning

1

cup

shredded Mozzarella or Cheddar cheese

6

slices

of cooked bacon, crumbled

1/4

cup

green onions, chopped
Instructions
Instructions

Grab a bowl and let the cream cheese soften in it. When softened add the sour cream and beat with a mixer until smooth. Then sprinkle the ranch seasoning, bacon bits, cheese, and onions over the cream cheese and sour cream. Mix until thoroughly combined. Serve with fresh vegetables or crackers of choice. Garnish with chopped bacon and finely chopped green onions.
Homemade Buttermilk Dressing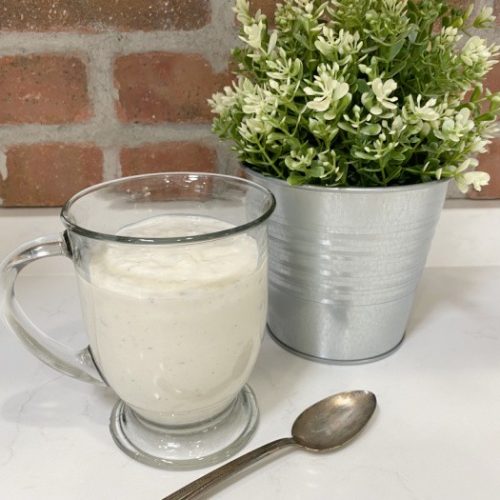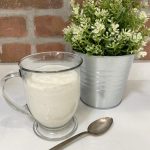 Linda's Homemade Ranch Dressing
Ingredients
1

cup

buttermilk

1

cup

mayonnaise

2-3

tablespoons

garlic powder or salt

2

tablespoons

Italian Seasoning

2

teaspoon

salt

1

teaspoon

pepper
Instructions
Mix together and store in a container. I like to use pint canning jars. This recipe is so easy to make and tastes better than any bottled ranch dressing you can buy. It is so good on a salad, coleslaw and as a dip! Please keep refrigerated.
Final Word
If we stock our pantries and freezer we can make almost every recipe from scratch. Thanks again for being prepared for the unexpected. May God bless this world. Stay safe, and stay well. Linda
My Favorite Things