20 No-Churn Ice Cream Recipes
Today I have 20 no-churn ice cream recipes for you! Forget the hassle of dealing with an ice cream machine and opt for smooth and creamy no-churn ice cream instead! Most of these no-churn ice cream recipes can be made in about 10 minutes, the hard part is waiting for the finished result to freeze! The standard no-churn recipe uses sweetened condensed milk and heavy whipping cream to achieve the creamy consistency of ice cream.
Here, you'll find 20 recipes that go from plain vanilla to swoon-worthy flavors such as fudgy brownie batter, blueberry crumble, dulce de leche, and maple pecan. You'll also find a range of fruity ice cream, too! Which deliciously refreshing no-churn ice cream flavor will you make first? In case you missed this post, Strawberries: Everything You Need to Know
Kitchen Tools You Need:
20 No-Churn Ice Cream Recipes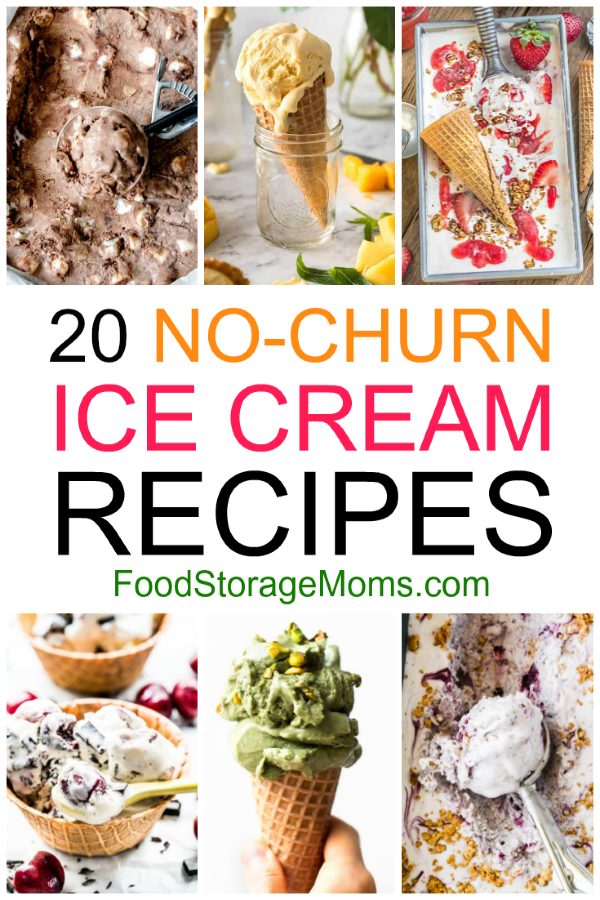 Homemade Mango Ice Cream by Recipe Tin Eats
When mangos start appearing at your farmer's market and in the stores, that's the time to make this creamy ice cream. Fresh mango puree gets simmered to intensify the flavor before being mixed with the other ingredients. Try this unique and flavor that you won't find in stores!
No Churn Strawberry Cheesecake Streusel Ice Cream by Life Made Sweeter
Cheesecake lovers will swoon over this frozen treat! Lightly process fresh, hulled strawberries into a rough puree; leave a few chunks for texture. Layer it with the cream cheese, condensed milk and heavy cream mixture. Sprinkle with granola clusters and then swirl through the layers with a knife to form ribbons. Repeat the layers and freeze. It's a refreshing way to enjoy strawberry cheesecake!
No-Churn Fudgy Brownie Batter Ice Cream by Beyond Frosting
If you love brownies with a scoop of vanilla ice cream on top you'll want to make this mashup recipe that combines those flavors into this frozen treat. Bake a pan of brownies and let cool. You'll also need a dry brownie mix to add in with the condensed milk and cool whip mixture. Add chunks of prepared brownies into the mix. Before freezing, add some hot fudge to the top and swirl it in. Enjoy this scrumptious combo of flavors after it has frozen.
Blueberry Crumble Ice Cream No Churn by The Desserted Girl
Blueberries are one of the easiest berries to work with so they are perfect for adding into desserts. Here, make a super-simple compote so the berries soften and are easily assimilated into the ice cream mixture. Don't stop there! Make a crumble from flour, brown sugar, butter, and cinnamon. Sprinkle it in and freeze this delectable summertime blueberry treat!
No-Churn Rocky Road Ice Cream by Carlsbad Cravings
Full of inclusions that make this recipe a favorite of just about everyone, you'll be delighted to know that you can make it yourself without any complicated machinery. Full of chopped chocolate chunks, marshmallows, salted almonds, chocolate chips and chocolate sauce, this recipe will show you how to easily add these ingredients to the milky mixture for awesome results. The hardest part is waiting for it to freeze before digging in!
No-Churn Apple Pie Ice Cream by Conservamom
Layer a can of pureed apple pie filling between the sweetened condensed milk and heavy cream mixture, creating more than one layer of this yumminess. Swirl the top layer to mix it. Freeze well. Make this flavor soon; it's as easy as pie!
No-Churn Strawberry Ice Cream by Freut Cake
Summer wouldn't be the same without a nod to strawberries. For a mostly smooth ice cream, hull your fresh berries and lightly process or blend them to get rid of large chunks before adding to the ice cream mixture. Pour into a loaf pan and freeze. It's the perfect ice cream to celebrate summer!
Ricotta Ice Cream by How Sweet Eats
If you love creamy ice cream, you need to try this ricotta cheese version. For a no-churn ice cream, the texture of this combo is out of this world and so is the taste. The vanilla-based flavor is deepened by the ricotta. The only thing that makes it even more delicious is adding a drizzle of honey on top when you serve it. Oh, and some sliced almonds, too. Crazy good!
Mint Chocolate Chip Ice Cream by Dessert Now Dinner Later
The tasty combo of chocolate and mint is a refreshing treat for summer and beyond. To the condensed milk and heavy cream add a little mint extract and chocolate chips. You can even add a drop or two of green food coloring to make it pretty. Freeze well.
Extreme Chocolate Ice Cream by Wonky Wonderful
For those days when all you need is chocolate to make everything right again, reach for this homemade frozen treat. Full of brownie chunks, cocoa, and semisweet chocolate chunks, it's triple chocolate goodness happening with this heavy cream and condensed milk mixture. Freeze this awesome mix and then savor each bite!
No-Churn Cherry Chocolate Ice Cream by Jo Cooks
Cherries are the perfect addition to a summer ice cream-making party. Throw in some chocolate chunks and call it done! Back up, though, and make sure you pit and cut your cherries first before adding them to the standard heavy cream and sweetened condensed milk mixture. Decorate the top with some cherries and chocolate, too, before freezing. Delicious!
No-Churn Pistachio Ice Cream by Feasting On Fruit
The base of this ice cream is made from avocado, non-dairy milk, and Medjool dates. You can optionally add in a sprinkle of spirulina to give it a green tint. Blend it up in your blender and pour it into your freezer-friendly loaf pan. Top with chopped pistachios and freeze. Healthy and yummy!
No-Churn Tiramisu Ice Cream by Beyond Frosting
Mascarpone cheese and powdered sugar get added to the heavy cream and condensed milk mixture. Half of the mix gets the addition of espresso powder. Layer both the coffee flavor and vanilla flavors and swirl together with a knife. Garnish that layer with chopped chocolate and chopped ladyfinger cookies and swirl again. Repeat this same layering two more times. Absolutely divine!
No-Churn Balsamic Peach Ice Cream by Budget Bytes
Elevate this peachy flavor with a little balsamic vinegar to intensify the taste. Just a quick saute in a skillet with the peaches, brown sugar, and balsamic will get you started. In a freezer-safe container, layer the sweetened condensed milk and heavy cream mix with the peach mixture and repeat. Gently swirl with a knife before freezing.
No-Churn Coconut Ice Cream by Isabel Eats
Here's a 2-ingredient recipe that you'll make again and again because it's easy and incredibly tasty! Mix a can of cream of coconut and plain Greek yogurt together and freeze. You get the coconut taste without the flakes of coconut. Give it more tropical flavor with a drizzle of roasted pineapples on top of each scoop just before serving. Awesome!
No-Churn Maple Pecan Ice Cream by Worth Whisking
No-churn ice cream is the perfect vehicle to showcase the sweet and delicious flavor of maple. Be sure and use pure maple syrup! If you want to stop right there, you can, and just enjoy it without the nuts, but the pecans do make a tasty addition. Just toast them in the oven with a little butter and salt and let them cool before adding them to the ice cream.
Dulce De Leche Ice Cream by The Little Epicurean
Heavy cream and a can of dulce de leche get an infusion of espresso powder for a coffee and caramel flavor that's out of this world. And the best part? It's so simple to make!
No-Churn Peanut Butter Ice Cream by Handle The Heat
Peanut butter lovers will flip over this triple infusion of peanut butter. Thanks to the layering of peanut butter, melted peanut butter, and mini peanut butter cups, your ice cream will freeze with a variety of textures that are unmistakably nutty. Decadent!
No-Churn Cupcake Ice Cream by DIY Candy
This is the perfect no-churn ice cream to make for kid's parties! Add a yellow cake mix and sprinkles (of course!) to your condensed milk mixture. Fold in the whipped heavy cream. Freeze the whole thing and enjoy this delicious frozen treat in a cone or in a bowl!
No-Churn Ice Cream With Berries by I Heart Naptime
When berry season is in full swing, grab a handful of your favorite berries, and add them to this simple ice cream recipe. Here, strawberries and blackberries get added to the creamy mixture before being added to the deep freeze for about 6 hours. Make your own combo of berry flavors, it's just a matter of deciding which ones to add.
Final Word
I hope you try some of my 20 no-churn ice cream recipes very soon! Ice cream makes me smile! Please keep prepping, we must. May God bless this world, Linda