I'm so excited to share this quick and easy Zucchini Muffins recipe with you today. My garden is overflowing with zucchini this year since I learned how to hand-pollinate the flowers on the plants! If you missed my sable paintbrush trick, then you'll want to go to this post: How To Grow Squash. And yes, these muffins are moist, light, and fluffy, and sure to please any palate.
It's crazy because I couldn't figure out why I couldn't grow zucchini. We all have tons to give away, right? Well, not me for the last 4-5 years. This year I totally replaced my soil and found what really works here in the desert. Then I bought the best seeds from this company: SeedsNow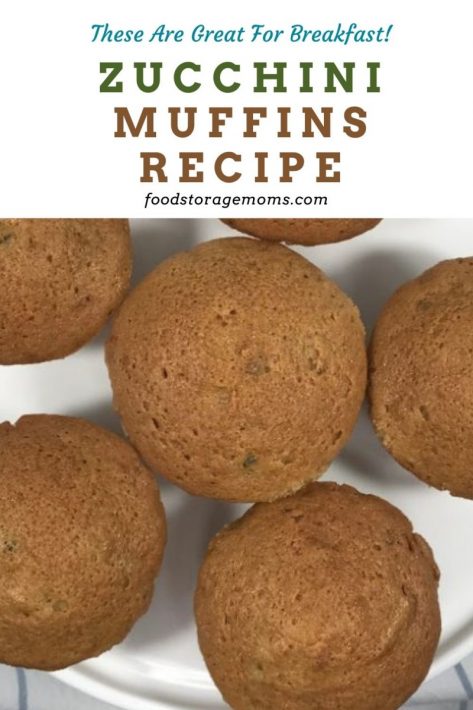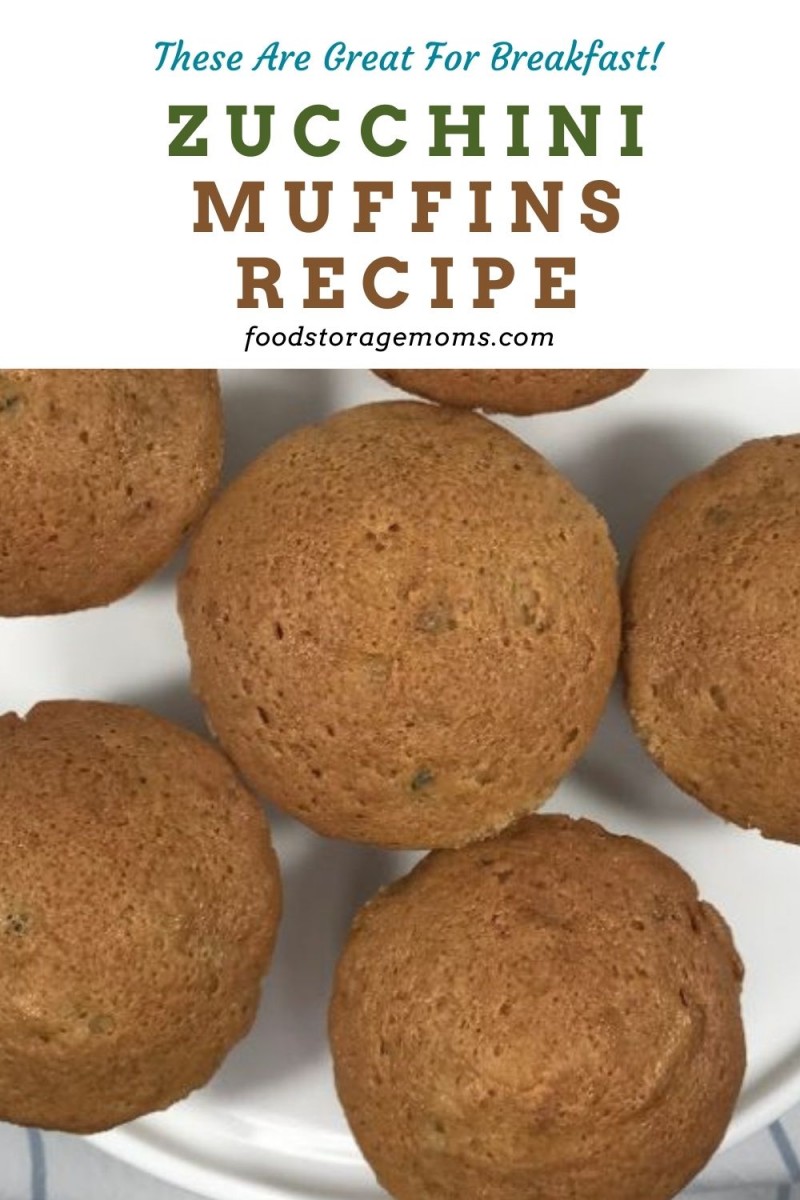 Zucchini Muffins
I'm overjoyed, to say the least. Here's the deal, we have very few bees around here and therefore my plants were not getting pollinated. So, I learned how to do it with a sable paintbrush. Cartwheel moment for me! Do you love zucchini muffins or bread as much as I do? It tastes even better with your own vegetables, I think. It may be my imagination, but I'm going with that!
I love to make zucchini bread, but it's a little harder to finish off a loaf of bread these days with just the two of us. So, today I grated the zucchini and went to work to make these yummy zucchini muffins. They are so easy and I've missed having the almost free zucchini from my garden.
Related: Pumpkin Muffin Recipe-2 Ingredients
How to Make Zucchini Muffins
Whenever I think of Zucchini Muffins, I think of bringing some to my neighbors. Every neighbor has that one food they are good at making and sharing. I love Zucchini Bread, but there is something even more amazing about muffins. Maybe it's the fact that muffins are so easy to share. I'm not sure! Either way, you'll catch me making these muffins anytime I have Zucchini on hand.
Step One: Shredded/Grated The Zucchini
I used my Bosch shredder after I cut off the ends of each zucchini. We grated all that we had harvested today. We had enough to freeze two 4-cup bags in addition to this batch of zucchini muffins. Now, I made a huge batch so I could take some to neighbors and freeze some for another day.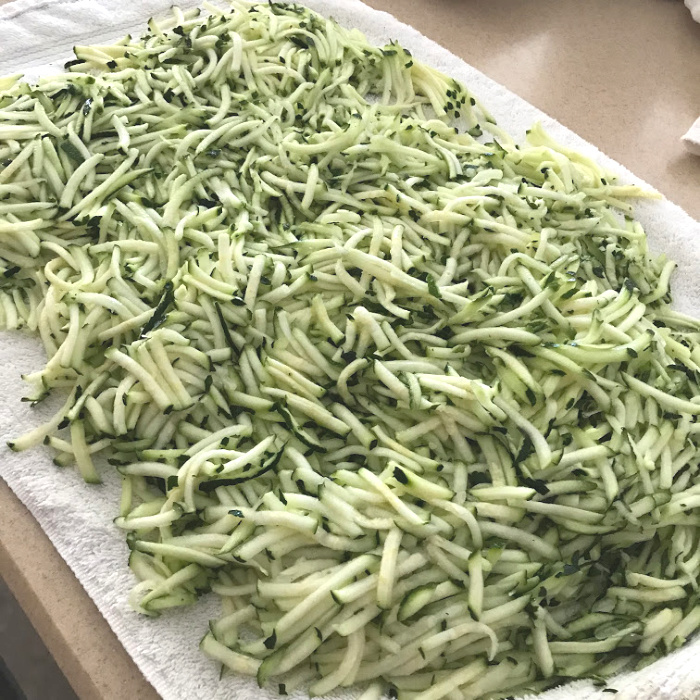 Step Two: Combine The Ingredients
By now you know I'm a dumper when I make things, so I dumped or added all of the ingredients, except the grated zucchini, into the bowl. Today I used my Bosch bread mixer, but a KitchenAid Mixer would work, or with a large bowl and strong arms you could mix this recipe together.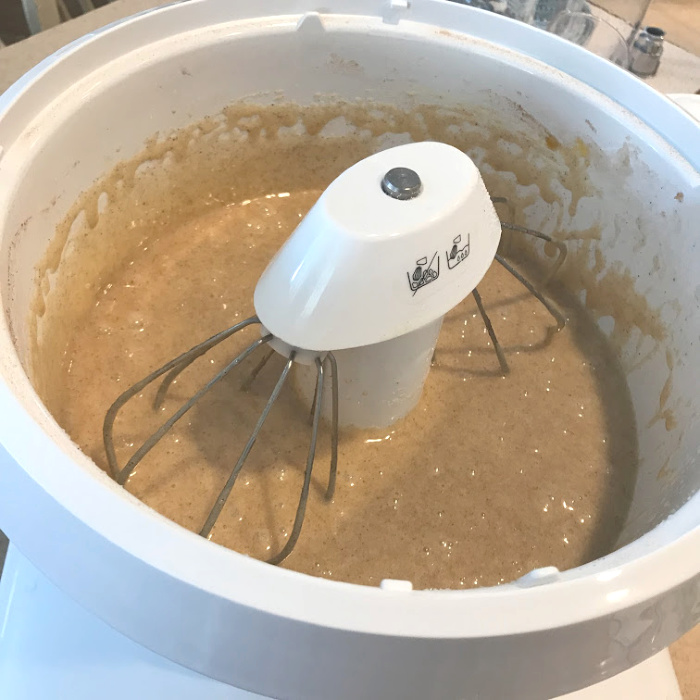 Step Three: Add The Shredded Zucchini
When the mixture was thoroughly mixed, I then folded in the grated zucchini. It's on days like today that I wonder why I don't make these more often.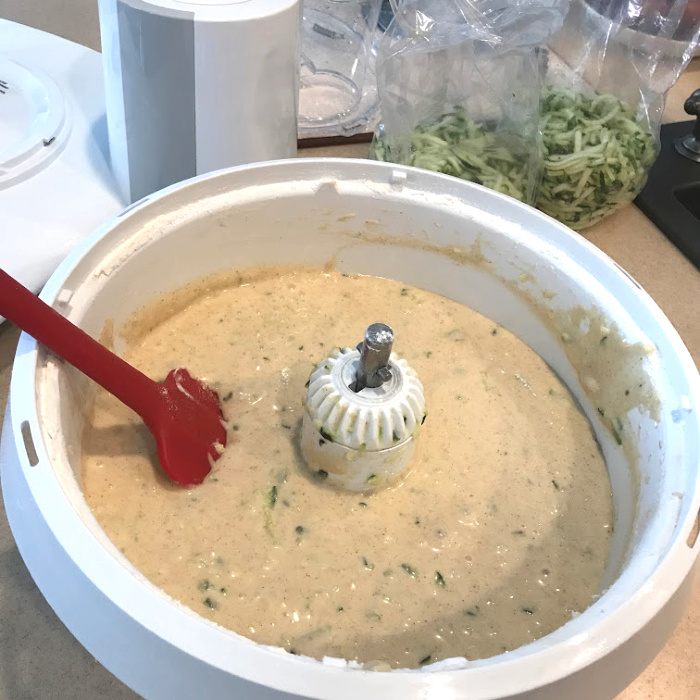 Step Four: Fill The Greased Muffin Tins
When I make muffins I would rather grease the pans than use paper holders, but I'm sure they would work. Preheat the oven to 350 degrees. Grease the pans and bake for 20-30 minutes, or until a toothpick comes out clean. Cool on a cooling rack. These zucchini muffins freeze really well. These are similar to the muffin tins I have: Muffin Tins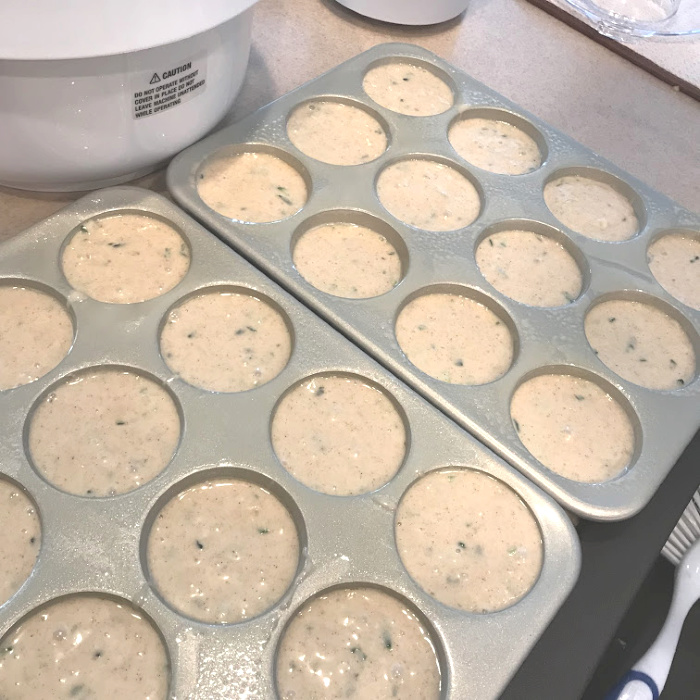 Zucchini Muffins Recipe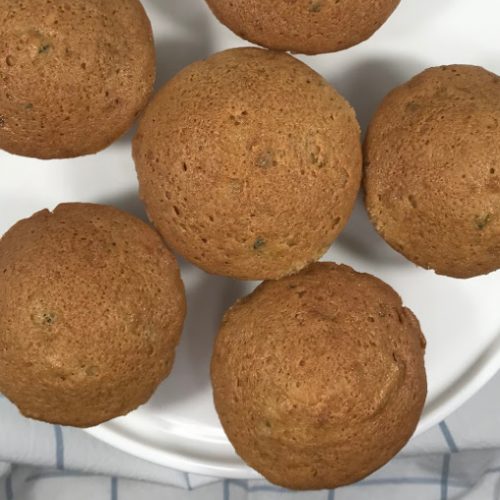 Zucchini Muffins Recipe by FSM
Keyword:
Muffins, Zucchini
Ingredients
2

cups

sugar

1

cup

oil (I use vegetable oil)

3

eggs

1/4

teaspoon

baking powder

1

teaspoon

salt

1

teaspoon

baking soda

1

tablespoon

cinnamon

1

tablespoon

vanilla

2

cups

grated zucchini (drain if needed)

3

cups

bread flour (white flour)
Instructions
Preheat the oven to 350 degrees. Cream the eggs, sugar, and oil. Add the rest of the ingredients except the zucchini into the bowl of eggs, sugar, and oil. Thoroughly mix together. Fold in the zucchini. Bake at 350 degrees in greased muffin tins for 20-30 minutes or until a toothpick comes out clean. These freeze really well in freezer bags.
Should I peel Zucchini for muffins?
I leave this up to your discretion. Some people don't like the way the peel tastes in their muffins. You don't have to peel the Zucchini for the muffins unless it's a preference thing. Think about it and decide what you want to do, there is no right or wrong here.
What is the point of Zucchini Muffins?
To be honest, the point of baking is to enjoy a treat here and there. I love to bake for those that I love and to melt away stress. The point of these muffins is that they bring back good memories for me. I hope to pass on these good memories to those I love with this fantastic recipe!
How do you know when the Zucchini Muffins are done?
Just like most other baked goods, you can tell when it's done by sticking a toothpick or fork in the center. If you take the fork out and there is still batter on it, then it is not done. If you do find more batter on the fork or toothpick, then you need to let it cook for a little while longer.
What can I eat on top of these muffins?
I like to spread a little melted butter on top of the muffins. If you want, you can add jelly or jam on top of the muffins. I can guarantee these muffins will taste just as delicious if you don't add anything!
How to freeze Zucchini Muffins
Just like any other yummy dessert, these muffins are very freezable. I like to freeze mine individually, which means I wrap it in Saran Wrap twice. Then, I place it in the freezer, until I start craving one of the delicious muffins. This makes it easy for grandkids to grab too!
Final Word
My gut is telling me to have all my recipes printed off and get all my cookbooks in order. These zucchini muffins will be a bonus if we lose power after a natural disaster. Please organize all your recipes, you may need them sooner than you think. If we don't have access to the internet we must be prepared to cook from scratch. We can do this, I promise. May God bless this world, Linda