The Best Marinated Carrot Salad Recipe In The World
This is the best marinated carrot salad recipe in the world! Oh, my gosh, Mark and I were invited for dinner the other night to some friends house and Mark mentioned to them that I am trying to stay clear of meat and dairy products. First of all, I try not to tell anyone about the healthy way of life I am working on. So this darling couple had every vegetable you can imagine on beautiful dishes to munch on and chitty chat around the table, oh how I loved this! They fixed the best salmon on the barbecue for the three of them and I was loving the rice, salads and all the fresh vegetables. Well, I asked if I could share this marinated carrot salad recipe on my blog. She quickly gave me the recipe and then I passed it on to my daughters because I knew this was one they would all love!
Here's the deal, you can use sliced carrots or baby carrots for this recipe. My mouth is watering just thinking about eating this for lunch. I used my pressure cooker to cook the carrots last night and chilled them to make the salad today. I used my Fagor pressure cooker on high with one cup water and set it for three minutes. I used the quick release and carefully removed the lid and drained the carrots. Any pressure cooker or pan can steam carrots, but I love my Fagor pressure cooker since it saves me precious time. Mark and I eat a lot of carrots so this recipe is a hit at our house! I doubled the dressing ingredients because I knew I would be adding more carrots over the next few days. You can also use this dressing on other vegetables, it's so yummy! You can use sliced carrots, grated carrots or baby carrots.
You may be asking yourself "why is she using her pressure cooker to cook the carrots?" Well, I always have 10 things going on at once and all I have to do is put the carrots in the pan, add one cup of water, lock the lid and set it for 3 minutes on high. That's it, set and go do the laundry or whatever. Yes, I could have boiled/steamed them but then I would have had to watch the pot on the stove. Please remember when using a pressure cooker to be sure and check your manual because my two different pressure cookers state "do not fill more than 2/3 full" to allow for the pressure to build up.
Suzie's Marinated Carrot Salad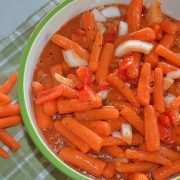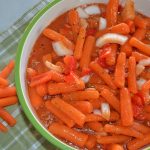 Suzie's Marinated Carrot Salad
Ingredients
5

cups

steamed carrots

drained (I used a pressure cooker, 3 minutes on high with one cup of water)

1

medium white onion

thinly sliced

1

small green

yellow, or red pepper chopped into bite size pieces

Dressing:

2

cans cream of tomato soup

1

cup

vegetable oil

1

cup

sugar

or less as desired

1-1/2

cups

cider vinegar

2

teaspoons

prepared mustard

2

teaspoons

Worcestershire sauce

2

teaspoons

salt

2

teaspoons

pepper
Instructions
Steam the carrots and chill overnight. Add the remaining vegetables with the carrots in a large bowl. Combine the dressing ingredients in a separate bowl and pour over the vegetables. Chill in a covered container. Enjoy!
My favorite things:
Fagor 670040230 Stainless-Steel 3-in-1 6-Quart Multi-Cooker
Presto 02970 Professional SaladShooter Electric Slicer/Shredder, White