Today, I'm sharing my homemade ranch dressing recipe with you. It's a really popular salad dressing in Utah, and pretty much everywhere else these days. Our family uses this creamy dressing on salads, we dip pizza in it, and even drizzle it over quesadillas.
You may have heard the term Hidden Valley Ranch, yep, that's where our love for Ranch Dressing started. I don't care for most store-bought salad dressings, so I knew I had to find a way to make our family's favorite dressing from scratch.
I love using freshly cut herbs in my recipes, but I use dried ones as well. Mark and I never want to be out of the ingredients we need in our pantry. We make one fresh pint of this dressing every single week. Yes, we love it more than any other one. My motto has always been fresh is best, and this recipe is best when fresh.
This recipe is creamy from the mayonnaise, it has a little tang from the buttermilk, and just the right amount of herbs and seasoning to make everyone love it.
In case you missed this post, How to Make Buttermilk. You may have missed this one as well, Homemade Worcestershire Sauce. It's all about being self-reliant. Don't you just love making things from scratch using items you already have on hand? It makes you feel confident you can make it through tough times, including emergencies.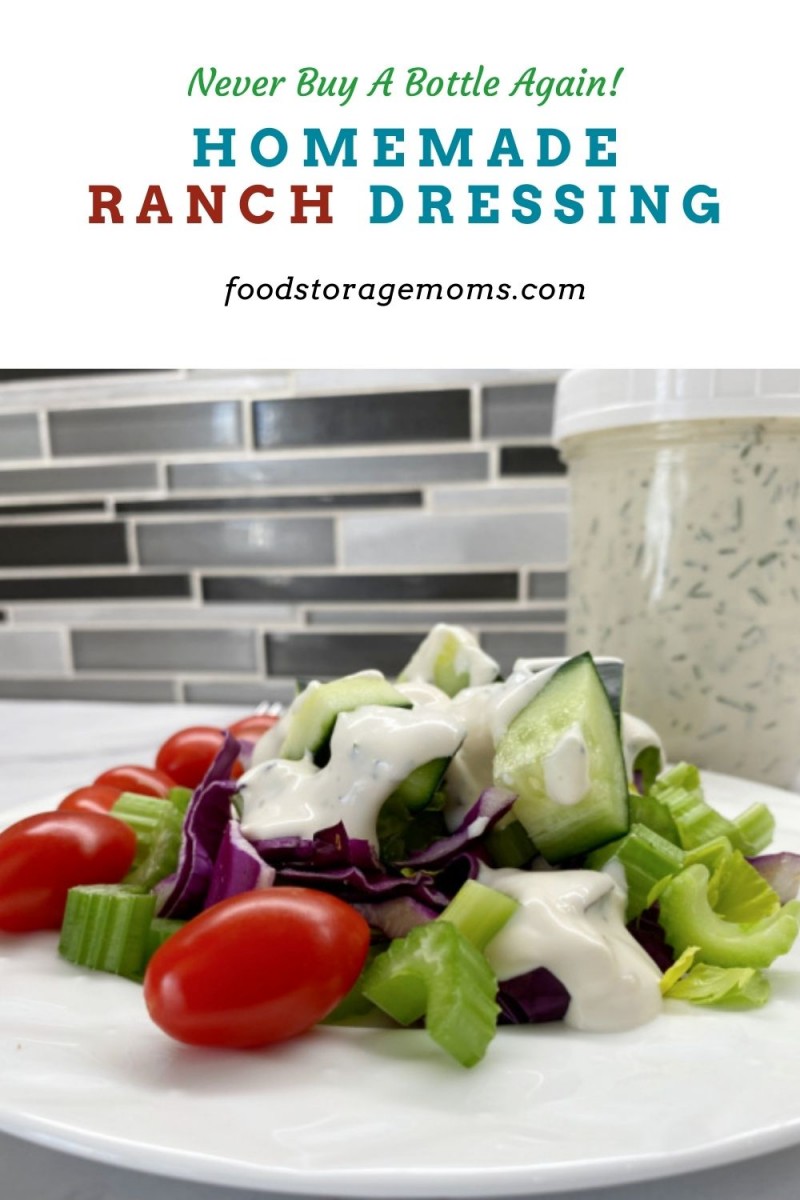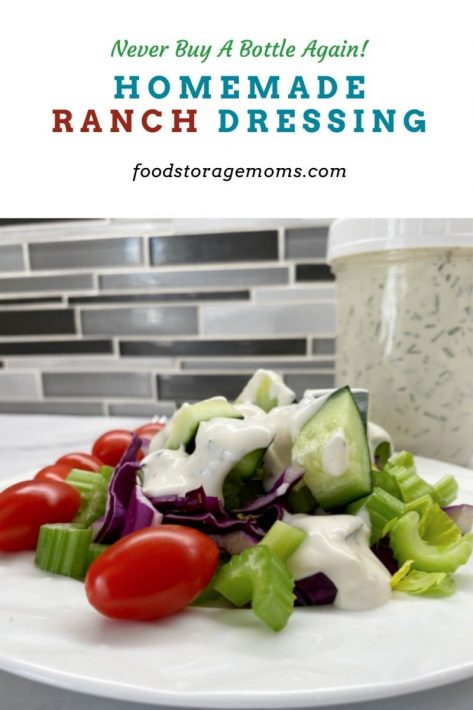 Kitchen Items You May Need:
Pint Mason Jars
Mixing Bowls
Blender or Whisk
Homemade Ranch Dressing
Step One
Gather the ingredients so you can prep those items that need chopping. Here's the deal, you can use fresh or dried herbs.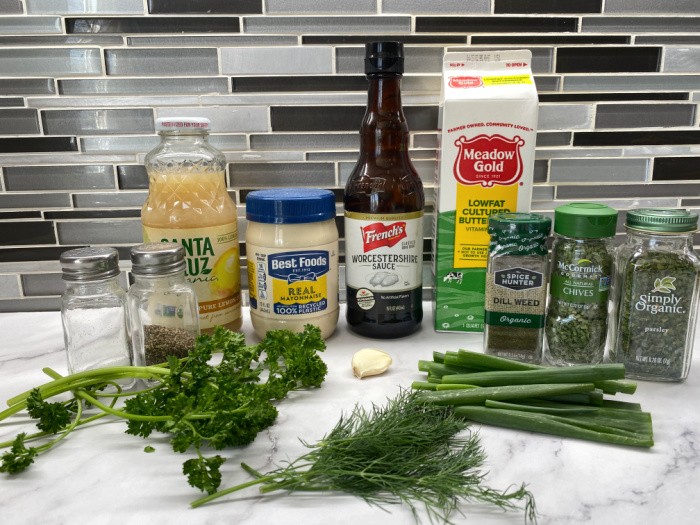 Step Two
Prep the herbs, if you decide to use fresh ones. I used an Herb Mincer to help cut them smaller. I used a Garlic Roller and Garlic Mincer for the garlic. My house smells so good!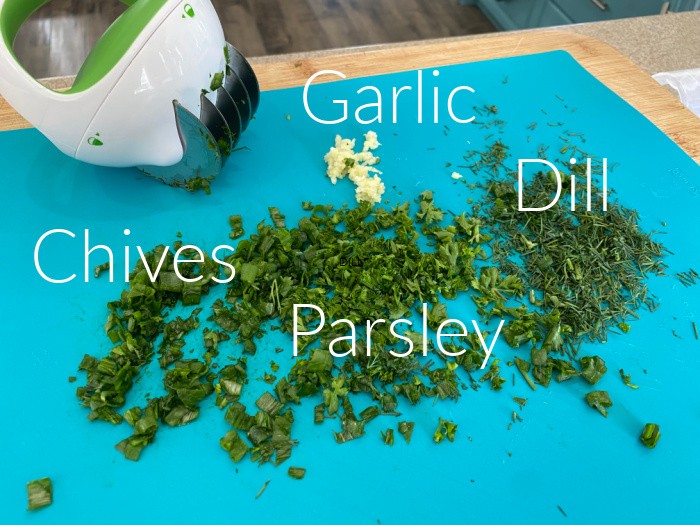 Step Three
Combine the mayonnaise, buttermilk, lemon juice, and Worcestershire sauce.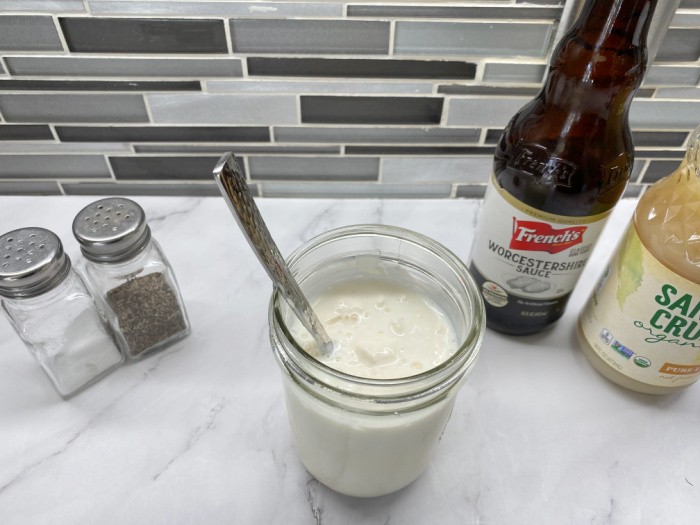 Step Four
Mix thoroughly and then add the spices and herbs.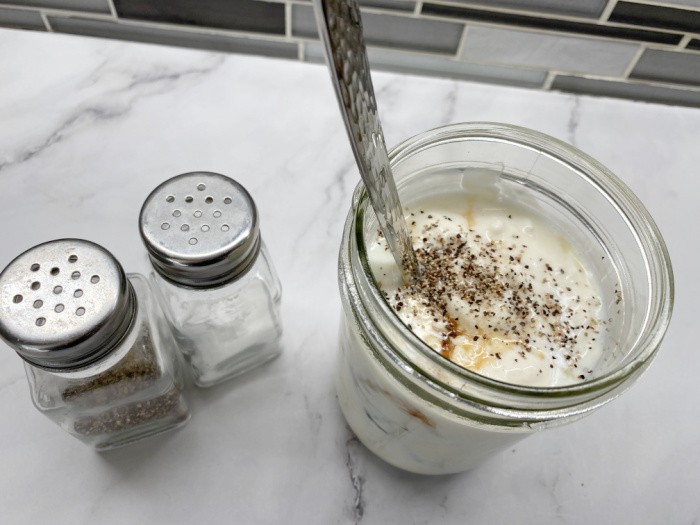 Step Five
Whisk or use a blender to mix it through.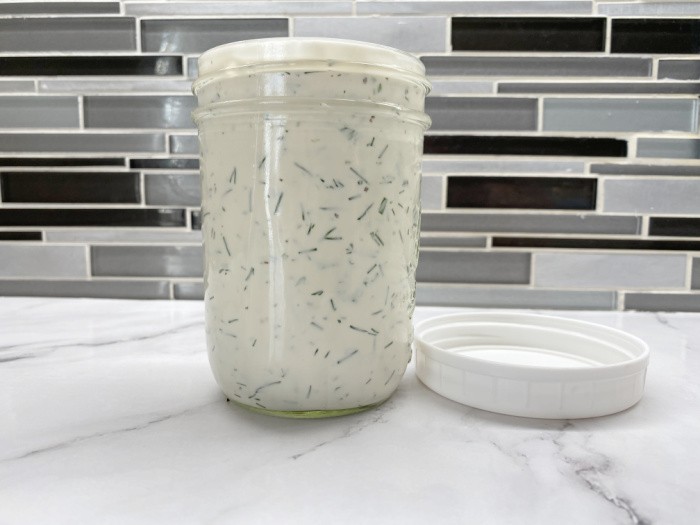 Finished Product
This will keep for up to 2 weeks in an airtight jar in your refrigerator. This recipe is great for salads or dipping veggies.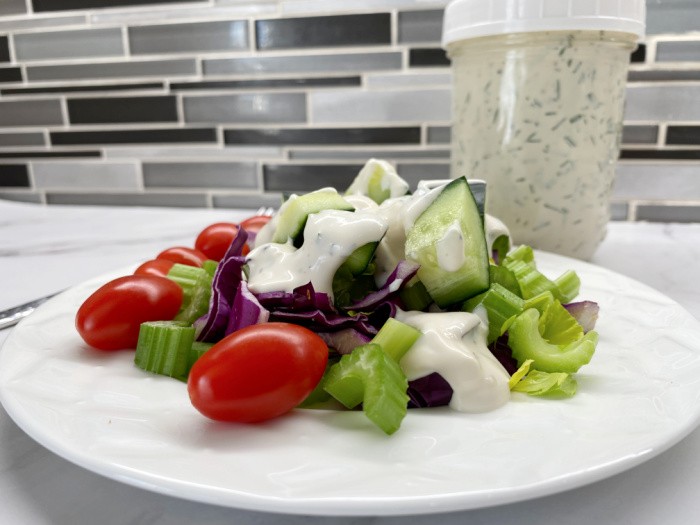 Homemade Ranch Dressing Recipe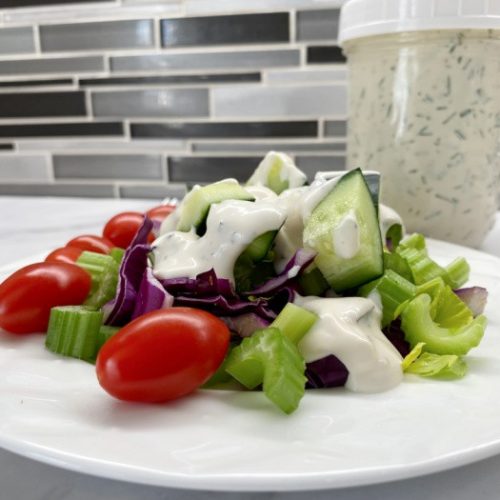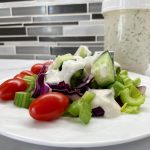 Homemade Ranch Dressing
Servings
:
2
cups (makes approx. 1-1/2 cups)
Ingredients
1

cup

mayonnaise

1/2

cup

buttermilk

1

teaspoon

Worcestershire sauce

1

tablespoon

lemon juice

2

tablespoons

freshly chopped parsley or 1 teaspoon dried parsley

2

tablespoons

finely chopped fresh chives or 1 teaspoon dried chives

1

tablespoon

dried dill weed

2

tablespoons

onion powder

1

teaspoon

celery salt

1

garlic clove, finely minced or 1 tablespoon of garlic powder

1

tablespoon

ground pepper

1

teaspoon

sea salt
Instructions
Gather the ingredients so you can prep those items that need chopping. Grab a bowl and combine the ingredients in order. You can use your blender or whisk until smooth and creamy. This will keep for up to 2 weeks in an airtight jar in your refrigerator. This recipe is great for salads, or dipping veggies.
Why does Ranch Salad Dressing taste better at restaurants?
It's because the restaurants may order "bottled" ranch dressing, but then add fresh ingredients like buttermilk, fresh sour cream, and fresh herbs. Fresh is always best, right?
What ranch dressing does McDonald's use?
They use Newman's ranch and many other versions of his salad dressings as well.
Why is ranch dressing so good with pizza?
My family dips their pizza in this ranch dressing. The dressing cuts the grease from the cheese and pepperoni before that next bite. It has a little tang that will wake up your taste buds before that next bite of yummy cheese.
Who started putting ranch on pizza?
Back in 1980, Adrie Groeneweg was experimenting with pizza recipes in his parent's kitchen and came up with the idea of putting ranch on a pizza.
When did ranch and pizza become a thing?
I quote, Wikipedia, "During the 1980s, ranch became a common snack food flavor, starting with Cool Ranch Doritos in 1987, and Hidden Valley Ranch Wavy Lay's in 1994. During the 1990s, Hidden Valley had three kid-oriented variations of ranch dressing: pizza, nacho cheese, and taco flavors."
Who invented buttermilk dressing?
In 1949 a plumber-turned-cowboy named Steve Henson was cooking for his co-workers while working in Alaska. He kept perfecting his buttermilk dressing recipe until he found the taste everyone loved.
Can I use sour cream in this recipe?
Yes, you can substitute sour cream for buttermilk in the recipe.
What foods are good for dipping in ranch?
Pizza
Quesadillas
Fresh Veggies
Mozzarella Sticks
Potato Chips
Tortilla Chips
Fried Chicken
Chicken Wings
Can I use fat-free mayonnaise?
Yes, you can use it and save on some calories! It may have a slightly different flavor with fewer sweeteners.
Final Word
This is one more recipe to teach our kids and grandkids to cook from scratch. Yes, we can teach this well-needed skill! Keep prepping and stocking. May God Bless this world, Linda